Emma Boyles from the The Little Grey Sheep is our interview guest in Episode 52. Emma has the largest flock of Gotland sheep in the UK, and we visited Emma on her farm in Hampshire during our Christmas holidays. Emma tells us about her farming philosophy, the sheep, her female shepherdess Susie and the yarns that she produces. Whilst we are in the UK we also visit Dolbadarn Castle in Snowdonia for some Extreme Knitting.
We're going to Canada to meet Jenise Hope, our guest on Knitters of the World. Nailya Plaskey shows us her Big Stitch Beanie in New Releases. Our daughter Madeleine makes a guest appearance to show us her current project, a design by Gudrun Johnston, and there is a short tutorial on a 1×1 Twisted Rib Tubular Cast-On by Andrea.
And we've got our own projects, Andrea's Zweig and my Vest.
Emma Boyles of The Little Grey Sheep
Well Manor Farm dates back to the Tudor times and is a small family farm owned by Emma and her husband Neil. Emma's yarn is produced from fleece from her own flock as well as neighboring Hampshire flocks. It is then expertly spun by John Arbon Textiles and finally hand dyed and hand painted by Emma.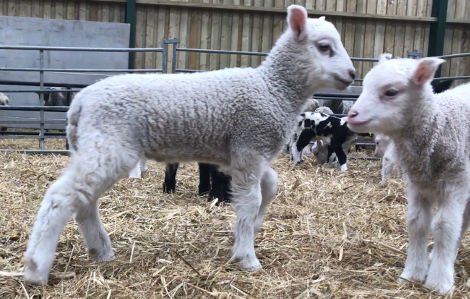 Every step of the production is very thoughtful and the way Emma runs her farm is strongly focused on conserving the local landscape.
Finding Emma Boyles and The Little Grey Sheep
Jenise Hope – Knitters of the World
Meet Jenise our guest on Knitters of the World. Jenise studied sewing pattern drafting before she learnt to knit, so fairly quickly she could apply those skills to knitwear and start designing her own garments and blankets.
Jenise has a wide range of designs and she pays particular attention to the fit in the larger sizes. For example most of her yokes have different shaping for each size to give a more tailored fit on the upper end sizes. All of her garments have 6 sizes covering XS (28-32 inch bust) to XX (48-52 inch bust).
Patron discount
Jenise is offering a 25% discount on all of her patterns for Fruity Knitting Patrons for a limited time. For details go to Patreon.com/fruityknitting.
Finding Jenise Hope
Big Stitch Beanie by Nailya Plaskey – New Releases
Nailya and her daughter modeled matching versions of the Big Stitch beanie. Big stitch beanie is a very smart looking design, coming in adult and child sizes. It would be a great first stranded knitting project as it is easy to memorize and the recommended yarn is brilliant for colourwork and very affordable. Nailya's daughter stole the show with her fantastic smile!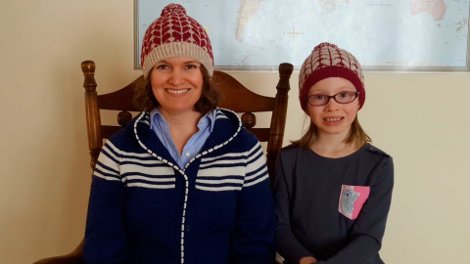 Patron Discount – Big Stitch Beanie
Nailya has offered our patrons a 30% discount on this pattern for a limited time. Find the details at Patreon.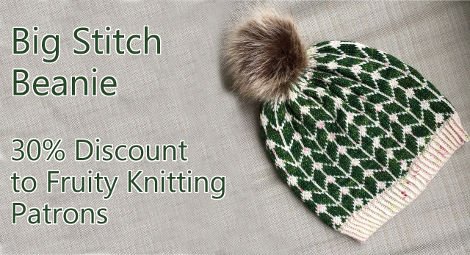 Finding Nailya Plaskey and the Big Stitch Beanie
Twisted Rib Tubular Cast-On Tutorial
We did a 1×1 rib tubular cast on for the hem of Madeleine's project – Audrey in Unst by Gudrun Johnston. We did this because we wanted it to be stretchy. Andrea also included the twisted rib into the tubular cast on to make it that extra bit neater. In case any of you were interested in how she did this, we made a quick tutorial. For the convenience of our Patrons we also list all the tutorials that Andrea includes in the episodes at patreon.com/fruityknitting. That way when you need them you can find them easily.
Under Construction
Andrea is working on Zweig by Caitlin Hunter.
Unfortunately, not having much experience with speckled yarns, Andrea's colour combination was a disaster when it came to knitting up the design.  The triangles in the stranded sections weren't showing well, so a quick trip to our LYS was needed to remedy the situation. The replacement yarn is a great colour choice but a thinner weight, so Andrea has had to experiment with holding it double in some places and single in others. How much ripping will go on before this garment is finished?
Madeleine is working on Audrey in Unst by Gudrun Johnston.
Madeleine is really enjoying knitting this design with Iona Wool made exclusively from fleeces from the Hebridean Isand of Iona.
Andrew is working on The Vest by Andrea.
Dolbadarn Castle
For our #ExtremeKnitting segment this week we take you to the 13th century Dolbadarn Castle built by Prince Llynwelyn the Great in Snowdonia. We include a small bit of drone footage. We are still learning the fly the thing!
What we are wearing
Andrea is wearing Jayne by Madeline Weston and Rita Taylor.
In the interview with Emma Boyles, Andrea is wearing Daffodil, by Marie Wallin. You can hear more about that design in Episode 38, and you can catch a full interview with Marie Wallin in Episode 17, and another chat about Marie Wallin's Shetland collection in Episode 42.
Music Credits