In Episode 19 we are joined by Deborah Newton, whose designs regularly feature in Vogue Knitting.  In Knitters of the World we are joined by Leah Ball, talented garment knitter and writer of the Yarn Stylist blog.  We get to see what's happened with Andrea's Blossom sweater, and there is a real update on my Hiking Jacket.  
Interview with Deborah Newton
Deborah is also author of several knitting books, two of which we look at in some detail.
'Good Measure' teaches you how to knit a perfect fit every time.
'Finishing School' is all about finishing techniques for your garments.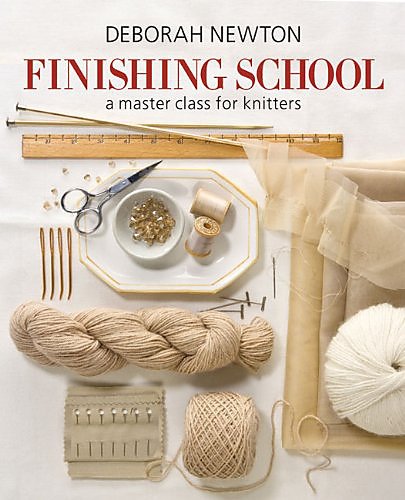 Finishing School: A Master Class for Knitters, by Deborah Newton
Deborah is a strong believer in acquiring the skills to finish a job perfectly, and this is reflected in her teaching.
To find Deborah Newton on Facebook
Photo Credits
Photos here and in the episode come from Deborah's books and are copyright Sixth and Spring Books.  Used with permission.
Knitters of the World – YarnStylist – Leah Full
Our guest on Knitters of the World is Leah Full, who writes the Yarn Stylist blog.  Andrea came across Leah as another admirer of Kim Hargreaves.
You can find Leah:
Blossom by Marie Wallin – Rip and Re-Knit
Hiking Jacket Update
From the Archives – Cable Tunic by Debbie Bliss
Cables Tunic with Shawl Collar by Debbie Bliss from her book 'Great Knits for Kids' published in 1997. Andrea knitted it for our daughter Madeleine. She wore it first at 3 yrs with the sleeves rolled up and then till she was nearly 6 because there wasn't a cuff on the sleeves or a waist band.
Music Credits
Antonin Dvorak, Rusalka, Op. 114 – 'Song to the Moon', Performer Zaira Soria, Creative Commons Attribution 3.0
Frédéric Chopin, Andantino 'Spring', B. 117, Performer: Aya Higuchi , Public Domain
Somewhere Over The Rainbow, Music by Harold Arlen, Lyrics by E.Y. Harburg. Performer Andrea Doig, Copyright Andrea Doig / Leiselaut
Save
Save