Veera Välimäki and Joji Locatelli are both exciting designers in their own right, but they have just released their fifth collaborative collection, Interpretations Volume 5. In Episode 49 we are joined by both Joji and Veera, but we will also be speaking to some of the dyers that they worked with for their latest collection. We'll be travelling from Patagonia in the south of Argentina to Espoo in Finland, from Aschaffenburg in central Germany to Coaticook in Quebec, Canada. It's knitting inspiration from around the world!
And back at home in our Offenbach studios there's a finished garment from Caitlin Hunter, a tutorial on shoulder shaping, and a wanderer returned from Australia, with a little furry footage to enjoy. Come along for the ride!
Veera Välimäki
Veera Välimäki trained and worked as an architect, but moved into independent knitwear design following the birth of her two boys. Although concrete and wool have little in common, Veera does see some parallels between her two careers, each requiring creativity but producing an object of practical value. Structure is often a significant component in Veera's designs.
Veera is a self-confessed introvert, and names this as one of the attractions of her work as an independent designer. We note that this presented a challenge to Joji, who was looking forward to long chats with her "new friend", but had to learn to appreciate this different, northern culture. Joji's Buenos Aires is a little over ten times the population of Veera's home town of Espoo, just east of Finland's capital Helsinki.
Finding Veera
Joji Locatelli and Interpretations Volume 5
Joji Locatelli and Veera Välimäki released their first Interpretations collection in February 2014. Each year, the inspiration for the designs is a set of six words agreed between the two designers. The original goal was six garments and six accessories, but an enthusiasm for garments on both sides has occasionally swayed the numbers a little. Interpretations Volume 5 features a mixture of lighter tops, sweaters and cardigans, one heavier jacket, three shawls and a chunky cabled wrap.
An additional feature of the Volume 5 collection was the creation of associated colorways by a selection of dyers. Joji and Veera have deliberately selected dyers from around the world, so that all knitters will have easy access to at least some of the recommended yarns. You can find full details of all the recommended yarns on the Interpretations site.
We love the Argentinian-Finnish collaboration, spanning such distances in geography and culture. It was great to hear about the families getting together in each of the countries, particularly the boys getting along even before they had a shared language.
You can catch an earlier full interview with Joji Locatelli in Episode 15.
Finding Joji
Patron Discount – Veera Välimäki & Joji Locatelli
Veera and Joji are kindly offering Fruity Knitting Patrons a discount on any of the individual patterns in their Ravelry stores. There should be something for every pair of needles! Full details on the Fruity Knitting Patreon page.
Julie Asselin Hand-Dyed Yarns
Julie Asselin is based in Coaticook, Quebec, and now works together with her husband.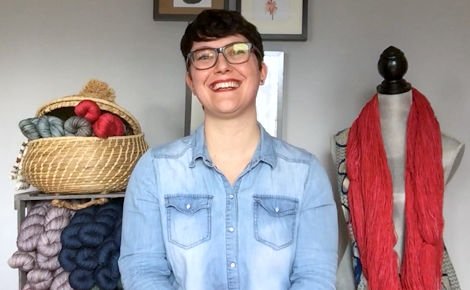 Happy Colorway
Julie created the "Happy" colorway for Joji's cardigan design Quiet Stars. The base is Julie's Fino, which is 75% merino, 15% cashmere and 10% silk.
Finding Julie
Cathrin Walk of Walk Collection
Cathrin Walk is the owner of Walk Collection, a yarn dyer in Aschaffenburg in Germany. With a background in dressmaking, Cathrin specializes in small batches of very high quality fibres.
Out of the Dark Colorway
Cathrin created the "Out of the Dark" colorway specially for Veera's shawl design Chasing the Light. The yarn base is Walk Collection's Luxe Light, which is 70% baby alpacy, 20% silk and 10% cashmere.
Finding Cathrin
Shaping Shoulders in the Round using Short Rows
If a Fair Isle design requires shaping in the shoulders, like my current Samphrey by Marie Wallin, I would normally stop knitting in the round and do the shoulder shaping by knitting flat. This means purling back on the wrong side of the fabric. Purling in Fair Isle isn't as easy as knitting in Fair Isle because it is harder to see the pattern from the previous rows which normally guides you. 
This tutorial looks at a technique for shaping shoulders whilst knitting in the round using a form of short rows. I came across the technique in a pattern by Janine Bajus, and Janine also describes her technique in a post on her website. (Go to
feralknitter.com
, click on "Blog", then search for "Shaped Shoulders in the Round Revised".)
We'd be interested to hear about your experiences if you give this technique a try.
Tegna by Caitlin Hunter
Andrea has completed her Tegna, by Caitlin Hunter, with several modifications.
Music Credits