In Episode 56 our feature interview is with the co-founders of the yarn company mYak. Many of you may have already met Paola either at yarn festivals or through interviews but the other lesser known co founder is Andrea. Andrea is a vet and works very closely with the nomadic yak herdsmens. He goes to Tibet around 5 times a year, working as a vet but still using the traditional medicine of the herdsmen. He is the expert on yak and cashmere fibre and he joins Paola in the interview to share his knowledge and experience of the animals and the nomadic lifestyle. We go to Australia to meet Britta (a.k.a. bestrickend), our guest on Knitters of the World, New Releases also features a beautiful summer top by Kay Hopkins, there is a short tutorial on cabling without a cable needle, an update on our KALs and a celebrations of Andrew's finished vest!
mYak
mYak is a relatively new company with an amazing story behind it. I was seriously impressed by the tremendous amount of care that goes into the production of their yarn. Working directly with the nomads means mYak is cutting out all the middlemen. The nomads are receiving a good price for their fibre which enables them to preserve their ancient lifestyle and stay on the grasslands. The fibre is then spun into yarn at a small artisan spinning mill in a region in Italy where they have been spinning yarn and producing textiles for 300 years due to the special quality of the water. It is important to Andrea and Paola to produce the highest quality yarn with a zero impact on the environment.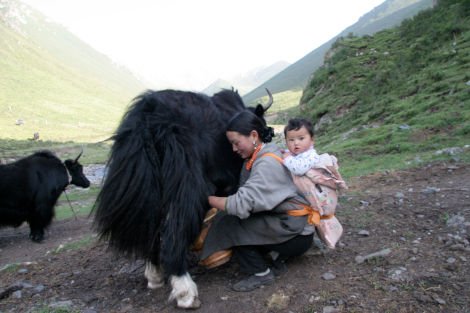 During the interview, Andrea talks about the unique properties of yak fibre and how it behaves when knitted up. Paula describes her first foray into the knitting world at Vogue Knitting Live in 2013, where she had a booth of ONLY chocolate yarn. Since then they have ventured into a small palette of beautiful natural colours but are still strong in their decision not to bleach the fibre. Bleaching partially damages the fibre.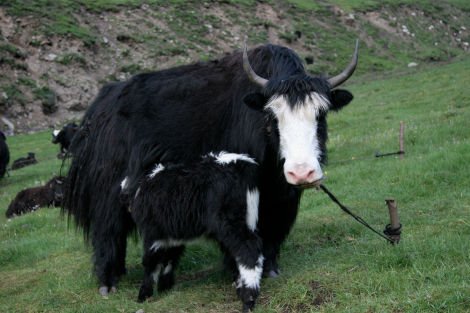 Patron Discount – mYak yarns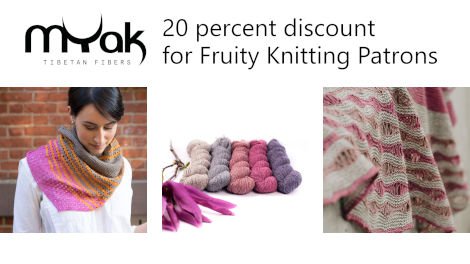 Paula and Andrea are offering Fruity Knitting Patrons a 20% discount on everything available in their online shop, including their stunning yarns in natural and "pop" colors, and kits. This offer also applies to their two showrooms in New York and Candia Canavese.
Finding mYak
Leaves Shell by Kay Hopkins – New Releases
Kay Hopkins shows us her latest summer top design Leaves Shell, which is part of her Leaves Collection. We often get asked by viewers who live in hot climates to recommend patterns that they could wear. Well one good way is to look for designers who also live in hot climates, since many designers design with themselves in mind. Kay is one such designer living in Lake Oswego, Oregon and she has a lovely selection of summery tops and shawls in her Ravelry store.
Patron Discount – Kay Hopkins designs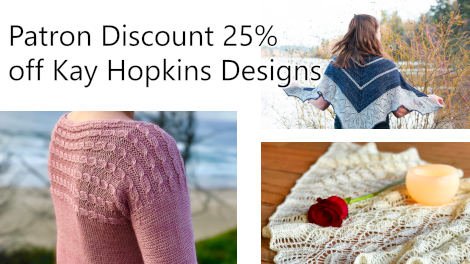 Kay is kindly offering Fruity Knitting Patrons a 25% discount on any design in her Ravelry store.
Finding Kay Hopkins
Bestrickend – Britta from Brisbane, Australia
Britta, our guest on Knitters of the World has an extremely stylish wardrobe! She learnt to knit at school in Germany and was reintroduced to the joys of knitting many years later after seeing her sister in Law knit with specialty, hand dyed yarn. Britta has recently finished the Geiger design by Norah Gaughan, which is on Andrea's list.
Finding Britta
Modify Your Garment KAL
Our #modifyyourgarmentkal is soon coming to a close on the 30th of June. We wanted to create a forum where people could discuss the changes that they are making to their projects. With the variety of body shapes and style preferences, there is so much to learn and great tips and tricks to pick up, just by reading through the comments.  Andrea briefly talks through 3 people's modifications.
Our featured knitters
Whelk by Martin Storey
When Andrew finishes a garment the only thing to do is celebrate with scotch – Laphroaig. Andrew does confess that he didn't sew up the seams (that's Andrea's job) but he did singlehandedly pick up the stitches around the neck and armholes and rib the ribbing. And how brilliant does he look wearing it!
#ExtremeKnitting
This moody segment shows the amazing brickwork of the 13th century castle ruin Burg Freienstein in the Oldenwald.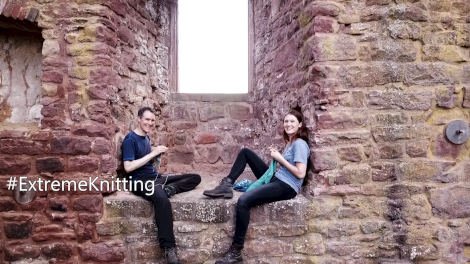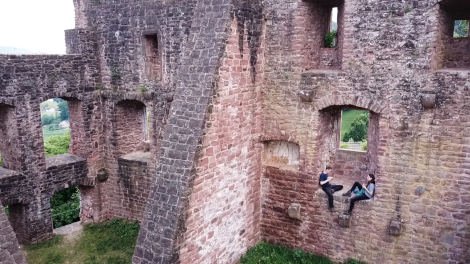 Cabling without a cable needle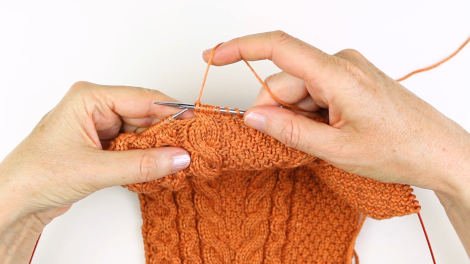 Andrea knits all her cables without a cable needle and has done so since she first heard about the possibility of doing so around 5 years ago. There are different ways of knitting without a cable needle and a very common way is to completely rearrange the stitches on the needle before you knit any of them. The way Andrea learnt, has you knitting half the stitches before you take any of the stitches of the needles to rearrange them. In case you haven't seen this method, she did a short tutorial on it.
Patrons can find all of the tutorials from the episodes under the tag Tutorials on the Fruity Knitting Patreon site for easy finding and watching.
The design Andrea is working on is Hearten by Kim Hargreaves
Music Credits