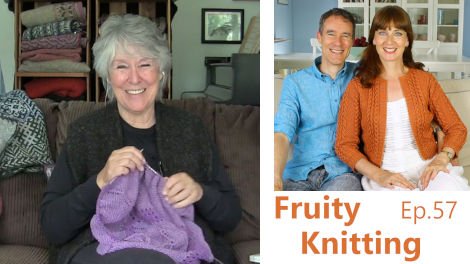 We are very glad to be back with you and sharing what we think is a fantastic program for Episode 57. The highlight is a two part interview with Meg Swansen. In part one Meg talks about her mother's work (Elizabeth Zimmermann) and in part two of the interview Meg delves into the interesting techniques that she has explored and even invented to use with colourwork knitting. We also go to Australia to meet Ambah from Castlemaine, our guest on 'Knitters of the World', Andrea has a tutorial on 'Cutting and Grafting in Garter Stitch to Fix your Mistakes' and we announce our winners for the Modify your Garment Knitalong.
Meg Swansen and Elizabeth Zimmermann
Elizabeth Zimmermann's influence is still being acknowledged by many knitters and designers today. Elizabeth was responsible for revolutionizing the modern practice of knitting in America from around the 1950s onwards. She did this through a series of self published Newsletters, then later through her very witty books and even a T.V. series.
Meg Swansen has a dedication to and love for knitting that is just as deep as her mother's was. She has taken the same common sense and independent philosophical approach to knitting that her mother was well known for and has applied it to her particular love in the area of colourwork. This includes Armenian knitting which is one technique that Meg has particularly enjoyed exploring and designing in. In the interview Meg first shares some of her memories about her mother's life and influence and then talks about her own contributions to our wonderful world of knitting.
Finding Meg Swansen
Patron Discount
Schoolhouse Press is offering Fruity Knitting Patrons a 20% discount off everything in their store. They supply knitters with an amazing selection of over 150 books on knitting. They also have patterns, yarn and tools all very specially selected, they even have buttons! In fact if you want to know the best books on knitting, their online store is a great place to start browsing through. Full details here.
Ambah O'Brien
Shawls are the accessory that Ambah most likes to design, knit and wear and as a result she has produced a prodigious collection of interesting shawl designs. You can see in the above picture that Ambah was inspired by the fins on the Sea Dragon to design a simple crescent shaped shawl using short rows. The colours of the Australian bush were used as the inspiration for her Bambara Wrap below.
Finding Ambah O'Brien
Patron Discount
Ambah is offering Fruity Knitting Patrons a 25% discount off all the patterns in her Ravelry store. Ambah has over 100 designs, mainly accessories with most of them being easy to wear shawls. Full details here.
Cutting and Grafting in Garter Stitch (to fix your mistakes)
During the week when I was admiring my knitting and enjoying how much the cables were popping out, I noticed that I'd knitted 4 extra rows in the ribbing of the right front than the back. That is not something that you can hide in this design. Therefore there wasn't really anything I could do but to cut it open, unravel the unwanted rows and graft it back together again. Thus a new tutorial was born!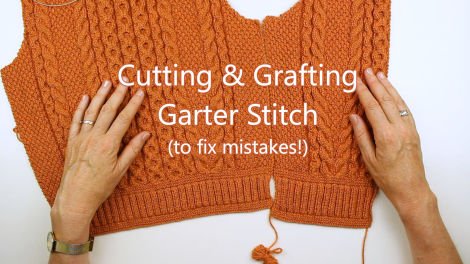 Hearten by Kim Hargreaves
Kim Hargreaves is a very talented designer with a feminine and romantic aesthetic which really appeals to me. I love how tailored and close fitting the little jacket is. It doesn't have any buttons but sits open which looks great over a dress. The shaping on the body and the sleeves is done in between the cables where the seed stitch is and there is also a cute detail of a small frill on the sleeve cuffs. The waist band is actually knitted on three different needle sizes!
Carbeth Cardigan by Kate Davies
My (Andrew here) new project is the Carbeth cardigan by Kate Davies. This is going to be for Madeleine, and she has actually done some of the knitting on the body. I'm a little distressed to hear that we are going to have to rip some out because we had the wrong needles. (That was a bit weird. The packet said 5.5 mm, when we measured them they were 5 mm, but we actually needed 6 mm. How did we manage that???) Andrea has offered to knit it up, which she will do quickly because it is an Aran weight yarn. Carbeth can also be knitted up as a sweater.
The yarn is the Aran weight from Fleece & Harmony, who launched our new "Meet the Shepherdess" segment in Episode 55. I find the yarn easy to work with, and it has passed Andrea's harsh quality testing, so that's all good. It a mix of 60% Canadian Arcott lambswool and 40% Corriedale Cross. The colorway is named after a daisy called "Devil's Paintbrush", which is actually a week on Prince Edward Island. Kim and Jennifer have nevertheless taken a shine to the little flowers, and so have named their colorway Meadow Paintbrush.
Music Credits
J. S. Bach, The Well Tempered Klavier, performed by Kimiko Ishizaka, used under the Creative Commons Attribution 3.0 License

Prelude No. 3 in C-Sharp major, BWV 848
Prelude No. 16 in G minor, BWV 861

Henry Eccles, Violin Sonata in G minor, II. Courante, performed by Thrax, Creative Commons Attribution 3.0
Rimsky-Korsakov, Tale of Tsar Saltan – Flight of the Bumblebee, performed by US Army Band, Public Domain
Pyotr Il'yich Tchaikovsky, Souvenir de Florence, Op. 70, 1 – Allegro Moderato, US Army Strings, Public Domain
Frédéric Chopin, Berceuse in D-flat major, Op. 57, performed by Simone Renzi, Creative Commons Attribution-NonCommercial 3.0 License
Image Credits