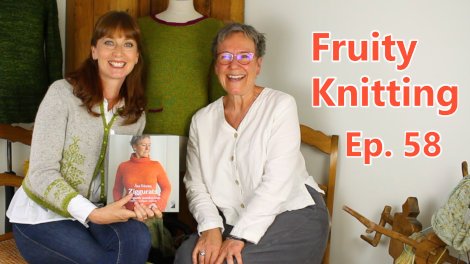 Episode 58 starts off with a bang! Our drone skills are improving and together with Vivaldi's Four Seasons we celebrate the remarkable 14th century castle ruin Liebenstein in some #Extremeknitting footage. Åsa Tricosa, Swedish designer now living in Germany, is our feature interview guest in Fruity Knitting Episode 58. Åsa has recently published a book about her signature sweater construction technique called Ziggurat.  Ziggurat is a top down, completely seamless method of knitting shapely and well-fitting sweaters and during the interview Åsa takes us through the 7 construction steps. We also go to Vermont to meet the shepherdess Amanda from Prado de Lana Yarns and we feature the Canadian designer and yarn dyer Debbie Sullivan from Sweet Paprika Designs in New Releases. Madeleine, our daughter has finished her cardigan, Andrea has started a new project and Andrew's Carbeth is steadily coming along.
Åsa Tricosa
Åsa Tricosa's sweater construction technique, which she calls Ziggurat, is an interesting take on top down, seamless sweater constructions. A lot of people really enjoy knitting top down and seamless and if you are a process knitter who enjoys a puzzle, then the Ziggurat method will have an immediate appeal.
An initial inspiration for Åsa was Tuulia Salmela's Tailored Sweater Method but wanting to eliminate all seams, Åsa zig zags her way around the neckline and shoulders in order to keep 'the integrity of the skein'. The way she has organised her book you can easily mix and match the different design details, like a double knitted hem or a fun pocket, and swap them and apply them to other designs in the book. The book also includes detailed tutorials on her zig zaging method and clear, colour-coordinated charts so the the knitter can easily make adjustments for varying bust sizes and body frames.
Patron Discount
Åsa is offering Fruity Knitting Patrons a 25% discount off all the patterns in her Ravelry store. Before Åsa developed her Ziggurat method, she was designing a lot of amazing shawls, gloves and hats and they too have a focus on unusual and tailored construction. So you will find a beautiful and varied collection of patterns in Åsa's Ravelry store to choose from. Full detail here.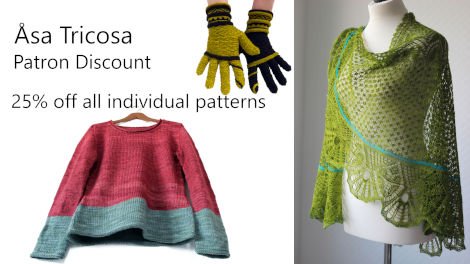 Finding Åsa Tricosa and the Ziggurat Method
Prado de Lana – Meet the Sheep
Amanda, her husband Alberto and their two kids Sammy and Noelia live on a little sheep farm in Vermont. They specialize in producing wool products from their Romney, Lincoln Longwool, and CVM/Romeldale sheep. They love supporting the heritage and rare breeds and they keep their yarn, breed and even ewe specific. That means that their products are not blended with other fibers from other breeds or in some cases even from another sheep!
Their sheep are coated to ensure the cleanest fleeces possible and apart from offering an array of natural colours and yarn weights for knitters, spinners can also purchase roving and raw fleeces.
Patron Discount
Amanda is offering Fruity Knitting Patrons a 10% discount off anything in their store. In their store they have all the breeds of yarn Amanda talks about, in fingering, DK/sport, worsted and bulky weights. They also have roving and kits.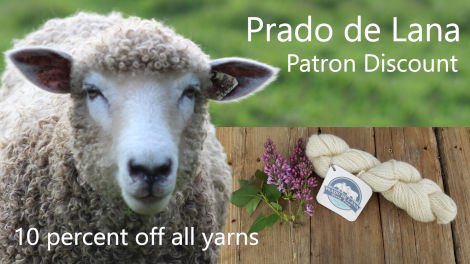 Finding Prado de Lana
Debbie Sullivan of Sweet Paprika Designs – New Releases
Sisters Elizabeth and Debbie Sullivan, are behind the indie hand-dyed yarn business Sweet Paprika Designs. They are based in Montreal, Quebec, Canada and apart from producing stunning yarns and classic, classy patterns, they also offer dyeing workshops in their studio and host monthly knitting teas.
Debbie's shawl pattern – That Night there were Roses was designed specifically to show off their Crescendo gradient mini-skein sets.
Patron Disount
Debbie and her sister are offering Fruity Knitting Patrons a 25% discount off the shawl pattern and a 25% discount off any of their beautiful Crescendo gradient mini skein sets which the pattern was created for. They have really beautiful colours with very smooth transitions, so enjoy looking through their website. Thank you to Sweet Paprika Designs!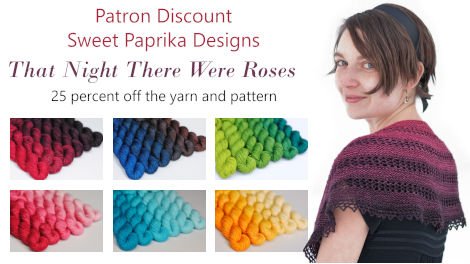 Finding Debbie Sullivan and Sweet Paprika Designs
Audrey in Unst by Gudrun Johnston
Madeleine has finally finished her pretty green cardigan. The yarn is Iona Wool from the Isle of Iona. The yarn still contained spinning oil so it took washing the completed garment for the true quality of the wool to be felt. After it's wash the fibres relax and become softer and loftier.
Madeleine wanted to wear the cardigan in winter so early on she decided to knit a higher neckline using the twisted rib stitch matching the hem. She also increased the arm length from 3/4 to full length. Picking out the correct buttons took a while but we finally settled on some same-colour, flat ones that give off a purly shimmer. Well done Gudrun Johnston! It's a sweet and timeless design and Madeleine looks great in it.
Finding Audrey in Unst and Iona Yarns
Mohr by Norah Gaughan
Andrea's first time knitting a Norah Gaughan pattern and she is loving it! Mohr came out in the Brooklyn Tweed Fall 16 collection. The pattern was written for Brooklyn Tweed's shelter and she is using mYak Baby Yak medium.
Burg Liebenstein
Burg Liebenstein, or Liebenstein Castle, is a hill castle in the state of Thuringia in Germany. It was built in the 14th Century, but there is some dispute about who built it. The arched bridge now at the entrance was built around 1800 to replace a drawbridge which had been destroyed. The castle is located close to the spa town Bad Liebenstein.
Music Credits