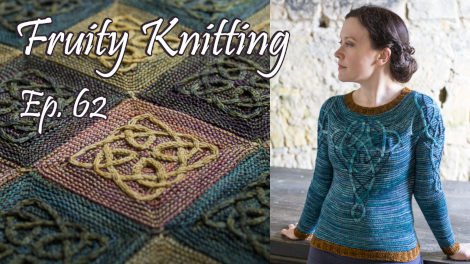 Lucy Hague is the creator of stunning knitted cable designs based on Celtic and Pictish knotwork, and she features in our interview in Episode 62. We even include a short tutorial from Lucy where she shows her advanced cable knitting technique, which allows you to create two-sided cables. Lucy comes from Orkney, a small set of islands in the north of Scotland.
We keep to a northern islands theme for our other two guests. Jennifer Beale, our guest on New Releases, comes from St. Johns in Newfoundland, Canada, and shows us two of her cute lace and colorwork tops. And in Meet the Shepherdess we meet Meg from the Birlinn Yarn Company, based on the island of Berneray in the Outer Hebrides, off the north-west coast of Scotland.
Madeleine shares some good news and gives us a look at her woolen wardrobe, and we give you an update on our projects, all just before we head of to Shetland Wool Week!!!
Lucy Hague – Celtic Knotwork in Knitting
Lucy grew up in the Orkney Islands and has combined her deep knowledge of Celtic and Pictish art and culture and her love of drawing Celtic knots with her long time interest in knitting. Lucy has been able to replicate the stunning interlacing knot work found in Celtic insular art into amazing cable designs. These stunning designs can be found in her book Illuminated Knits and in her Celtic Cable Shawl collection. Lucy's unique designs also incorporate colourwork techniques like mosaic knitting which really takes them to the level of artworks. Some of the techniques that she uses to create these designs are really fascinating and innovative from the knitting perspective as well, so sit back and get ready to be blown away in the interview!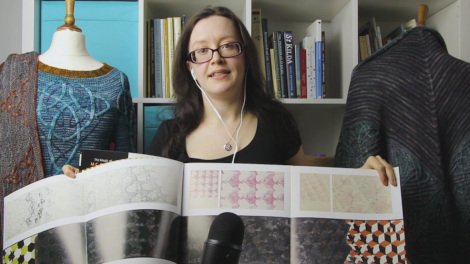 Lucy uses a technique of cables mixed with slip stitches which allows her to have the effect of colour work without having to use stranded knitting or intarsia, which would be difficult to combine with her intricate interlacing cables.
Patron Discount
Lucy is offering our patrons a 20% discount of all her patterns and eBooks in her Ravelry store and a 10% discount off the printed books from her online store. Full details here.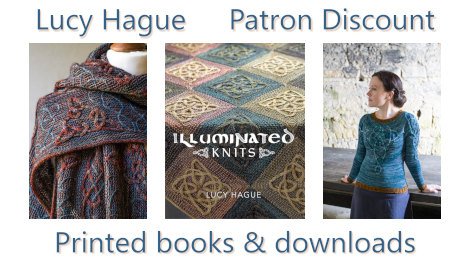 Lucy's music
Jacob's Pillow is an original music band. They write and record their own material, which is a blend of experimental folk rock with a blend of jazz, blues and Celtic music.
Pictism is a traditional folk music band, mainly Scottish and Irish music.
Finding Lucy Hague
Birlinn Yarn Company
Meg and her family run a croft on the Isle of Berneray, in the Outer Hebrides. They rear pedigree Hebridean sheep which are wonderfully adapted to the harsh Hebridean climate. The sheep were brought to the islands in long boats by the Vikings around 800 A.D. In time the Vikings adapted their long boats which were built for speed and long sea journeys to little galleys or what is known as the Birlinn. This was ideal for inter – island travel. Meg still transports her sheep between the islands to make the most of the common grazing lands. Although Meg doesn't use a Birlinn to transport her sheep, she uses the name to reflect the wonderful Norse and Hebridean heritage  that she is continuing with her flock.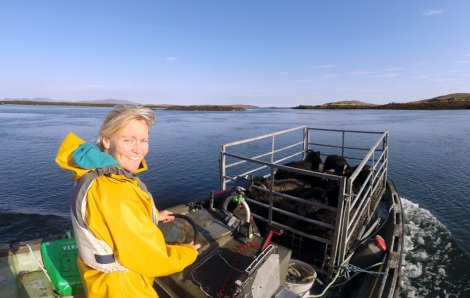 Birlinn Yarn is 4 ply and comes in natural shades as well as a range of organically dyed colours based on Hebridean wildlife.
Patron Discount
Meg is offering Fruity Knitting Patrons a 10% discount off everything in her online shop. This includes all yarn, Kits, patterns and sheepskins. Full details here.
Finding The Birlinn Yarn Company
KnitJBeale – Voy's Beach and Heart's Content
We love how Jennifer and her husband have watched all the Star trek movies multiple times and the above design Voy's Beach is inspired by the Voyager zipping through ocean waves and sand castles at warp speed – very geeky! Jennifer is a new designer with 3 very interesting designs in her portfolio. They all include traditional Fair Isle motifs but use modern shapes and constructions. The recommended yarn is either Knit picks palette or Jamieson's of Shetland Spindrift. Both of those yarns are good quality and inexpensive choices.
Patron Discount
Jennifer is offering a 25% discount of all three patterns for Fruity Knitting Patrons. Full details here.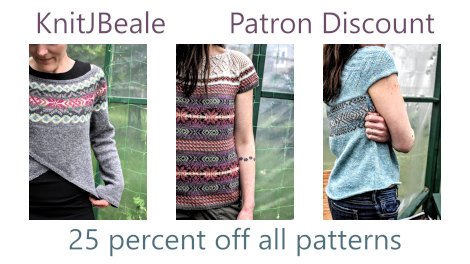 Finding KnitJBeale, Voy's Beach and Heart's Content
Under Construction
Andrew is working on the Chilly Podsters fingerless glove-mitts by Glenna C. It's amazing to see fingers coming together the way they should. These are my entry into the Fruity Mitts and Gloves KAL.
Andrea is working on Tràigh by Jade Starmore, modified to be a sweater for Andrew. This is her entry into the Knit for your man KAL
Music Credits
Image Credits