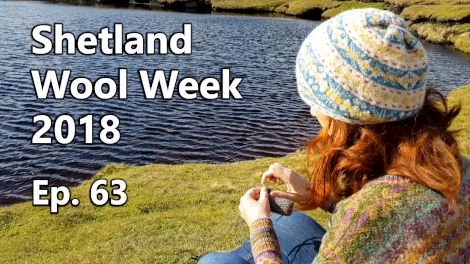 It's Shetland Wool Week 2018 from beginning to end in Episode 63. We've prepared a collection of scenes and experiences to share with you – loads of Fair Isle knitting, the most stunning fine lace knitting, Shetland locals, a few ring-ins, and lots of live music to get you into the Shetland Wool Week spirit.
Shetland Wool Week 2018
Shetland Wool Week is a week long celebration of all aspects of the craft of knitting. The Wool Week is centered in Lerwick, the harbour and main city in Shetland Mainland, but there are events, like exhibitions and tours, the Ceilidh and the Morning Tea spread right across the islands.
The "Hub" is located in the Shetland Museum and Archives. This is a really relaxed space, with comfortable couches and tea and coffee, to let you unwind and get some knitting in. The museum also has a broad collection of vintage knitting, including both colorwork and lace, and information on the history of knitting in Shetland. Shetland Museum and Archives was also the location for many talks. Textile Curator Dr Carol Christiansen spoke about Taatit Rugs, and 2018 Shetland Wool Week Patron Elizabeth Johnston presented a comparison of Shetland and Fair Isle designs.
Organised tours were also available.  These include tours of various regions, such as a visit to Unst in the far north, known for its very fine lace knitting, and a tour of the island of Bressay, just a short ferry ride from Lerwick, which covered local history and culture but also the island wildlife, and included a visit to the lighthouse. Jamieson's of Shetland put on a tour of their mill, and there were also a few farm tours available. These tours are a great chance to get a look at the workings of Shetland, particularly if you don't have your own car.
Courses
There is also huge range of courses on offer. (If you're thinking of Wool Week 2019, get in early!) For 2018 there was far too much to list, but as a sample:
Fair Isle Heels – How to add a Fair Isle Afterthough Heel to your socks.
Introduction to Shetland Lace
Spindle Spinning and the Muckle Wheel
Cast-Ons from Long Ago
Several courses on Steeking and Fair Isle knitting
Borders, Estonian and others!
Courses on natural dying, machine knitting Fair Isle, Peruvian Knitting, fitting, …
Advanced courses. (Shetland has some very skilled knitters.)
Many of the courses are located in Lerwick and can be reached by foot if you're staying in town. If a course is outside of Lerwick, then transport may be provided, but you would need to check the Wool Week site to be sure.
Shetland and Lerwick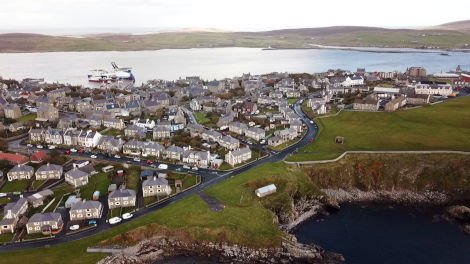 Shetland is an archipelago, a collection of islands, 16 of which are inhabited, and lies around 100 miles north of mainland Scotland, and also around 200 miles west of Bergen in Norway. Although Shetland is part of Scotland, the influence of the Norwegian culture is visible in the architecture, names and in the Shetland dialect.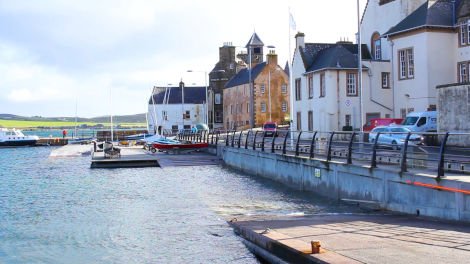 The largest island is called Mainland, and Lerwick is the major city, having around 7,000 of Shetland's 23,000 total population. Travel between the islands is by ferry, either on foot or with your car. It's easy, but you need to consider timetables and you might want to book, especially if you are planning a longer day trip.
As mentioned by Patron Elizabeth Johnston, the weather on Shetland is very varied. Clouds and rain can make way for sunshine several times on any day – it's a great place for rainbow chasers. It can also be very windy. It's not overly cold, but we'd recommend having a good raincoat with you!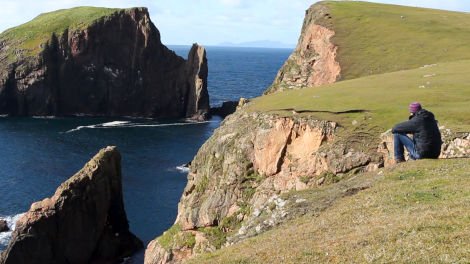 Finding Shetland Wool Week
Hazel Tindall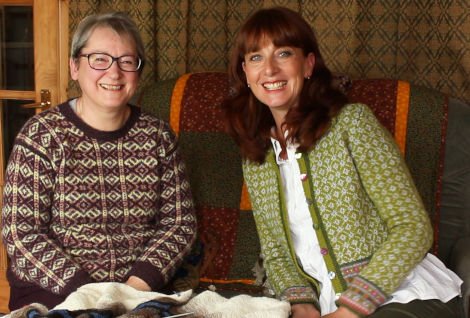 This is our second interview with Hazel Tindall. We interviewed Hazel last year (Ep. 39) during the 2017 Wool Week . Back then Hazel talked about her grandmother, mother, aunts and sisters all knitting to supplement the family income and how she was already designing Fair Isle yokes at aged 12. In this interview we chat about some unusual knitting and crochet projects that Hazel has been working on more recently. We meander from one theme to another an Hazel drops in snippets of very interesting historical knitting info.
Patron Discount – Hazel Tindall Video Series
Hazel has produced two great video series where she shares the expertise that she has gathered as a long time Shetland knitter. They also include instructions on how to use the knitting belt and how to knit more efficiently.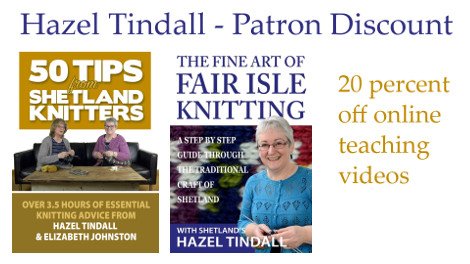 Hazel Tindall is offering Fruity Knitting Patrons a 20 percent discount on each of her video series:
50 Tips from Shetland Knitters, produced in collaboration with Shetland Wool Week 2018 Patron Elizabeth Johnston, which includes knitting tips and answers to the questions that Hazel and Elizabeth have been asked over the many years that they have been giving classes and workshops. There is a tremendous amount of brilliant information in it.
The Fine Art of Fair Isle Knitting, which takes knitters right through the process of knitting a Fair Isle cardigan including instructions on steeking and finishing.
The discount is valid until 30 October 2018. Full details are available here.
Finding Hazel Tindall
Terri Malcolmson – Tina's Hat and Tina's Mitts
Terri Malcolmson is Shetland born and bred and has grown up surrounded by knitting, her grandmother Wilma is the founder of The Shetland Designer which is one of the early knitwear design companies in Shetland. We interviewed Terri with her grandmother back in episode 44. Terri is a very good machine knitter and hand knitter, she was one of the teachers during the Shetland Wool Week this year and has started her own business designing Fair Isle hand knit patterns and machine knits on commission.
Patron Discount – Terri Malcolmson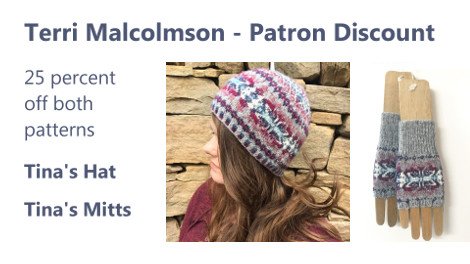 Terri is offering Fruity Knitting Patrons a 25 percent discount on her two patterns Tina's Mitts and Tina's Hat. The offer is valid until 30 October 2018, full details are available here.
Finding Terri Malcolmson
Shetland College – Elaine Nicolson and Faye Hackers
We take you to the Textile department of the Shetland College of Highlands and Islands. In past Wool Weeks the Shetland College Textile department has put on a fashion show during the opening ceremony. You will meet Elaine (above) who is a Shetlander from the island of Whalsey and who has a strong connection to knitting in her family background. Elaine has taken traditional lace patterns and transformed them into modern textiles in a very interesting way. It's also very moving to hear the family stores that have inspired her.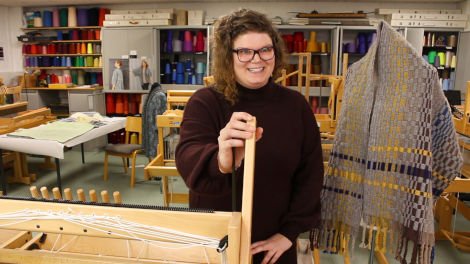 Faye Hackers (lecturer and program leader) also shows us some of the design work from the weaving department and as well as the knitting machines.
Finding Elaine Nicolson and Shetland College
Our Shetland Wool Week purchases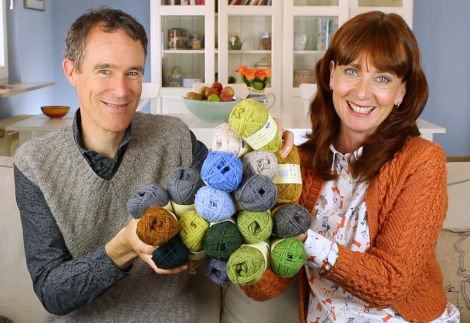 Last year Andrea bought some tweed material from Jamieson's of Shetland, one of which was made rather unsuccessfully into a skirt. Since then she has learnt a few more sewing tips and is feeling more confident so two more pieces of tweed were bought. One for a skirt for Madeleine (our daughter) and one for herself. Andrea also bought yarn to make a Heart's Content by Jennifer Beale (pictured above) from Jamieson's of Shetland and some yarn (yet to be shown) for my next project.
Music Credits
J. S. Bach, The Well Tempered Klavier, Prelude No. 3 in C-Sharp major, BWV 848, performed by Kimiko Ishizaka, Creative Commons Attribution 3.0
Beethoven, Symphony No. 3 in E Flat Major Eroica, Op. 55 – IV. Finale Allegro molto, Public Domain
Sláinte, Album: Cup of Tea, Creative Commons Attribution-ShareAlike 3.0

Fanny Power
She Moved Through The Fair
The Butterfly. Kid on the Mountain.
The Banshee. Gravelwalks. The Old Copperplate.