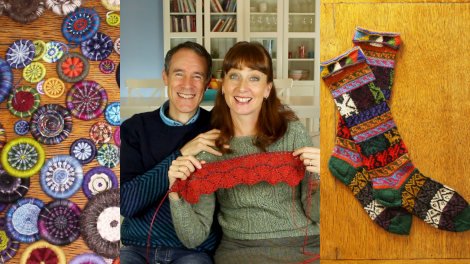 Episode 65 includes two feature interviews on two somewhat unusual subjects. In our first interview with Tania Ashton Jones, you are going to learn all about Dorset Buttons and how to make them. The buttons are stunning and you can put them not only on your garments but all over your accessories and project bags. Once you start making them, you won't be able to stop. Our second interview is with Frankie Owens who is very passionate about Peruvian textiles and in particular their way of knitting. Frankie was giving classes on Peruvian knitting during the Shetland Wool Week 2018. We also meet Carol Sunday, who shows us one of her latest gorgeous designs, a lace top inspired by the Pre Raphaelite -muse and model, Jane Morris and Andrew's jumper is finally finished!
Dorset Buttons with TJFrog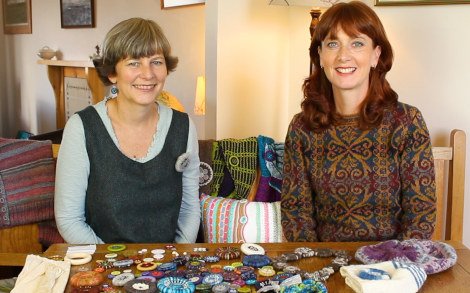 Dorset Button making is a heritage craft and in our interview with Tania we learn about the fascinating history of the handmade material and thread buttons. The industry flourished between 1620 and 1830, until the first mechanical button machine was produced. Tania shows us the original forms of the Dorset Buttons and describes how they were made. We even get to see an original High Top dating back to around the 1650s (pictured below).
Tania's personal favourite are the Dorset Wheel Buttons which she makes in a wide range of sizes and styles. They are also the easiest design to teach beginners on and once you can do the 4 stages of casting, slicking, laying the spokes and rounding, the sky is the limit as to what you can create.
We have a 4 minute tutorial for our patrons where Tania demonstrated these 4 stages. Fruity Knitting Patrons can find Tania's tutorial on making Dorset Buttons here.
Tania has put together Dorset Button making kits complete with full instructions and diagrams to get you started. You will no longer have problems finding the perfect buttons for your hand knitted garments, since you will be able to make them from the same yarn that you are using to knit your project with!
Patron Discount – TJFrog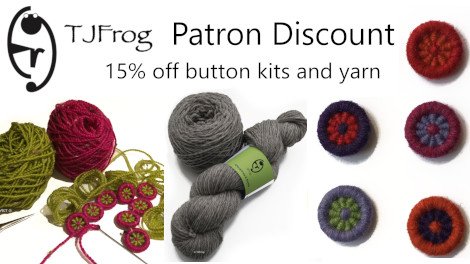 Tania is offering Fruity Knitting Patrons a 15 percent discount on her Dorset Button Kits, which include everything you need to make your own Dorset Buttons, including rings, yarn, and full instructions. The discount also applies to Tania's range of Poll Dorset yarns. Offer is available until 30 November 2018, full details here.
Finding TJFrog
Jane Morris by Carol Sunday – New Releases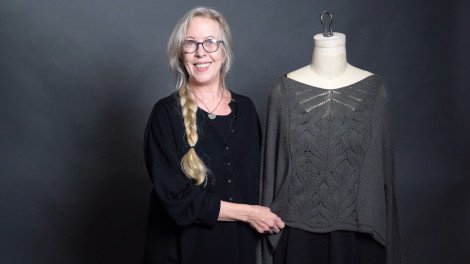 Carol is a very experienced designer with a prolific output of beautiful and elegant designs. I am particularly excited about her lace design 'Jane Morris' pictured above which is inspired by and named after the Pre Raphaelite -muse and model, Jane Morris. Jane was married to the artist and crafter William Morris, best known for his stunning wall paper designs. The front panel of lace on Carol's design is clearly inspired by his stunning artwork.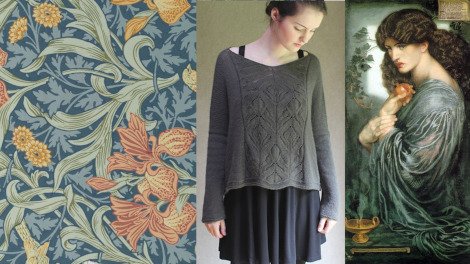 Carol also has her own yarn range, humanely sourced and expertly spun in Italy.
Patron Discount – Sunday Knits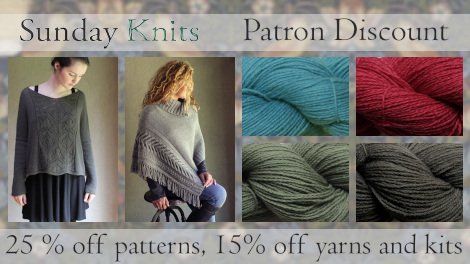 Carol Sunday is offering Fruity Knitting Patrons discounts on her self-published patterns, available via Ravelry, but also on her yarns and kits, available at her website, Sunday Knits. Carol's yarns come in over seventy colors, and are a blend of Australian Merino, French Angora and Mongolian Cashmere fibers, humanely sourced, and processed by experienced Italian mills. You can read the full story of these yarns at Sunday Knits. Offer is valid until 27 November 2018, full details available here.
Finding Jane Morris and Sunday Knits
Peruvian Knitting with Frankie Owens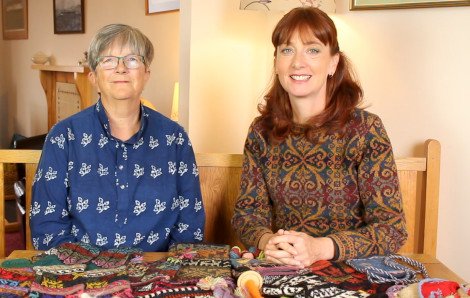 Frankie Owens has been a keen knitter and spinner for most of her life but her love of Peruvian knitting started on a textile tour of Peru soon after she retired. She learned the Peruvian method; knitting with the thumbs, with the yarn around the neck and the work turned inside out, from a Quechuan Indian lady. They didn't share a common language but that didn't matter, because soon Frankie was hooked and now she is a member of the Peruvian Textile study group in Cambridge where she enjoys sharing her skills with others.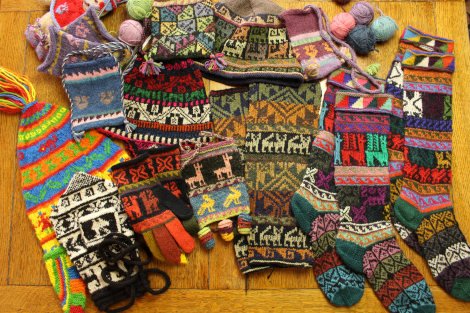 Frankie tells us about the history of Peruvian knitting and shows us some stunning Peruvian hand knitted accessories. The patterns are beautiful, mainly reflecting the natural world and some of them dating back to pre-Inca times. The yarns that are used are hand spun and hand dyed alpaca and the knitting needles are made out of bicycle spokes.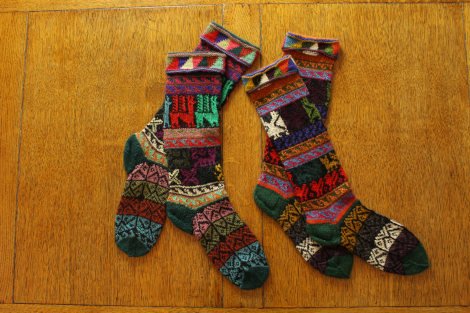 Tràigh by Jade Starmore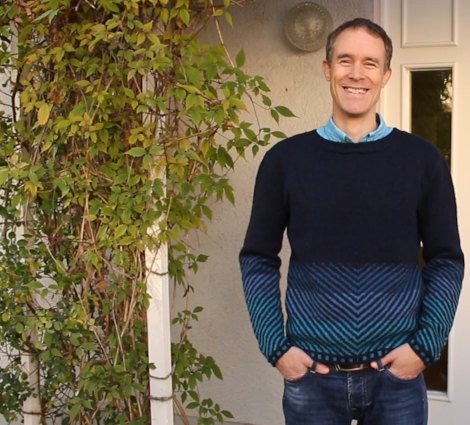 It's finally finished! Almost every section of this jumper has been reworked but the final result is worth it. The colours are stunning and look great on Andrew and he is happy to have another variation in his hand made wardrobe. The yarn is my favourite to knit stranded colourwork with – Hebridean 2 ply by Alice Starmore.
Aquila by Louisa Harding
My new project is a bit of luxurious red lace, a design by Louisa Harding using her gorgeous 100% cashmere yarn. We interviewed Louisa in episode 59.
What are we wearing?
Andrea is wearing Daffodil by Marie Wallin in the episode and in both interviews she is wearing Henry VIII by Alice Starmore.
Music Credits
Image Credits