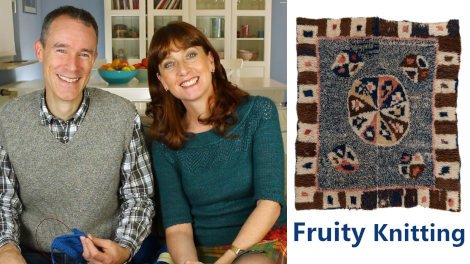 In Episode 66, we continue on with the Shetland theme in our two feature interviews. The first interview is with Shetland farmer Ronnie Eunson who produces very beautiful, organic, pure bred Shetland yarns – Uradale Yarns. Andrew does the interviewing this time and we also get some great drone footage of Ronnie working his sheep dogs to bring in the flock. Our second interview is with Dr. Carol Christiansen, the curator at the Shetland Museum and Archives, who tells us about her research project on the Shetland piled rugs of the 18th and 19th Centuries – Taatit Rugs. Dianna Walla (Paper Tiger) is our guest on Knitters of the World, Andrea shows us a bit of lace and Andrew starts a new project!
Uradale Yarns
Uradale Farm is on the west side of the Mainland just outside of Scalloway, the ancient town and original capital of Shetland. Many of you may have already met Ronnie at the Edinburgh Yarn Festival where he has been a vendor for the last few years. Ronnie's sheep are quite unique, they are the original ancient breed of Shetland sheep which are very small and hardy and come in a variety of colours. Not all sheep on Shetland are purebred Shetland sheep and when you see the purebred or ancient variety, they do look smaller and more colourful.
Around the year 2000 Ronnie changed his farming practices. He changed to only raising pure native breeds of sheep and cattle and converted the farm to be fully organic. Ronnie chose native sheep and cattle breeds because they are relevant to the environment and therefore fitted with his wish to create a holistic farming system.
Uradale yarns are fully organic from the sheep through to the final spinning and dying process. The fibres remain unbleached with a range of natural colours including many variations of grey. The coloured yarns are dyed over the natural colours of the light grey and beige fleeces and are based on the local flora.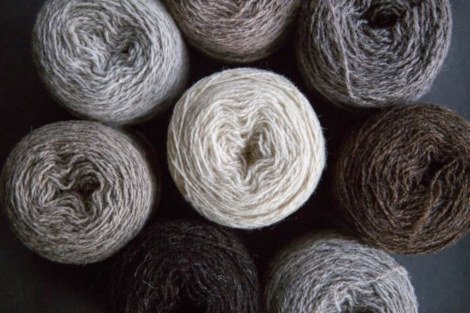 Patron Discount
Ronnie has kindly offered Fruity Knitting Patrons a 10% discount off all his purebred, organic Shetland yarns. This offer is available until 11 December 2018, full details here.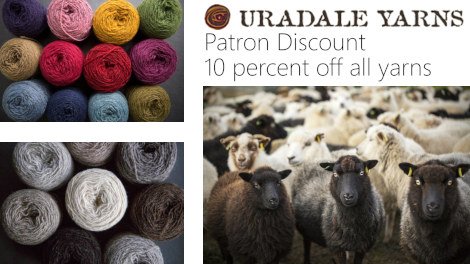 Finding Uradale Yarns
Taatit Rugs with Dr. Carol Christiansen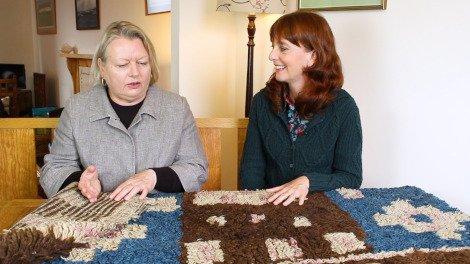 Dr. Carol Christiansen, curator of the Shetland Museum and Archives, led a research project into the history of Shetland's Taatit Rungs which culminated in a book published in 2014. Taatit rugs are heavy woolen piled rugs used as bedcovers in Shetland from at least the 18th century onwards. Through studying these handmade rugs Carol learnt a lot more about early textile practices in Shetland in general but also because they have such a domestic purpose, the rugs told her a lot about the ordinary lives of Shetlanders during the 18th and 19th Centuries.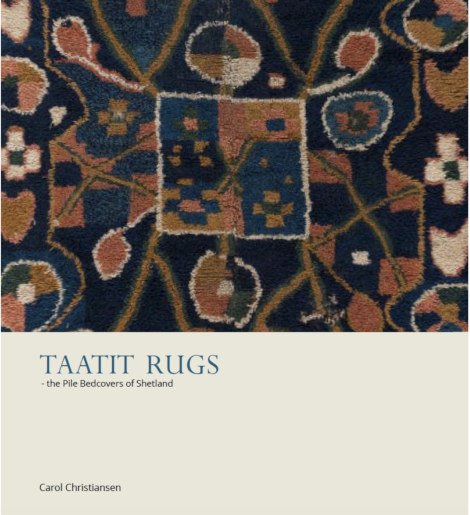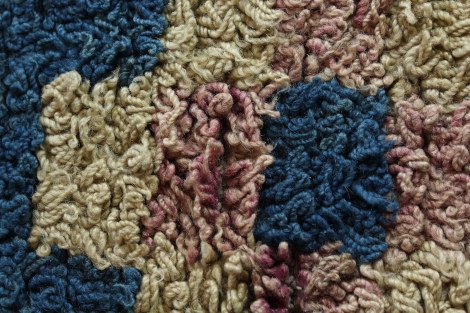 Taatit rugs are hand spun, hand dyed, hand woven and sewn, multipurpose bedcovers that were probably one of the most valuable household items for a Shetland crofter. The picture above is of a rug dating back to around the 1860s and 160 years later it is still in great condition. The indigo dye is still strong and you can see the original purple dye at the base of the piles. The cream colour was originally a bright yellow dyed from local lichens.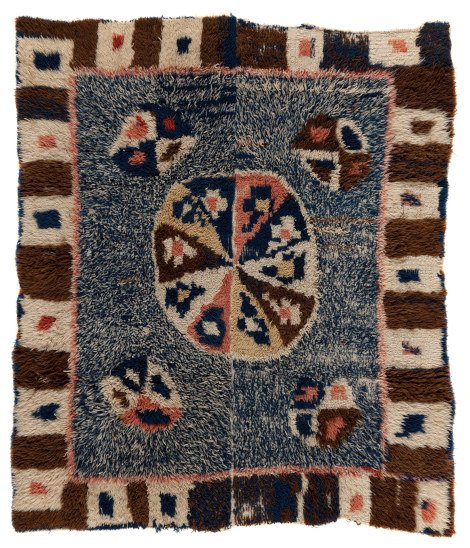 The rugs are covered in symbols of Shetland and Nordic folklore and Carol explains some of those myths to us which I found fascinating and fun. There's lots of witches and trolls involved!
Finding Taatit Rugs
Paper Tiger – Dianna Walla – Knitters of the World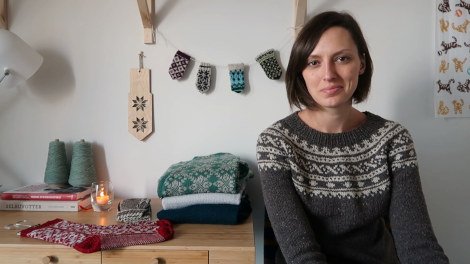 Our guest on Knitters of the World is Dianna Walla (based in  Canada), who goes under the design name of Paper Tiger and has a strong affinity with traditional Nordic knitting. If you don't already know Dianna, she also has a You Tube channel called Paper Tiger where she gives a lot of good advice on stranded knitting.
Dianna has done some stunning stranded designs for jumpers, hats, cowls and gloves. They are very elegant and definitely have a Nordic feel about them.
Patron Discount
Dianna has offered Fruity Knitting Patrons a discount of 25% off all her self-published patterns. We do have a Mitts and Gloves KAL running at the moment, so if you would like to join in and don't yet have a pattern, head over and check out some of Dianna's patterns. Offer is available until 11 December 2018, full details here.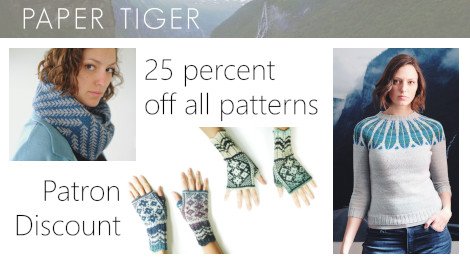 Finding Dianna Walla – Paper Tiger
Mason and Dixon Knitting – Patron Discount
Back in Episode 61 we interviewed Norah Gaughan who is best known for her very innovative and beautiful cable designs. After seeing this interview, Kay and Anne from Mason and Dixon Knitting decided to offer Fruity Knitting Patrons a 15% discount on their latest Field Guide No. 9 – Revolution. That's because it features a collection of Norah Gaughan's designs. There is a cardigan and sweater design with stunning cables around the yolk but also a cabled beret and a cowl or caplet design. Norah's inspiration for the different cable patterns comes from calligraphy, the ironwork of the Eiffel Tower and twisting branches of a tree. They are all unique, beautiful cable designs. Three of the cable motifs are interchangeable, so you can mix and match patterns and garments, if you want. The discount is on both the printed or ebook version.
This offer is available until 11 December 2018, full details here. Thank you Kay and Anne!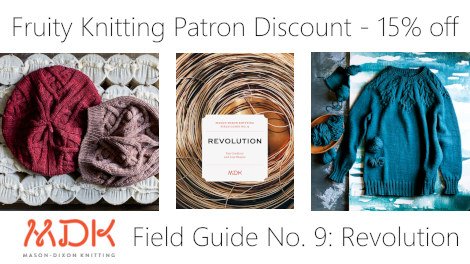 Aquila – Louisa Harding
This lace design Aquila – Louisa Harding is proving to be the fastest knit I've done in a long time. I'm using Louisa's 100% Cashmere Gilli yarn which is totally stunning. It's spun in Yorkshire by a spinning mill that is over 200 years old and specializes in spinning Cashmere yarns. It really is stunning and there's no sign of pilling!
I've modified my gauge and slightly tapered the lower sleeves by changing down needle sizes for the first four pattern repeats but that's all I've tampered with! It should be finished for next episode.
We spoke to Louisa Harding in Episode 59.
Andrew's socks
Andrew has finished a pair of socks in record time (for him). They are totally beautiful and I can't wait to wear them. Thank you Jill for the yarn gift – Bendigo Woolen Mills.
What are we wearing?
During the episode Andrea is wearing her Manzanita Tee by Romi Hill and Andrew is wearing his Whelk vest by Martin Storey. During the interview with Dr. Carol Christiansen Andrea is wearing her Mohr cardigan by Norah Gaughan.
Music Credits
Image Credits