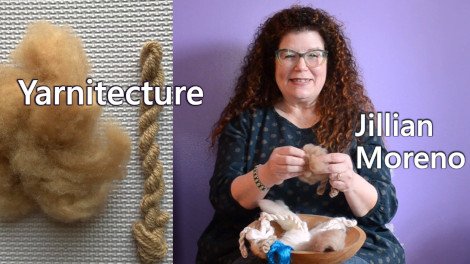 Jillian Moreno is our feature interview guest in Episode 76. Jillian's passion is in spinning and yarn construction, and she is a teacher, a regular contributor to Mason Dixon Knitting and is also the author of the book, Yarnitecture. The success of our projects depend on the yarns that we use, and in this two part interview Jillian takes us into the details of fiber, spinning, plying and grist. We also feature an upcoming talented polish designer Asja Janeczek in our segment 'Knitters of the World'. We show off some great projects from the 3 KALs that are presently running and we have 4 more mini interviews with vendors from the Edinburgh Yarn Festival which we attended back in March.
Yarnitecture – Jillian Moreno
If you want to understand your yarn better e.g. how it's constructed, how to pick the best yarn for any given project, how much twist different fibres need to behave well in a yarn or even how many plies to look for when you have a particular project in mind, you will love this interview. Jillian is very passionate about the topic of yarn construction and she covers all these topics and much more.
Finding Jillian Moreno
Asja Janeczek
Asja started off blogging about machine knitting before delving into designing for hand knitters. Asja grew up in Poland, but has been living here in Germany for many years. She is fascinated by intricate constructions and in her patterns, she strives for an enjoyable knitting process ending with a spectacular effect. Viewers are very lucky to get an early look at two of Asja's designs that aren't yet published – the No Rules Sweater and the particularly beautiful Rosette cardigan. The patterns for those designs should come out sometime over the summer months.
Below are two versions of her Wild Grass Sweater.
Patron Discount – Asja Janeczek
Asja Janeczek is offering Fruity Knitting Patrons a 30 percent discount off all self-published patterns available via her Ravelry store. This offer is valid until 21 May 2019, full details here.
Finding Asja Janeczek
Patron Discount – The Little Grey Sheep
Emma Boyle, who was our interview guest on Episode 52, is offering Fruity Knitting Patrons a 15 percent discount on all yarns in her online shop. This offer is valid until 21 May 2019, full details here.
Vendor mini Interviews – EYF 2019
Garthenor
Garthenor is a family business run by Jonny and his mum Sally. They started producing organic yarn from their own flock of sheep in south west Wales and were the first to produce a fully certified organic yarn. They now source wool from organic flocks all around the UK providing a market for many sheep breeds.
Wensleydale Longwool
Wensleydale Longwool is a business that started 30 years ago by a local lady who had a flock of Wenselydales. In our interview with Kathy (present owner), she shares some history on the Wensleydale sheep breed and the special qualities of their sort after fleece.
Biches et Buches
Astrid is the designer behind the company Biches et Buches, which is named after and influenced by her love of nature and her Scandiavian background. Astrid is so happy to have her daughters helping her out, one is the model and the other takes the photos. In our mini interview Astrid talks about her special yarn blends and their beautiful soft and muted colours which enhance her simple and elegant designs.
The Border Tart
Lindsay's indigo dyeing was greatly inspired by her travels to India where she also learnt about the Indian practice of wearing spices next to the skin for health benefits. The beautiful yellow mitt above is made from turmeric dyed yarn with a little stripe of indigo.
We were wearing
Music Credits