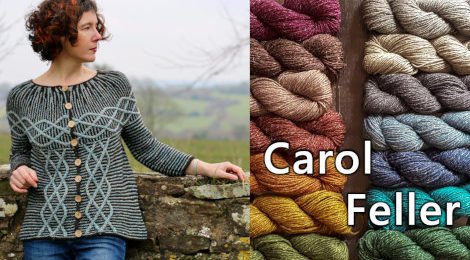 Carol Feller, Irish designer and author of several books, including Short Row Knits and Knitting with Rainbows, is our feature interview guest in Fruity Knitting Episode 80. Carol has been a knitwear designer and instructor for over 12 years, and shares some of her expertise in this two-part interview.
Our guest on Knitters of the World is Tatyana Carr, whose passion for wearable art has brought forth a collection of over 80 knitted lace dresses. The designs are gorgeous and her enthusiasm is infectious. We've also got updates on our own projects, a short extreme knitting segment where we show you a beautiful Welsh gorge called Fairy Glen and we're announcing a new knitalong.
Carol Feller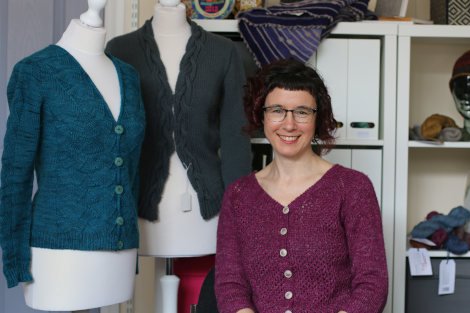 Carol has so much of interest to say that we have split her interview into two parts. Each part is like a mini knitting masterclass. In part one of the interview, Carol categorizes the various types of gradient yarns that are available and then shows us the best ways to use them to get the most out of them from a design perspective.
Later in part two of the interview we really go deeply into short rows. Carol compares four short row methods and shows us which method works best for different knitting projects. Carol has been a knitwear designer for over 12 years and during this time has gained a lot of experience designing and but also teaching. We know you will learn a lot from this interview, which is exactly what we all love and want.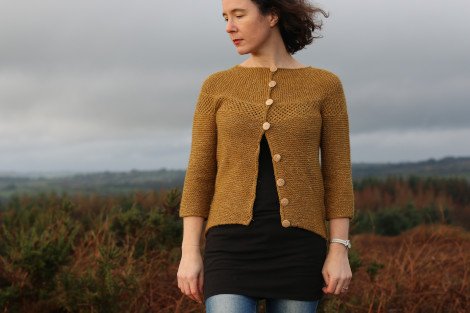 Carol also talks about designing her own yarn, which is a beautiful blend of wool, yak and linen.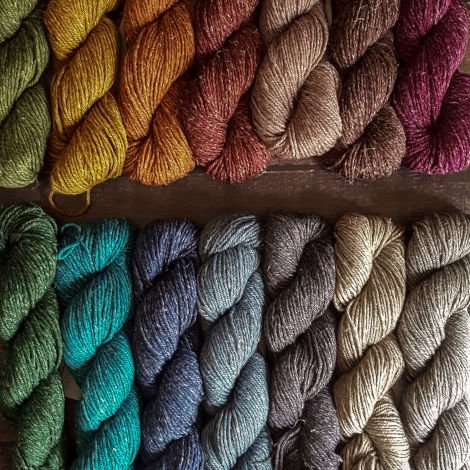 Patron Discount – Carol Feller and Stolen Stitches
Carol is offering Fruity Knitting Patrons a discount on her yarns, books and self-published patterns. This offer is available until 16 July 2019, full details available here.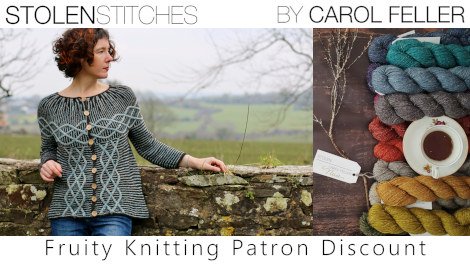 Finding Carol Feller
Tatyana Carr – Heavenly Classy Knits
Tatyana Carr discovered knitting around seven years ago whilst recovering from a motorcycle accident. Although the accident is now far behind her, the knitting has stayed. She admired the beauty of lace doilies and shawls, but wanted something more practical that she could wear regularly, and so started creating her knitted lace dresses.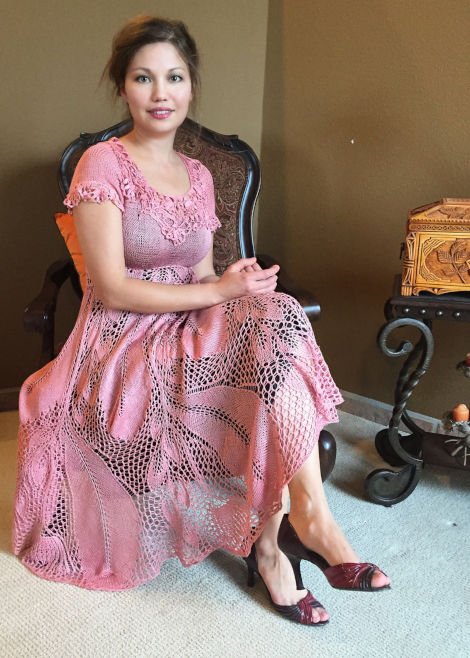 Tatyana is now passionate about her "wearable art", and has created over 80 lace dresses, some of which she has donated to fund-raising activities – a generous act at up to 300 hours knitting for a single dress. Originally from Kazakhstan, Tatyana made the US her home many years ago.
The soft grey shading in the dress above comes from paint. Tatyana is now mixing her media and colouring in her lace patterns to create a fantastic effect!
Finding Tatyana Carr
Miura Cowl by Olga Buraya-Kefelian – Olgajazzy
I've completed my Miura Cowl by Olgajazzy. Olga says that she is inspired by industrial design and architecture. Her knits often feature geometrical shapes, with some great three-dimensional techniques.
The Miura Cowl is a very easy knit, ideal for low concentration knitting. Olga suggests putting a stitch marker after each repeat of the pattern. I did this, but you might consider just having a single stitch marker to mark the beginning of the row.
You might be wondering what the piece of folded paper is doing above? It's a version of the Miura Fold which was developed by the Japanese astrophysicist Koryo Miura and has been used for the construction of the solar panels on satellites, which are 'unfolded' once the satellite is in orbit. This is the inspiration behind Olga's cowl.
Saint Lunaire Griquet by Jennifer Beale
Andrea's current project is the Saint Lunaire Griquet by Jennifer Beale. For the waist shaping, Andrea started with 3.0 mm needles, then moved down through 2.75 mm, 2.5 mm, 2.25 mm and 2.0 mm, then gradually back up to 2.75 mm. This avoided any disruption to the all-over pattern, but because the smaller needles reduced the row gauge as well as the stitch gauge, Andrea added an additional repeat of the pattern to get the length she was after.
For the main color, Andrea is using the Nature's Luxury yarn, On Stage – Long Métrage. This yarn comes in a 400 meter (437 yard) skein. (The term "Long métrage" is a French expression for motion picture, as opposed to a short film.) The yarn is wool, silk and camel in a 50% / 30% / 20% blend. Andrea is considering two alternatives for the contrasting color. The first is the same yarn but in the colorway Horse Whisperer. The second option is Farouche, a blend of 65% silk and 35% camel, in the colorway Swamplandia.
We were wearing
Music Credits