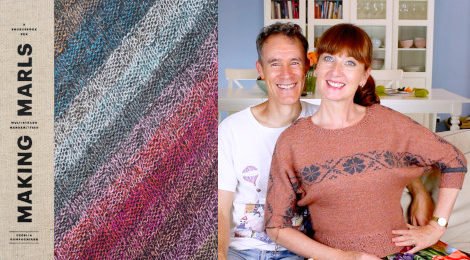 In Episode 106 our feature interview is with Cecelia Campochiaro again but this time we talk about her latest book – Making Marls. Making Marls is a systematic approach to putting sets of colours together in order to make very beautiful fabrics. The book is sort of a scientific approach to finding your fade and it definitely gives knitters more confidence with colour. Since we really delve into colour in this episode, Andrew became curious as to how the colour wheel is actually possible and why it's not just a colour line. He did a bit of reading and found the answer in the 'Line of Purples' which he shares with us. Andrew's forays into related topics are always fun.
In our Knitters of the World segment we feature the young U.K. designer Lily Kate France and then we take you to the beautiful French city of Strasbourg for a quick tour of the stunning architecture, accompanied by some beautiful music. We also announce two new Knitalongs and give you an update on our own knitting projects.
Making Marls by Cecelia Campochiaro
Marled knitting is where you actively put different strands of yarn together to create interesting marled effects in your knitting. Combining two strands of yarn together is very typical but if they are thin yarns you can put 5-6  or up to 10 strands together. Having multiple stands of different colours allows you to blend colours with more nuance and to get new shades and interesting gradients. You can have precise control over the look of your fabric simply by swapping in and out different coloured strands to change the hue or texture as you are knitting along and that's pretty exciting.
Cecelia is very systematic in how she works but also in the answers she gives us and how she explains things. I think this is particularly helpful for teaching people. People come to colour with very different mind sets. Some are very intuitive, and others are much more analytical. Some people need to start with a bit of analytical structure just to get themselves familiar and comfortable working with colour and then they can relax more and allow their intuition take over. The book Making Marls is very helpful for that.
Cecelia goes into depth about the different techniques of making marls and in particular what she calls strand weighting and working with her micro swatches. She also addresses the knitter who is nervous about playing with colour to help them get started and tells us what traps we should avoid.
Finding Cecelia Campochiaro
Patron Discount – Making Marls
Cecelia has arranged a discount on her book Making Marls for Fruity Knitting Patrons. Two of her distributors are offering a 20% discount on the book. In the states School House Press is offering the discount. School House Press is an online store with a fantastic range of the top knitting related books and European yarns. In Europe, ITO yarn and Design is offering a 20% discount on the book. ITO yarn and Design is a wholesale stockist of luxury Japanese yarns, patterns and products and they are based in Berlin. This offer is valid until 1 September 2020, full details here.
Lily Kate France
Lily Kate France is quite exceptional, at the age of 13 her knitting patterns were being published in UK knitting magazines like The Knitter and Vogue Knitting. Then in her late teens she took a break to formally study textiles and has recently dived back into publishing knitting patterns again. She is charming and fun, so you'll enjoy meeting Lily.
Lily has very wearable, fashionable designs and most of them look like great relaxing knitting. I think she has a real talent for designing.
I really love the Avenham Cardigan with the flutter sleeves (pictured above). Lily has used the yarn combination to perfection in that design, it's classic. I also like her simple catchy names like the Be Thankful Cardigan and the Everyday Sweater. Well done Lily, we think you have great career in front of you!
Finding Lily Kate France
Patron Discount – Lily Kate France
Lily is offering Fruity Knitting Patrons a 25% discount off all her self-published patterns which you can buy either in her Ravelry Store or from her shop on her website. This offer is valid until 1 September 2020, full details here.
Under Construction – L'Anse au Loup by Jennifer Beale
This garment is a study in steeking so every bit of colourwork that you see has been knitted in the round with steeks that are cut open so the colourwork ends up a flat piece of knitting.
The cuffs are particularly interesting, they are probably my favourite part of the design. What is fascinating is each cuff ends up with four cut steeks and what Jennifer has done here is quite ingenious because she uses the bulk of the steeks to good effect and makes them into a steek sandwich. It creates such an elegant finish and reminds me of trimming on a medieval garment.
Bowie by Lisa Richardson – Under Construction
Andrew was tempted to say that he has finished one of the sleeves, but unfortunately he hasn't. The sleeves are in two parts – the first part is this leaf pattern, which he has finished for the first sleeve, and has started for the second sleeve. The second part of the sleeves is an intricate, Shetland -style border which is still to come.
Bowie is included in the Rowan Magazine Number 67.
Strasbourg
We take you on a little tour of Strasbourg, which is around 2 hours' drive from Frankfurt. Strasbourg was first mentioned as a Roman military outpost in 12 BC, so it celebrated its 2000th anniversary in 1988. We think that Strasbourg is particularly beautiful because much of the architecture from this long history has been preserved.
Andrew tells us a little bit about the city's architectural history before hand so you can appreciate the details during the segment, which is accompanied by the beautiful Violin Sonata in B Flat major by Mozart.
Two new Knitalongs
#FruityMachineKnittingKAL
Last episode we featured Machine Knitting with the expert Susan Guagliumi and we received a lot of enthusiasm for the craft so we thought it would be great to start a Machine Knitting KAL. The idea for this KAL is to provide a little community for those interested in exploring this craft so they can get inspiration by watching what others are doing or get advice from those more experienced. There are very few rules. The project must have some machine knitting involved but you could easily combine machine knitting with handknitting, crochet, embroidery or do just straight machine knitting. To get people started with things to look at we will allow works in progress.
Finding the KAL
#FruityMakingMarlsKAL
I'm a colour fiend, so I particularly enjoyed learning more about this topic with Cecelia. As the title says it's all about exploring marled fabrics. Obviously if you have Cecelia's book you can use her patterns and ideas but you can also enter projects of your own creation or any other designers pattern as long as it is marled. That means you need to be combining at least two strands of yarn together you can't just knit a project with a yarn that has already been marled. Because I want this to be colourful, the other rule is you can't use two strands of exactly the same colour, they can be extremely close but we want to go towards marling with colour and not just for an interesting texture. This is going to be a lot of fun and we encourage you to be daring!!
Finding the KAL
We were wearing
Music Credits