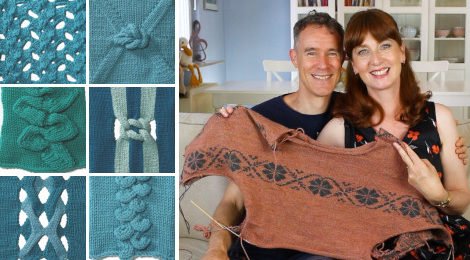 In Episode 105 we are thrilled to finally present what we think is a great interview with the machine knitting expert Susan Guagliumi. We love to feature a wide variety of knitting styles and techniques on the show. We've also featured small amounts of related crafts like crochet, spinning, weaving and sewing, but up until now we've never done an in-depth feature on machine knitting. We thought it would be wonderful to also feature a hobby machine knitter in the same episode so for our Knitters of the World segment we go to Switzerland and meet Jaci.
We like to delve into history whenever we can and see if there's an interesting story to share with you, so Andrew tells us about the very first knitting machine that was invented in 1589.
Roses are in full bloom right now and we take you to Rosenhof Schultheis in Steinfurth, the oldest rose nursery in Germany, where they have over 1000 different varieties. Andrea does a mini interview with the breeder and we fly the drone over the rose fields. You're in for a real treat with this episode.
Susan Guagliumi – Machine Knitting
Susan Guagliumi has had a long career teaching machine knitting in many countries, her books and online courses are highly regarded amongst machine knitters and because of her experience Susan really is the perfect person to introduce the world of machine knitting to us. This is an area that I knew nothing about before I started researching for the interview. We've made it a two-part interview and I've tried to cover as many angles as possible so we can get a comprehensive introduction to the craft.
We cover a lot of topics: a little bit of history, basic differences between how hand knitters and machine knitters work and think about their projects, which machines are good to buy and we see some pretty amazing swatches of stitch patterns using slits, large holes and lots of fancy techniques. Susan also tells us what it was like for her to teach machine knitting in different countries around the world.
It was interesting to learn that Susan was a professionally trained weaver before becoming a machine knitter. That seems like a very natural transition to me. The action of the carriage on the knitting machine going back and forth and the shuttle on the weaving loom is very similar and for both crafts you sit stationary with the machine in a permanent set up.
Finding Susan Guagliumi
Patron Discount – Susan Guagliumi
Susan is offering Fruity Knitting Patrons a 15% discount off her teaching books and a 25% discount off her online courses. This is a great offer so if you have been wanting to explore the craft of machine knitting, now is a great opportunity to look into it. All the details for the discount are here.
Jaci Oertli – Knitters of the World
We first met Jaci at the Swiss Yarn Festival.  Jaci told us how she (as a beginner) completely dismantled her knitting machines to clean them and then successfully put them back together and how she would disappear for hours on end into her craft and get lost in the world of machine knitting. I thought then that with her true passion she would be a fantastic guest to have on Knitters of the World. We are very happy that with a bit of arm twisting she agreed to share her world with us.
I loved seeing her work through a project on the machine. It's so interesting to me that you can do hand knitting patterns on knitting machines. Below is the design Walk in the Dawn by Asita Krebs.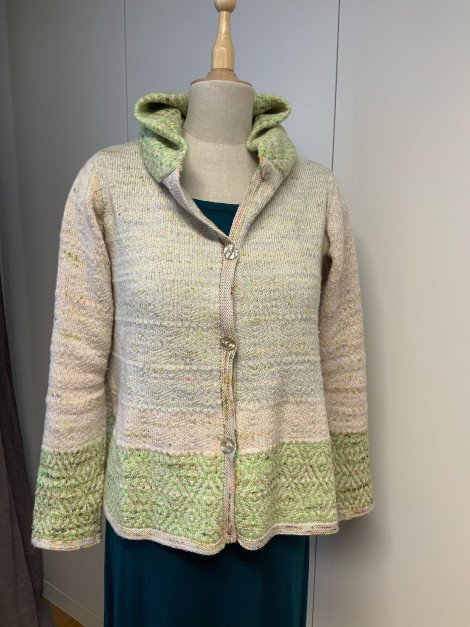 Finding Jaci
Rosenhof Schultheis
Christian Schultheis is the 5th generation to breed roses in Steinfurth. Although they have over 1000 varieties, he is always looking to improve a breed. He tells Andrea what's involved in developing a new rose breed and exactly what qualities he's looking for to make the perfect rose.
The Rosenhof Schultheis has been in the heart of the rose village of Steinfurth since 1868 and has been dedicated to the cultivation and marketing of high-quality garden roses for five generations. It's the oldest German rose school, with over 1000 rose varieties and offers one of the world's largest assortment of historic, rare and modern roses.
Finding Rosenhof Shultheis
L'Anse au Loup – Jennifer Beale
My new knitting project is coming along well. It's L'Anse au Loup by Jennifer Beale and I'm using John Arbon's sport weight yarn Yarnadelic in the colours Pink Moon and Badi Da. The dolman shaped sweater has a super fun construction. It's a study in short rows and steeking.
Bowie – Lisa Richardson
After practicing his new flicking technique on a very large swatch, Andrew has decided his gauge is finally even enough to start working on the body of the Bowie design by Lisa Richardson. At the same time he has been working on the complicated lace sleeves which get increasingly difficult with every row.
Lisa Richardson is also the designer of Ashie, our title sweater.
Music Credits