All young ladies are accomplished. They sing, they draw, they dance, speak French and German, cover screens and I know not what.
Jack and the team are pleased to announce the arrival of the Fruity Knitting Podcast Episode 2.  Sentence fragments.  The occasional lost. train… of…  But loads of ruthless editing, and we think it turned out o.k.
Without further ado:
Find Fruity Knitting on
On Episode 2
Darkness Coat by Kim Hargreaves
Calder Beanie by Sarah Hatton
Temperate Fitted Sweater by Kim Hargreaves
Rowan Pattern Book "Still"
The Darkness Coat and Temperate patterns are both available in the Rowan Still pattern book.
Andrew's Socks
There are a lot of stitches in these socks, and each one is getting the attention it deserves.  The pattern is based on Hermione's Everyday Socks by Erica Lueder, available for free on Ravelry, but I'm doing them without the "texturing" in the original pattern.  So Erica's pattern is really a lot more interesting than what I'm doing, but I'm still on trainer wheels.
I'm using a German wool – Trekking XXL by Atelier Zitron, colorway 598.  It is colorful.
Windy Scarf by Martin Storey
Ashie by Lisa Richardson
Andrea confides how she combobulated her bobbins, shares significant structural strategies, and more.  Not for the faint-hearted.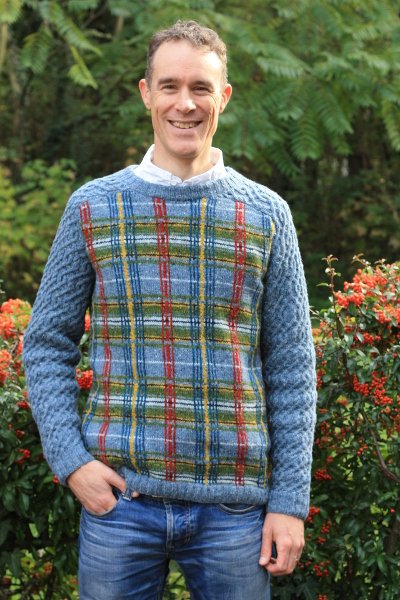 Knitting Konrad
Knitting Konrad, who showed that the Ashie could be made in a fitted style for slim, well-built blokes.
Trefriw Woollen Mills
The Trefriw Woollen Mills website includes an online shop, and opening times, if you lucky enough to be are able to visit the mill.  You can see the "vintage" machinery in action, including the weaving looms, carding engines and spinning mules.  The mill also offers hand spinning and rug making demonstrations, and has a Weaver's Garden with plants used for natural dyes and fibres.  Check the website for opening times, as not all areas are open all year around.
Walking in Snowdonia
Our walk this week is The Fisherman's Path and Cwm Bychan.
Followed by scones and tea.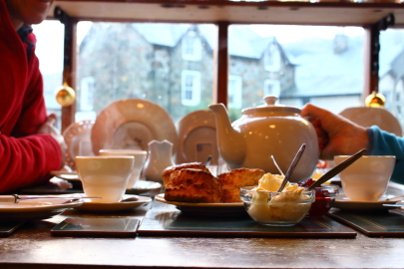 Kath & Kim
Kath & Kim was an Australian television sit-com and broke records for audience numbers.  It centers on a suburban family.  It is culturally challenging.  We first saw it when we had already been away from Australia for several years, and it was so painfully accurate in picking up on the embarrassing parts of Australian it was at first more embarrassing than funny.  They have fun with language mistakes – "cup-of-cino" or "What does that pacifically entail?"  So when Kim tells Craig to paint the hallway in "eggplant", it ends up yellow and white.  You may need some Australian blood to fully appreciate it.
Music
Kimiko Ishizaka plays Bach's Well-Tempered Klavier, Prelude Number 3 and Prelude and Fugue Number 5.