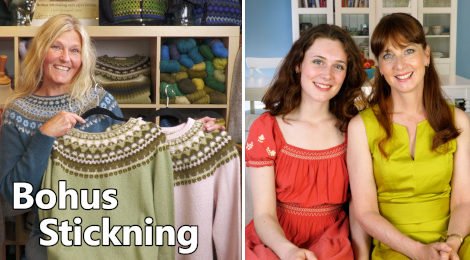 Madeleine and I are very happy to be releasing Episode 112 and I am particularly excited about our feature interview on the amazing story behind Bohus Stickning. There is also a short tutorial on how to create Christel Seyfarth's magic balls, Madeleine talks about her painting hobby, and of course there's the usual updates on our own knitting projects. We hope you enjoy the program!
Pernille Silfverberg – Angora Garnet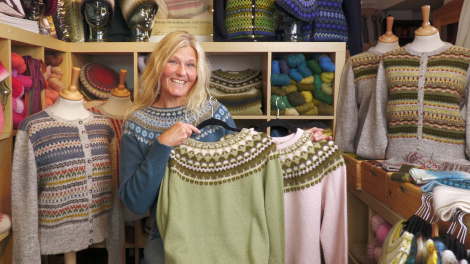 Bohus Stickning is a Swedish cultural heritage. The brand became known for its exquisitely beautiful, high fashion designs that were hand knitted and sold in top department stores. The brand then became really famous when royalty and glamourous movie stars started wearing the designs in the 50s and 60s. Bohus Stickning actually started in the 1930s as a Swedish knitting cooperative to provide income for very poor families in the Bohuslän area of Sweden.  Now, the Bohuslän Museum works hard to preserve this wonderful knitting culture and they have authorized Pernille Silfverberg to create the yarn kits for the original Bohus Stickning designs.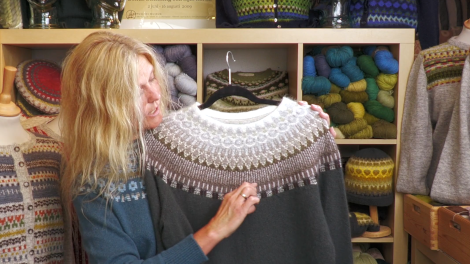 Pernille is the perfect person for this, she is extremely passionate about the designs but also about story behind Bohus Stickning. The yarns used for the designs are a blend of wool and angora and Pernille provides the angora from her own farm of angora rabbits, so she is intimately involved in the whole process.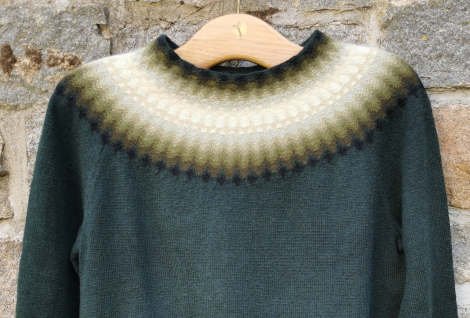 The beautiful shimmering design above is called 'The Green Mist' and is part of the Mist Collection by the designer Kerstin Olsson. The design below is my absolute favourite, it's called 'The Wild Apple' and is also by Kerstin Olsson. The design is also called 'The Masterpiece'. It was one of Kerstin Olsson's first designs and at that time she didn't think much about the knitter. There are 13 colours in the colourway and for several rows the knitter is using 3 colours in a row and for some rows there are even 4 colours used in a row. This design is a challenge to knit but the reward is very high.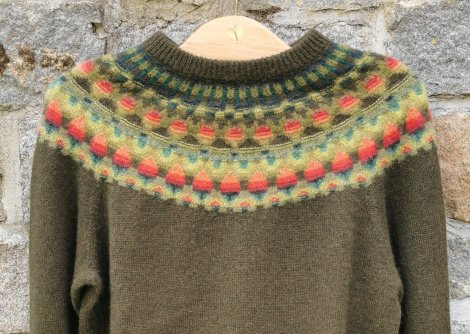 I love this interview; I think you will too and you'll definitely be blown away with the sheer beauty of these amazing designs.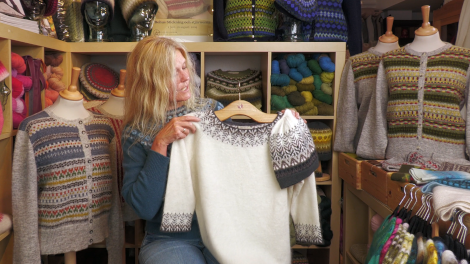 Finding Angora Garnet
Patron Discount – Angora Garnet
Pernille is offering Fruity Knitting Patrons a discount. She isn't able to give discounts on the kits of the Bohus Stickning designs because all prices are determined in agreement with the Bohusläns museum but she can give a 20% discount on all the woolen yarns and also a small discount on the book, Bohus Stickning the Revival. All the details for this discount can be found on our Patreon page.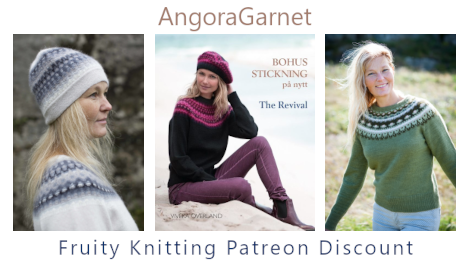 Bohus Stickning – Knit a long
I just know that so many of you will be very excited about these designs and we haven't started a new Knit a long for a very long time. Therefore I think the time is right to start one now with the theme of Bohus Stickning. The knit a long will be held over in the Fruity Knitting Ravelry group and on the Patron Community Forum. I do have to say that when Andrew was working with me, we were both literally working full time and 7 days a week on Fruity Knitting. So many things that were done by Andrew will no longer be done and I am not able to work at the same pace as I was previously doing. I will set up the threads but at this stage I won't be able to answer questions or monitor the groups. Nevertheless, I would like to set up a platform where people can connect together and share their excitement and enthusiasm about their Bohus Stickning projects. Have fun!
Tutorial – Christel's Magic Balls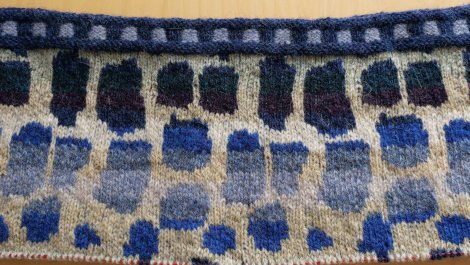 As long-term viewers will remember this was going to be a vest for Andrew and I called it Andrew's Full Recovery Vest. It's based on a Christel Seyfarth design which I saw hanging in her shop window when Andrew and I visited the island of Fanoe, in Denmark last year. I just couldn't stop looking at this design because the material was so unique. The inspiration for the pattern came from Ikat or Kasuri weaving which you can find on Chinese and Japanese Kimonos.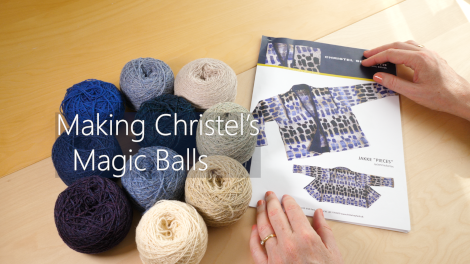 Christel Seyfarth uses her very special Magic Balls technique to create the colourway of this design and also for many of her other designs. It really is an interesting technique and a lot of fun to do. When I was in the cancer Clinic with Andrew, I filmed a short tutorial showing you how I created my magic balls for Andrew's vest.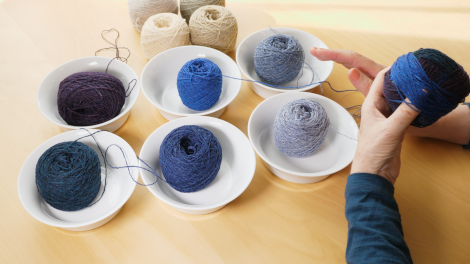 Bring and Brag – Laya – Kim Hargreaves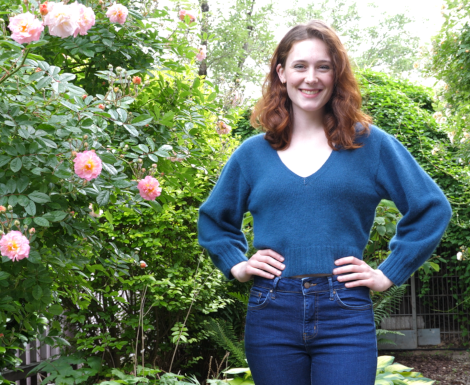 This design is by Kim Hargreaves. It's called Laya and comes from her Capsule Collection. No. 10 Ravish. I adore Kim Hargreaves designs. They are so classy and modern and there is often an element of the design that is really exaggerated making them stand out amongst similar designs. Laya is a good example because it is so much more than just a stocking stitch v neck sweater. The v neckline is exaggerated, making it fairly risqué and the sleeves are also exaggerated, making the design look both classy and edgy.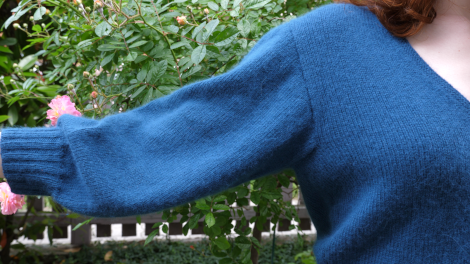 Shine Mittens – Sofia Kammeborn
Madeleine has picked out these beautiful mittens Shine by Sofia Kammeborn to practice the technique of stranded knitting.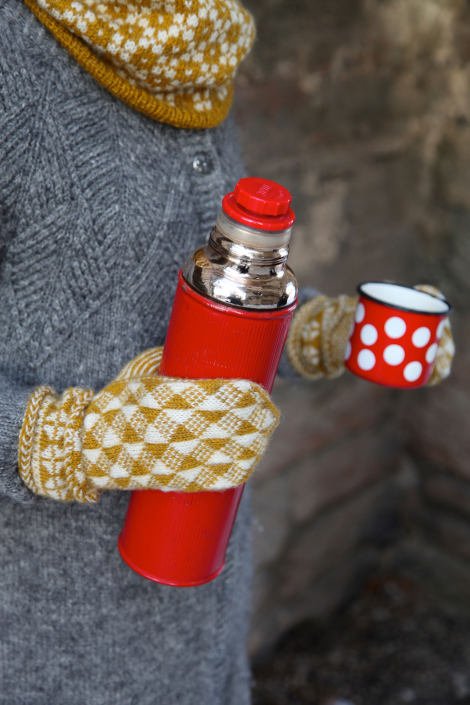 Madeleine's Painting
Madeleine has started painting as a hobby and goes to a little art studio at her university in Ulm. She hasn't had any proper lessons but there is usually a real artist there in the studio to give tips and answer questions. Madeleine shares her first acrylic portrait with us which she copied from a famous Norwiegan painting known as 'The Fisherman' by the German artist Harry Härendel.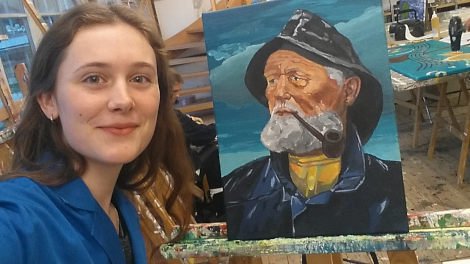 Music Credits
J. S. Bach, The Well Tempered Klavier, Prelude No. 3 in C-sharp major, BWV 848, performed by Kimiko Ishizaka, Creative Commons Attribution 3.0
Frédéric Chopin, Nocturne in B-Flat minor, Op. 9 No. 1 performed by Eduardo Vinuelaya, Public Domain
W. A. Mozart, Violoin Sonata no. 26 in B Flat, K. 378, performed by Corey Cerovsek,  Creative Commons Attribution 3.0