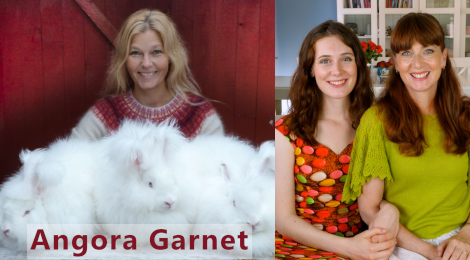 The feature interview in Episode 112 was with Pernille Silfverberg where she shared the amazing story behind the development of Bohus Stickning. We are going to continue on with that story in Episode 113 as well. In this interview we cover the 1990s Bohus Stickning revival, and share more technical advice on knitting Bohus Stickning, but the majority of the interview is about Pernille's angora rabbits which she breeds for wool. Our second feature is with the shepherdess Tammy White from Wing and A Prayer Farm in Vermont. We also have our own project updates to share and a little segment on invisible mending which we hope you'll enjoy.
Pernille Silfverberg – AngoraGarnet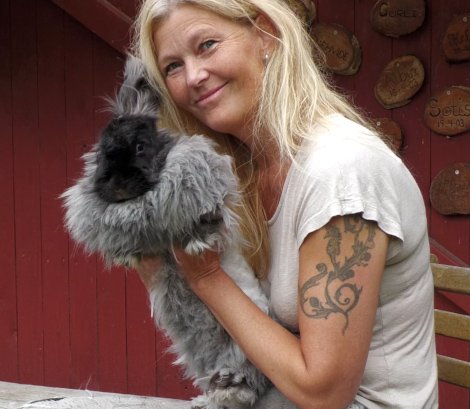 The Bohus Stickning Brand started in the 1930s to provide an income for poor families in Bohuslän, Sweden and over the next 30 years the brand became known worldwide for their exquisitely beautiful, high fashion designs. Bohus Stickning was closed in the late 60s but it had a major revival in the 90s. In today's interview we cover the revival and Pernille shows us more designs but a large part of the interview is about her angora rabbits.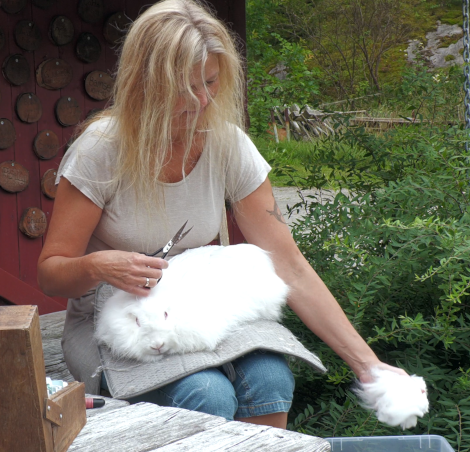 Pernille farms around 250 angora rabbits for their wool, which is then blended with fine merino wool to make the very special Bohus Stickning yarn. Pernille clips the rabbit's wool herself with scissors, which you'll see footage of and she is quite the expert on the all special qualities of angora wool and how to knit with it.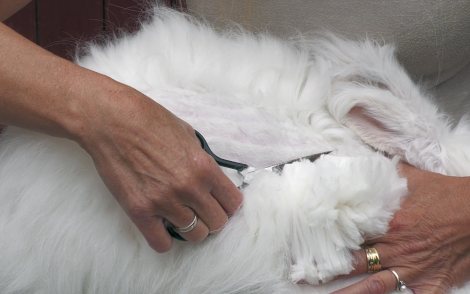 I think it's a great follow on interview from the previous one and it's wonderful to learn more about the wool from angora rabbits, as we haven't had that on the show before.
Finding AngoraGarnet
Bohus Stickning – Knit a Long
We have started a new Knit a Long with the theme of Bohus Stickning which will be held over in the Fruity Knitting Ravelry group. The projects must be either a Bohus Stickning design or based on a Bohus Stickning design. If based on a Bohus Stickning design, please clearly state this. I am very happy to set up this platform so Fruity Knitting viewers can connect and share their excitement and enthusiasm about their Bohus Stickning projects. Have fun!
The Wild Apple – Kersten Olsson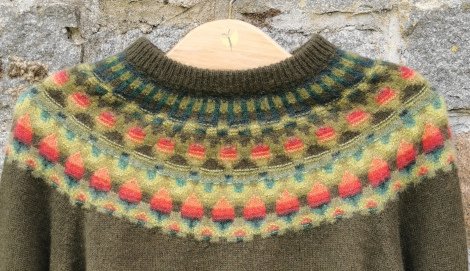 I have recently started my own Bohus Stickning project, the design Vildäpplet (The Wild Apple) pictured above by Kersten Olsson. So far knitting the yoke has been immensely pleasurable.
Wing & A Prayer Farm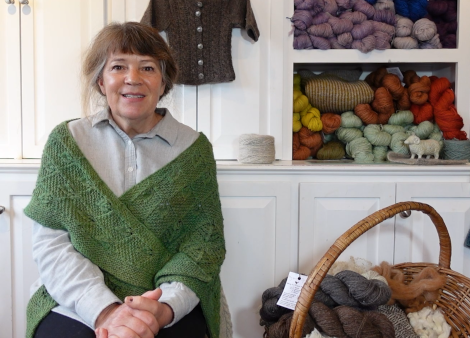 In our Meet the Shepherdess segment, we feature Tammy White from Wing and A Prayer farm in Vermont. Tammy's farm is the kind of farm you find in classic children's story books like Charlotte's Web, with a wonderfully diverse selection of animals. Tammy has pigs, ducks, chickens, goats, alpacas, and about 10 different breeds of sheep.
Tammy makes her own unique blends of yarn from all her different fiber animals, which she then naturally dyes using plants from her garden.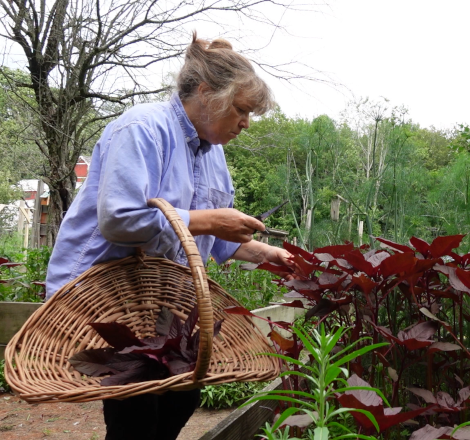 Tammy is also doing a special breeding up program on Valais Blacknose Sheep which is fascinating to hear about.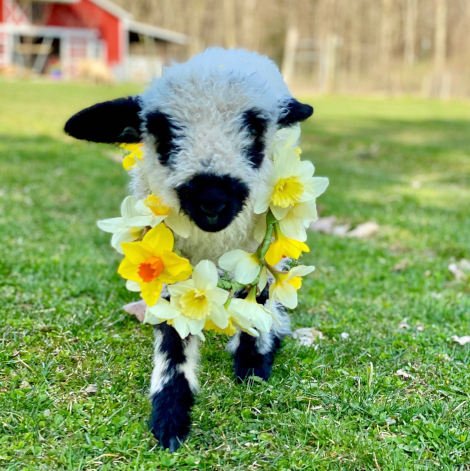 Finding Wing & A Prayer Farm
Patron Discount – Wing & A Prayer Farm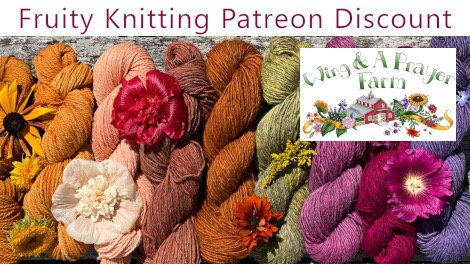 Tammy is offering Fruity Knitting Patrons a 10% discount off any purchase from her Etsy shop. That's quite exciting, Tammy has lots of lovely yarn both dyed and undyed. She also has Farm Made Tallow and Goats' Milk Soap and you can buy tickets for her Natural Dye Indigo Virtual Workshop which sounds like a lot of fun. The details of this Patron discount can be found here. Thanks very much to Tammy.
Bring and Brag – Bowie – Lisa Richardson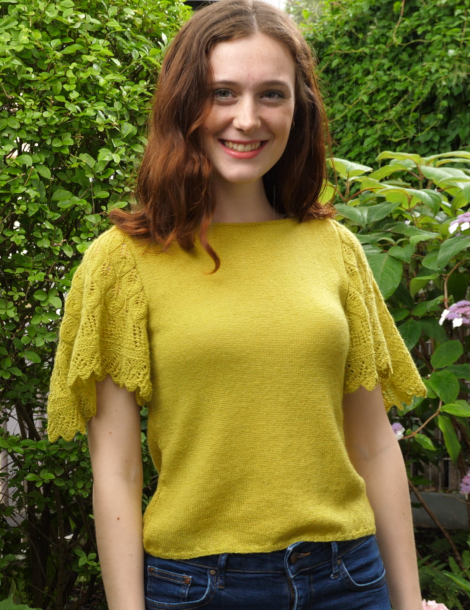 Very surprisingly, we have the section bring and brag for two episodes in a row. Bring and brag only happens when we have completed a project. Many of you will remember this project of Andrew's that he was working on. It's Bowie by Lisa Richardson  knitted in the Rowan Fine Lace. He knitted the vast majority of this beautiful design and he knitted it very beautifully.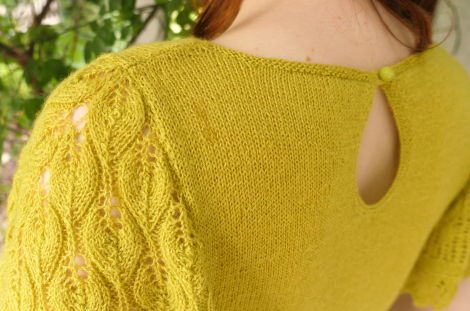 Eventually Andrew got too sick to knit and it hurt his eyes to look at his knitting but before he stopped, he completed both lace sleeve caps, the front piece and 2/3s of the back piece. Over the last couple of weeks I've finished it off so that I can wear it during summer.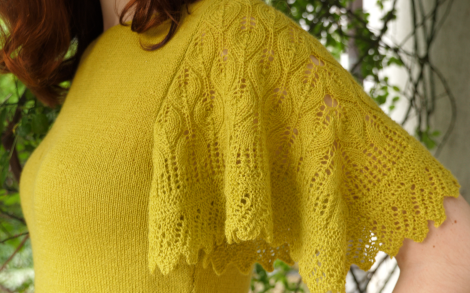 I did do my own modifications on the sleeves of this design. The leave shaped lace pattern is knitted from the top of the cap downwards, increasing in width as you knit down. When that part is finished, you knit an edging sideways onto the bottom of the sleeve, just like you would knit an edging around the edge of a shawl. I changed this lace edging pattern to be much shorter than the original by using the well known Shetland lace pattern called The Brand Iron.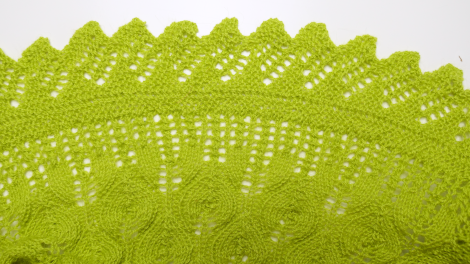 Shine Mittens – Sofia Kammeborn
Madeleine has been working on the Shine Mittens by the designer Sofia Kammeborn. She has finally finished one mitten and is hoping the second one will speed a long since she now has all the techniques down pat.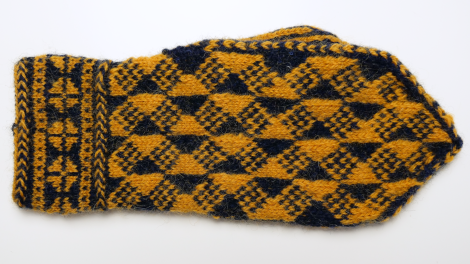 Patron Discount – Sofia Kammeborn
Sofia is kindly offering Fruity Knitting Patrons a 25% discount off all her self-published patterns in her Ravelry store. Apart from her gorgeous sock designs she has lots of cute mittens, hats, cowls and also a colourwork yoke lopi cardigan. They all have a charming Scandinavian feel to them. The details for this Patron discount can be found here.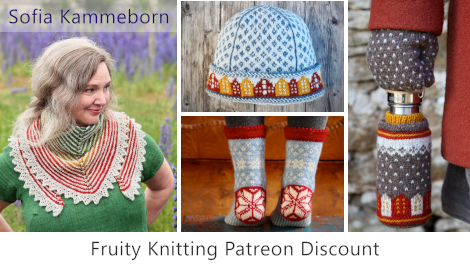 Invisible Mending
We featured the U.K. designer Flora Collingwood Norris in Episode 111 . Flora has done a wonderful series of downloadable tutorials on visible mending. That means, when you get a tear or hole in your woollen garment instead of making the mend invisible, you can darn it by weaving an elaborate and colourful pattern over the tear or even embroidering a picture. Here is an example of her work.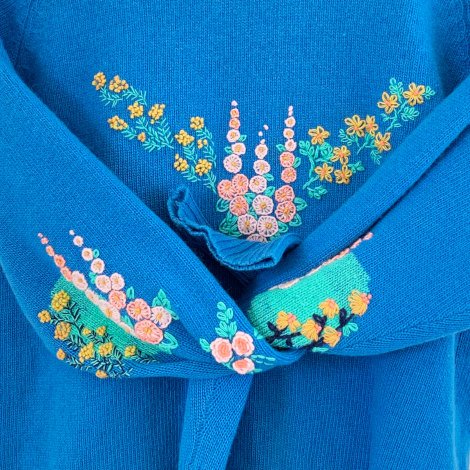 Soon after doing that interview with Flora I got a big hole right on the elbow of my Skye jumper by Marie Wallin.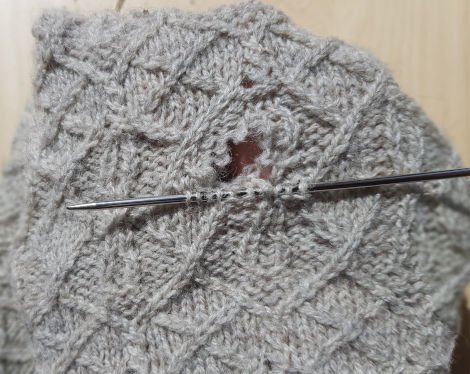 I love how the design looks simple and elegant but at the same time it has a very complex twisted stitch pattern all over the body and arms. I didn't want to disturb the balance of the design by making a feature of my mending either in another colour or another pattern. So despite being extremely inspired by Floras visible mending tutorials, I decided in the end to go for a very invisible mend on my elbow hole.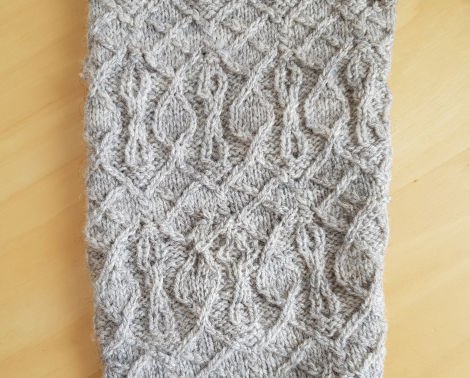 We are wearing
Music Credits