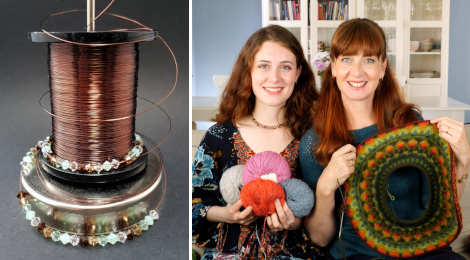 In Episode 114 our feature interview is all about knitting with wire to create gorgeous jewelry. Suraya Hossain is the designer behind Mahliqa, and she makes exquisitely beautiful jewelry by knitting and crocheting with wire.
You'll also meet another member of our Australian family. We include a short segment on how to get inspiration and how to combine colours. This segment features my older sister Michaela who is teaching art and design to school kids. I thought many of you might be interested in some of the concepts that she teaches in the classroom and find them very helpful. So Michaela and I have put together a short 10-minute segment to inspire you. On top of that, both Madeleine and I have brand new knitting projects to share with you as well as a little bit of general chit chat and news.
Mahliqa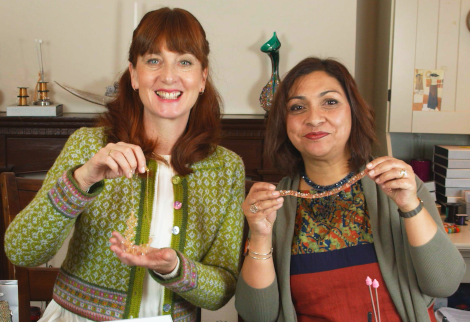 My guest today is the designer behind Mahliqa, Suraya Hossain. This is an interview that Andrew and I did in London back in January 2020. Suraya makes exquisitely beautiful jewelry by knitting and crocheting with wire. Typically, her designs are very colourful, using many beads, Swarovski crystals, and small amounts of luxury hand-dyed yarn.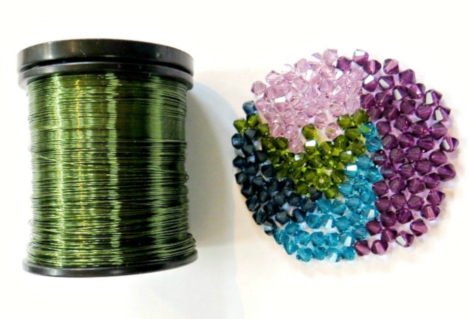 I bought a jewelry-making kit from Suraya at the EYF back in 2019, and after talking together, we decided to do an interview which we are now finally presenting to you in August 2021. So some things do take time.
Suraya was born and raised in London but her heritage is Bangladeshi and Persian. Much of her design inspiration comes from classic Indian and Persian jewelry, like Meenakari enameling and the intricate filigree goldwork jewelery that her mother wore. Suraya also grew up watching Bollywood movies which had a big influence on her aesthetic.
Suraya has enjoyed collaborating with other artists. Above is her contribution to the Tits Out Collective, which, together with the Edinburgh Yarn Festival, helped her brand Mahliqa get noticed by a more international audience.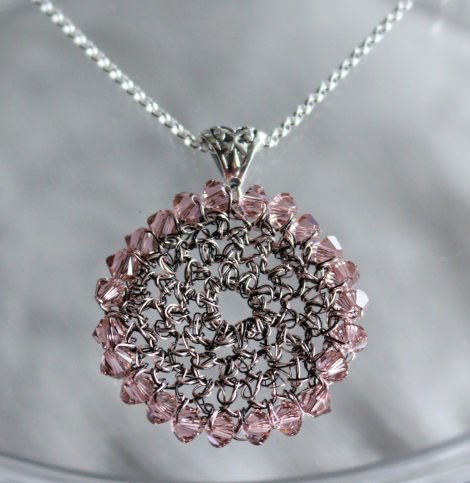 Finding Mahliqa
Patron Discount – Mahliqa
Suraya is offering Fruity Knitting Patrons a 20% discount off all her products from her online store. She has 'make it yourself' kits like the necklace Madeleine made but she also has very beautiful readymade jewelry, stitch markers and other various supplies. The details for the discount can be found here. Thank you, Suraya.
Patron Discount – Freia Fibers
Tina from Freia Fibers is offering all the Fruity Knitting Patrons a 15% discount off all her yarn from her online store, which is fantastic. The details for the discount can be found here.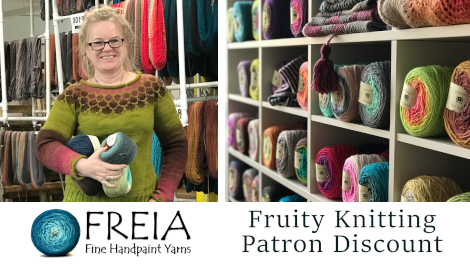 Inspiration and Colours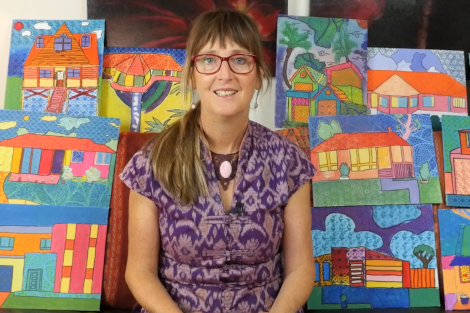 We include a short segment on 'how to get inspiration' and 'how to combine colours'. This segment features my older sister Michaela who lives on a little island off the Gold coast in Australia. When Michaela was in her 20s, she completed an art and design degree at RMIT in Melbourne, and she's worked for many years in the textile design industry. Currently, she's teaching art and design to school kids, and some of the concepts she teaches at school, I thought some of our viewers might be interested in and find very helpful.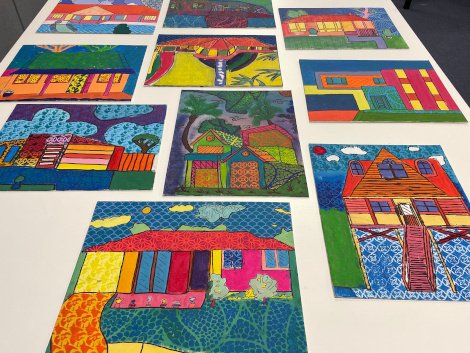 Michaela shows how she helps 12 and 13-year-olds of very mixed abilities get inspiration on a subject and then come up with a really good result in a reasonably short time. Seeing how she does this should give many of our viewers who struggle with color and planning their own projects a lot more confidence.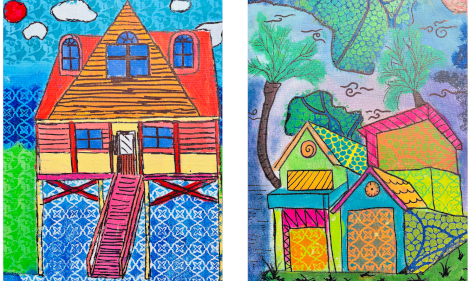 Above are my two personal favorites out of the students work. On the left is a typical Queensland weatherboard house on stilts, because of the regular floods.
Finding Michaela
Bring and Brag – Shine Mittens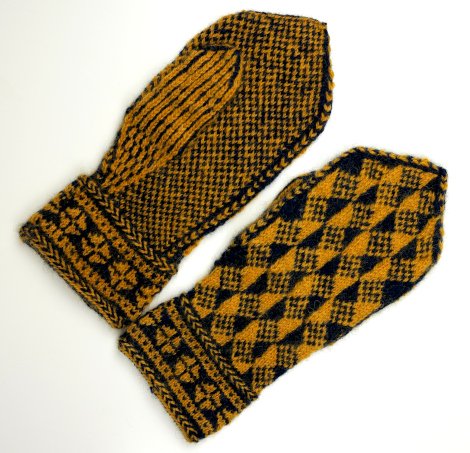 Madeleine has finished her Shine Mittens by Sofia Kammeborn. She loves them and can't wait to wear them this winter. They are her first ever colourwork mittens. The colourwork is a bit lumpy bumpy in places where she changed needles, but overall they still look great and she's very proud of her work.
She knitted them specially to go with her best navy-blue winter coat and despite the summer heat, she put on her coat to model her mittens for you.
Duality  – Lakeside
I gave Madeleine the Duality – Lakeside kit that I bought from Mahliqa a the EYF back in 2019, and she has knitted it up beautifully. This design is a choker necklace, but you can also wrap it twice around your wrist and wear it as a bracelet. The colour of the wire is this gorgeous, gleaming copper, and the crystals are different shades of copper and greenie-blue.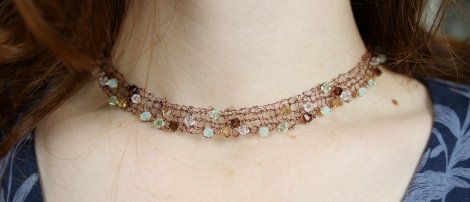 It took a little practice, both to get the correct gauge and to make it look neat. If the stitches are too loose, they look uneven but if they are too tight, you have trouble inserting your needle.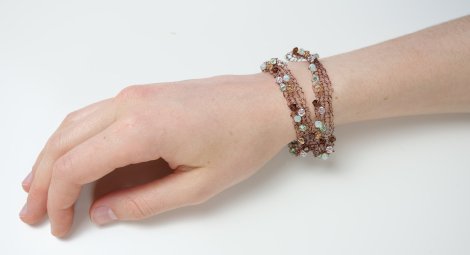 Madeleine found knitting with wire a lot of fun and a great way to make her own jewelry. She thinks she'll try a pair of matching earrings next.
Under Construction – The Wild Apple
This very beautiful design is by Kerstin Olsson. Kerstin Olsson was one of the main designers for Bohus Stickning during the 50s and 60s in Sweden. She is still alive and knitting, and I think she lives in Gothenburg on the west coast of Sweden. This design was one of her earlier ones, and it's also called the 'Master piece' because it uses up to 4 colours in a row. Whereas traditional Fair isle uses only two colours per row.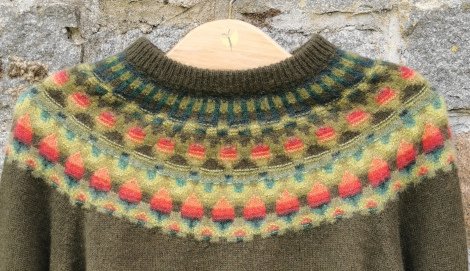 In total the yoke uses 14 colours, ten of which are different shades of green (my favourite colour), so you can see that this was designed with me in mind (if I can be so bold to say that).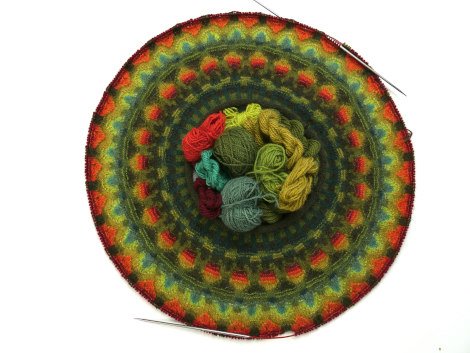 For this design, you have the option of doing a folded neck edge or a ribbed neck edge. I have chosen the folded edge because I thought it would look more elegant and less casual. I knitted in stocking stitch for about 1 cm before doing a purl row. The purl row created a good crisp folding line for when the stocking stitch section is sewn down as the facing. Because I started on such a fine-sized needle, my stocking stitch is curling tightly around, and I rather like the look of this rolled-over edge. I might even keep it that way, but I will wait to the end before deciding.
Devote – Kim Hargreaves
I have been working on a Kim Hargreaves design called Devote. It is a gorgeous wrap around cardigan that comes from her book Covet. The recommended yarn is Rowan Alpaca Soft DK I'm knitting my version in John Arbon's Devonia DK in the colourway Broken Flower. I have used John Arbon yarns quite a lot and I really love them.
The Devonia yarns are a blend of Exmoor Blueface, Devon Bluefaced Leicester and Devon Wensleydale. And as John says, the Exmoor Blueface fleece gives the yarn spring, the Blueface Leicester is very soft and adds lustre to the yarn and the Wensleydale fleece has a golden sheen which gives all the dyed colours a golden hue.
Folk Bag – Martin Storey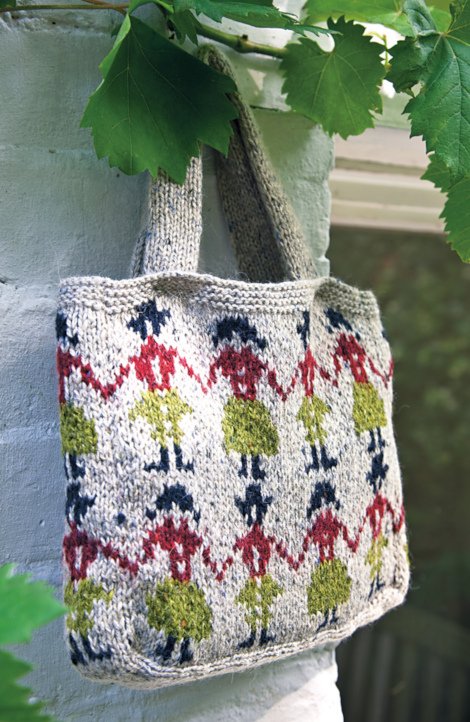 Madeleine is starting a new stranded knitting project. She has decided to knit two children's tote bags for her little cousins Simba and Leija. The design comes from the Rowan book Aran and Nordic knits for kids by Martin Storey.
What we were wearing
Music Credits