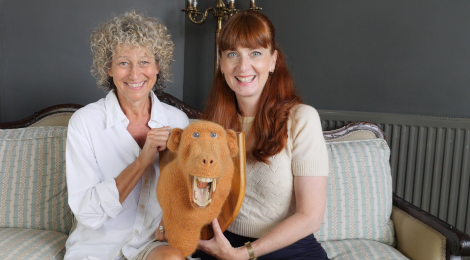 We are glad to be back with you after a long trip traveling around the U.K. gathered new content and interviews for you. Our feature interview in Episode 115 is one we did on our recent trip. Shauna Richardson is a U.K. artist who creates realistic, life-size animals sculptures using crochet. Her work has been exhibited internationally at many prestigious galleries and to high critical acclaim. It's fascinating to see crochet being used in such an unusual way, and I think you will all be blown away when you see her work. For our Meet the Shepherdess segment, we take you down under to Australia and feature Angela from Black Wattle Yarn and Fibre. Angela has an alpaca farm that produces top-quality alpaca fleece. The fleece is then blended into beautiful yarns and hand dyed by Angela.
The episode also includes a short cultural segment,  we visit and explore the famous Bronte sisters family parsonage in Haworth as well as the surrounding moorlands where they played as children. And naturally, there is also lots of knitting from Madeleine and I, so we hope you enjoy the very full program.
Crochetdermy – Shauna Richardson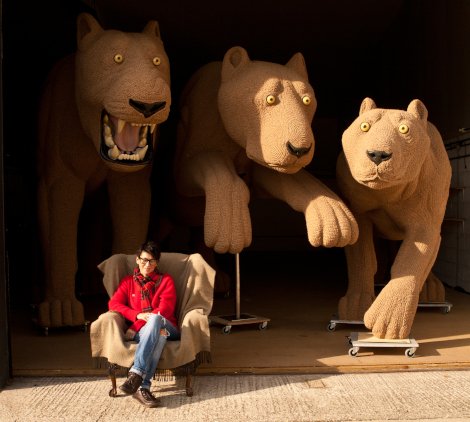 Shauna Richardson creates realistic, life-size animal sculptures using crochet. Her work has been exhibited internationally and at many prestigious galleries in the U.K. Shauna has invented the term Crochetdermy to describe her work and although the medium and the method are deeply traditional, the results are as far away from conventional crochet as you can get.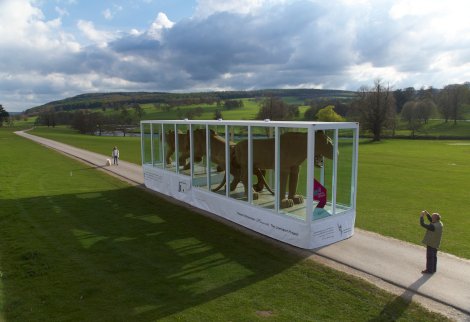 Just to give you an idea of what's in the interview, one of her most fantastic commissions was for the London 2012 Summer Olympics, where she crocheted 3 x 25 ft tall lions that toured around the U.K. in a massive glass display.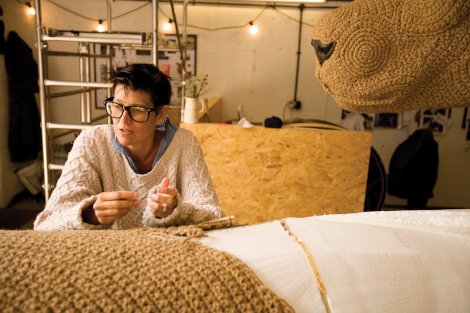 The project took the best part of three years where Shauna was crocheting for up to 6 hours a day. The chunky yarn she used was made from swaledale fleece sourced in the east midlands, locally to her.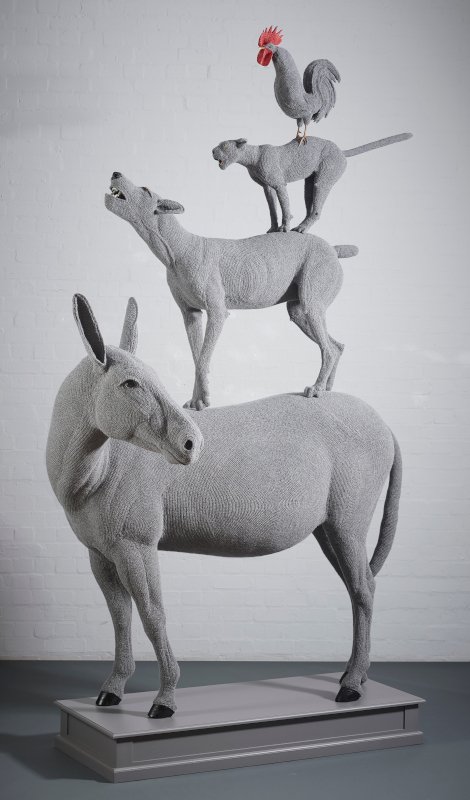 My personal favourite is The Bremen Musicians which is based on the Brother Grimm's folk tale. The animals are all life-sized but the smallest animal proved to be the biggest challenge. Getting realistic tail feathers on the roaster was no easy task.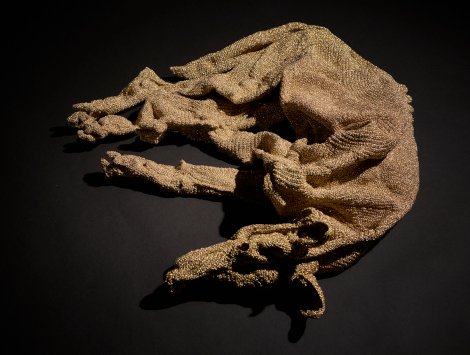 Although the crocheted skins hold a lot of detail, the form underneath is crucial to get a very realistic look. Shauna's years of life drawing gave her the necessary anatomy knowledge to create well structured animal mannequins for this purpose.
Finding Shauna Richardson
Meet the Shepherdess – Black Wattle Yarn and Fibre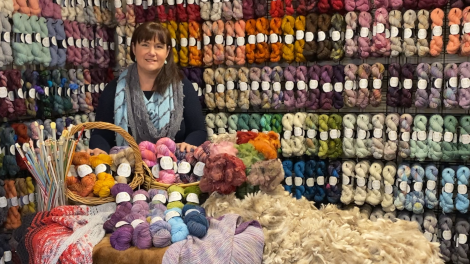 In our Meet the Shepherdess segment we take you to Black Wattle farm in Australia. Angela and her husband Mathew run an alpaca farm and produce their own yarn which Angela then hand dyes.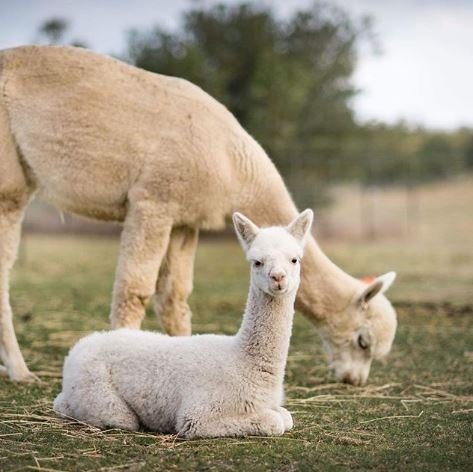 You can tell from the interview that Angela is a very competent and multiskilled woman. She started her career as a visual artist, she then had a successful career working in the government and finally, she turned to alpaca farming and yarn dying. Angela also talks about the history of alpaca farming in Australia which I found particularly interesting.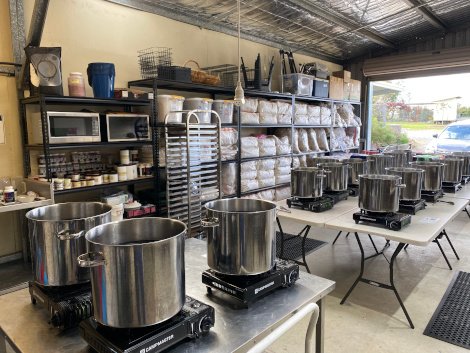 Angela is now in her happy place having gone full circle from painting on canvas to painting on yarn. She also teaches workshops on advanced dyeing techniques.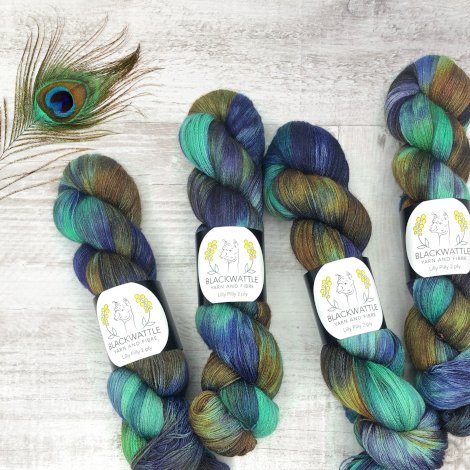 Angela produces a large variety of yarn, including laceweight, fingering, sport, DK, Aran and chunky. They come in various blends as well. Not all her yarn includes alpaca e.g., one of the DK bases is a blend of merino and hemp, and another is Blue faced Leicester and silk.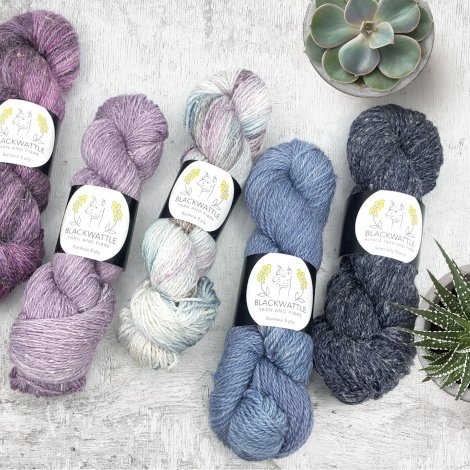 Patron discount – Black Wattle Yarn and fibre
Angela is offering Fruity Knitting Patrons a 10% discount off all her yarn and kits in her online store. The details of the discount can be found here.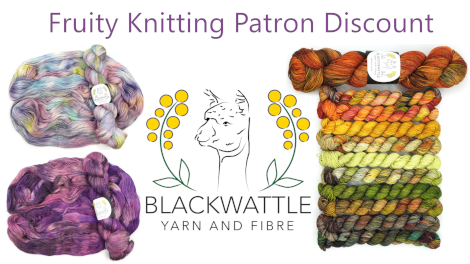 Finding Black Wattle Yarn and Fibre
Bring and Brag
Devote – Kim Hargreaves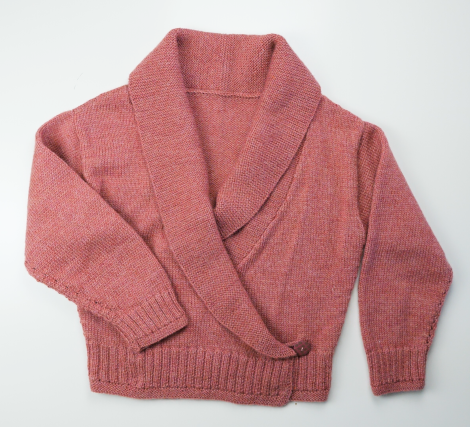 This project has been a long time in the making because initially, Andrew was going to knit it for me. He loved to knit stocking stitch but at the same time, the design had to be very stylish, and Devote is exactly that. It's a design by Kim Hargreaves and it comes in her book Covet. The pattern recommends the Rowan Alpaca Soft DK but I used John Arbon's Devonia DK in the colourway Broken Flower.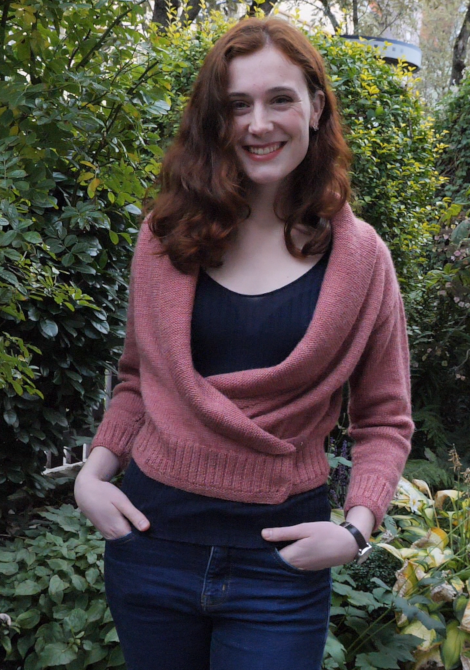 Josef Waistcoats – Martin Storey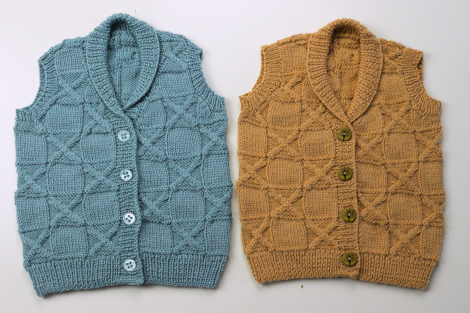 Twins are due in our family! My younger sister Fiona is expecting in early December, so I decided to get cracking and knit the babes matching waistcoat vests with a gorgeous checkerboard pattern of cabled crosses. So adorable!!
You can find the pattern in the book Aran and Nordic knits for Kids by Martin Storey and I've knitted the six month size. The yarn I used was the Sandnes Babyull, which translates as baby wool. It's 100% merino and machine washable.
Under Construction
Folk Bag – by Martin Storey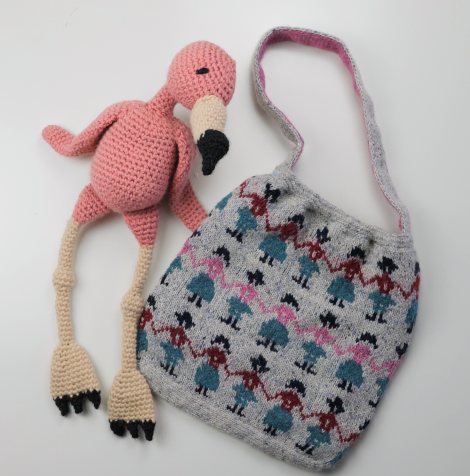 Madeleine has been knitting her two little cousins, Simba and Leija, matching Folk Bags. The original design can be found in the Aran and Nordic Knits for Kids by Martin Storey but between the two of us, Madeleine and I have changed the design substantially.
Simba's is already completed and Leija's will soon be finished as well.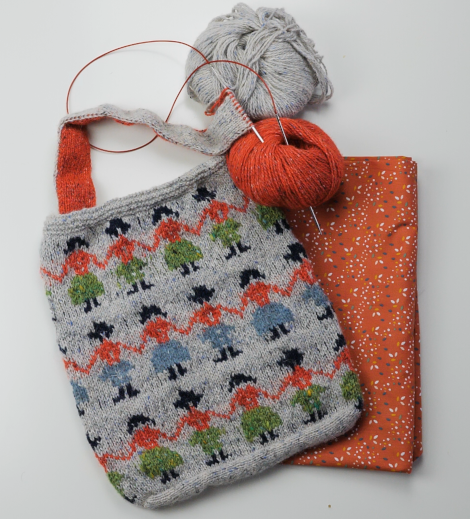 It is always worth watching each episode right to the very end for the Easter egg that waits there for you.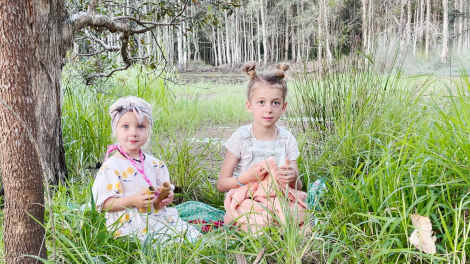 What are we wearing?
Andrea is wearing her newly finished Devote by Kim Hargreaves and Madeleine is wearing Amelia by Alex Pengelly.
During the interview, Andrea is wearing a vintage top handknitted by her Grandmother.
Music Credits
J. S. Bach, The Well Tempered Klavier, Prelude No. 3 in C-sharp major, BWV 848, performed by Kimiko Ishizaka, Creative Commons Attribution 3.0
Sláinte, Album: Cup of Tea, The Crosses of Annagh. Creative Commons Attribution-ShareAlike 3.0
Sláinte, Album: Cup of Tea, Mairi's Wedding, Creative Commons Attribution-ShareAlike 3.0
Pyotr Il'yich Tchaikovsky, The Nutcracker Suite, Op. 71a Act 1, No. 3 Dance of the Sugar Plum Fairy, performed by European Archive, used under the Creative Commons Public Domain 1.0 License
Georg Phillipp Telemann Partita in B-flat major, No.4 Vivace, Creative Commons Public Domain
Georg Phillipp Telemann Partita in B-flat major, No. 1 Con Affetto, Creative Commons Public Domain
Schubert, Fantasia in F minor, licensed to YouTube