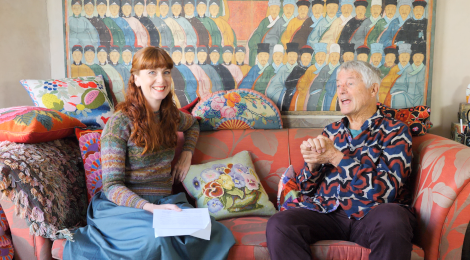 We have a very special program for you today. In Episode 116 we're showcasing the life and work of the world-renowned textile artist Kaffe Fassett in a two part feature interview. Kaffe Fassett has enriched the worlds of knitting, quilting and needlepoint with over 50 years of celebrated designs and books.
As you know, it's autumn and the woods are particularly gorgeous, so two weeks ago we went on a hike in the Oldenwald and took out the drone to capture the beautiful views. This #Extremeknitting segment is included in today's program and Madeleine also shares a bit about  the cultural history of the German woods. Of course we also have updates on our own knitting projects to share with you. Enjoy!
Kaffe Fassett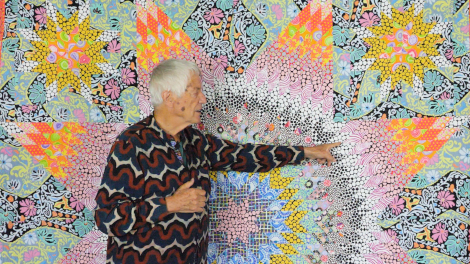 It was such a privilege to interview an artist of Kaffe's caliber who has been working for 6 decades. The more I read about him, the more overwhelmed I felt about trying to squeeze his life's work into just one interview. So in the end, we did two interviews and we also filmed a tour of his amazing 3 storey house which is filled with 6 decades of artwork. Kaffe will be celebrating his 84th birthday in early December this year, and I think it's terrific timing to be able to dedicate two whole episodes to him.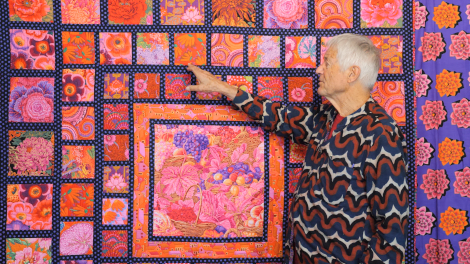 In this episode we have a two-part feature interview that concentrates more on his artistic process and creative output, then in our next episode no.117, which will come out in mid-December, we'll feature the second interview. This 2nd interview is more philosophical; we look back over his life and talk about his most valuable life lessons, musings, and other topics. And in that episode, we'll also take you on a tour around his wonderful home.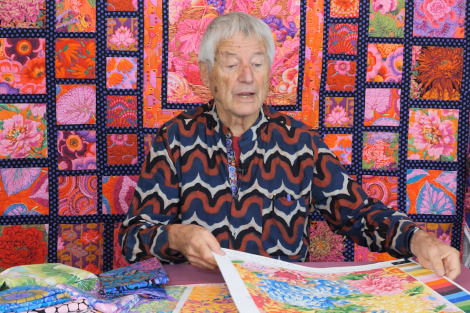 Above, Kaffe shows us a couple of his fantastic quilt designs and also explains how the group of artists called 'The Kaffe Fassett Collective' work together.
I felt really overwhelmed when I was preparing for this interview. Kaffe has published well over 40 books during his six decade career, and I like to know as much as possible about someone before I interview them, so the task felt daunting, to say the least. I particularly want to show you two of the books that I read because I think they have a broad appeal.  Dreaming in Colour, published in 2012, is his autobiography and it's a great book full of amazing stories. It describes all the major influences in Kaffe's life and his artistic journey in an entertaining and conversational way, so it's a good read.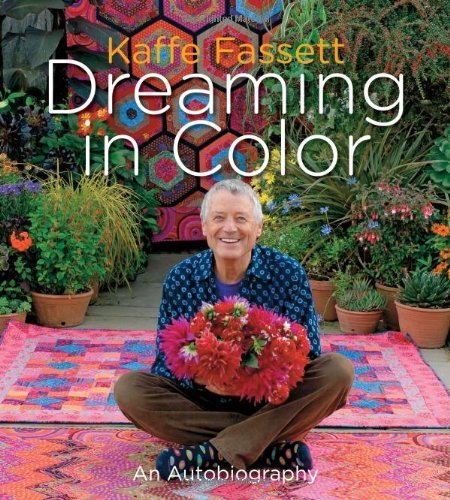 Kaffe Fassett in the Studio brings together all the best elements of his work and is excellent to have as an inspiration source book for your own projects. The book features his house, which, as he says, is a great colour laboratory. Making a book about his home is another way of explaining to people how he works with colour. Kaffe has an aesthetic that he plays with, and then he moves that aesthetic from medium to medium. So there is a section on each of the main mediums that he has explored: painting, knitting, needlepoint, quilting, and mosaics.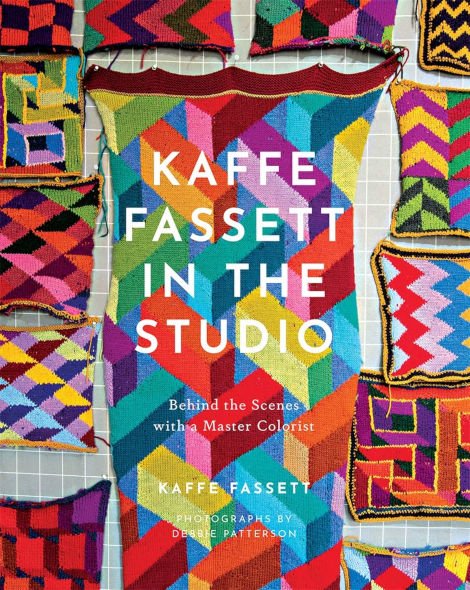 Finding Kaffe
Under Construction – Bohus Stickning
After taking a break from my Bohus Stickning design, 'The Wild Apple,' I've come back to it. It probably looks like I've made no progress on it because it looked very similar last time I showed it to you. But I have actually reknitted the entire yoke.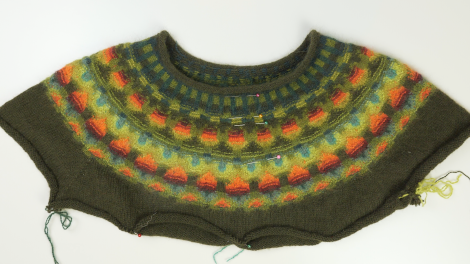 These days I find myself often knitting without thinking. So I didn't even think about calculating the stitch counts and measuring the yoke until I had finished it and tried it on. Then I noticed that it was very big on me, so I decided to measure it against two of my favourite yoke jumpers that fit me very well.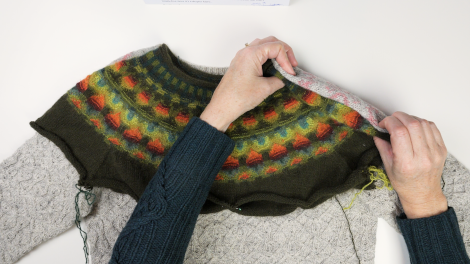 Above, you see me remeasuring the yoke after I adjusted the pattern and reknitted the yoke. You'll have to watch the episode to hear all about my calculations.
Bohus Stickning – Knit-a-long
We have a Bohus Stickning Knit-a-long in the Fruity Knitting Ravelry Group. There are some very beautiful designs being knitted and plenty of chatting happening in the group, so be sure to go over and check it out. We encourage everyone to keep going with their projects because we will keep the KAL going to the end of the year.
Bohus Stickning – Patron Discount
Pernille Silfverberg from Angora Garnet is repeating her discount for Fruity Knitting Patrons on the book – Bohus Stickning – The Revival. The book is in Swedish and English and it's very full. It includes the historical story of Bohus Stickning, and  its revival through Solveig Gustafsson and the Bohuslän museum, as well as the process from breeding the angora rabbits to spinning the yarn. There are also 14 Bohus Stickning patterns in the book. You can find the details of the Patron Discount here. So thank you to Pernille for offering the discount to our Patrons.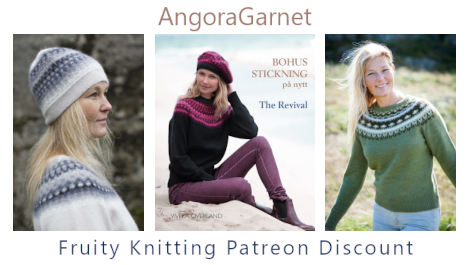 Nomadnoos – Patron Discount
Coty from Nomadnoos is also offering Fruity Knitting Patrons a 15% discount off all yarn from her online store, which is fantastic. Coty works with Mongolian herders to source yak, camel and sartuul sheep fleeces, which are then hand spun in Nepal by a small group of woman. Working directly with the individual groups cuts out the middlemen, resulting in both groups' income becoming substantially higher. I'm sure you will feel very inspired to look at her yarns after listening to the recent audio podcast. You can find the details of the Patron Discount here.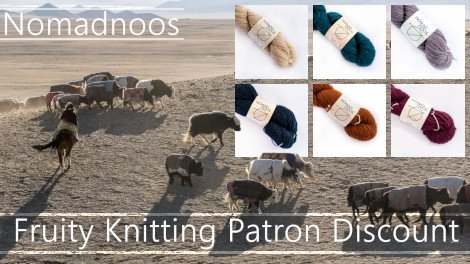 Support Fruity Knitting by becoming a Patron
We are completely dependant on the financial support of our Patron to produce Fruity Knitting. We don't sell anything or receive money from advertising or sponsership. Producing this show is my full-time work and Madeleine is helping me alongside her University studies so we do ask that if you are watching the show to please support our work by becoming a Patron. It is easy and flexible and you can pick your level of support by going to this link. Thank you very much to all our wonderful Patrons who are making this show possible.
Under Construction – Ribblersdale Vest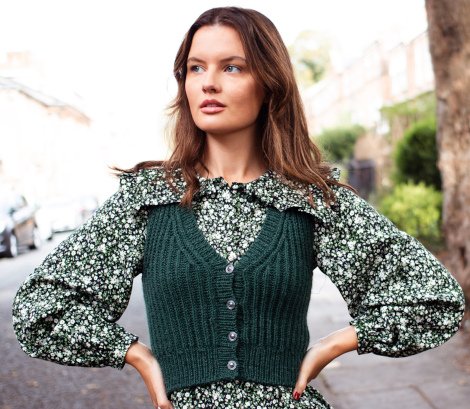 Madeleine has been working on the Ribblesdale vest by Lily Kate France. It's a gorgeous fitted vest done in the brioche stitch. It fits snuggly into your waist with a low v-neck and buttons down the front. The shape is rather like a little waist coat. Madeleine is using Lily's own yarn which she's recently released called Axis, a blend of 90% merino and 10% suri alpaca. It's very smooth and drapey and adds to the gorgeous elastic fabric of brioche. (Picture below, Madeleine showing the natural elasticity of the brioche stitch)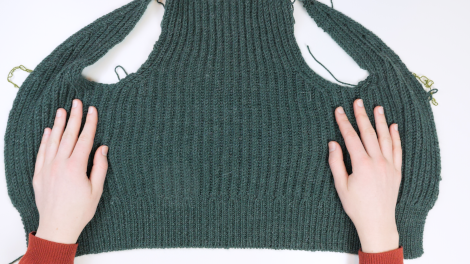 #Extremeknitting – German 'Mischwald'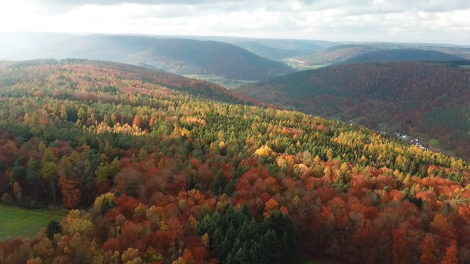 We recently spent the day walking in the Bavarian Odenwald, which is about an hour's drive from where we live. It was wonderful because all the autumn leaves have turned orange and red. We wanted to get out and film it for you and it was great fun, capturing this with the drone.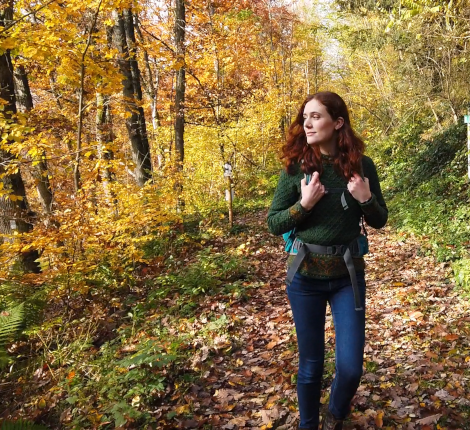 One of the things we appreciate about Germany is that the woods here are preserved and managed really well. The woods have been a significant part of German culture going back to ancient times. Madeleine read up a bit about it and found it fascinating, so she's included a short segment on the cultural significance of the German woods from ancient pagan times to the present day.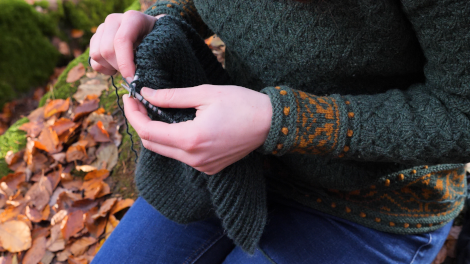 Aussie Beach Babes
Always stay watching to the very end to see our two cute Aussie beach babes doing their knitting. Simba has started a new knitting project. It's a little garter stitch vest and when she holds it up you can see that there is even some armhole shaping, which she is doing very well.  She chose the colour, a lovely blue which we think is her favourite colour. The stunning beech where they are knitting is near a small sleepy town called Wardell just south of Byron bay.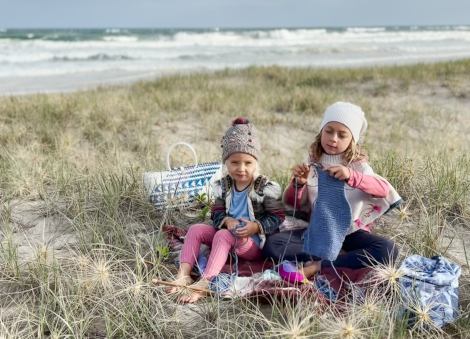 What we are wearing
Andrea is wearing Nightingale by Norah Gaughan and Madeleine is wearing Catherine Parr by Alice Starmore.
During the interview Andrea is wearing Samphrey by Marie Wallin. In the #Extremeknitting segment Madeleine is wearing Catherine Parr by Alice Starmore.
Music Credits
J. S. Bach, The Well Tempered Klavier, Prelude No. 3 in C-sharp major, BWV 848, performed by Kimiko Ishizaka, Creative Commons Attribution 3.0
Maurice Ravel, Jeux D'eau, performed By Nico De Napoli, Creative Commons Public Domain 1.0
Maurice Ravel, Miroirs, III Une barque sur l'ocean, performed by Rober Ewen Birchall, Creative Commons Attribution 3.0
Antonio Vivaldi, Four Seasons, Spring, II – Largo, performed by John Harrison and the Wichita State University Chamber Players, Creative Commons Attribution 3.0
Antonio Vivaldi, Four Seasons, Autumn, I – Allegro, performed by John Harrison and the Wichita State University Chamber Players, Creative Commons Attribution 3.0