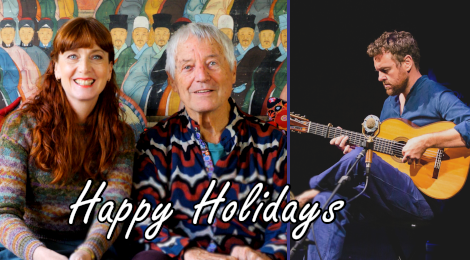 We have quite an eclectic program for you in Episode 117, but I think all the segments are still very complimentary. Our feature interview is with the world-renown textile artist Kaffe Fassett again. Many of you enjoyed our first interview with Kaffe back in Episode 116. That interview concentrated more on his artistic process and output, but today's interview is actually my favourite one. It's more philosophical and I get to ask him lots of personal and juicy questions. I think you'll love this interview as well. We also take you on a tour of Kaffe's amazing 3 storey house which is filled with six decades of collected artwork.
The 'Makers' segment is also included. We feature a South African international concert guitarist, Derek Gripper, who shows us how he composes, interprets and teaches his music. We think this is an amazing treat and we are thrilled to share his work with you. The inspirational designer Anna Pack from Skein Reaction features in our 'Knitters of the World' segment and Madeleine and I have new projects to show you. Enjoy.
Kaffe Fassett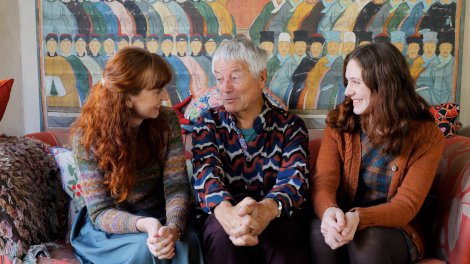 In this second interview, I enjoy asking Kaffe some more profound and personal questions. It was such a privilege to talk with a great artist nearing the end of his career and learn from the life lessons and experiences that have shaped him over the six decades of working as an artist.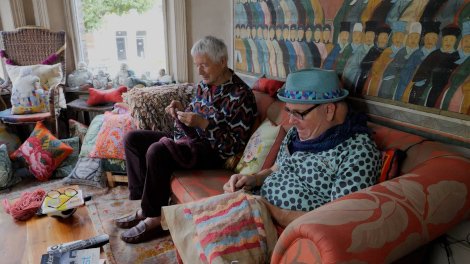 Kaffe describes his house as a great colour laboratory and I was thrilled when he agreed to us filming it and sharing this more personal side of his life with you.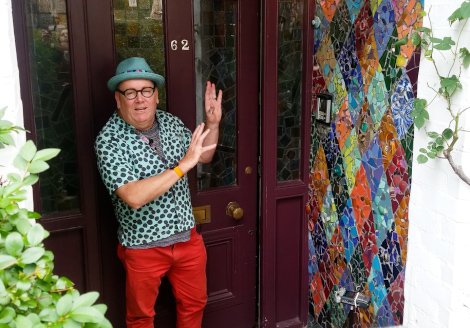 Brandon Mably, Kaffe's life and business partner, took us around the house and gave us the inside stories behind all the artwork, starting outside with their mosaic work.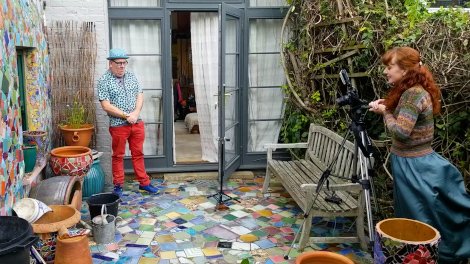 Below, Brandon shows us how the painted living room walls became the inspiration for a series of furniture fabrics.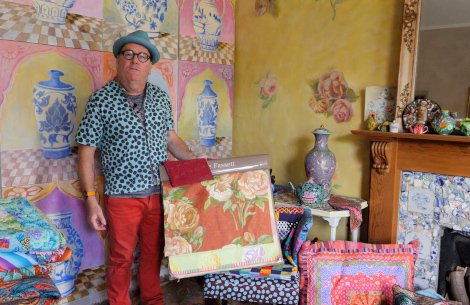 Finding Kaffe Fassett
Makers – Derek Gripper – Guitar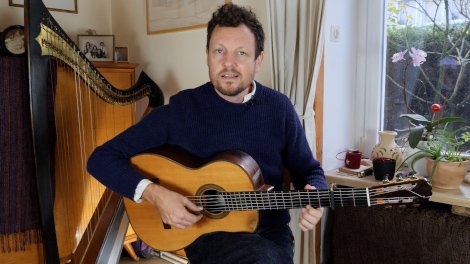 Derek Gripper was the head of Classical Guitar at the University of Cape Town and has toured worldwide performing both Classical and West African Kora repertoire. His unique combination of two very rich musical traditions has brought him high acclaim internationally.
Filming this segment happened very spontaneously. One of my musician friends, who is also friends with Derek, phoned me the night before and suggested that I might like to interview Derek since he was quickly passing through Frankfurt. I jumped at the opportunity, and I'm thrilled that I did. Derek is a natural-born communicator and really explains his music in a way that makes it so accessible. I think this segment is an exceptional treat, and I know you'll really enjoy it.
Besides many years of intensive Classical music study, Derek has also trained as a Montessori teacher and he has a unique online guitar group. In his group, he emphasizes learning through daily non-critical immersion rather than the more classical way of first understanding music theory. His classes are designed so you can participate even if you can only pluck a single string; it doesn't matter what level you are.
He plays Kumbengo, which (to my understanding) is a simple continuous musical riff, and then as the players get more confident, they start adding more complexity to the riff and eventually learn to improvise over the top of the riff. Everybody is playing along with Derek, but you are free to experiment as you wish without feeling intimidated because nobody else can hear you. He briefly shows us how this works in the Makers segment. The music he uses is from West Africa, his own compositions, and he also teaches Bach in the same way. If you are a guitar player and you would like to gain more freedom in your playing, check out his online group.
Finding Derek Gripper
Knitters of the World – Skein Reaction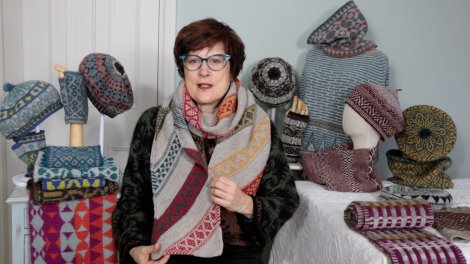 I first met Anna Pack (Skein Reaction) at the Yarndale Fiber festival in Yorkshire last September. Anna came up to us, introduced herself, and gave me her card. Coincidentally right before she did that, Madeleine had spotted her hat and cowl design called Zinda at the Border Mill's booth and was raving about it. We are delighted that Anna introduced herself to us because she has very original and beautiful designs, which we are excited about featuring on the show.
Architecture is a significant inspiration to Anna; she loves to translate the wonderful images she sees on her travels into wearable accessories.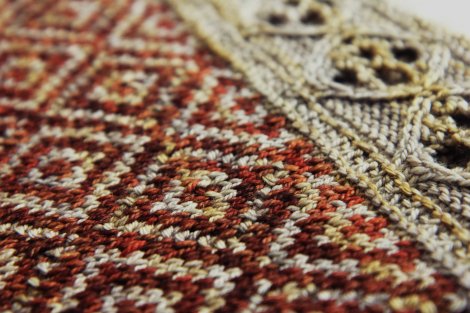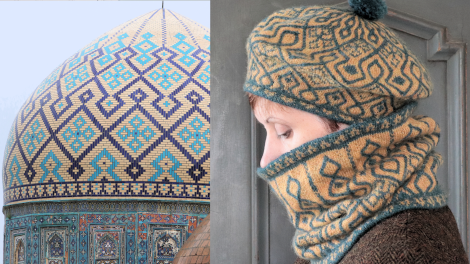 Finding Anna Pack
Patron Discount – Skein Reaction
Anna kindly offers Fruity Knitting Patrons a 25% discount on all her self-published patterns in her Ravelry store. As Anna said, she likes to include an interesting technique into each of her designs and carefully explains each technique in easy-to-understand steps for beginners. If you get excited about the clever and beautiful use of geometrical patterns, you'll definitely enjoy looking through Anna's designs. The details of the discount can be found here.
Anna has a great working relationship with The Border Mill UK yarn company. They love her designs, and she loves working with their yarn. Since many of Anna's designs use yarn from the Border Mill, they have also kindly offered Fruity Knitting Patrons a 15% discount off all their yarns. The Border Mill is located in the Scottish Borders, and their booth was one of my favorite at Yarndale; they have a stunning array of colours. They specialize in spinning alpaca fleece and fleece from rare sheep breeds, and they have very reasonable prizes, so enjoy looking through their collection. The details of the discount can be found here.
Support Fruity Knitting by becoming a Patron
We are entirely dependent on the financial support of our Patrons to produce Fruity Knitting. We don't sell anything or receive money from advertising or sponsorship. Producing this show is my full-time work, and Madeleine is helping me alongside her University studies. We ask that if you are watching the show, please support our work by becoming a Patron. It is easy and flexible and you can pick your level of support by going to this link. Thank you very much to all our wonderful Patrons who are making this show possible.
Bring and Brag – Ribblesdale Vest – Lily Kate France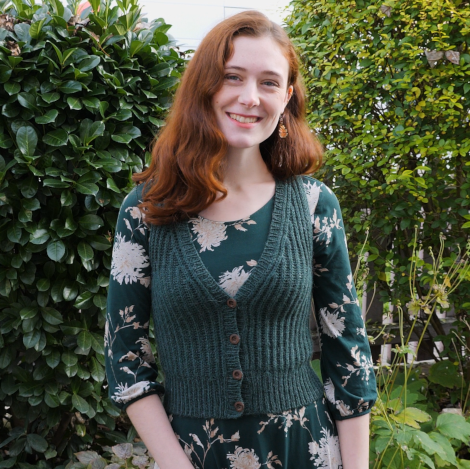 Madeleine has finished her Ribblesdale Vest by Lilly Kate France, and as you can see, she looks gorgeous in it. The vest mainly uses 1×1 ribbing and the brioche bark stitch. The other special techniques used are the tubular cast-on, the tubular bind-off, which makes the edges really stretchy and an i-cord edging around armholes. It was Madeleine's first time doing those techniques, and because the yarn is worsted weight, it knits up very fast.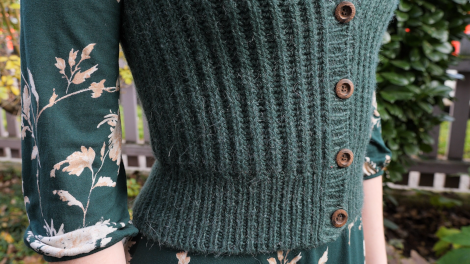 Tutorial – Tubular Cast Off – 1×1 Ribbing
The tubular bind off is a way of binding of your work when you're working in ribbing that doesn't leave a ridge at the edge. The stitches curl around at the top of the work leaving a lovely invisible edge as if the ribbing is just fading out and it's a perfect match to do with the tubular cast on.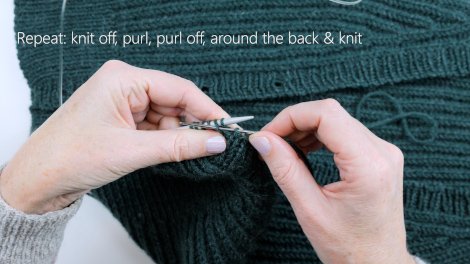 In the end, I did most of the tubular bind off on the Ribblesdale Vest because I'd never done it before. I really enjoyed doing it, it's an incredible cast off, and I've made a short tutorial explaining how to do it, in case you've never tried it.
Under Construction – Snowfall – Kim Hargreaves
My younger sister Fiona has recently given birth to twin girls. (Fiona is 14 years younger than me, incase you were wondering about that.) Mums can really suffer in the self-care department straight after giving birth, and I think it's more than twice as complicated when you have twins. I will knit something very pretty for my sister, so she can feel a bit pampered. Fiona, unlike me, looks particularly pretty in pink.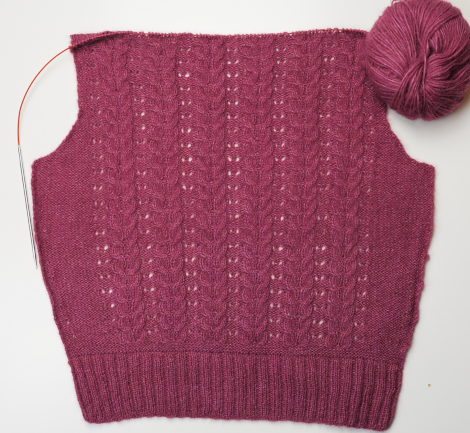 The design is called Snowfall by Kim Hargreaves. It comes in her book Winter and the yarn I'm using is the Rowan Alpaca Classic in colourway Berry Sorbet. It's fun to knit with this colour because I would never wear it myself, and it ensures that I'm not going to change my mind and keep it when I'm finished, which I have been known to do. #dragonsickness
Modest – Kim Hargreaves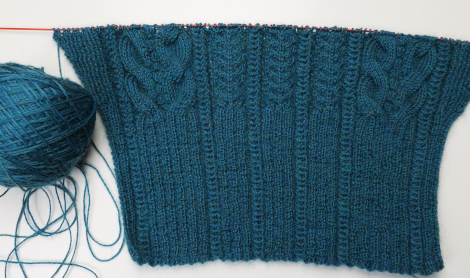 Now that Madeleine has finished her vest, her next project is an all-over cabled jumper that is cropped and fitted. The design is called Modest by Kim Hargreaves and it comes from her book Pale. The recommended yarn is the Rowan Super Fine Merino 4 ply which sadly isn't available anymore, so instead Madeleine's using John Arbon's Devonia 4 ply in Ocean Rain.
Ending
Always stay watching to the very end to see our cute Aussie Knitters crafting in some gorgeous Australian scenery.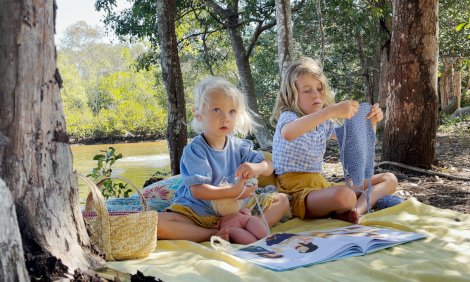 What we are wearing
Madeleine is wearing her newly finished Ribblesdale Vest by Lily Kate France and Andrea is wearing Tegna by Caitlin Hunter.
During the interview Andrea is wearing Samphrey by Marie Wallin.
Music Credits