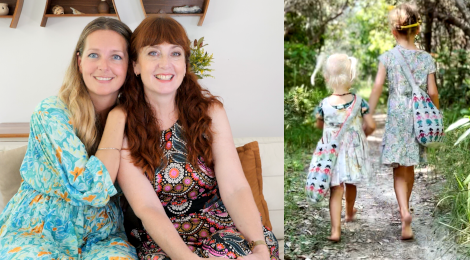 I'm in Australia, and joining me on the couch for Episode 118 is my sister Fiona. It's been 3 years since I've seen her and over ten years since I've been back to Australia. Fiona lives in one of the most beautiful parts of Australia, the Byron bay Shire, so naturally, we are including landscape footage in an #Extremeknitting segment. Fiona will also share her knitting journey and show some projects she's been working on. Our feature interview is with the U.K.s premier toy designer Alan Dart. Alan has a portfolio of more than one hundred licensed characters, including Wallace and Gromit, Paddington Bear, and many beloved Beatrix Potter characters. For 18 years, he was the toy designer for Women's Weekly and later for the magazine Simply Knitting. His designs are beautiful, timeless, and a joy to look at (and play with). I'm particularly delighted to introduce you to a local Byron Bay textile artist in our 'Makers' segment. Robyn Alexander is a mixed media artist specializing in embroidery techniques and wool felting. And of course, the two little Aussie bush fairies feature as well.
Alan Dart – Toy Design
Alan has been designing toys for over 30 years, bringing out new designs every week for the Women's Weekly and Simply Knitting magazines. He has a portfolio of more than 100 licensed characters, and his own made-up characters are an absolute joy to look at (and probably also to play).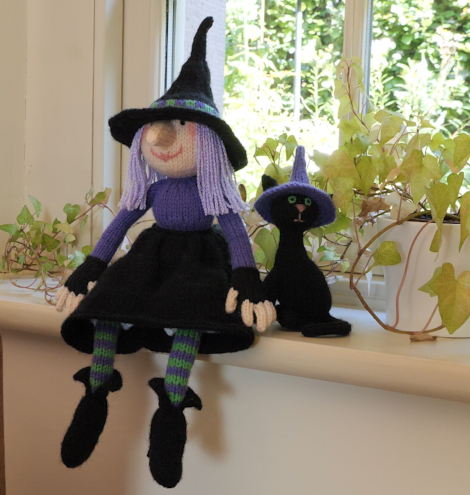 Madeleine and I filmed this interview last September. We drove to his home in the beautiful county of Cumbria, which also happens to be Beatrix Potter country, and Alan has designed many of the Beatrix Potter characters. Sadly the license on the Beatrix Potter characters has run out, and Alan is no longer allowed to sell the patterns. He has, however, designed his own set of Cumbrian characters based on the local animals, and these are probably my personal favourites. In particular, Alfie Unsworth the hedgehog and Major Ditherington Flyte the Pheasant.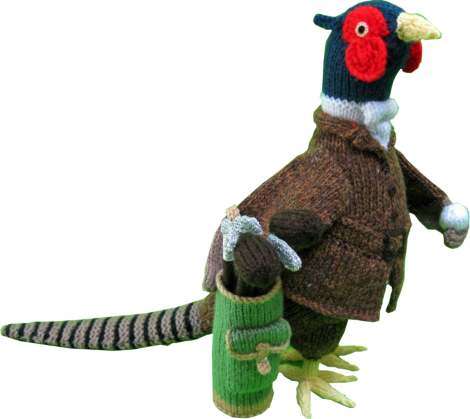 Even if you don't have children to make a toy for, I think everyone needs a little knitted character to sit nearby and keep them company while knitting.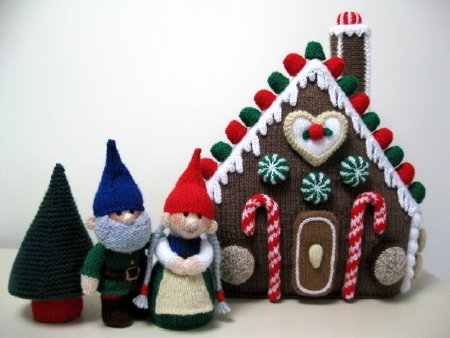 Alan is definitely one of the best-known, most talented, and experienced toy designers in the U.K. He was such a joy to interview and spend time with. You will be infected by his enthusiasm and fantastic attention to all the beautiful details in his toys.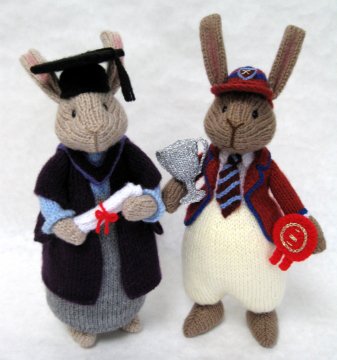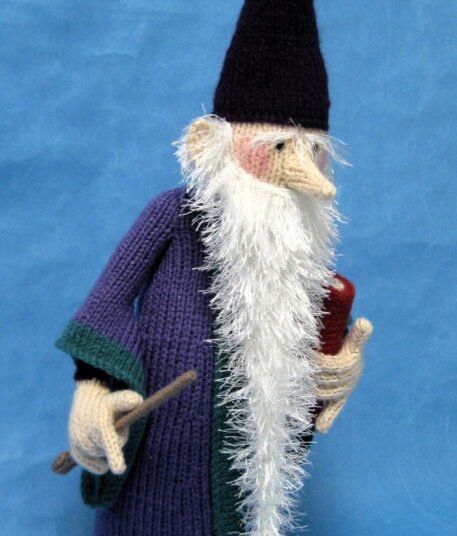 Finding Alan Dart
Knitalong – Alan Dart's Toys
We haven't started a new knitalong for a very long time. I think we'll start one on toy knitting, with a particular emphasis on Alan Dart's designs. The knitalong will be held in the Fruity Knitting Ravelry Group and over in the Patron Community Forum, which Madeleine has succeeded in getting back up and running! Please join in and have fun knitting a special character design either for a friend or to keep you company while knitting.
Patron Discount – Alan Dart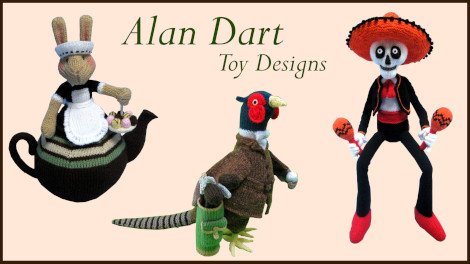 To help you get inspired to enter the knitalong, Alan Dart is kindly offering Fruity Knitting Patrons 25% discount off all his toy patterns in his online store. There are over two hundred knitting patterns to choose from and they are organized into groups and themes so you can easily find the pattern you want. He really does have designs to suit everybody, no matter your hobby or interest. The details of the discount can be found here.
Makers – Robyn Alexander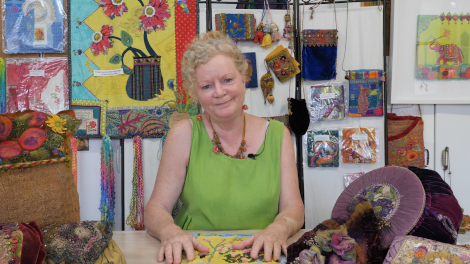 It's quite an Australian-themed episode with all the bush footage we've included, so it's great to also include a local artist. Robyn Alexander from Mullumbimby, N.S.W. has given workshops on embroidery and wool felting techniques around Australia and New Zealand for decades. She's enthusiastic and passionate and I'm sure you'll pick up lots of new ideas and find her very inspiring.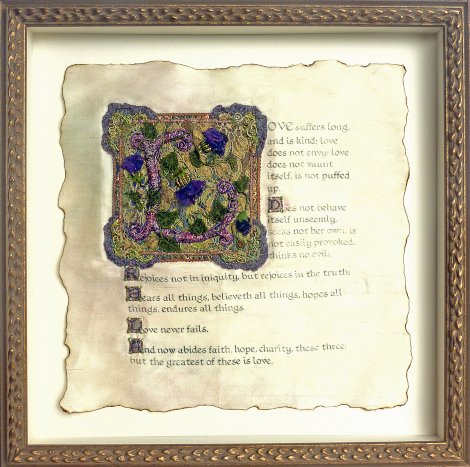 In Robyn's workshops, she would introduce all sorts of techniques and use all kinds of materials in an unusual manner. You can see this in the textured embroidery above and the felted bags below.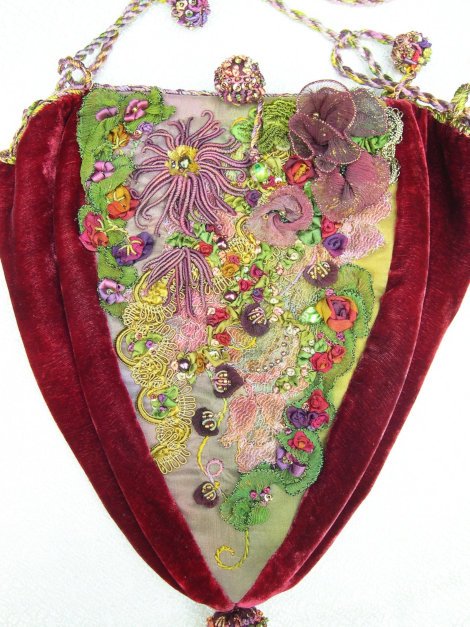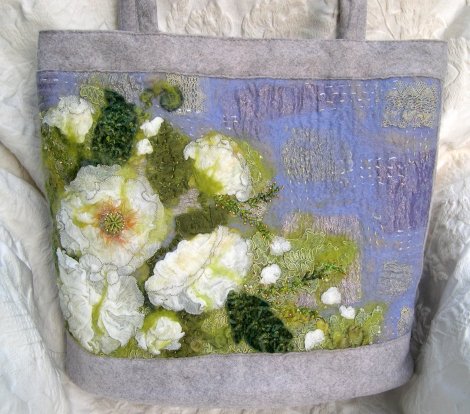 One of Robyn's favourite things is to start with a prefelt, build background textural layers, and then needle-felt it to stabilize it. Then she appliqués and embroiders onto the background using all sorts of materials and threads. When that's completed, she wet felts the panel. Robyn finds it so exciting to see the finished panel with the stitching and appliqués embedded and slightly distorted.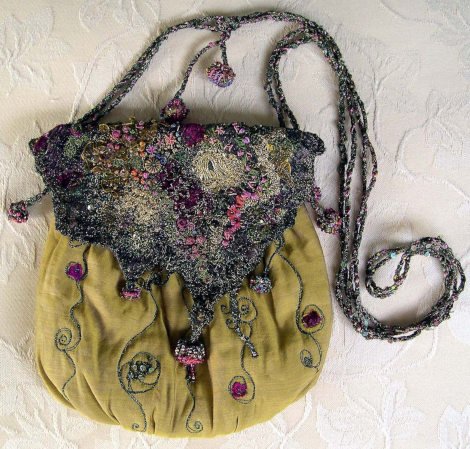 I really enjoyed visiting Robyn at her lovely Australian styled home to film the interview.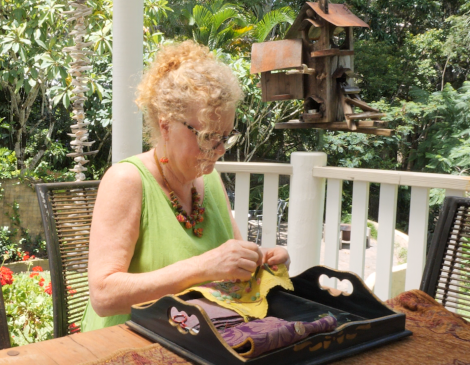 Finding Robyn Alexander
Patron Discount – Robyn Alexander
Robyn is kindly offering Fruity Knitting Patrons a 10% discount off everything in her Esty shop. She has downloadable PDF patterns, embroidery kits, felting kits, jewelry kits and an amazing assortment of fabrics, braids, trims, beads, threads and yarns. It's an Aladdin's cave for crafters. She also has hand Dyed Vintage Doily packs which can be used as the foundation for fabric collages and patchworks. It is definitely fun to browse through her shop. The details of the discount can be found here.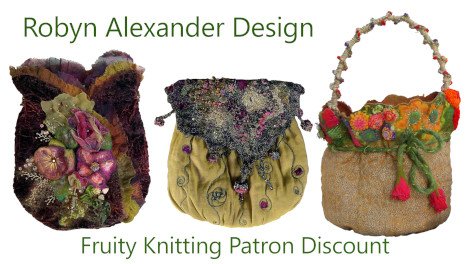 Patron Discount – Wing & A Prayer Farm
Back in December we had a Live Event with Tammy from Wing & A Prayer Farm. We featured Tammy in Episode 113 in our Meet the Shepherdess segment. Tammy has a classic smallholding farm in Vermont, with a variety of fibre producing animals including many different breeds of sheep, alpacas and angora goats. Tammy creates her own blends of yarn and then naturally dyes them using plants from her garden. The audio podcast of our Live Event with Tammy is available for our Shetland and Merino patrons to download and listen to at their convenience.
Tammy is offering Fruity Knitting Patrons a 15% discount off any purchase from her Etsy shop. That's quite exciting because Tammy has lots of lovely yarn in a variety of weights and plys, both beautifully hand dyed but also in undyed natural shades. The details for the discount can be found here.
Support Fruity Knitting by becoming a Patron
We are entirely dependent on the financial support of our Patrons to produce Fruity Knitting. We don't sell anything or receive money from advertising or sponsorship. Producing this show is my full-time work, and Madeleine is helping me alongside her University studies. We ask that if you are watching the show, please support our work by becoming a Patron. It is easy and flexible and you can pick your level of support by going to this link. Thank you very much to all our wonderful Patrons who are making this show possible.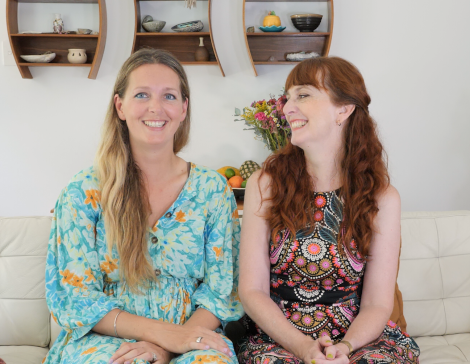 It was great to have my younger sister Fiona joining me on the couch, sharing her knitting journey.
Bring and Brag
Devote – Kim Hargreaves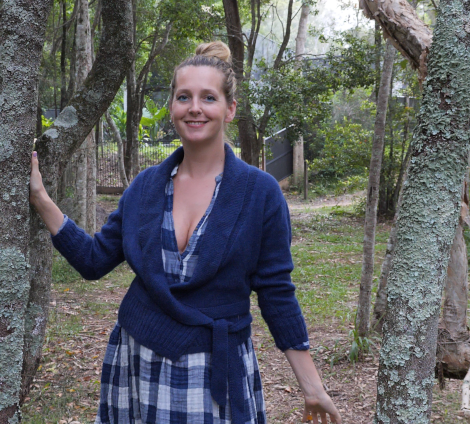 It's great to have my sister Fiona sitting on the couch with me during the episode. Her knitting journey started more recently. Above (and below) are pictures of her very first garment, the Devote by Kim Hargreaves. Fiona is thrilled with it and has caught the garment knitting bug!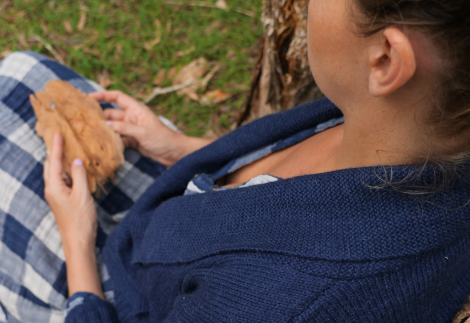 Mist – Kim Hargreaves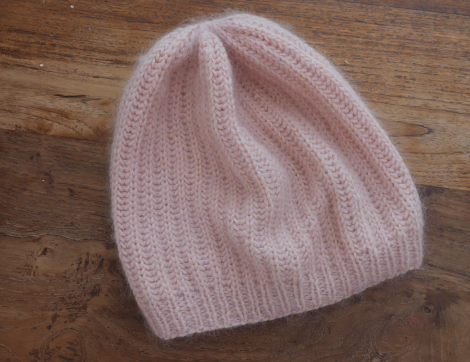 Unlike me, Fiona isn't a monogamous knitter, so half way through the Devote she started the Mist beanie also by Kim Hargreaves. The main reason for picking this design was because I had already made a step by step tutorial on it, which if you are interested, you can find here.
Under Construction
Snowfall – Kim hargreaves
This lovely design called Snowfall (again by Kim Hargreaves) is my current project. I'm knitting it as a gift for Fiona but am unfortunately not making fast progress on it. What's my excuse? A house full of children, new born twins, a toddler and a 7 year old!
Ribbesdale Vest – Lily Kate France
Fiona was inspired to knit the Ribblesdale Vest by Lily Kate France after Madeleine made hers and talked extensively about it in Episode 116.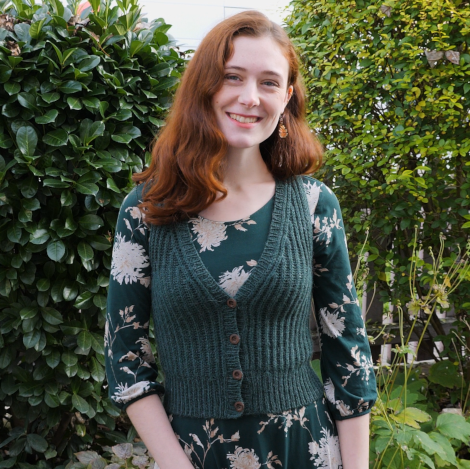 She knew I was coming to stay with her and thought it would be perfect to learn brioche while her big sister was around to fix all her mistakes, lol!
#Extremeknitting – Simba and Leija Stitching in the Bush
Do you recognize those gorgeous folk bags by Martin Storey? Yes, they're the ones Madeleine knitted for her nieces. They are much loved and are happily holding current craft projects.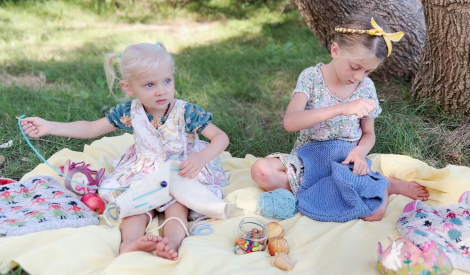 Included in Episode 118 is a short segment of stitching and beachcombing taken early one evening. Simba is sewing the last clip on her beautiful blue vest, and Leija is stitching colourful beads on a piece of canvas.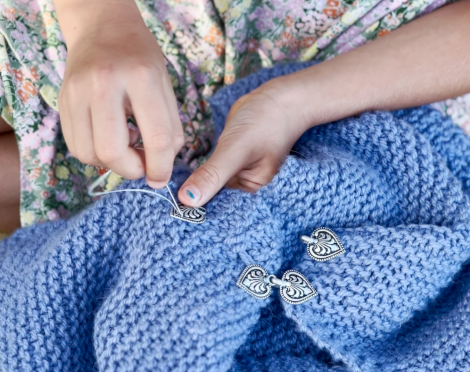 Proudly modelling!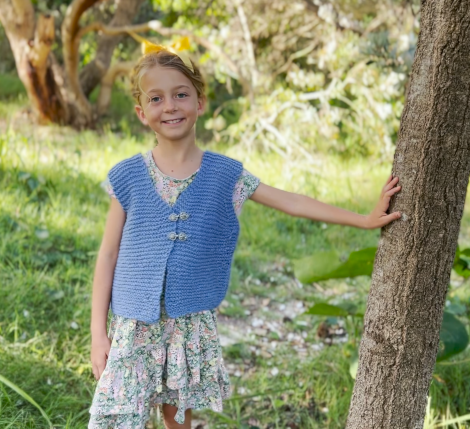 What we are wearing
In the interview with Alan Dart, Andrea is wearing the L'Anse au Loup by Jennifer Beale
Music Credits