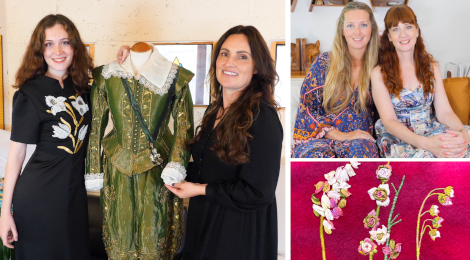 Through popular demand, I have invited Fiona back on the couch with me for Episode 119. I have also convinced our other sister Michaela to make another appearance, so it's turning into a real family show.
Our feature interview is with Danielle Deane, a professional costume maker who specializes in goldwork embroidery. Danielle trained as a costume interpreter at the prestigious Wimbleton University and has created costumes for West End shows in London and many TV and film productions.
I have recently traveled to Macleay island, a tiny tropical island in Moreton Bay, Queensland, to visit my older sister Michaela.
While I was there, Michaela and I sat down together to show you some of the crafting projects she's done over the years, including a gorgeous silk ribbon embroidery that she has recently designed. Of course, there's our usual knitting chat in Bring and Brag and Under Construction.
Goldwork Embroidery – Danielle Deane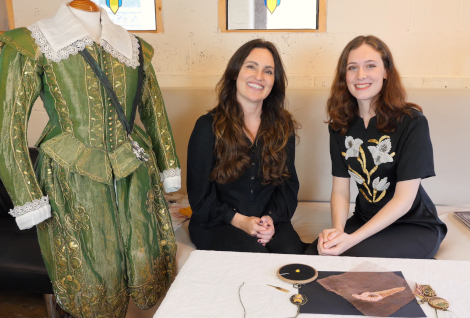 Our feature interview is one that Madeleine and I filmed in the U.K. last September, and Madeleine is actually doing the interviewing. It's her debut feature interview. Danielle Deane is a Goldwork embroiderer and costume maker extraordinaire. She's had a varied career within the costume industry, working on many different types of productions. As a costume interpreter she needs to conduct extensive research into suitable fabrics, patterns and embellishments in order to create something that is authentic for any given period. Below is an example of Danielle's seed pearls and goldwork embroidery on a dress recreated for a T.V. documentary about the fashion designer Elsa Schiaparelli.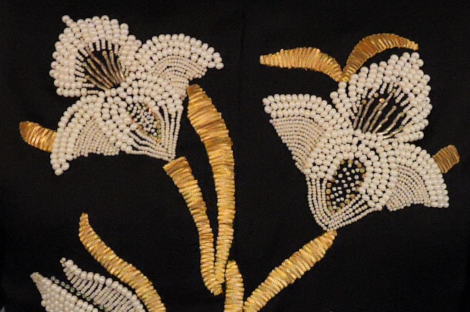 During the interview Danielle talks about the Patterns of Fashion books by Janet Arnold, who was an incredible fashion historian. Janet Arnold dedicated her life to the history of clothing. In the books she documents immense detail on clothing throughout the ages and has even hand sketched the construction techniques and patterns for every garment. She has left behind an incredible legacy that is highly valued by the costume society and students of fashion.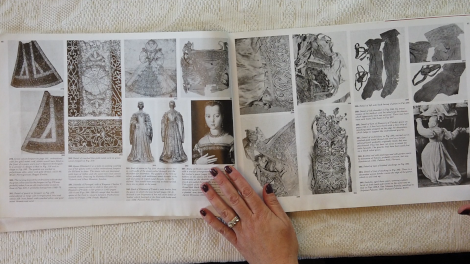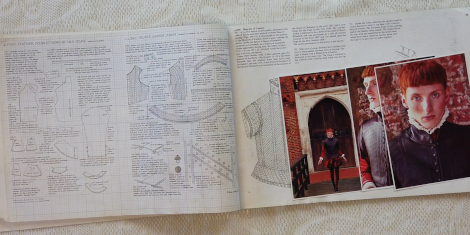 In 2014 Danielle was asked to create an authentic Tudor attire for an exhibition called 'In Fine Style' at the Queen's Gallery at Buckingham Palace. The Queens Gallery is home to her private collections and it was decided that an exhibition would be curated to display paintings and artefacts from the Tudor & Stuart period.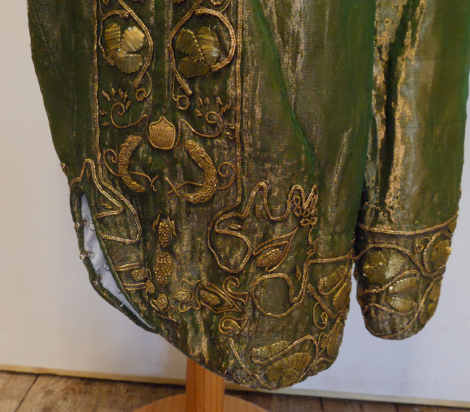 Danielle takes us through the processes she took to complete such an ambitious project. Again she referred to the Janet Arnold Patterns of Fashion book 3 and cross-referenced patterns for Tudor doublets and breeches. Both garments are made in the exact manor they would have been made in 1605. They are completely hand stitched as sewing machines did not exist at that time. Inside the doublet is hand quilted using a layer of lamb's wool and cotton muslin.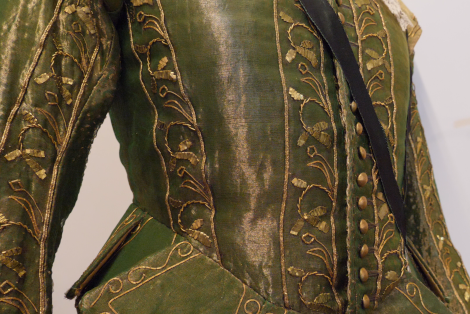 Even though Goldwork Embroidery and Costume design is not directly about knitting, I am so excited about presenting this interview because of Danielle's exceptional skill and knowledge. The content of what she talks about and shows us is spectacular. It will be a real treat!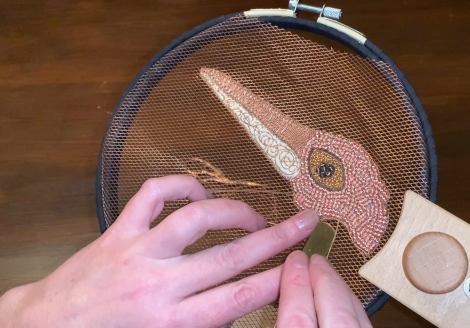 Finding Danielle Deane
Patron Disount – Goldwork Embroidery
Danielle is offering Fruity Knitting Patrons a 20% discount on all her kits and courses. Danielle's 15 step-by-step tutorials aim at giving you an in depth guide to traditional Goldwork techniques. Including String & Felt padding, Kid leather, Ribbon Plate, Broad Plate, Cutwork Over String & Cutwork Chips & Couching techniques. Following the tutorials, you can then complete 4 mini projects. Kits for the projects are available separately on her website and contain everything you will need to complete each project. All the details for the courses kits and discount are available here.
#ExtremeStitching – Macleay Island
Macleay Island is a 6 km long and 4 km wide island at the southern end of Moreton Bay in Queensland, Australia. I traveled up here to visit my older sister Michaela and naturally got out the drone and filmed a short #extremestitching segment to show this beautiful landscape.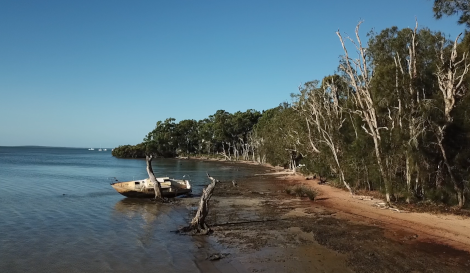 Michaela has recently moved here and is enjoying a daily morning and evening chorus of Kookaburra laughter.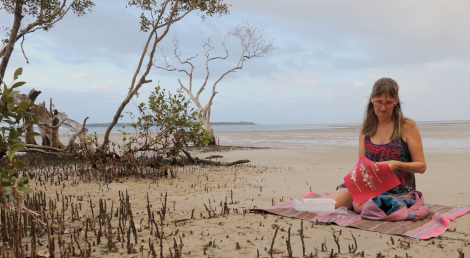 Michaela Olsen – Crafting Journey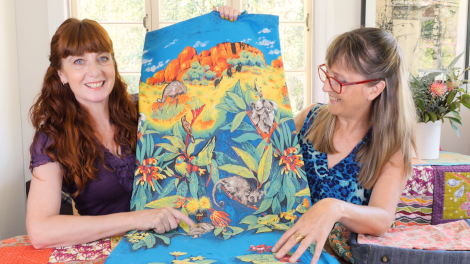 I have been looking forward to seeing Michaela again and sharing our crafty interests. I have convinced Michaela to come back on Fruity Knitting. She'll show you some of the craft and art projects she's done over the years, including a gorgeous silk ribbon embroidery that she has recently designed.
Michaela based her embroidery 'Paper Flowers' on a plant portrait image she created using an art technique called scannography. This technique uses a flatbed scanner to make an image of various plants. Michaela can create striking contrasts of light and dark where some areas are focused, and some are blurry. The images look like they are appearing out of the darkness. She developed this technique about 10 years ago and has used it to produce oil paintings, art prints, and even greeting cards. Below is an example.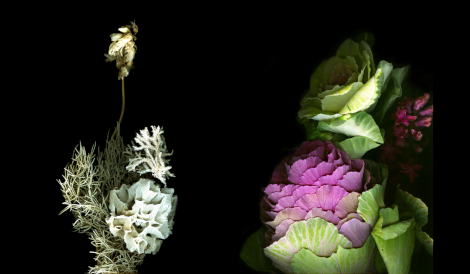 Michaela talks us through her process of transferring her design to felt and the various embroidery stitches she uses to create wind-blown flowers and beautiful roses.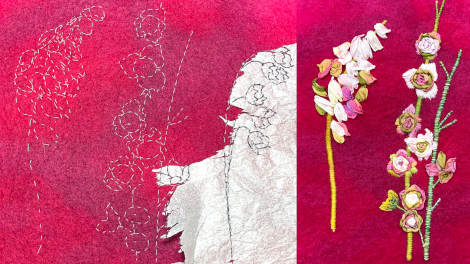 Michaela has produced two colourways for her 'Paper Flowers', Lillipilli above and Kookaburra, a version of mostly golds, muted browns, greys, rust, and warm beiges. It is very satisfying embroidering with the variegated hand-dyed threads and ribbons. Each thread and ribbon has 3-4 different colours, which means you get fun surprises as you are stitching. All the materials in Michaela's kits are hand-dyed on the island by a thriving textile business called Colour Streams.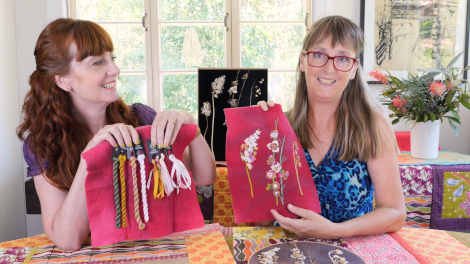 Michaela made friends with the owner of Colour Streams, Chris Noske. Chris encouraged Michaela to get back into embroidery and make a kit for the Colour Streams customers.
Finding Michaela
Patron Discount – Colourstreams
Chris from Colour Streams is kindly offering Fruity Knitting Patrons a 15% discount off everything in her online store. Colour Streams produces beautiful hand-dyed and hand-painted threads, including silk, cotton, specialty threads, and fabrics from felt through to linen, velvets, and scrim. Chris says that her products are only limited in their use by your imagination. She has seen them used everywhere, from dreadlock jewelry to wedding invitations, weaving, as well as traditional embroidery and stitching. Full details of the discount can be found here.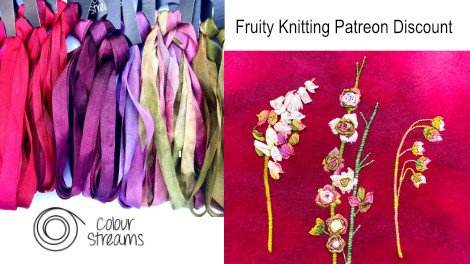 The discount, of course, also includes all the materials and the pattern in both colourways for Michaela's embroidery 'Paper Flowers'. Michaela says her Paper Flowers is suitable for beginners. I know Michaela to be an excellent teacher, so I can say that her instructions are really clear and easy to follow.
Momma, our crafting inspiration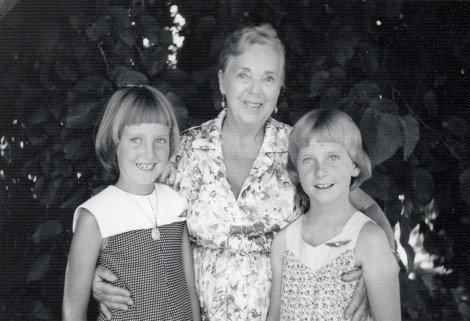 Our darling Grandmother, who we called Momma, was a fantastic inspiration for both Michaela and me and was very much in our lives from about 6 to 15 years. Her influence really inspired our art and craft making and later our career choices as adults.
Michaela and I spend sometime reminiscing and sharing some of the activities we did with 'our Momma'. We picked photos to share with you, where everything Momma is wearing she made herself.
Momma was born in 1909 and died one month before her 100th birthday. We think she was an exceptional lady. Below is a treasured photo showing four generations. Yes, that sweet little girl is Madeleine.
Bring and Brag
Ribblesdale Vest – Lily Kate France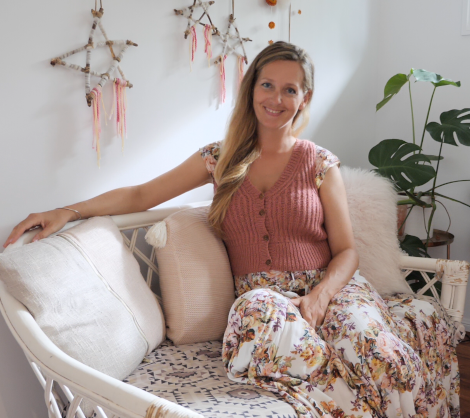 Fiona has completed her Ribblesdale Vest By Lily Kate France. I think she looks gorgeous in it. Fiona is happy with the result but can see how she would improve things i she was to knit the design again. During Bring and Brag, she gives us some notes and tips from a beginner's perspective.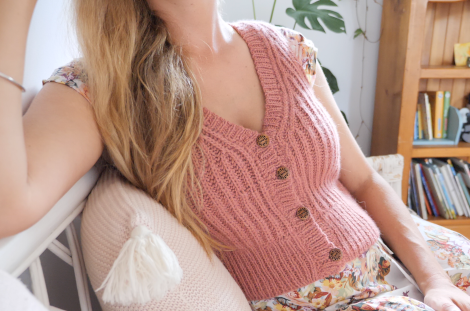 Snowfall – Kim Hargreaves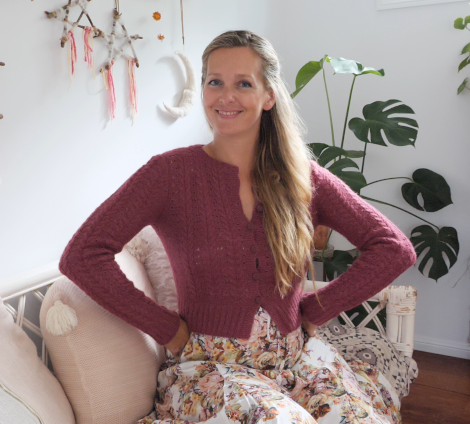 I have finally finished my gift to Fiona, Snowfall also by Kim Hargreaves.  It's a beautiful and elegant light weight lace and cabled cardigan using the Rowan Alpaca Classic.
Because of Fiona's long torso, I needed to add length to the armhole shaping on the body. This was easy enough; I just knitted another 2 cm before starting the shoulder shaping. Then I needed to recalculate the cap shaping on the sleeves to fit smoothly into the lengthened armholes on the body. During the episode, I take you through the steps I took to do this.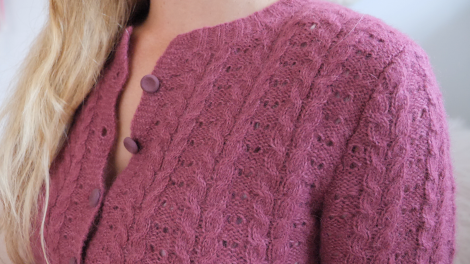 Under construction
Icy – Kim Hargreaves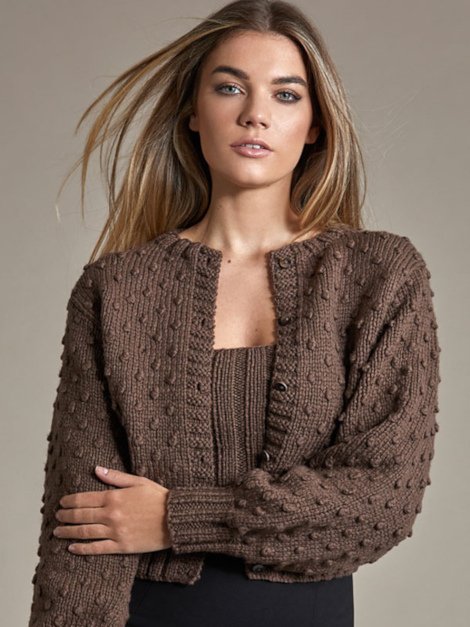 Fiona's current project is, of course, another Kim Hargreaves design Icy from the book WINTER. I bought the book with me from Germany, so she was bound to choose something from it as well. Fiona fell in love with the oversized cropped look, and of course, those early 90's bobbles! The pattern is written for two different types of yarn either the Rowan Merino Aria which is a smooth yarn and gives the bobbles a lot of definition or the Rowan Brushed Fleece which creates a much softer look.
Kim Hargreaves KAL
We are holding a Kim Hargreaves Knitalong in the Fruity Knitting Ravelry Group and the Fruity Knitting Patron Community Forum. Kim has recently announced her plans to retire this year. Kim has been designing beautiful, feminine, and fashionable handknits for over 20 years. She has been one of my all-time favourite designers, and I will really miss her work; it's irreplaceable! If you enjoy knitting her designs, come and celebrate her career by joining in the knitalong.
Support Fruity Knitting by becoming a Patron
We are entirely dependent on the financial support of our Patrons to produce Fruity Knitting. We don't sell anything or receive money from advertising or sponsorship. Producing this show is my full-time work, and Madeleine is helping me alongside her University studies. We ask that if you are watching the show, please support our work by becoming a Patron. It is easy and flexible and you can pick your level of support by going to this link. Thank you very much to all our wonderful Patrons who are making this show possible.
Music Credits
J. S. Bach, The Well Tempered Klavier, Prelude No. 3 in C-sharp major, BWV 848, performed by Kimiko Ishizaka, Creative Commons Attribution 3.0
Georg Phillipp Telemann Partita in B-flat major, No. 1 Con Affetto, Creative Commons Public Domain
Montana Skies, Malagueana Live, used under Creative Commons Attribution-Noncommercial-ShareAlike 3.0 License
Peggy Lee, Ain't We Got Fun, Licensed to YouTube