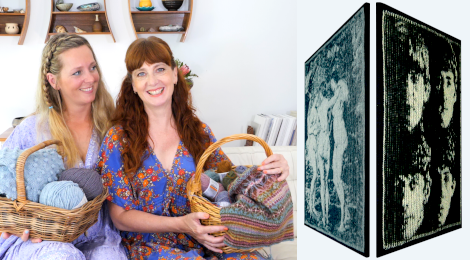 I say this every episode, but I am excited to present our wonderfully eclectic program for Episode 120. Our feature interview with Steve Plummer is on Illusion Knitting. Illusion knitting is also known as shadow knitting. Simple shadow knitting has been around for a long time, but together Steve and his late wife Pat developed a charting system that allowed them to knit images of great complexity, including replicas of art masterpieces. Steve and Pat were both maths teachers, and Steve also taught art, and it was this combination of maths, art, and teaching that led them to develop something so unique. In our Knitters of the World segment, we go to Taiwan to meet the new designer Rastus Hsu, and for #Extremeknitting take you inland in northern N.S.W. to see some stunning Australian landscape around the historical town of Tenterfield. And of course, there is Bring and Brag and Under Construction with Fiona and me.
Illusion Knitting – Steve Plummer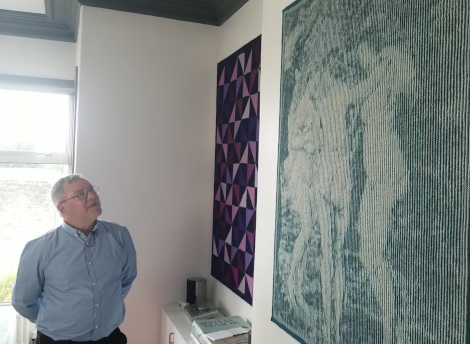 Illusion knitting, or shadow knitting as it's sometimes called, is where two colours of yarn are worked in stripes of two rows each, and you create stripes of flat, smooth stocking stitch and raised garter stitch ridges. When you view the knitting from straight on, you only see simple narrow stripes, but when viewed from an angle (particularly a 45° angle), you can see an image. At first, the images used in illusion knitting were only basic geographical shapes and silhouettes, but then Steve Plummer and his late wife developed a charting system to create images of great complexity, including replicas of art masterpieces, like the Mono Lisa and The Girl with the Pearl Earring.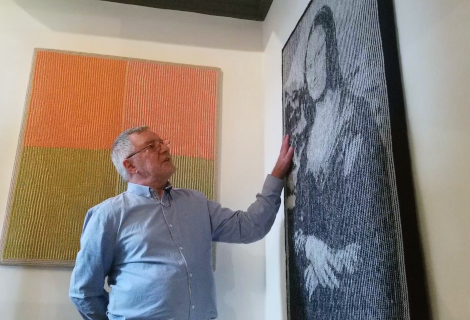 Both Steve and his wife were maths teachers. They described themselves as geometers who use fibrecrafts to make mathematics more accessible. Steve shares how they helped their students visualize mathematical ideas through knitting.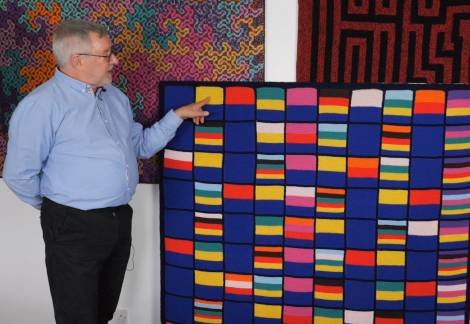 They developed methods and ideas to use with both children and groups of adult knitters who had a real fear of mathematics. This resulted in their first book Woolly Thoughts.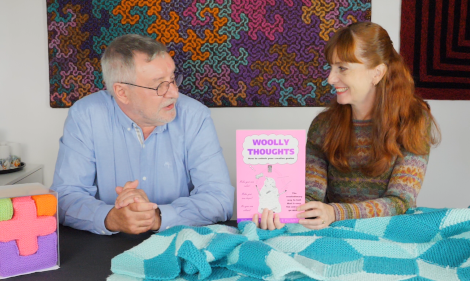 Finding Steve Plummer
Patron Discount – Woolly Thoughts
Steve Plummer is offering Fruity Knitting Patrons a 25% discount off all his self-published patterns. Steve Plummer has hundreds of designs, many of them are his illusion knits, but he also has many designs closely related to maths and teaching aids for maths. Steve's website Woolly Thoughts has a wealth of material, including many tutorials. The details of the discount can be found here.
Illusion Knitting Knitalong
Steve and his late wife Pat were a husband-and-wife team of mathematicians and designers. They have designed some wonderful maths aids that are both practical and fun, and they also expanded the world of illusion knitting in an awe-inspiring way. I know quite a few of you will be taking a deep dive into their work, and I want to provide a forum for you to do so. Therefore, we will start another knitalong on illusion knitting, calling it #FruityIlluionsKAL. Of course, if you are more interested in knitting up some of Steve's maths aids, you can also enter those projects into the knitalong.
Knitters of the World – Rastus Hsu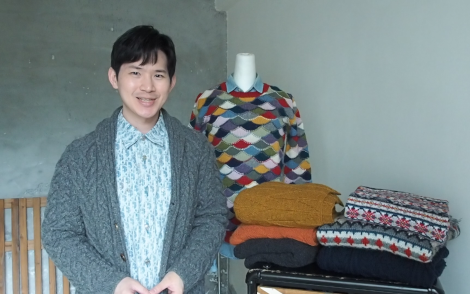 Rastus Hsu is a knitwear designer based in Taiwan. Rastus first learnt to knit from his mother who owned a yarn store. Years later after completing university studies and military conscription, he returned to knitting and started designing hats, cowls, scarves…etc to selling in a local craft market in Taipei.
After receiving a lot of support and encouragement, he has started to also release his patterns in English. Rastus likes to work with his husband, who has a particularly good eye for combining colours. I enjoyed his dicky design (below), where you wear what looks to be a heavy woolen cabled jumper, but you can get away with wearing it in warmer weather.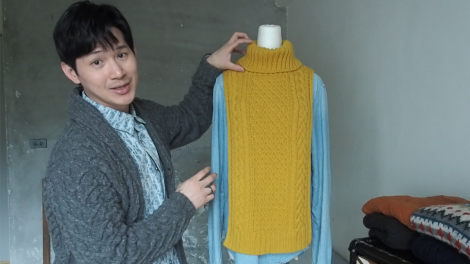 Finding Rastus Hsu
Patron Discount – Rastus Hsu
Rastus is kindly offering Fruity Knitting Patrons a 25% discount off his self-published patterns in his Raverly store. As he said, he has been developing his technique on accessories which all have interesting stitch patterns and colour combinations. So enjoy looking through his store and thank you Rastus. The details of the discount can be found here.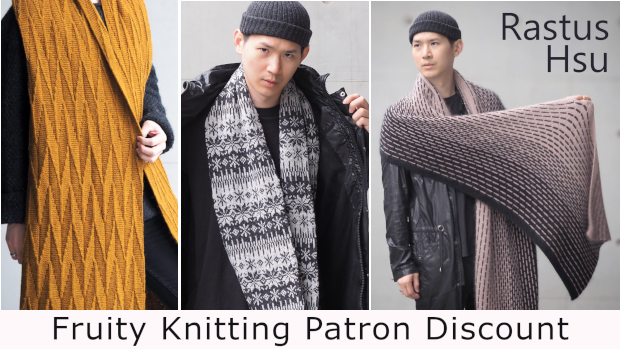 Bring and Brag
Icy – Kim Hargreaves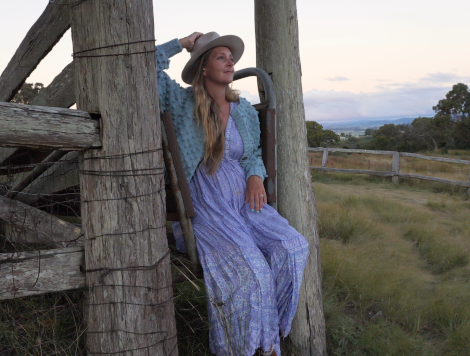 In the last episode Fiona was still working on Icy by Kim Hargreaves. It's a straight forward pattern in stockinette with bobbles and the pattern recommends either the Rowan Brushed Fleece or the Rowan Merino Aria, both yarns are knitted on 7mm needles. Fiona is very particular about colour and neither of these yarns had the perfect colour for her wardrobe, so she used a different yarn; the De Rerum Natura Cyrano (another chunky weight) in the colour Ciel.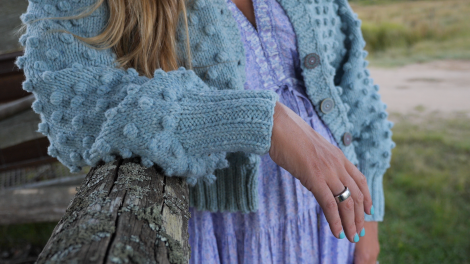 Fiona is a little unsure about the bobbly texture. She has asked the audience to vote on whether or not the garment looks like option A: a powder-blue porcupine, option B: some sort of sensory stimulation device for her baby twins or option C: uber chic!
Going by the photos taken in an iconic Australian landscape, I think it's option C.
Under Construction
Primrose – Marie Wallin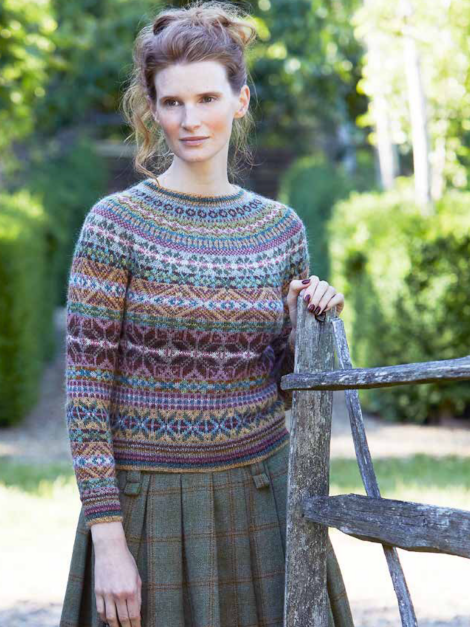 I have started a new colourwork project, Primrose by Marie Wallin. I've had the kit for a while now and it was perfect to take with me to Australia. It's knitted bottom up, in the round with a circular-yoke and uses Marie's British Breeds yarn in 14 colours.
As you can all probably guess, I will be doing quite a few modifications on the design to make it just right for me.
Taylor – Kim Hargreaves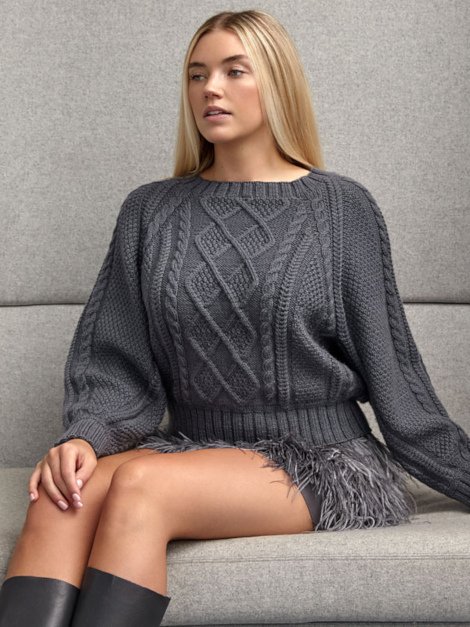 Fiona is pretty excited about her new project – yes, another Kim Hargreaves design. This time she is a little more daring because she chose a pattern rated 4 stars which, in Kim's words, is for "the very experienced knitter." The design is called Taylor, from Kim's FALL book. 
Support Fruity Knitting by becoming a Patron
We are entirely dependent on the financial support of our Patrons to produce Fruity Knitting. We don't sell anything or receive money from advertising or sponsorship. Producing this show is my full-time work, and Madeleine is helping me alongside her University studies. We ask that if you are watching the show, please support our work by becoming a Patron. It is easy and flexible and you can pick your level of support by going to this link. Thank you very much to all our wonderful Patrons who are making this show possible.
#Extremeknitting – Tenterfield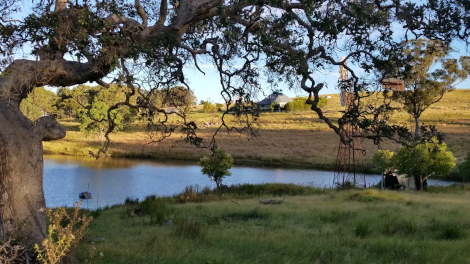 For #Extremeknitting, we take you to the kind of landscape that I grew up in, so it's my favourite amongst Australia's huge variety.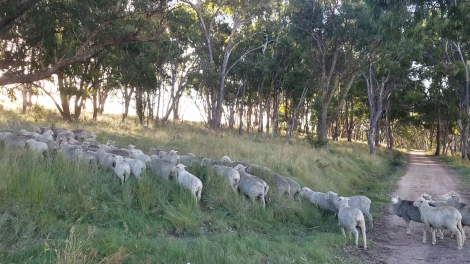 While I was taking a walk, a local farmer came by with his dogs, herding his merino sheep to different pastures. I took the opportunity (of course) to film him and ask him about his sheep.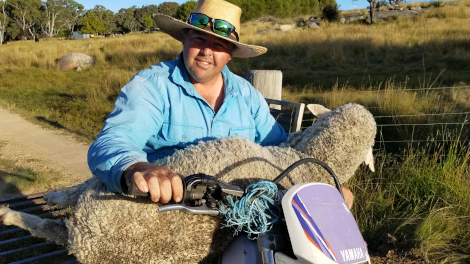 This merino ewe (with a micron count of around 16!) is being carried up to the sheds to receive some much needed medicine.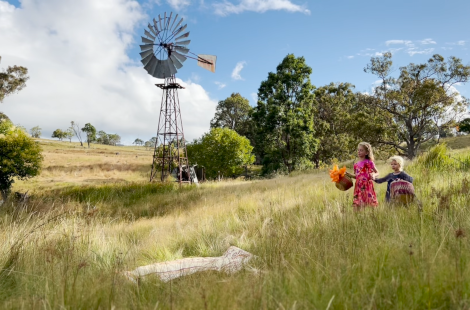 It was also the perfect spot to film a little #extremeknitting with Simba and Leija.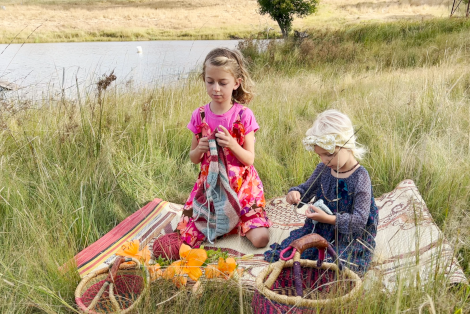 Simba is now working on a new project, a little cardigan and Leija is enjoying attacking her mum's Icy swatch with a crochet hook.
Music Credits