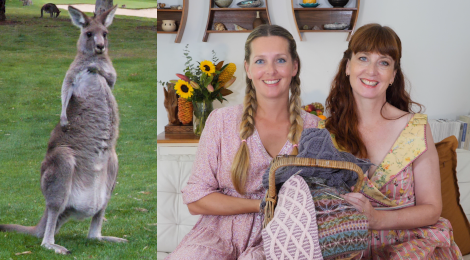 We are celebrating again in Episode 121. First, there's my birthday on April 18th. It's also Fiona's last session on the Fruity Knitting couch as I'm flying back to Germany on May 1st. And finally, with all the tragic and devastating news which weighs so heavily on us, we're appreciating all the goodness in our lives, and we hope this episode brings you some joyful respite and a few laughs. Our feature interview is with the UK knitwear designer Sarah Hatton who you may recognize as one of the prominent Rowan designers over the last few years. For Knitters of the World, we go to Denmark to meet Stefanie Rasmussen, and because this is truly a family show, I took my mother to the Australian National Botanical gardens to modal a suitcase of her handknits. Of course, in Under Construction, Fiona and I keep you updated on our current projects.
Sarah Hatton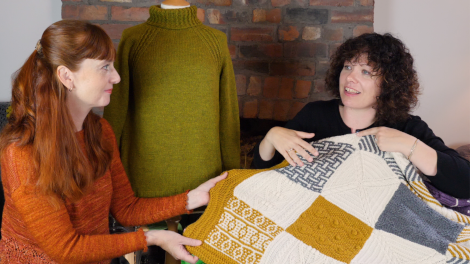 Sarah Hatton was professionally trained as a knitwear designer, and she has a prolific output. She did well over 1000 designs for the yarn company Sirdar before joining the design team at Rowan, and since then, she's done hundreds of designs for Rowan. You'll really enjoy Sarah, she's very personable and knowledgeable and a great technician because she received a thorough old-school technical training from Sirdar, which is fascinating to hear about.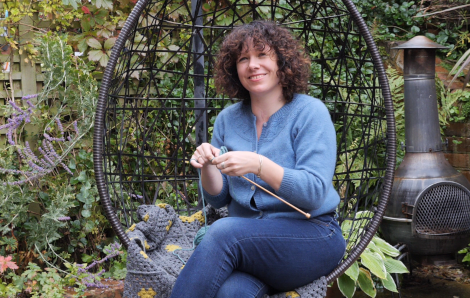 Sarah studied Fashion at Bretton Hall College in Yorkshire before working for the British yarn company Sirdar. Sirdar trained Sarah to speed knit in the cottage style and expected her to knit at their stitch AND row gauge for every yarn weight before she could start designing.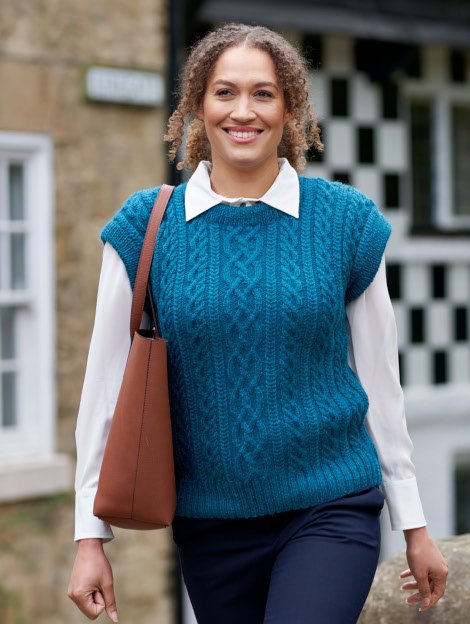 Sirdar then taught her how to finish garments immaculately and write patterns with a strong emphasis on technique and accuracy. Although it was old school and sometimes tough, Sarah is extremely grateful for this early training that has proved to be so helpful to her career.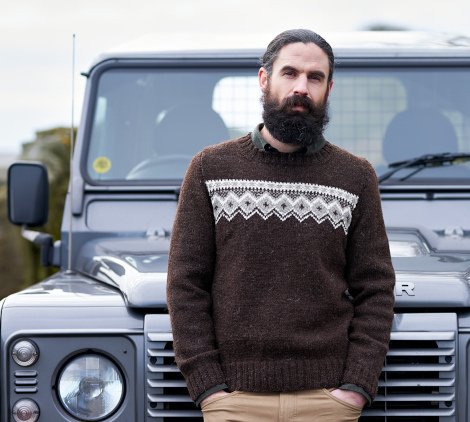 Sarah is now working freelance, designing for various magazines and yarn companies and also as a pattern writer for other designers.
I have a knit a couple of her designs and I would describe them as the kinds of garments that most knitters would really enjoy having in their wardrobe.
Finding Sarah Hatton
Patron Discount – Sarah Hatton
Sarah is also kindly offering Fruity Knitting Patrons a 25% discount off all her self-published patterns in her Ravelry store and she has hundreds to choose from. So, enjoy looking through her collection. The full details for the discount can be found here.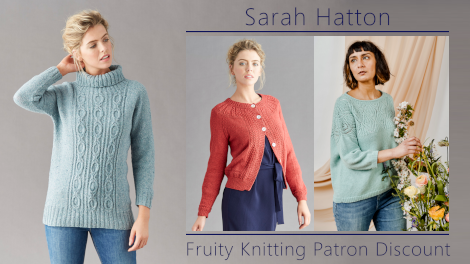 Fruity Knitting Live – White Gum Wool
We recently had a Live Event with the Tasmanian sheep farmer and yarn producer Nan Bray from White Gum Wool who feature in Meet the Shepherdess back in Episode 68.
Nan Bray's story of managing her sheep's nutrition and health with alternative farming techniques is fascinating. Healthy soils, plant diversity and rotational grazing are themes that we are increasingly hearing about.
Dr. Fred Provenza's pioneering research into the learnt 'nutritional wisdom' that is passed down from grandmas, mamas, aunts and uncles to the babies has been a game changer for Nan Bray. Now Nan doesn't wean the baby lambs and the family members stay together in one big flock. Nan is a fascinating woman doing extraordinary things with her land, sheep and wool.
Patron Discount – White Gum Wool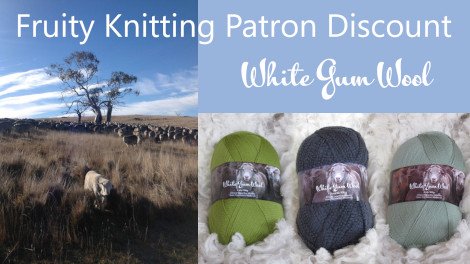 Nan is offering Fruity Knitting Patrons a 20% discount on all her yarns from her online store. White Gum Wool averages 17 microns, so it sits right in the 'superfine' range and can easily be worn next to human skin. I highly recommend going back and watching the feature on White Gum Wool in Ep. 68 and Patrons also listening to the audio podcast because Nan's story is unique and inspirational. The full details of the discount can be found here.
Knitters of the World – Stefanie Rasmussen
Stefanie Rasmussen describes herself as a vintage fashion and historical costume nerd.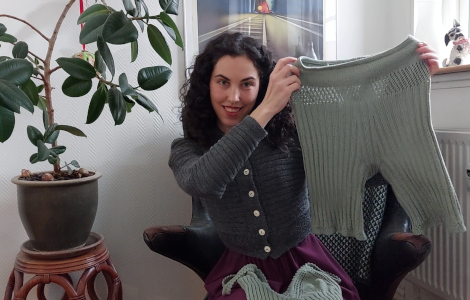 Stefanie knits beautiful vintage garments to go with her hand-sewn vintage clothes. My favourite was the gorgeous winter knickers she knitted, which are a mash-up of multiple vintage patterns (above).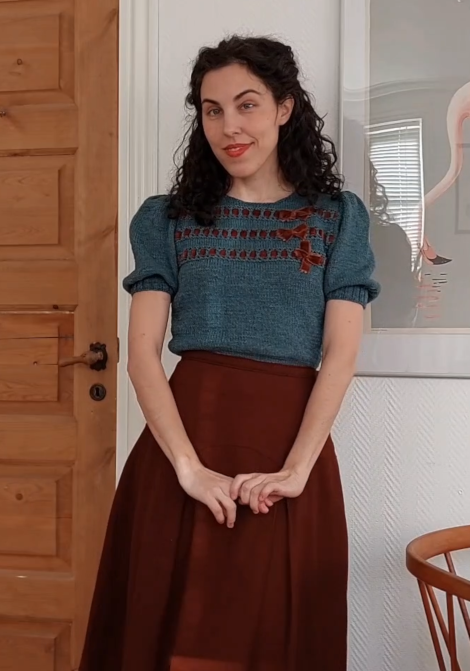 Finding Stefanie
Mum's Handknits in the National Botanical Gardens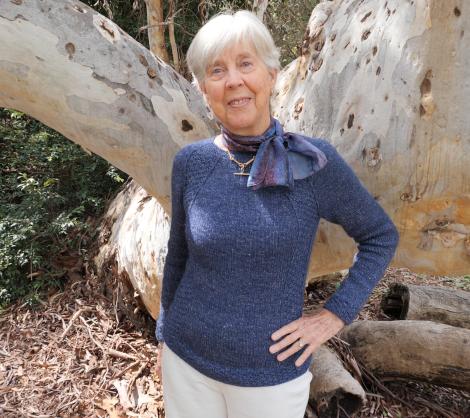 I took a quick trip to Canberra (Australia's capital city) to spend some time with mum and I eventually convinced her to show off her handknits on Fruity Knitting.
We went to the Australian National botanical gardens which has a scientific collection of native plants from all parts of Australia and spent the day filming her handknit wardrobe.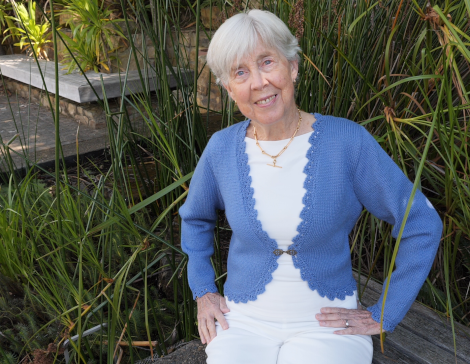 I have to laugh because just like Fiona has taken a shine to Kim Hargreaves designs, mum took a shine to Carol Feller's designs. She says that the patterns are very well written and she received excellent pattern support from Carol when she was stuck at a tricky spot. Mum also love Carol's yarn Nua. We interviewed Carol Fellar back in Episode 80.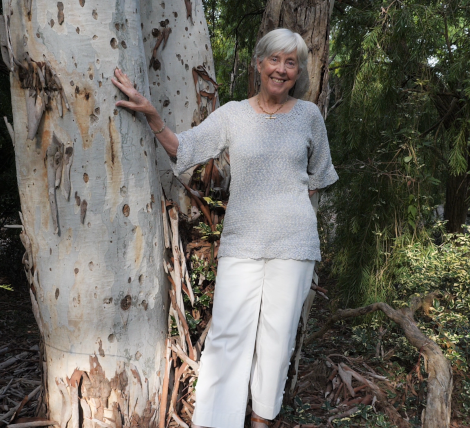 Mum turned 80 last year, and I think she looks brilliant modeling her knitting. The design above was crocheted by our beloved grandmother Momma and goes perfectly with the beautiful pastel shades of the bark on the Australian white Gum.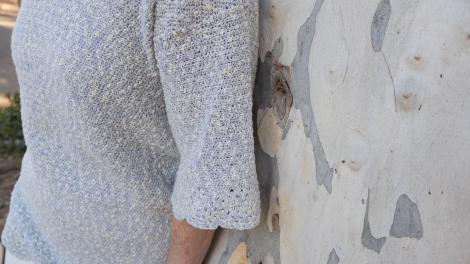 Support Fruity Knitting by becoming a Patron
We are entirely dependent on the financial support of our Patrons to produce Fruity Knitting. We don't sell anything or receive money from advertising or sponsorship. Producing this show is my full-time work, and Madeleine is helping me alongside her University studies. We ask that if you are watching the show, please support our work by becoming a Patron. It is easy and flexible and you can pick your level of support by going to this link. Thank you very much to all our wonderful Patrons who are making this show possible.
Under Construction
Primrose – Marie Wallin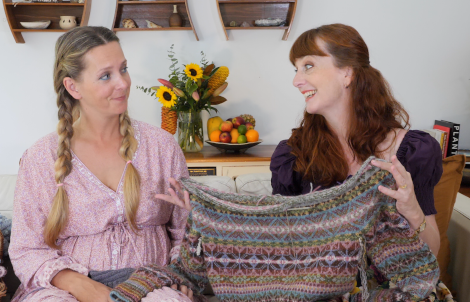 My current project is Primrose by Marie Wallin. The pattern uses Marie's British breeds yarn in 14 colours which you can buy together with the pattern in a kit from her website. And it's knitted bottom up, in the round with a circular-yoke.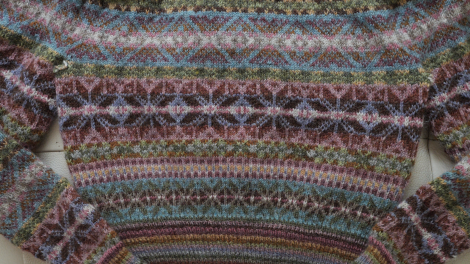 Taylor – Kim Hargreaves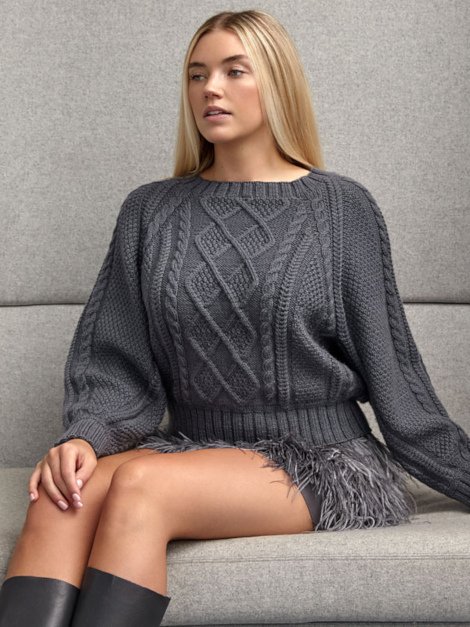 Fiona is working on the design pictured above called Taylor from Kim Hargreaves book FALL. It's a jumper with splendidly draped sleeves and is knitted in pieces from the bottom up. The pattern recommends the Rowan Pebble Island but Fiona substituted with the De Rerum Natura Gilliat.
What we are wearing
In the interview with Sarah Hatton, Andrea is wearing a modified version of Tegna by Caitlin Hunter.
Music Credits
J. S. Bach, The Well Tempered Klavier, Prelude No. 3 in C-sharp major, BWV 848, performed by Kimiko Ishizaka, Creative Commons Attribution 3.0
Pyotr Il'yich Tchaikovsky, Souvenir de Florence, Op. 70, 1 – Allegro Moderato, US Army Strings, Public Domain
Beethoven, Violin Sonata no. 5 in F 'Spring', Op.24, Allegro, Corey Cerovsek Creative Commons Attribution 3.0