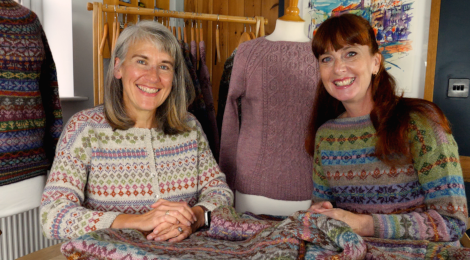 I'm back in Germany after spending 4 months in Australia living out of a suitcase. I'm delighted to be home, and I'm especially pleased to have Madeleine sitting with me again on the couch. We have a lovely program for you in Episode 122, full of fantastic knitting. Our feature interview is with the marvelous Marie Wallin, who has recently published another collection of splendid Fairisle designs in her book Cumbria. On top of that, we feature some #Extremeknitting in the Girraween National park in northern N.S.W. I filmed this segment while I was still in Australia, so you'll catch up again with the lovely bush babes Simba and Leija. And then, of course, Madeleine and I have updates on our own projects and a bit of chat, and some news.
Marie Wallin – Cumbria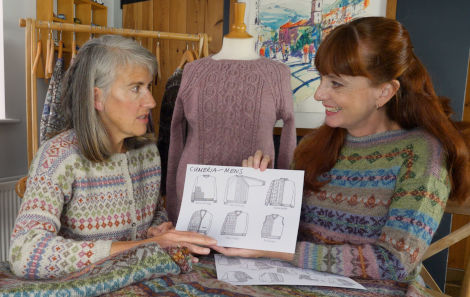 Our interview with Marie Wallin was recorded during our Yorkshire trip last year, and we're featuring it today to coincide with the recent release of Marie's new collection Cumbria. Marie talks a lot about the Cumbrian designs during the interview. You will learn a lot during this interview. Marie shows us exactly how she puts together her colours and patterns for each design. She also shows us how to change the whole set of colours to your preference without losing the harmony of her original design, which is so important.
When designing, Marie likes to start with the patterns first and then add the colours. She shows us this process using her latest Fairisle Club design (pictured above and below).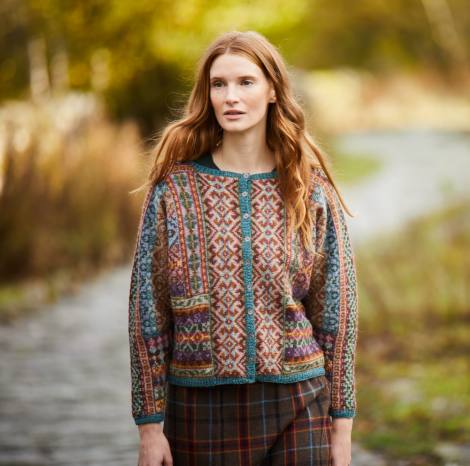 Marie has been working on two new collections during the lockdown. The Cumbrian Collection has been released recently and I'm so happy to see some wonderful garments for men included.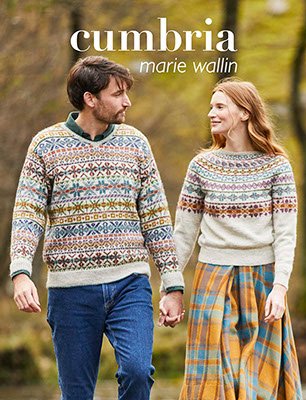 There are also some lovely accessories, which are great projects to start learning Fairisle on. You don't have to worry about the fit.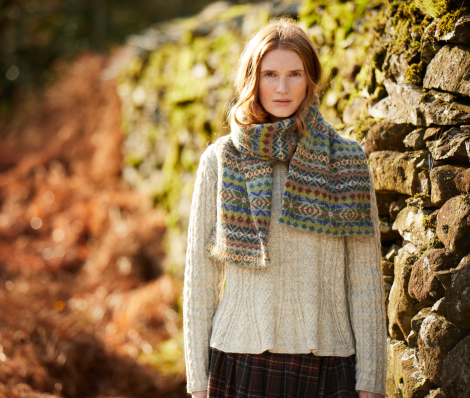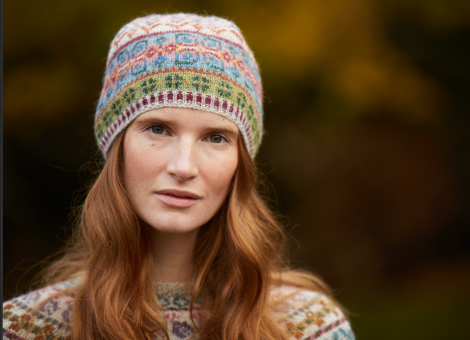 Marie knitting in her back garden (pictured below).
Finding Marie Wallin
Patron Discount – Marie Wallin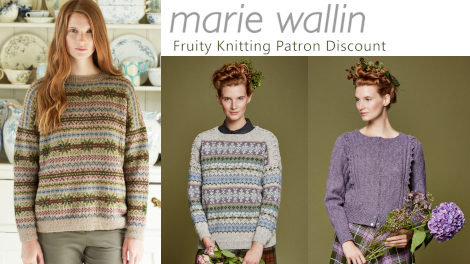 Marie is offering Fruity Knitting Patrons a 50% discount off all her self-published patterns in her Ravelry store. Marie has published most of her designs in books but over time she releases individual patterns so they can be bought separately as well. I counted at least 150 individual knitting and crochet designs which you can buy as individual patterns from her ravelry store, including 5 out of the 8 designs that I've knitted. I think that's an amazing offer with such a variety to choose from.
Fashion Show in the Woods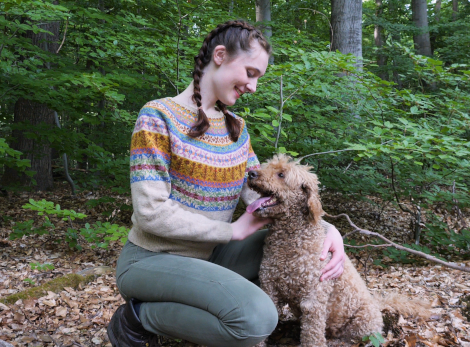 As many of you know, Marie Wallin is one of my favourite designers, so I counted how many Marie Wallin designs I've actually knitted. I was surprised at the result (in total 8 garments), so Madeleine and I have also included a Marie Wallin fashion show that we filmed here in the local Offenbach woods.
Since we're featuring an interview with Marie Wallin, it's the perfect timing to bring them out and show you. I'm sure you will recognize many of them. You will have seen me either working on them, doing a tutorial on them, or wearing them during the last 121 episodes.
#Extremeknitting – Girraween National Park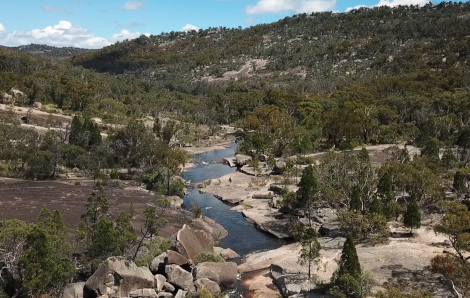 Many of you have enjoyed seeing my little nieces, Simba and Leija, doing their crafting in various locations showing off the beautiful Australian landscape. I'm pleased to take you on another trip into the Aussie bush again with Simba and Leija for some #extremeknitting in the Girraween National Park, northern N.S.W. Australia.
Under Construction
Modest – Kim Hargreaves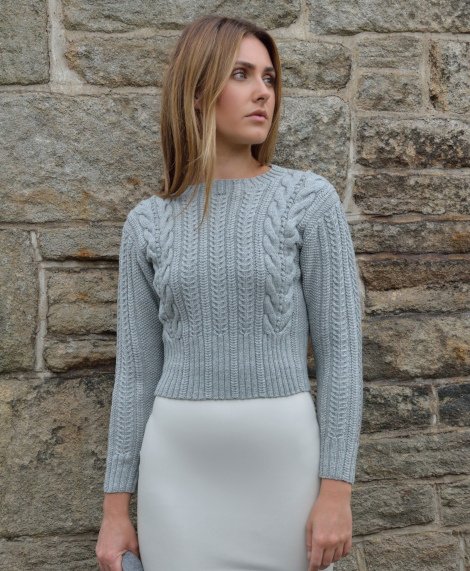 During the last four months, Madeleine hardly knitted at all. She had several exams and assignments for university and just last week finally sent off her Bachelor thesis. Since I've come back to Germany she's picked up her old knitting project again. Modest by Kim Hargreaves.
Corbris Sweater – Natasja Hornby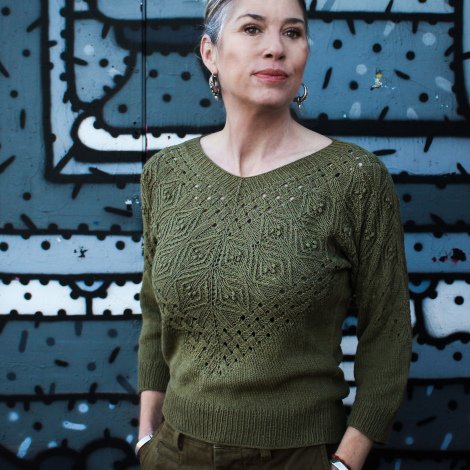 I've just started a new project despite having two other unfinished jumpers on the go. I've got my Primrose by Marie Wallin, which I've spoken about in the last two episodes. I also have my Bohus Stickning design 'The Wild Apple', which is still unfinished. I wanted to start the new design Corbis Sweater by Natasja Hornby (pictured above and below) because it's perfect for late spring to early autumn weather. I need to get cracking on it if I want to wear it this year.
What we are wearing
In the interview with Marie Wallin, Andrea is wearing Rydal from the book Cumbria
Music Credits