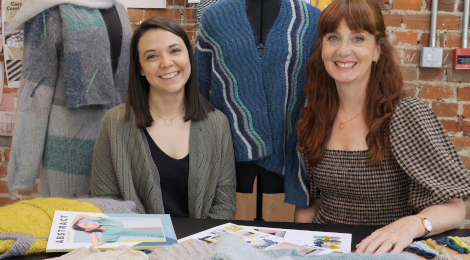 In Episode 123, we're featuring the British designer Georgia Farrell. Georgia's work has been heavily featured in the Rowan magazines, and there's a lot of excitement about her talent as a young, upcoming designer. While we were traveling around the UK interviewing new guests, Madeleine and I finished two new garments. We took the opportunity to film us modeling them in the picturesque seaside town of Hastings, that's also included in the program. And there's another short pop psychology segment where Madeleine talks about the Big Fish in a Little Pond Effect and how it applies to us as knitters.
Georgia Farrell
Georgia is a British designer who's passionate about creating architecturally inspired hand knitting designs. Georgia graduated with a degree in textile design, and now she's one of Rowan's prominent designers. I was very impressed with Georgia, everything from her obvious talent and passion to her work ethic and communication skills. She was an absolute joy to work with.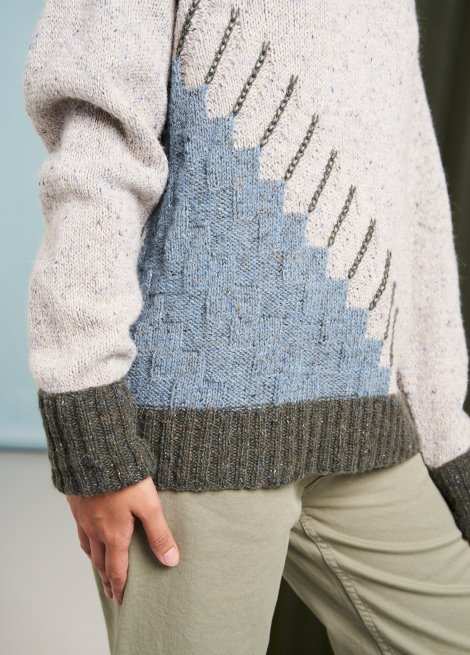 The lines, shapes, and patterns of modernistic architecture are Georgia's primary source of inspiration. Impressively, she manages to translate that into the soft, flexible nature of knitting. Some techniques she uses to do this are; creating geometric patterns out of stocking stitch and reverse stocking stitch, using traveling cables and twisted stitches, and contrasting blocks of colour to create the illusion of depth and volume.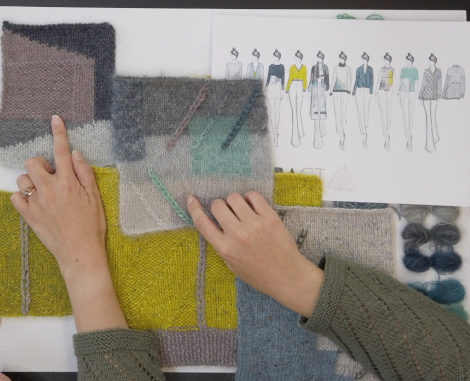 When Georgia's designing a new collection, the creative preparation and research phase is essential. A lot of energy goes into creating new mood boards and playing around with concepts before starting the actual designing.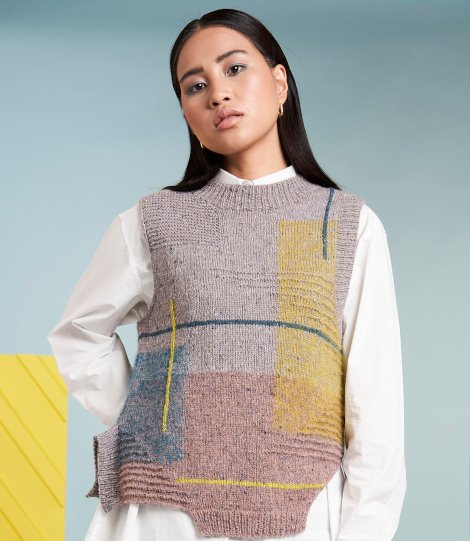 During the interview, Georgia gives us a mini-workshop on how to use colours and patterns to create the illusion of depth or perspective. She also shows us how to substitute colours in any design. Below she has come up with some alternative colour combinations for a few of her Abstract designs.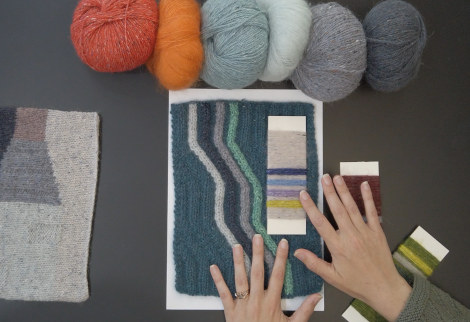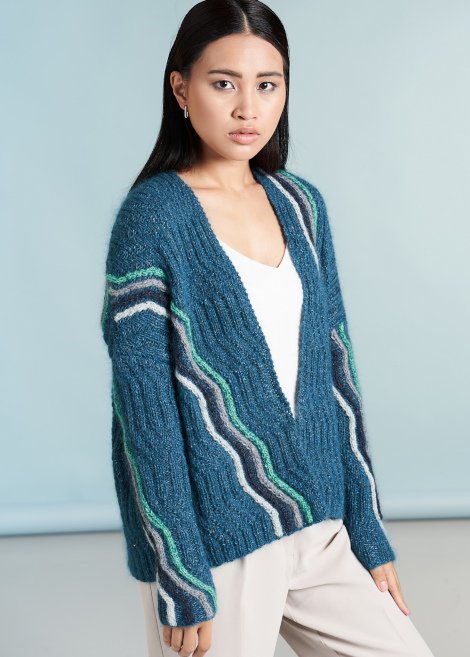 My favourite designs from the Abstract collection are Lines ( above) and Asymmetry (below). Both designs use a combination of the Rowan Felted Tweed and the Kidsilk Haze held together.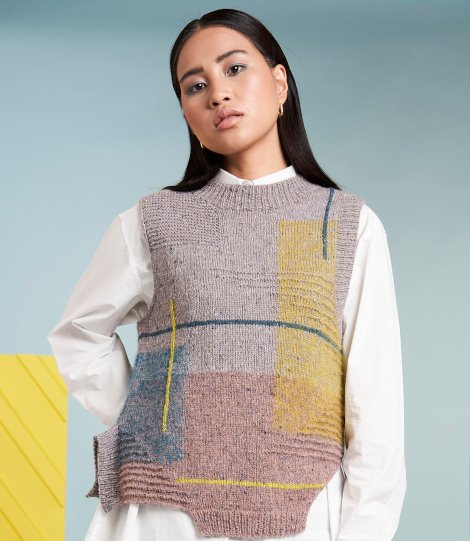 Finding Georgia Farrell
A Dictionary of Color Combinations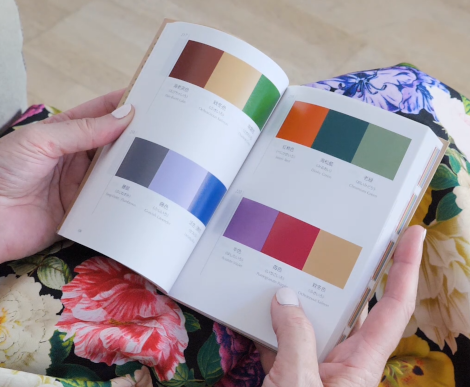 During the interview Georgia showed me a wonderful little book called A Dictionary Of Color Combinations. It shows 348 different and slightly unusual color combinations in groups of two, three and four colors and is based on the work of Sanzo Wada from the 1930s. Wada was a Japanese artist, costume and kimono designer. He was ahead of his time in developing traditional and Western influenced color combinations, helping to lay the foundations for contemporary color research.
Patron Discount – Rowan – Georgia Farrell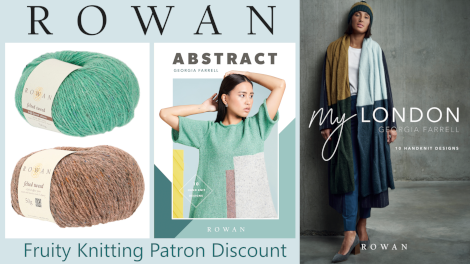 Rowan is kindly offering Fruity Knitting Patrons a 25% discount off both the yarn and the patterns for Georgia's two books My London and Abstract from the knitrown online store. The patterns (either as a book or digital download) must be bought together with the yarn in a single purchase. This is a wonderful limited offer just for our patrons, who are making the production of Fruity Knitting possible. The full details for the discount can be found here. Thank you very much to Rowan!
Georgia Farrell Knitalong
We'd like to start a Georgia Farrell knitalong where you can choose to knit any of her designs. Our knitalongs have become quite relaxed affairs. There aren't any prizes, and the end date usually becomes fudgy. I think of them more as little forums which I can set up, where people can have company and conversation when they're interested in a particular designer or technique. We don't set up a knitalongs for every guest on the show, but I would like to start one for Georgia. Our knitalongs are held in both our Fruity Knitting Ravelry group and the Patron community Forum.
Marie Wallin Knitalong
In response to popular demand we are also starting a Marie Wallin knitalong. We interviewed Marie about her new collection Cumbria in Episode 122. This KAL will also be held in our Fruity Knitting Ravelry group and the Patron community Forum.
UK Travel Vlog 2022
We recently returned from our month-long UK trip, where we were interviewing guests and gathering new content for the show. While traveling, we also produced a travel vlog which is a collage of behind-the-scenes footage showing you some of the people we interviewed and places we visited. Viewers have particularly enjoyed the vlog because it gives them an insider view of our work. They can experience what happens behind a polished interview in a more intimate and personal way. So if you haven't yet seen the vlog, we recommend you check it out. It's called UK Travel Vlog 2022
Support Fruity Knitting by becoming a Patron
We are entirely dependent on the financial support of our Patrons to produce Fruity Knitting. We don't sell anything or receive money from advertising or sponsorship. Producing this show is my full-time work, and now Madeleine has joined Fruity Knitting to work full-time as well. We ask that if you are watching the show, please support our work by becoming a Patron. It is easy and flexible and you can pick your level of support by going to this link. Thank you very much to all our wonderful Patrons who are making this show possible.
Under Construction
Upwards Top – Lily Kate France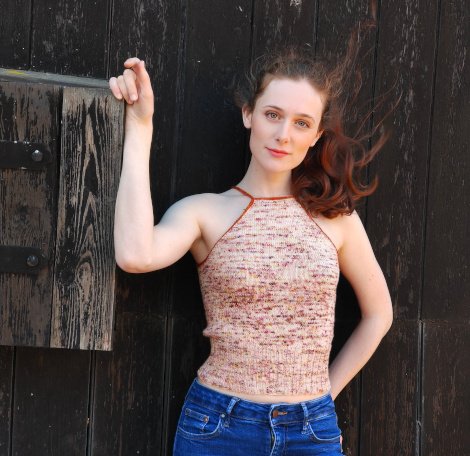 If you've seen our latest travel vlog you'll know that Madeleine has been working on the Upwards Top by Lily Kate France. I think Lily named it the Upwards top because it gets slimmer towards the top and these lines point to the face. But it's actually knitted top down.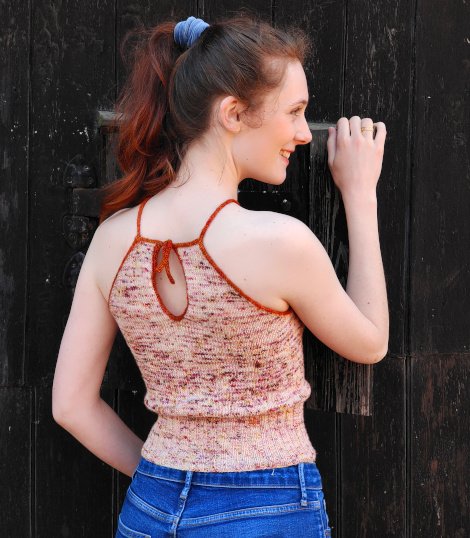 A nice highlight of this top is the keyhole. You can actually wear the keyhole on the front or the back as long as you don't include bust darts. I also like the i-cord edging which is knitted in the contrast colour. It goes along the armholes and the keyhole. Lily also includes a cute little tie above the keyhole.
Corbis Sweater – Natasja Hornby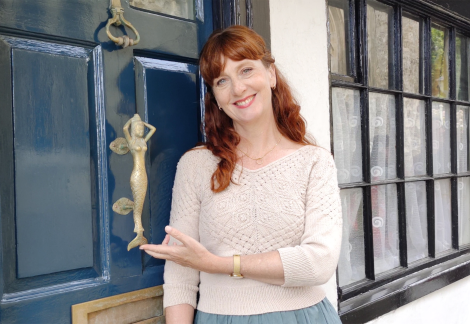 The Corbis Sweater by Natasja Hornby has a very unusual construction. What's interesting is that the design started off as a shawl, so you can also knit the Corbis Shawl. When you know that, it's easier to understand how the garment is constructed.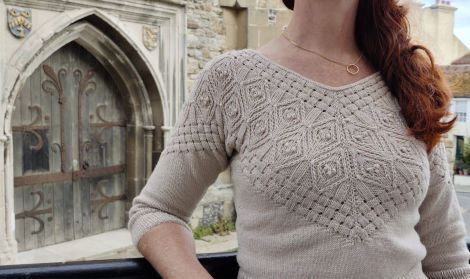 I absolutely love how the basket weave pattern morphs into a cabled diamond pattern with bobbles and then back into the basket weave pattern again.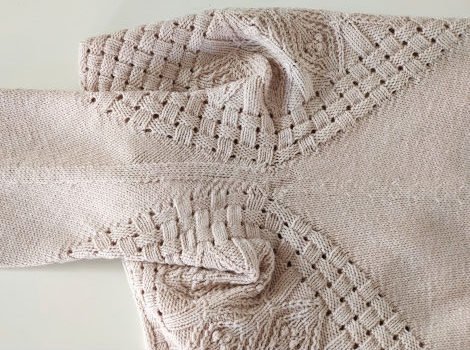 Above is a close-up picture of the underarms. On the right side, you can see the stocking stitch short row shaping on one side of the body. On the left side is the short row shaping underneath one of the sleeves. What I really like is the way Natasja has got rid of a lot of potentially bulky fabric under the arms by decreasing very rapidly.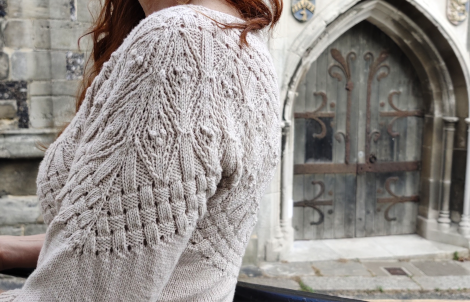 Hastings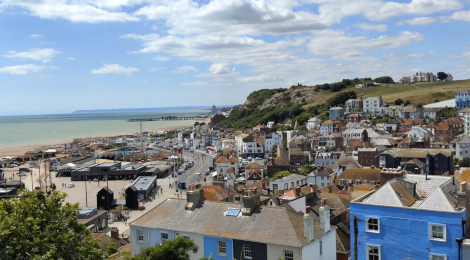 Hastings is a lovely seaside town that overlooks the English Channel. It's popular for various sporting and cultural events. You may also know the town in connection to the famous battle of Hastings in 1066, which changed English history, or if you're a fan of the British detective T.V. series Foyle's War which is set during WWII in Hastings. Madeleine and I modeled our Corbis Sweater and Upwards Top while showing you some of Hasting's beautiful sights.
Prince Edward Island Fibre Festival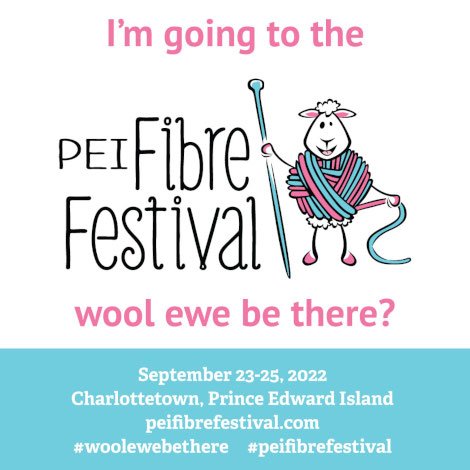 The Prince Edward Island Fibre Festival in Canada has invited us over to cover the festival. They are paying for our airline tickets and some of our accommodation expenses, making it possible for us to go. We are both extremely excited about it. It's the very first Fibre festival on the Island, and a lot of care and effort has been put into the preparation to make it a world-class festival. Prince Edward Island is a popular tourist destination, so if you decide to attend, there are plenty of other great activities for your partner to enjoy while you are indulging in everything to do with yarn and fibre crafts.
The festival runs from September 23rd -25, which is a Friday to Sunday. There's a marketplace, workshops, lectures, and also local entertainment arranged for both the Friday and Saturday evenings. There will also be two lounges, one called Sit, Sip and Stitch, where you can do exactly that. And then the other lounge, called the Fibre Fan Lounge, is where we will be on the Saturday. You can have a light lunch, talk to us, and ask us questions about the show. We are really looking forward to meeting you on the Saturday, if you can go. And if you cannot go, you can see the festival through our future episodes from the comfort of your home.
Music Credits
J. S. Bach, The Well Tempered Klavier, Prelude No. 3 in C-sharp major, BWV 848, performed by Kimiko Ishizaka, Creative Commons Attribution 3.0
Volare – Dean Martin, Licensed to YouTube by Universal Music Group
Phillip Glass – Etudes – No. 9, performed by Vikingur Òlafsson, licensed to YouTube by Universal Music Group.