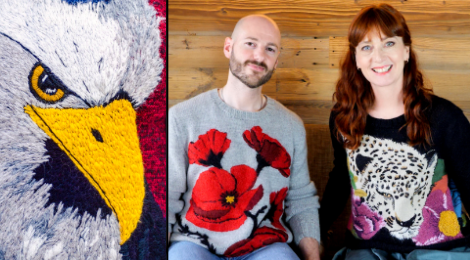 Episode 137 includes two interviews we did back in April during the Swiss Yarn Festival. They are on entirely different subjects, but they're equally fascinating. Our feature interview is with the Italian designer Dario Tubiana. Dario has made a name for himself with his intricate use of embroidery on hand-knitted garments, and he has an awe-inspiring portfolio of unique and exciting designs. Then, we have a mini interview with Maja Siska on Icelandic Wool & Women. In Bring and Brag we have two finished projects to show you, including a fashion show and we have two new projects in Under Construction.
Dario Tubiana – Embroidering Knitwear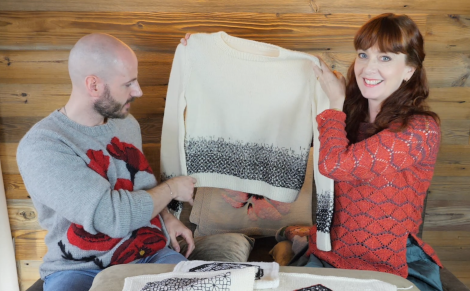 We interviewed Dario Tubiana, also known as Rosso Cardinale (cardinal red), when we visited the Swiss Yarn Festival 2023. During the interview, Dario really simplifies the complexity of embroidery, making it much easier to understand and get the hang of. He also gives a lot of valuable tips on how to combine embroidery with hand-knitting.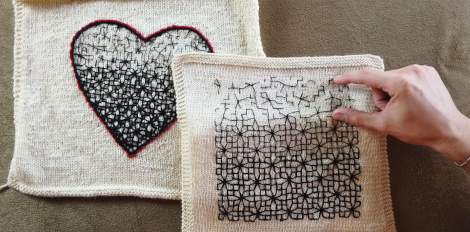 He likes to combine intarsia and embroidery together. That way, he can use more color and create stunning and intricate pictures. He mainly designs for men and doesn't want his designs to look like "boring old man" sweaters. Instead, they should be fun, something you might wear to the club.
Dario also worked as a professor at the European Institute of Design in Milan, where he taught hand knitting and embroidery techniques to design students. So, he is practicing his craft at a very high level, and some of his designs look like works of art.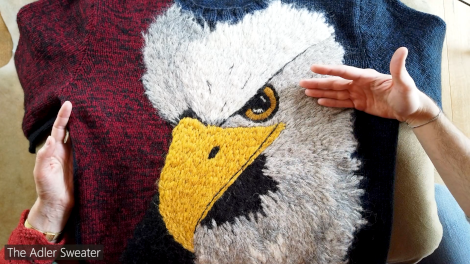 Dario explains how he uses different types and lengths of embroidery stitches and experiments with various materials to bring his images to life. He avoids using large amounts of cotton threads due to their weight, which can drag down the jumper if used too much.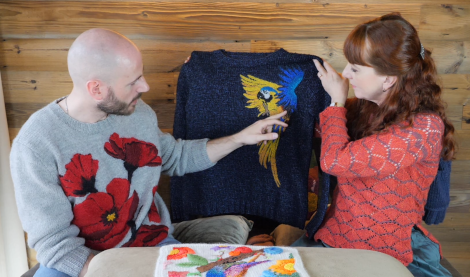 Finding Dario Tubiana
Patron Discount – Dario Tubiana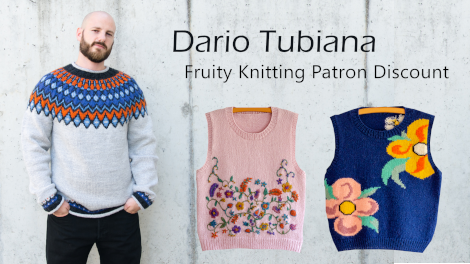 Dario Tubiana is offering Fruity Knitting Patrons a 25% discount off all his self-published patterns in his Ravelry store. Patrons can find all discount details here. Thank you, Dario, for this great offer!
Maja Siska – Icelandic Wool & Women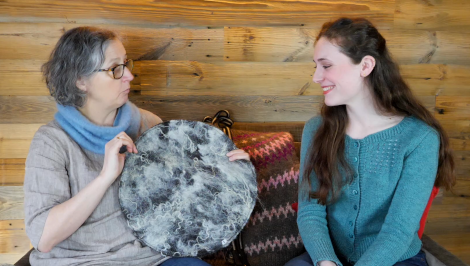 Maja Siska came to the Swiss Yarn Festival to hold a lecture called "Icelandic Wool & Women", which I found fascinating. During our interview, Maja teaches us about the historical and cultural importance of sheep farming in Iceland, going back to the first Viking settlers.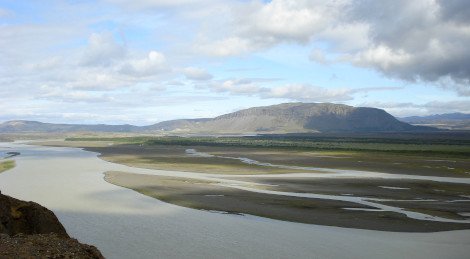 She also introduces us to two groups of Icelandic women, The Thingborg Coop and the Spinning Sisters. They have been working to revive the Icelandic wool industry and to ensure that the knowledge about wool quality and fibre handcrafts doesn't get lost.
Once a year, the Thingborg women go to the wool collecting station to hand select the best lamb's wool. The Istex mill then processes it into pencil roving (plötulopi) and yarn exclusively for the coop.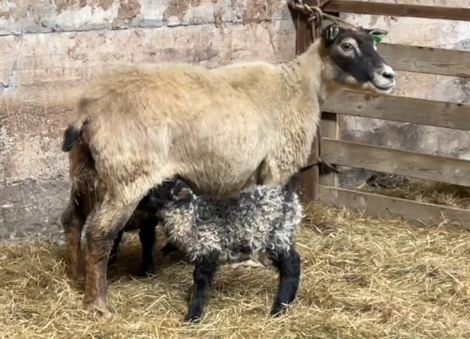 Iceland also has a wool week, which happens biannually, with the next one being held in 2024. Maja gives us a good overview of what the South Iceland Wool Week offers. I am hoping we might go next year to cover the festival!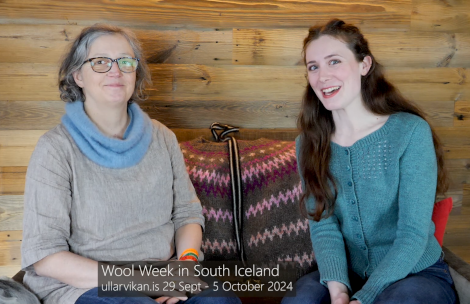 Finding Maja Siska
Support Fruity Knitting as a Patron
Our primary goal with these interviews is always to make them as content-rich as possible. So that by the end, you've hopefully been inspired and learned something new. But that doesn't happen unless we do extensive research and preparation beforehand. We also carry various travel expenses to film the actual interview.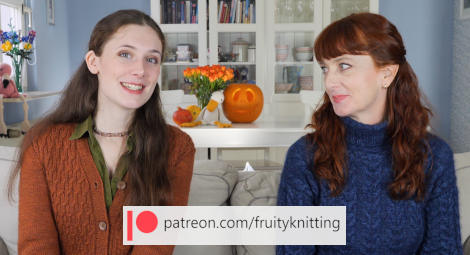 If you want to help us continue to create quality content, you can do this by becoming a Fruity Knitting patron. As a patron, you make a small monthly contribution starting at 5 USD a month. We prefer this model to receiving one-off donations because it means that we have a more reliable, steady income. Thank you for your support!
Bring & Brag
Coffee Socks
Madeleine has finished both of her Coffee Socks by Charlotte Stone! This design comes from her book 'Charming Colourwork Socks', and we interviewed Charlotte in Ep. 135 in case you haven't seen it. Madeleine used the Socklandia Sox yarn by Giggling Gecko Yarns in the colours Bantli Brown and Double Fudge. The white and blue are leftovers from other projects.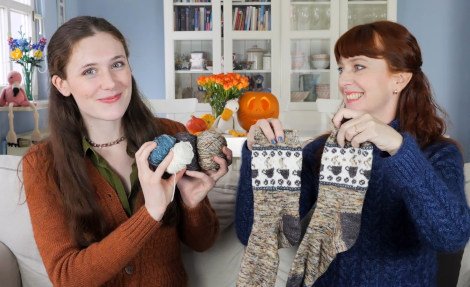 You can see the original socks on the left and my socks are on the right. To make the coffee cups stand out more, Madeleine used white yarn for the background of the colorwork section. And she also knitted the steam in the lighter variegated yarn instead of the dark brown.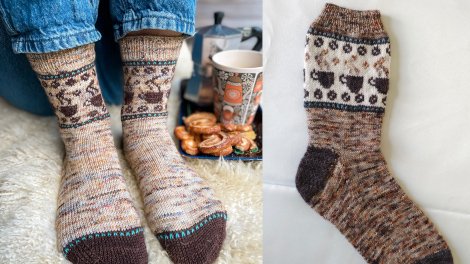 Parker-Charge Mashup
This finished project is a mash up of two Kim Hargreaves designs, Charge and Parker. They knit up to the same gauge of 22 st and 30 rows to 10 cm, using the same recommended yarn, the Rowan Alpaca Soft DK. This made it very easy for me to take the elements that I liked best from both designs and combine them together.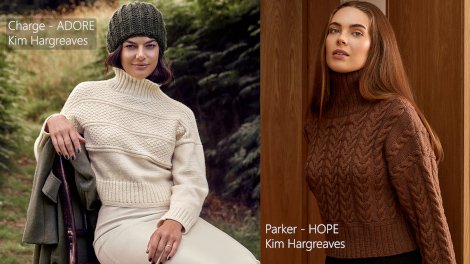 I preferred the ribbing on Charge to the ribbing on Parker, and even though you can't see it clearly, the dimensions of Charge are smaller than the dimensions of Parker for the same size. I wanted a tighter fit, so I worked out how to fit the cable design of Parker into the bust circumference of Charge.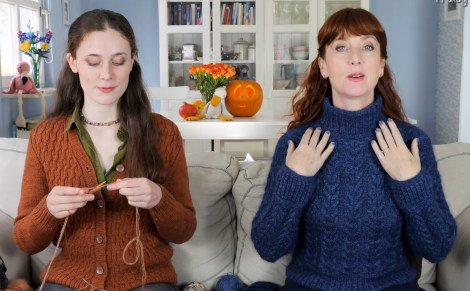 The mohair and the cables give the jumper a bulky appearance, so I added a bulky neck to balance it out. I made the neck longer and turned it inwards and I think that was a good choice.
Fashion Show at our local Coffee Shop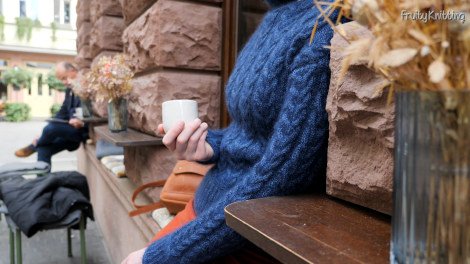 We put together a little fashion show presenting both of our finished projects and accompanied by Frank Sinatra's Coffee Song. Filming this was a lot of fun and we hope you enjoy it!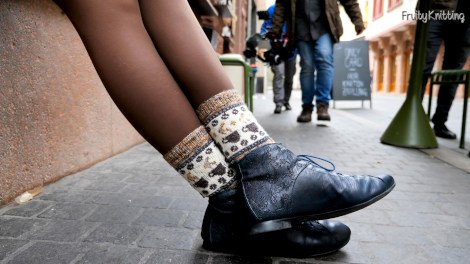 Under Construction
Blue Lagoon Vest – Dario Tubiana
As I mentioned earlier, Dario is known for his intricate embroidery designs, and he's also a fan of using intarsia and vibrant, bold colours. So, my new project is a vest of his called Blue Lagoon Flowers. It's worked flat, in pieces because it's much easier to knit intarsia flat than in the round.
For new knitters, intarsia is the technique used for the flowers. It's a great technique to use when you have blocks of different colours. I think it is very striking. I love the bold retro flowers and also the colour combination Dario used in the flowers.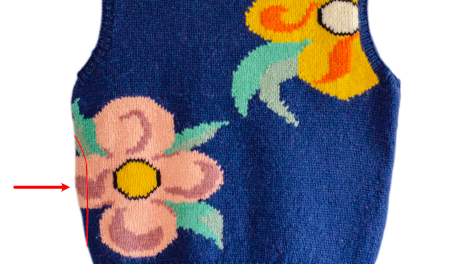 The form of the vest is very much uni-sex, but I would like to put some slight waist shaping in. So that I don't lose stitches from the left petal of the bottom flower, I might bring the whole flower motive across to the right by 4 stitches.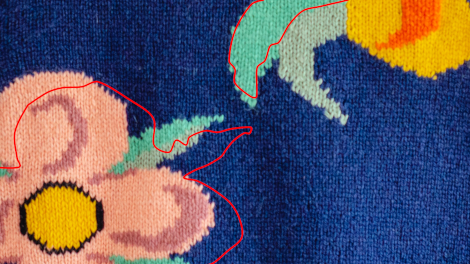 Patron Discount – mYak
mYak is offering Fruity Knitting Patrons a 15% discount off all of their yarns as well as their yarn kits for Dario Tubiana designs! This includes the Blue Lagoon Flowers vest I'm knitting. mYak have 8 different yarn ranges including Baby camel, a Baby Yak DK, a baby Yak lace, a Cashmere Lace and a Cashmere DK and some blends like Baby yak/silk and baby Yak/cotton. Patrons can find all discount details here.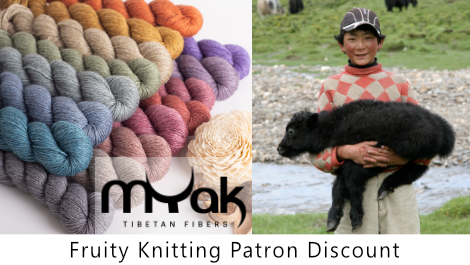 Thank you to mYak for this wonderful discount!
Barbroe Blouse – Knitting For Olive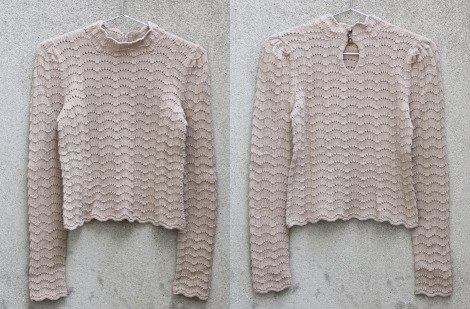 Now that Madeleine has completed her Coffee socks, she's started a second project. It's a long-sleeved top called "Barbroe Blouse" and it's by the Danish brand Knitting For Olive.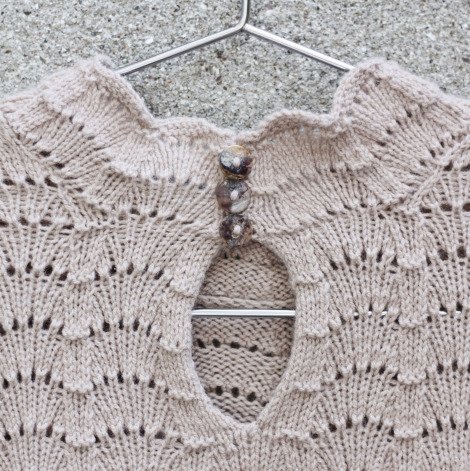 The Barbroe Blouse is a fitted long-sleeve top with a short turtleneck and set-in sleeves. It's covered in a delicate lace pattern shaped like scallops. A special feature of this blouse is the eyelet opening at the back. Three small buttons hold it together.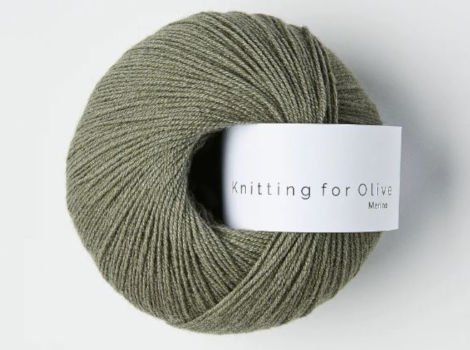 Madeleine is using the recommended Merino yarn in the colour "Dusty Sea Green."
What we are wearing
Andrea is wearing her Charge-Parker Mashup by Kim Hargreaves on the couch and her Aquila by Louisa Harding during the interview. Madeleine was wearing her Celyn by Michele Wang which Andrew knitted for Madeleine for her 21st birthday.
Credits