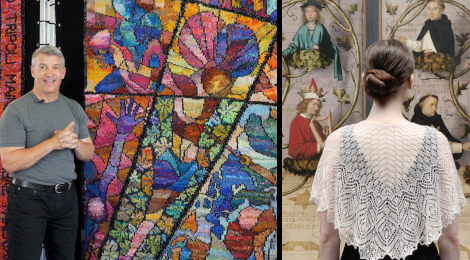 Episode 136 has a distinct Canadian theme! Our feature interview is with Kirk Dunn, also known as The Knitting Pilgrim. Kirk Dunn is a Canadian actor, knitter, and textile artist based in Toronto, who has been touring Austria and Germany with his one-man-play "The Knitting Pilgrim." We also feature a mini-interview with the Canadian yarn dyers Christopher and Jamie from Cabin Boy Knits. On top of that, Madeleine and I have many knitting projects to share with you in Under Construction and Bring & Brag!
The Knitting Pilgrim – Kirk Dunn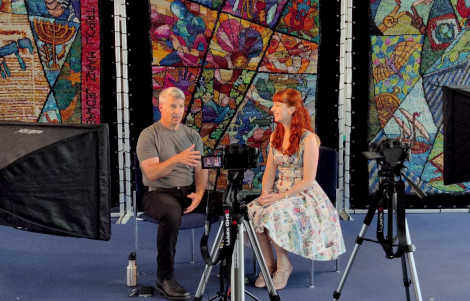 Kirk Dunn is an actor, knitter, and textile artist based in Toronto. During the summer months, he was touring Austria and Germany with his one-man play called The Knitting Pilgrim. Madeleine and I traveled to Nürnberg in August to see the play and interview Kirk Dunn.
The play recounts Kirk's fifteen-year artistic and spiritual journey of hand-knitting three huge panels that look like massive stained-glass windows. The pictures in the knitted windows explore the similarities and differences between the three Abrahamic faiths: Christianity, Islam and Judaism.
Kirk's use of color is reminiscent of impressionistic pointillism, creating a stunning luminous effect that makes it appear as if there is light shining on and through the knitting.
Apart from touring the world with his play, Kirk has also been working on a podcast called "The Knitting Pilgrim Talks." Each episode contains an engaging conversation between Kirk and a guest centered around one segment of the tapestries!
Finding The Knitting Pilgrim
Cabin Boy Knits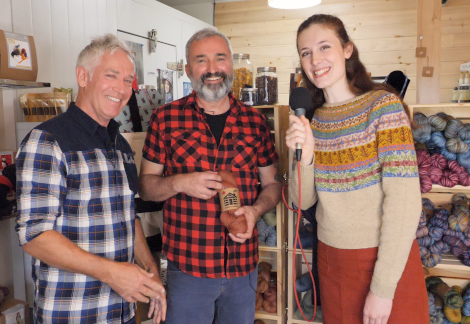 Last year, when we were on Prince Edward Island (PEI) in Canada, Madeleine did a mini-interview with Jamie and Christopher from Cabin Boy Knits. They own a pre-confederation log cabin in the middle of the woods in Ontario. They use natural ingredients harvested from the forest and their gardens to hand-dye their yarns.
In the interview, they talk about how the early European settlers brought over different natural dyes, like madder and weld, and mordants, like alum, tin, and chrome. Some Indigenous groups and European settlers started trading with each other and exchanging their knowledge of dyeing techniques. Jamie and Christopher use a mixture of European and Indigenous dyeing methods to create their own recipes.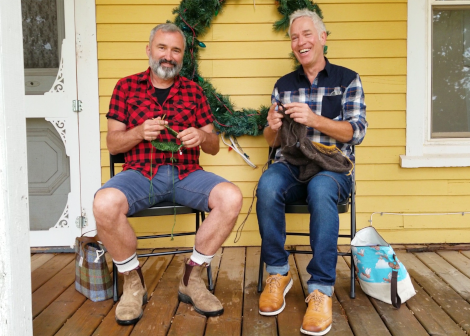 Jamie and Christopher constantly look for new ways to grow and explore the world of natural dyeing. Recently, they received a grant for Experiential Tourism from their local government, with which they plan to create a sustainable, eco-friendly tourism program on their own property. The participants will learn about Canadian and Indigenous natural dyeing techniques. Then, they will gather natural ingredients in the forest and create their own dye pots to dye their own fabrics.
Finding Cabin Boy Knits
Patron Discount – Cabin Boy Knits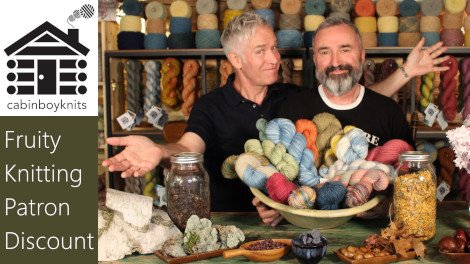 Cabin Boy Knits are kindly offering Fruity Knitting Patrons a 15% discount off all their hand dyed yarns and kits in their online store. They commit to a choice of best practices for a sustainable environment and responsible production from beginning to end product. Thank you Jamie and Christopher for this great discount! Patrons can find all discount details here.
Bring & Brag Fashion Show
Hortense Wedding Shawl
I finished the beautiful Hortense Beaded Lace Shawl by Anna Victoria, which I knitted as a wedding gift for my dear friend Sofia from the Sofia's Tales Podcast. I wasn't sure whether I could take any close-up footage of Sofia wearing her shawl during the wedding to show you. So before traveling to Sweden, we decided to film a little fashion shoot of Madeleine modeling the shawl in front of some 18th-century masterpieces.
Sofia wore the wedding shawl I made together with her pale blue, silver wedding dress and looked radiantly beautiful.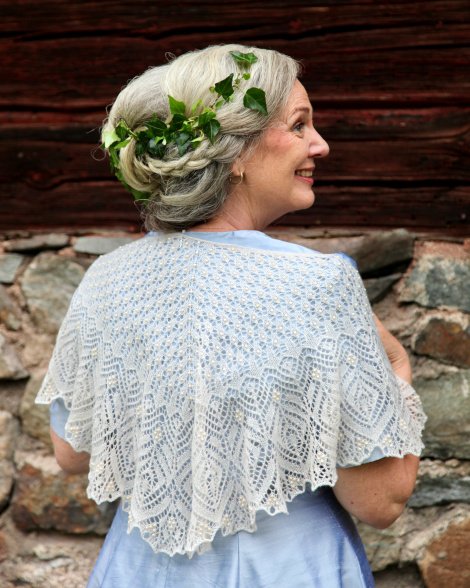 The name Hortense means Gardener and the lace pattern resembles a mixture of flowers, leaves, and little flower buds, especially with the beading. It's a triangular shawl worked from the center top outwards and with a beautiful miter down the center.
Become a Patron to Support the Show
We put an enormous amount of thought and effort into every minute of these episodes. Many of our viewers will message us or comment beneath our videos that they love our show and are binge-watching all the episodes.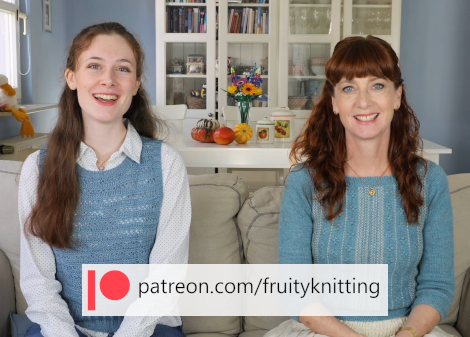 We are thrilled that people are enjoying the show and are learning a lot through the program, but we also want to remind you that the most substantial way you can show that you value our work is by becoming a Fruity Knitting Patron. Because we can't keep producing new episodes without financial support. Many thanks to our viewers who have decided to support the show!
Under Construction
Coffee Socks by Charlotte Stone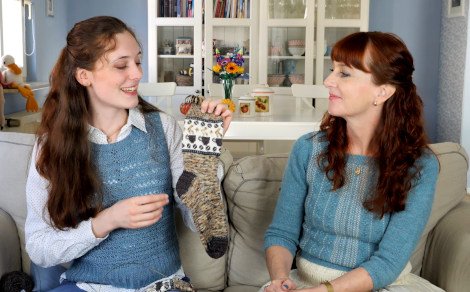 Madeleine is working on her Coffee Socks by Charlotte Stone, who we interviewed in episode 135. The pattern is from Charlotte's book "Charming Colourwork Socks." She's using the Socklandia Sox yarn by Giggling Gecko in Banti Brown and Double Fudge and some leftover cream-coloured yarn.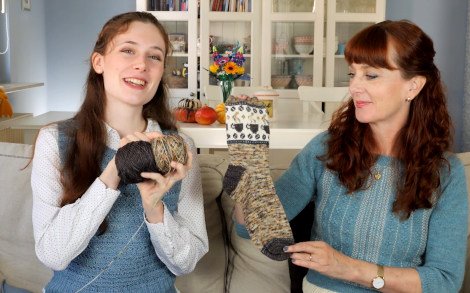 Because this is Madeleine's first time knitting socks, she wanted to ensure she did everything right. So, she initially intended to knit a swatch in the round to test her gauge. But after realizing that knitting the actual sock would only add an extra 5cm in circumference, she decided to be slightly naughty and go straight to knitting the socks themselves!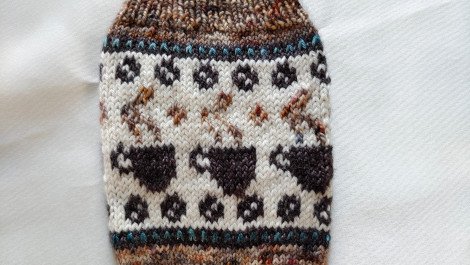 Once the sock was finished, she blocked it and luckily, it fit her very well! Madeleine also found an interesting shortcut to knitting a sock swatch in Kate Atherly's book "Custom Socks – Knit To Fit Your Feet." So, she tried it out before starting the second sock.

With this shortcut, you knit the swatch flat but only knit the right side. At the end of each row, you bring your working yarn across the wrong side of the fabric and start the next row with the first stitch of your previous row. With this method, the swatch only needs to be 7.5cm wide. Kate's book has lots of great tips and knowledge like this.
Gladden by Kim Hargreaves
Madeleine has also started a new project: "Gladden" by Kim Hargreaves. The jumper is knitted in pieces from the bottom up and has set-in sleeves. The front and back are covered with a pretty lace pattern resembling wheat shafts. And they're also decorated with bobbles.
Instead of the recommended yarns, Madeleine is using an earthy red yarn from Cabin Boy Knits called PEI Northern Roots. It's a DK weight blend of BFL and Masham, dyed naturally with madder root to resemble the red soil of Prince Edward Island. Madeleine is combining it with a beautiful Mohair-silk blend from "Mohair by Canard."
Andrea's jumper – turning 2 patterns into 1
I am knitting yet another Kim Hargreaves design. Actually, it's a mash-up of two of her designs. And I'm doing it because by combining two of her designs, I will have exactly what I'm looking for in my next sweater. One is called Charge and the other Parker and both of them knit up to the same gauge of 22 st and 30 rows to 10 cm, using the same recommended yarn, the Rowan Alpaca Soft DK.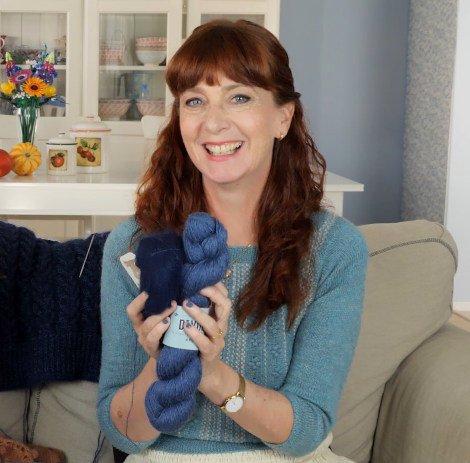 But I'm using the Devonia 4-ply in the colour Moon Bloom by John Arbon Textiles together with a silk mohair from "Mohair by Canard." Together they produce a typical DK weight gauge of 22st per 10cm. Combining these two yarns creates a stone-washed denim look which I really like.
I thought the stitch pattern on Charge wouldn't show up well in a dark colour, particularly because the mohair would also give the fabric an extra fuzzy halo. But I loved the dimensions of this sweater. The bust measurement was much closer to what I wanted at a 92 cm circumference.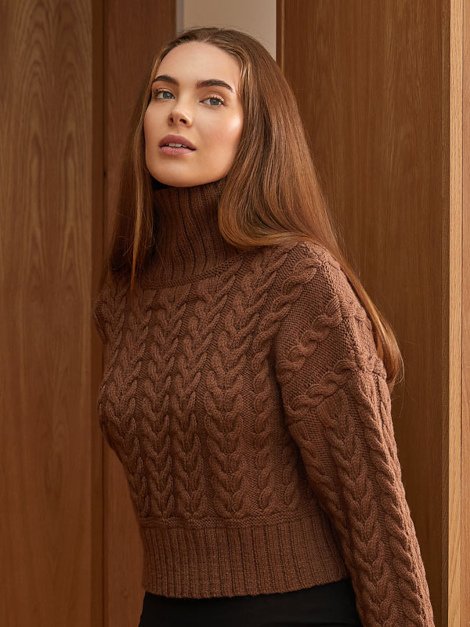 Whereas the bust measurement for Parker was 103 cm. This would be way too bulky for me. But the large cables on Parker would stand out with good definition, even with my yarn choice. But I preferred the ribbing on Charge better than the ribbing on Parker.
I'm really thrilled with how it's developing. I've completed the front and back piece and now I'm working on the sleeves. Hopefully it will be finished by our next episode.
What we are wearing
Andrea is wearing her Maeron on the couch. Madeleine is wearing her Indie vest on the couch and her Lovage during the interview with Cabin Boy Knits.
Music Credits
Video Credits
The Knitting Pilgrim Archival Video, shot by Alex Fensham on 09.02.2023, Oakville Centre for the Performing Arts, Ontario Arts Council