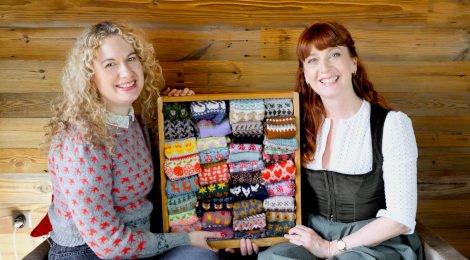 We have a really fun program for you in Episode 135. Our feature interview is with Charlotte Stone, the designer behind Stone Knits. Charlotte's quirky and colourful sock designs are hugely popular, and Charlotte's goal is to produce a sock design for every personality out there. Madeleine and I have finished projects to show you in Bring and Brag and new projects to share in Under Construction, including a lengthy update on the lace-beaded wedding shawl I'm knitting. We also feature Ksenia Naidyon, the designer behind Life Is Cozy, as our Knitter of the World.
Charlotte Stone – Stone Knits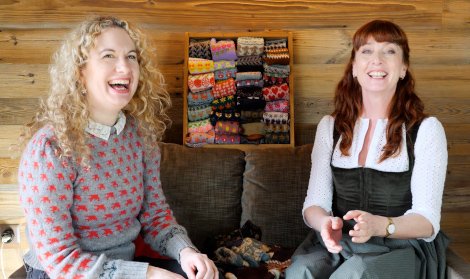 We interviewed Charlotte in April during the Swiss Yarn Festival. I haven't ever laughed so much while recording an interview. Charlotte comes from the UK and has lived in Switzerland for around 16 years.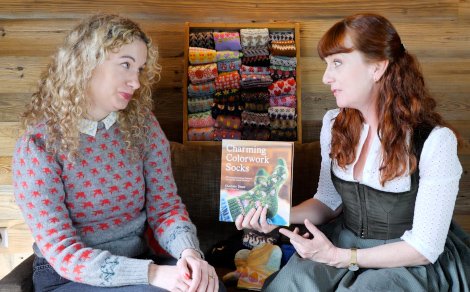 Her book "Charming Colourwork Socks" which includes 25 delightful sock patterns, became an international Bestseller in the knitting book category. It has already been translated from English into German and Korean. For each sock design in this book Charlotte only had one week to develop the idea and translate it into a written pattern.
What is unique about Charlotte's motifs is that they are all original drawings. She doesn't just use already established Fairisle motives. Each stitch is like a pixel; it must contribute to making the image recognizable. We discussed this during the interview. Charlotte shows us her drawing process, including examples of what didn't work and how she improved it.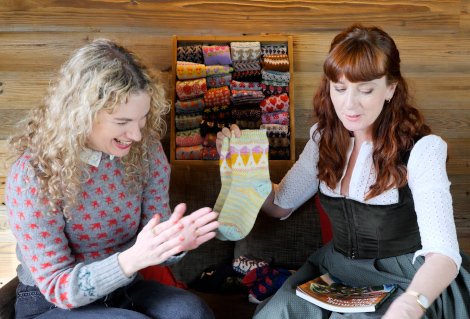 Nothing is more wonderful than wearing beautifully fitting hand-knitted socks in winter; the sizing really matters. Adding colorwork and patterning to socks can give the knitter extra challenges with the gauge. Charlotte explains what critical foot measurements we knitters need to consider to make a well-fitting sock. She also gives us tips for correcting the gauge when adding colorwork.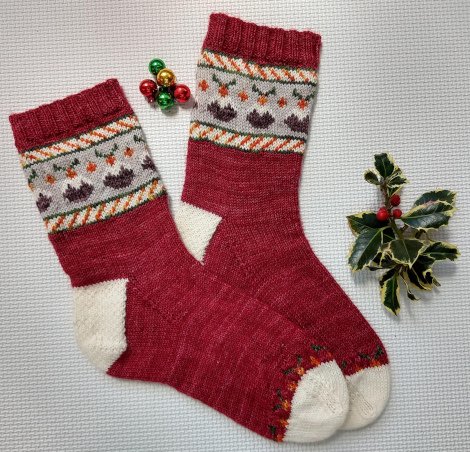 Charlotte aims to make as many socks as there are personalities out there. Each design has a distinct theme, whether nature, hobby, holiday, or food-related, making them perfect gifts for family, friends, or yourself! In fact, Madeleine has recently started knitting herself Charlotte's Coffee Break Socks, as you will see in Under Construction.
Finding Stone Knits
Patron Discount – Stone Knits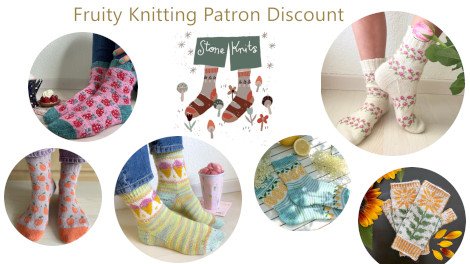 Charlotte is kindly offering Fruity Knitting Patrons a 25% discount off all her patterns in her Ravelry store. As Charlotte writes, her designs are inspired by nature, literature, and fairy tales. She is very motivated to keep her family's feet warm, especially during the long Swiss Winters, and she aims to write clear and concise patterns so they are understandable for every level of knitter. Our patrons can find all discount details here.
Knitters of the World – Life is Cozy
Ksenia Naidyon, the designer behind Life Is Cozy, grew up in Ukraine but has lived in San Francisco since 2017. In Knitters Of The World, she shows us some of her elegant designs and goes into the inspiration and techniques behind them.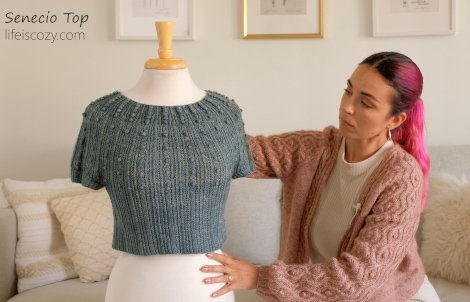 Ksenia originally completed a degree in Mathematics and continued to work in that field for several years. But she was always knitting and crocheting on the side. After moving to San Francisco, she became a full-time knitwear designer. Her affinity with numbers makes designing and grading knitted garments easy for her.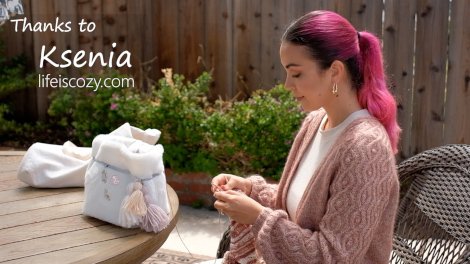 Ksenia loves using complex designs, mixing bobbles, naps, Japanese lace, and other techniques in one design. She describes her patterns as suitable for adventurous knitters. By including video tutorials in her patterns, she makes sure the knitter doesn't feel lost when facing a new technique.
Finding Life Is Cozy
Patron Discount – Life Is Cozy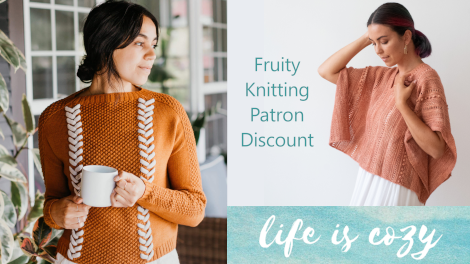 Ksenia is kindly offering Fruity Knitting Patrons a 25% discount off all her self-published patterns from her Ravelry store and her own website. So, you have two ways to buy from her. Ksenia designs sweaters, shawls, socks, hats, mittens, home décor, toys, and bags. Enjoy browsing through her shop, and thanks very much to Ksenia for the discount! Our Patrons can find all discount details here.
Bring & Brag
Cinna Top – Life is Cozy
Madeleine has finished her Cinna top by Life Is Cozy. It's a cropped summer T-shirt knitted in fingering weight yarn in a sideways construction. She substituted the recommended yarn with one from the Norwegian brand Sandnes Garn. It's called Tynn Line and contains 53% cotton, 33% viscose, and 14% linen.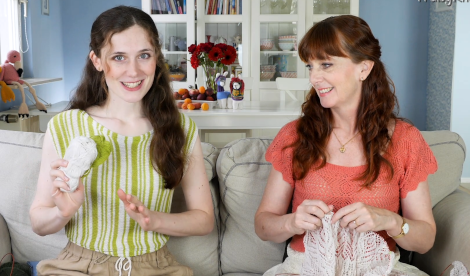 Madeleine loves the colors, and the yarn drapes beautifully. But it does split very easily, which meant she always had to keep her eyes on her needles. Splitting seems to be a universal problem with plant-based yarns compared to animal fibers.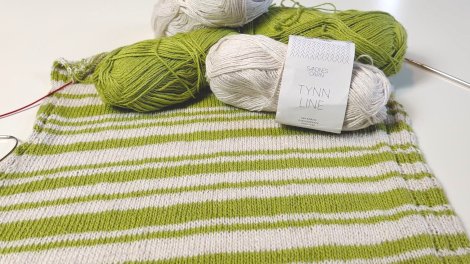 Animal fibers have scales that can interlock with each other. Plant fibers are made of cellulose and don't have scales, so they require a tighter twist to prevent them from unwinding. But apart from the splitting, she really like the yarn's feel. It's very soft and perfect to wear on a hot day which is what Madeleine was going for.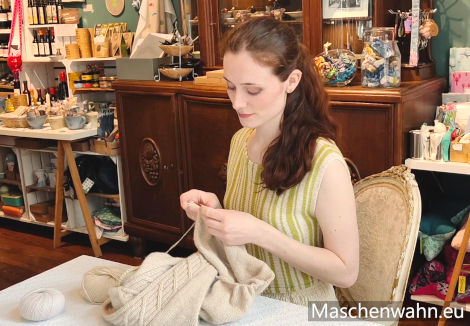 As the top is knit sideways, the width is determined by the length. So, you can only add waist shaping if you use a technique like short rows around the first and last section of the pattern. With this design, there is no waist shaping, so Ksenia adds the option to fold over the hem and insert an i-cord to tighten the top around the waist. Madeleine chose this method and is very happy with the end result!
Lace Top – Debbie Bliss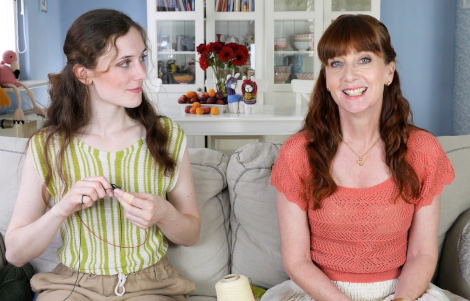 I have finished my lacey summer top by Debbie Bliss which is also worked in a sideways construction. There is a pretty leaf lace pattern on the sleeve cuffs and under the arms along the sides of the body, and the central part of the body is knitted in an easy chevron lace pattern.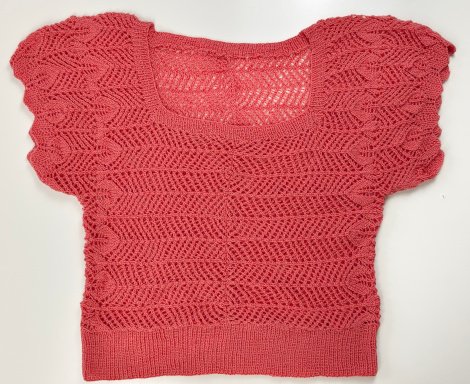 It's knitted in two pieces, each worked from the sleeve to the center seam. Then the right and left halves of the top are joined together with a center front and center back seam, using a three-needle-bind-off. Then at the end, you finish the square neckline and waistband with a 1×1 ribbing.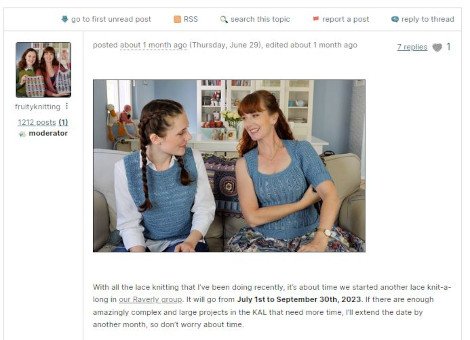 Because I'm doing a lot of lace knitting, we decided to start a lace knit-a-long in our Fruity Knitting Raverly group. The thread is very active, and some stunning lace designs are being knit and shown there. So we encourage you to go and have a look if you haven't already.
Under Construction
Coffee Break Socks – Stone Knits
After seeing Charlotte's book and meeting her in person, Madeleine was inspired to knit one of her charming patterns. Madeleine learned to love coffee during her 6-month trip to Australia five years ago. And she still enjoys going to our local café to do some knitting and enjoy a good Flat White. So, after she came across Charlotte's Coffee Break socks, she had no choice but to knit them!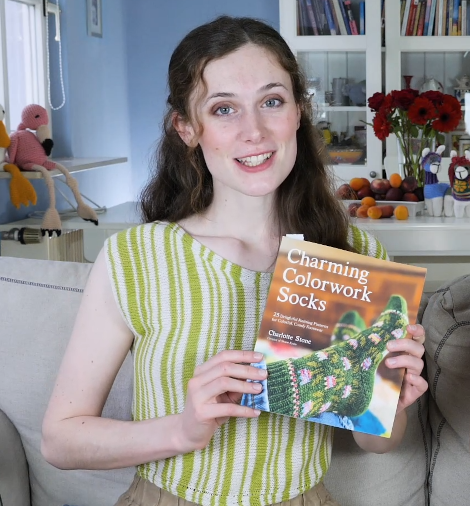 These socks are knit from the top down with a ribbed cuff, an Eye of Partridge heel flap, and a gusset. The ankles are decorated with cups of steaming coffee and dappled with coffee beans. Madeleine will use the recommended yarn by the Giggling Gecko called Socklandia Soxs Yarn.
Hortense Beaded Lace Shawl – By the Lily Pond
I'm knitting the Hortense Beaded Lace Shawl by Anna Victoria for my dear friend Sofia Capelle who is getting married in August! The name Hortense means Gardener and the lace pattern resembles a mixture of flowers, leaves, and little flower buds, especially with the beading.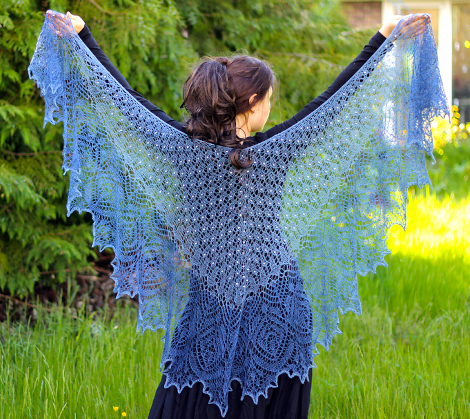 There are two variations for the middle section of the shawl. It's a triangular shawl worked from the center top outwards and with a beautiful miter down the center.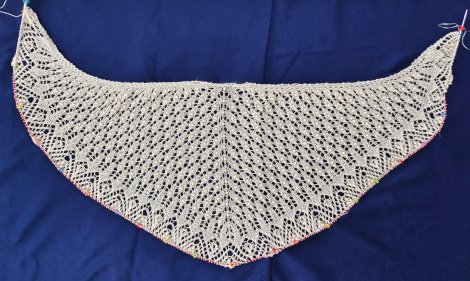 I rarely knit shawls, and I've never done beading before, so I'm also enjoying learning new techniques. But getting the correct beads, yarn, and crochet hook wasn't straightforward for me and involved a fair bit of trial and error.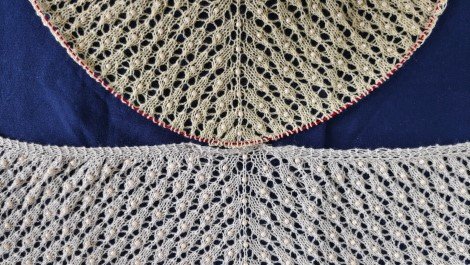 The yarn I'm using comes from a U.K. online company called ColourMart which is very affordable. This cone of 100% cashmere is over 2000 m long and costs around 45 pounds. Sofia picked out the color Aurora, but it looked too yellow when it arrived and wouldn't go so well with her pale silver blue wedding dress. So, we decided to go with another color called Daydream. It has a soft rose-brown hue that should complement her dress really well.
While waiting for the other yarn to come, I looked into beads. I have never knitted with beads before. I first ordered Toho seed beads size 8 in opaque white and was astonished at their impossibly small size. My newly purchased 1 mm crochet hook could not fit through the hole. I ended up ordering several different types of beads. Finally, I found these opaque cream ones in size 6, which work well with a 0.5mm crochet hook.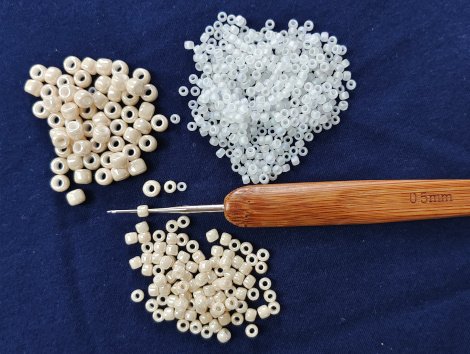 Knitting with beads was new to me, and there are different techniques you can use. I made a short tutorial showing the crochet hook method. This doesn't require you to pre-string your beads, so you can be more spontaneous.
Support Fruity Knitting as a Patron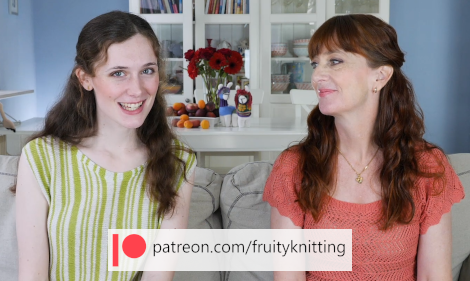 We love creating this program, but it does require many resources. Besides travel expenses, we must buy and replace our equipment, pay for editing software, and sometimes employ tech support when things go wrong. Working with film, you also use a lot of storage and electricity. And, of course, there is our time that we invest in the podcast. All of this requires financial support. And that is why we ask our viewers to become Fruity Knitting patrons so that producing the show remains financially viable to us. Patrons make a small monthly contribution starting at the price of one coffee per month. So if you are watching, please support our work. Thank you!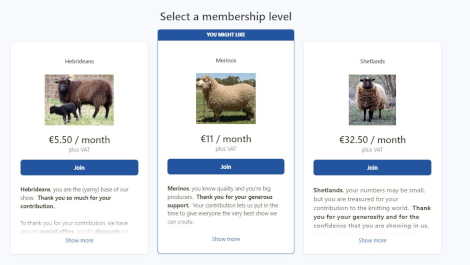 What we are wearing
Madeleine is wearing her Cinna Top by Life Is Cozy. Andrea is wearing her Lace Top by Debbie Bliss.
Music Credits