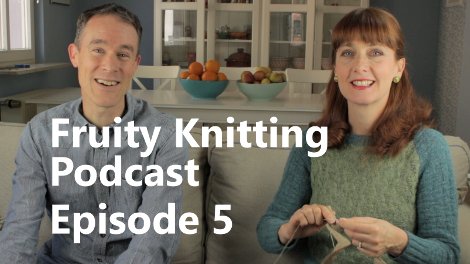 In Episode 5 you will see the Norbu cardigan by Marie Wallin, the Amelia jumper by Alex Pengelly as featured in the 2013 Rowan Design Awards, and an interview with a talented Canadian knitter and designer.
Under Construction
Norbu
Designed by Marie Wallin.
Pattern at Rowan
Pattern at Ravelry
Yarn: Rowan Softyak DK – Lawn 241
Andrew's next socks
The yarn for Andrew's next pair of socks is the Rowan Fine Art, in the Waxwing shade.  Rowan has a short article on this hand-painted yarn produced in South Africa.
From the Archives
Amelia
Amelia is designed by Alex Pengelly and was featured in the Rowan Design Awards 2013.  This pattern is available for free download from Rowan or Ravelry.
Andrea used the recommended Rowan Felted Tweed in the shades Watery 152 and Ancient 172, for her own jumper, and Pine 158 and Avocado 161 for Madeleine's jumper.
Knitters of the World – Jo Kerrigan, West Cork, Ireland
Presented by Jo Kerrigan or West Cork, Ireland.  You can find Jo at the Celtic Memory Yarns blog and on Ravelry as celticmemory.
Music for this segment is "She moved through the fair", a traditional Irish folk song, performed by Andrea Doig (singing and piano), and Nils Nolte (flute).
Interview – Elizabeth McCarten
Our interview is with Canadian Knitter and Designer Elizabeth McCarten.  You can find Elizabeth at her Chez Lizzie blog, and as emccarten on Ravelry.
Garments shown
Brookline
Wolfe Island Gansey
Buttonbox
Harriet's Jacket
Glenora
Trellis Waistcoat
Zora
The books mentioned during the interview were:
Knitting Around, published in 1989 by Schoolhouse Press, an autobiography by Elizabeth Zimmermann, edited by her daughter, Meg Swansen.
Knitting Ganseys, by Beth Brown-Reinsel, published in 1993 by Interweave Press.