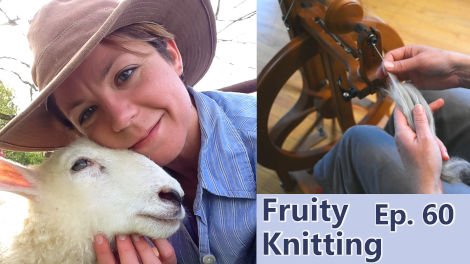 In Episode 60 we feature a two part interview with Kate Larson who is the brand new editor of the expert spinning magazine – Spin Off. Kate is a highly knowledgeable fibre artist and shepherdess who has also published her own spinning book with Interweave. She is a very talented and generous teacher, who shares a lot of brilliant information with us that crosses over between the crafts of spinning and knitting. Our guest on Knitters of the World is the completely charming Libby from New Zealand, there is a mini tutorial from Andrea, project updates and two new KALs are announced!
Kate Larson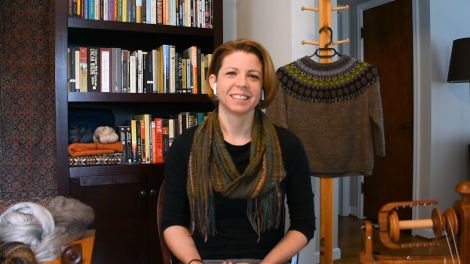 Kate Larson keeps a flock of Border Leicester sheep and teaches hand spinning and knitting throughout the States. She has a very impressive knowledge of the different sheep breeds and what types of yarn and projects their fleeces are best suited for. During the interview Kate shares tips on how to select a good raw fleece to spin with and how to care for it and store it. She also gives us a detailed description of how to spin worsted and woollen yarn and troubleshoots typical problems. This is an interview you will probably want to watch a few times, it's so jam packed with info!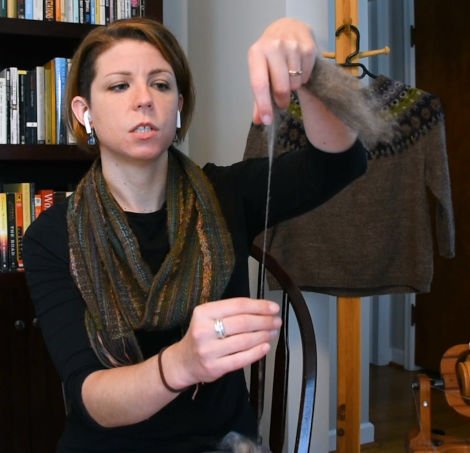 Patron Special
Kate is offering Fruity Knitting patrons a free set of cards with the purchase of her book The practical spinner's guide – Wool. They are beautiful blank cards and envelopes made with recycled paper featuring photos of Kate's own flock of sheep. All the details are at the Patreon site.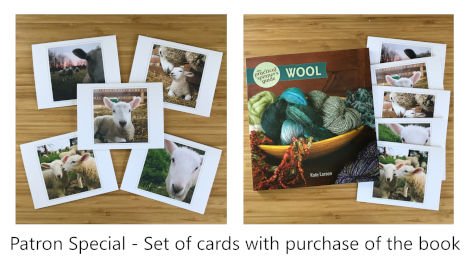 Finding Kate Larson
Made a mistake
Unfortunately we showed you the wrong sheep when presenting Corriedales during the interview. Fleece and Harmony have kindly sent us a picture of a real Corriedale for you all to see. And what a handsome sheep it is!
Image Credits
Truly Myrtle – Knitters of the World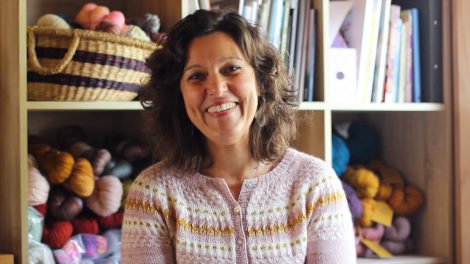 Libby lives just outside Auckland city on a piece of land with her husband and 4 kids. After a very long stint living in London and Cambridge she's now enjoying her peaceful rural life being a mum and designing hand knitting. Libby is a natural in front of the camera and has recently started her own YouTube channel after blogging since 2012 and having a regular audio podcast. She has a large collection of shawls in her Ravelry store and her garments include a wide range of sizes (30″ bust up to a 58″ bust).
Patron Discount – Truly Myrtle
Libby is offering Fruity Knitting Patrons a 20 percent discount off all self-published patterns available in her Ravelry store. This offer is valid until 16 September 2018, full details here.
Finding Truly Myrtle
Knit For Your Man KAL

In this KAL you are encouraged to knit a garment (adult size) for a special man in your life; your partner, son, brother, father, friend or if you are a man, for yourself. By starting now you will have your Christmas present covered for that special man. The KAL will date back from August 1st and will go until Christmas day.
Fruity Gloves and Mitts KAL

Our second KAL is one that Andrew particularly likes. He really needs a pair of finger-less mitts to wear when we are out in the freezing winter snow trying to fiddle with the knobs on our camera and drone to take our #ExtremeKnitting footage. Here you can enter with any gloves or mitts of your choice; plain or stranded, traditional or funky and it will go from now until Christmas day. And of course you can enter as many times as you like!
Under Construction
Andrea is working on the Mohr by Norah Gaughan, using the mYak Baby Yak Medium.
Andrew is working on the Carbeth Cardigan by Kate Davies.
Tutorial – Right and Left Leaning Decreases on a knit and purl row
Since it is interesting to compare how you create right and left leaning decreases both on a knit row and a purl row, Andrea has done the quickest tutorial showing that. Patrons can find the tutorial here.
Music Credits
J. S. Bach, The Well Tempered Klavier, Prelude No. 3 in C-Sharp major, BWV 848, performed by Kimiko Ishizaka, Creative Commons Attribution 3.0
Henry Eccles, Violin Sonata in G minor, II. Courante, performed by Thrax, Creative Commons Attribution 3.0
Pyotr Il'yich Tchaikovsky, Souvenir de Florence, Op. 70, 1 – Allegro Moderato, US Army Strings, Public Domain
Sláinte, Album: Cup of Tea, Fanny Power, The Manx Lullaby, Creative Commons Attribution-ShareAlike 3.0
Antonio Vivaldi, Concerto in E major, Op. 8, RV 269, Spring, II – Largo, performed by John Harrison, Violin; Robert Turizziani, Conductor; Wichita State University Chamber Players, Creative Commons Attribution ShareAlike
Scarborough Fair, Traditional, arranged by David Downes, performed by Andrea Doig, with Ilona Sandor (piano) and Nils Nolte (flute). Copyright Leiselaut 2010.