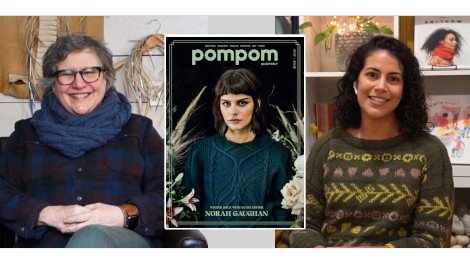 Episode 69 includes a two part interview on the latest issue of the Pom Pom Magazine. In part one of the interview we meet Meghan Fernandes, one of the cofounders of the magazine. Meghan tells us briefly how Pom Pom got started and then talks about the creation of this latest issue and later in part two Norah Gaughan joins us to talk about how she came up with the inspiration and directed the other designers. Listening to Norah's descriptions of the designs really makes them come to life.
Virginia Sattler-Reimer is our guest on Knitters of the World and if you don't know Virginia's work you're in for a lovely treat. We also show you some of the wonderful scenery around Snowdonia where we are holidaying and announce the KAL winners. Apart from that, we are very happy to have our daughter Madeleine with us as our own special guest for this episode.
Pom Pom Magazine No. 27 with Meghan Fernandes
In our first interview, Meghan Fernandes joins us from Austin, Texas to have an exciting look behind the scenes of the latest Pom Pom magazine, which is their Winter edition Issue No. 27. This issue was a collaboration with Norah Gaughan as the guest editor. I think the result is a very exciting collection of designs. The theme was the idea of tough Victoriana which combines a type of soft, sweet beauty with strong powerful drama. It's an unusual combination or concept and it's brought about very exciting and imaginative results. Meghan also tells us about the wonderful styling and photo shoot with the amazing floral setting. 
Meghan is wearing a design by Amber Platzer Corcoran which will be included in the next Pom Pom issue to be released in February. 
Patron Discount – Pom Pom Magazine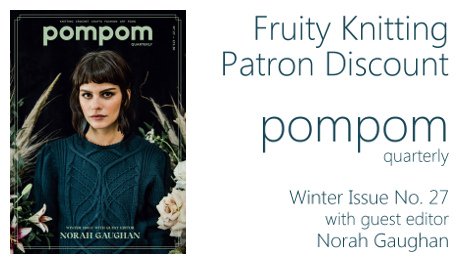 Pom Pom is offering Fruity Knitting Patrons a discount on this latest edition of the magazine for a limited time. Details available here. Thank you Pom Pom!
Pom Pom Magazine No. 27 with Norah Gaughan
Norah Gaughan joins us in the second interview to talk about her role as guest editor of this winter 2018 edition. Norah shares how she came up with the concept of 'Tough Victoriania'. She also talks about the qualities she admires in her designer colleagues that drew her to invite them to collaborate in the collection and takes us through the 10 designs, describing how the designers have interpreted her design brief.
Patron Discount – Norah Gaughan
Norah Gaughan is offerning a 25% discount on all her self published patterns in her Ravelry store. Many of them would be suitable for our current Cables and Lace KAL, so if you would like to join in and you are searching for a pattern. This is a great place to start looking. Thank you Norah!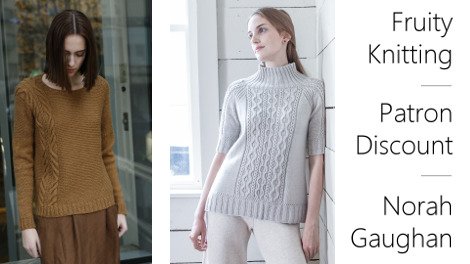 Finding Pom Pom Magazine and Norah Gaughan
Pom Pom Magazine – Photography Credits
The photographer for this issue of the Pom Pom Magazine was Laura Morsman. 
Virginia Sattler-Reimer – Knitters of the World
Virginia Sattler-Reimer is a gem. Her designs are mainly accessories including hats, mitts, cowls and socks all of which are beautifully and thoughtfully crafted showing a wonderful sense of colour. Here, Virginia shows us her new hat pattern that features in Kate Davies' latest book Milarrochy Heids talks about what inspires her.
Patron Discount – Virginia Sattler-Reimer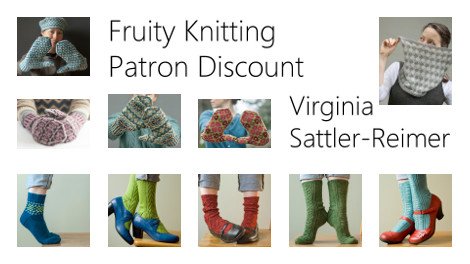 Virginia is offering Fruity Knitting Patrons a 25% discount of all her self published patterns. The details can be found here. Thank you Virginia!
Finding Virginia Sattler-Reimer
KAL Winners
We announced the winners of both the Fruity Gloves and Mitts KAL and the Knit for your Man KAL. Make sure you watch the show to see if you have won a great prize!
Cables and Lace KAL
We have launched a new Cables and Lace KAL. This KAL is for a large project – an adult sweater, a rug or a large shawl – with at least 50% featuring either cables, or lace, or a combination of both! The KAL runs until the end of February. You can join in and show your work on the Fruity Knitting Ravelry Group: 
Moel Siabod – Extreme Knitting
We take you to Moel Siabod which is a mountain with all the right criteria. 
It's stunningly shaped and is a challenging hike with the most amazing and marvelous views as your reward. For those of you who are fantasy readers and know William Horwood's novels 'The Duncton Chronicles' that were published in the 1990s, Moel Siabod features heavily in one of the books.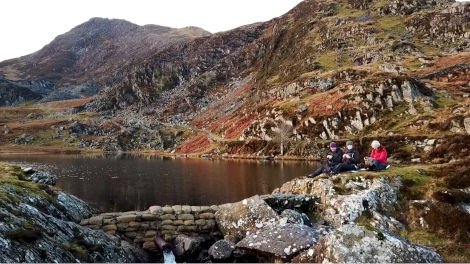 Music Credits