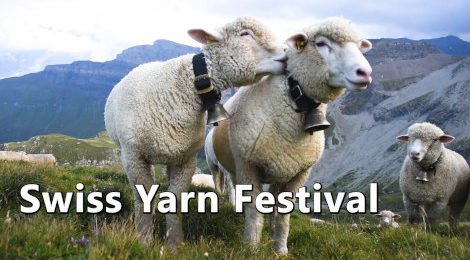 Swiss Yarn Festival
This is a really happy Episode; we have just come back from covering the Swiss Yarn Festival and I have had a big smile on my face the whole time that I've been editing all the footage and putting this episode together. Partly that is due to the Swiss music that we have used in the program (which I really hope you enjoy), but mainly it's because of the people we met there, who were so friendly and charming.
Meret Beutzberger and Asita Krabs are the two women who organize the event and we include an interview with them both. It is interesting to hear how they have planned the festival but also to meet them individually because they are both very skilled fiber artists in their own right. We have also included 3 vendor interviews. They all have very interesting and varied businesses and if you don't already know them, you will really enjoy getting to meet them and hearing about their particular passions. We also include a few quick and spontaneous Vox Pop interviews with festival visitors.
Meret Bützberger – Butzeria
Meret Beutzberger is known as the Swiss Queen of double knitting. She is a designer and she also taught double knitting during the festival. Although Meret has some stunning double knitting designs she doesn't constrict herself to only that technique. During the interview she shows us a variety of her designs and talks us through how she developed them.
Asita Krebs – Sidispinnt
Asita Krebs is a knitwear designer and a yarn dyer but she has also done a Diploma in spinning which makes her a qualified yarn designer as well. During the interview Asita talks about some of the things she learnt in her spinning diploma and tells us about her passion for spinning.
By Night Creations
Nathalie Denys is a natural dyer from Belgium and her company is By Night Creations. Nathalie worked previously as a graphic designer and has always been interested in plants and how they can be used. When she decided to dye yarn it was a very natural progression to go down the natural dying with plants route.
I was very impressed with both Nathalie's genuine passion for natural dying and her depth of knowledge. She creates very vibrant colours and also a wonderful variety of in between tones.
Patron Discount – By Night Creations
Nathalie from By Night Creations is offering Fruity Knitting Patrons a 10 percent discount on all naturally dyed yarns available in her online store. This discount is available until 1 April 2020, full details here.
Ágnes Kutas
Àgnes Kutas designs very beautiful lace shawls. She has published over 100 patterns and at least 60 of them are shawls. Although they look technically very complex she assures us that they are very manageable for the intermediate knitter and knitters often finish them sooner than expected. We think her garments are just as stylish!
Patron Discount – Ágnes Kutas
Ágnes is offering Fruity Knitting Patrons a 25 percent discount on all self-published designs available from her Ravelry store. Valid until 1 April 2020, full details here.
Nomadnoos
Coty Jeronimus is the founder of the company Nomadnoos and the company Swiss Cool Wool. Nomadnoos yarns have a very interesting story behind them. They are all handspun yarns using a wide variety of fibers including yak and camel as well as a native Mongolian sheep breed. Coty has also recently started producing a local Swiss yarn using the fleece of the Swiss sheep breed Skudde. This particular yarn is being premiered during the Swiss Yarn Festival.
Our Vox Pop Guests
Two of our vox pop interviewees just happened to have their own yarn stores!
Irish Moss by Alice Starmore
The Irish Moss design is finally finished and looking good! I'm thrilled with how well it fits Andrew, especially around the shoulders where I converted the design from a drop shoulder/saddle shoulder construction to a set-in sleeve/ saddle shoulder. The tutorial on how I did this will soon be available to all our patrons.
Our Swiss Flamingo – Toft
On the way home from Switzerland I crocheted this gorgeous little bird. The design is by Kerry Lord from Toft.
Skye by Marie Wallin
This will be my next garment project!
Yodeling – Oesch's die Dritten
We were wearing
Music Credits