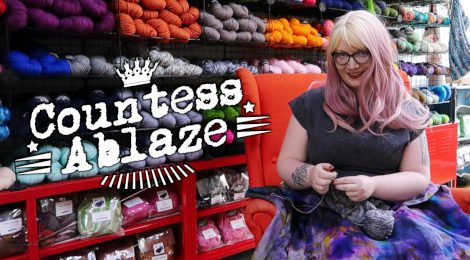 In Episode 95 we are featuring the work of three very different artists but they all have one thing in common – their love of colour. Our feature interview guest is with the very popular UK hand dyer Countess Ablaze. Then we have the Austrian designer Susanne Sommer featuring in Knitters of the World and our third colourful artist is Van Gogh. The Städel Museum here in Frankfurt has just had a Van Gogh exhibition which was considered to be the most extensive presentation of his work in Germany for the last 20 years. So we take you with us to the exhibition to get an up close look at his work.
Countess Ablaze
The Countess Ablaze, whose name is Lyndsey, is original in many ways, from how she has built up and managed her business, to her marketing and branding approach but also with her personal story. We cover all of these topics in the interview which takes place in her three-storey dye studio and shop in Manchester. At the end of the interview, Lyndsey gives us a very comprehensive tour of her dye studio.
Lyndsey is known to be very generous with sharing information, both about her dyeing methods and how she runs her business, and this really comes through in the interview. Despite Lyndsey's extravagant branding image, she is really a very private person and hasn't given many interview before, so we think you'll really enjoy this opportunity to get to know her.
Finding Countess Ablaze
The Countess Ablaze shop and dye studio is located in Manchester. It's a really pleasant space and is definitely worth a visit if you're in the area.
Video Credits
Patron discount – Countess Ablaze
Countess Ablaze is offering Fruity Knitting Patrons a discount on all her fabulous yarn in her online shop. Patron receive a generous 20% discount. There is almost any colour you can think of including solids, variegated and some speckles in many different yarn weights. They all have great fun names, so makes sure you take the time to read through them and have a laugh while you are shopping. This offer is valid until 17 March 2020, full details here.
Susanne Sommer
In this episode we go to Austria to meet our Knitter of the World.
We first heard about Susanne Sommer's designs through Nancy Marchant. Susanne uses the brioche technique in very interesting and artistic ways.
Susanne also really makes great use of hand dyed variegated and speckled yarns. She is a very talented designer with an original style, so we're very pleased to be featuring her work.
Patron Discount – Susanne Sommer
Fruity Knitting Patrons get a 25 percent discount off all self-published patterns by Susanne Sommer. Offer valid until 17 March 2020, full details here.
Van Gogh Exhibition
Van Gogh's paintings provide fantastic inspiration for any hand dyer, designer, or knitter who wants to put together their own colour palette for their next colourwork project. So we think he fits in very well with this episode's program!
Under Construction
Andrea has completed a sleeve on her Irish Moss by Alice Starmore. Alice Starmore wrote the pattern as a drop shoulder, saddle shoulder construction. Andrea is changing the design to be a set-in-sleeve, saddle shoulder construction, so she has added armhole shaping on the front and back pieces and around the cap of the sleeve. Back in episode 93 she showed how she calculated the armhole shaping on the body and in this episode she shows how to calculate the cap shaping on the sleeve to fit with the body. Both tutorials will be put together for easy access for Fruity Knitting Patrons.
Andrew is steadily working on his Powderpuff by Nancy Marchant but unfortunately he is disenchanted with his colour choice. When knitted together the pink makes the blue speckles look duller. We're now thinking that it would have been better with the Kidsilk Haze in either a bright white, or a light blue, to complement the speckled yarn better. The pattern is a simple triple tuck stitch, just four rows long. It's easy to memorize and also easy to recognize where you are, so a great pattern for a beginning knitter. The choice of yarns is really critical, and the combination of a light weight mohair with a heavier yarn works really well.
We were wearing
Music Credits
J. S. Bach, The Well Tempered Klavier, Prelude No. 3 in C-Sharp major, BWV 848, performed by Kimiko Ishizaka, Creative Commons Attribution 3.0
Montana Skies, Creative Commons Attribution-Noncommercial-ShareAlike 3.0

Canyon Breeze
House of the Rising Sun (Licensed for use on YouTube)

Maurice Ravel, Sonatine, performed by Nico De Napoli, Creative Commons Public Domain
Pyotr Il'yich Tchaikovsky, Souvenir de Florence, Op. 70, 1 – Allegro Moderato, US Army Strings, Public Domain