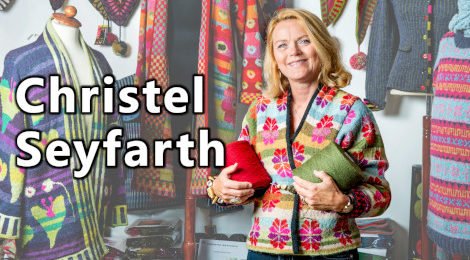 We are incredibly excited about Episode 85, we think it's a real treat, because our feature guest is the Danish designer Christel Seyfarth. Christel is very well known, particularly in Scandinavia, for her completely stunning and unique colourwork designs. She is also the founder of the very successful Scandinavian Fanø Knitting Festival and she was one of the judges on the Danish T.V. series The Great Knit Off. We cover all these topics during our 3 part interview and Christel also shares some techniques that she has developed over the years for designing and working with colour. We think this episode is probably one that you will end up watching a couple of times because it's jam packed with great information.
As well as our feature on Christel Seyfarth, we give you updates on our own projects and take you on a short hiking adventure to the 12th century Chateau Fleckenstein in the beautiful regional park of Vosges du Nord which borders France and Germany.
During the interview, Christel shares her love of Fanø's landscape and historical culture and her particular passion for costumes. Many of her garments look like costume pieces. The pink and dark blue coat on the right is based on an original Turkish coat and the garment in the foreground is Christel's interpretation of the traditional bridal jacket worn in Fanø.
Patron Discount – Christel Seyfarth
Finding Christel Seyfarth
Bring and Brag
I'm thrilled with my latest finished project Dove by Louisa Harding. The yarn used is her wonderful 100% Cashmere Lace in the colours Lilac and Rowan. I give a summery of the modification that I made during the episode. We interviewed Louisa Harding in Episode 59.
Bohemian Blooms Blanket – Janie Crow
This week I had a go at one of the fancy flower patterns and I love the result. I have four more of these lovely lily flowers to go. The finished blanket is pictured below. We interviewed Janie Crow back in Episode 71.
Bohemian Blooms by Janie Crow.
#Extremeknitting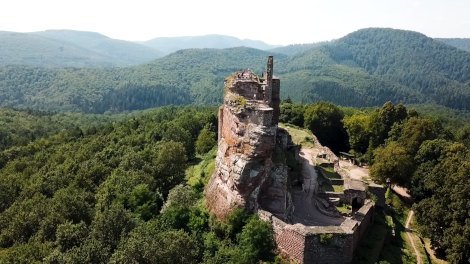 We take a special trip to get some stunning footage of a spectacular 12th century castle ruin. Château de Fleckenstein is located near Lembach in the beautiful area of Vosges du Nord on the border of France and Germany. The fortress is built in the shape of 52 m long boat and was owned by the Fleckenstein family for 600 years.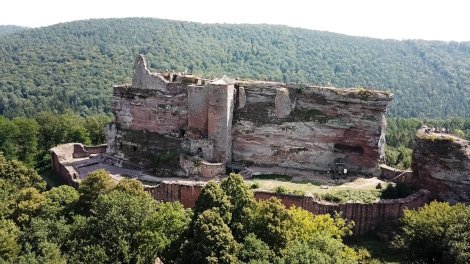 Music Credits