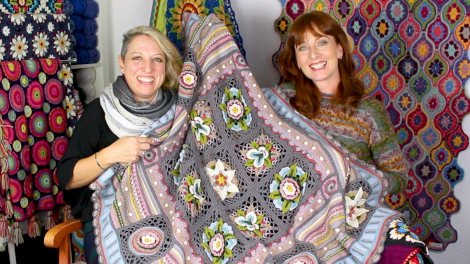 UK crochet designer Janie Crow is our guest on Episode 71. Last year on our way over to Snowdonia for our Christmas break, we visited Jane's studio in north London. That was the start of my journey into crochet. By the end of the interview I has hooked (groan) and had great ambitions to tackle one of her beautiful heirloom blankets. Even if you don't crochet, I think you'll find the interview very interesting and inspiring. In fact, you might have to watch out or else by the end of the interview you will end up like me, wanting to take on one of the amazing heirloom blankets that Jane is very well known for.
This Episode also features Constance Caddell from Columbia U.S. as our guest on 'Knitters of the World' and we hear about Catherine Clark's 'Queen Bee' design – Beyla in New Releases. On top of that we have a short tutorial from Andrea, a contemplative knit by the river and new projects, old projects and steadily ongoing projects are shown. Enjoy!
Janie Crow
Jane Crowfoot is a very talented U.K. crochet designer. She's written several books and her work has been regularly featured in the Rowan knitting and crochet magazine. Jane really is top of her field in crochet and she is a very funny person as well, so I totally loved interviewing her. One of the most interesting parts of the interview for me was learning more about the history of crochet. There are some interesting surprises waiting for you there. We also discussed free form crochet, typical technical challenges crocheters have and we took an in depth look at three of her beautiful blankets. For those of you who are feeling inspired we are starting a 'Crochet along' CAL which will run all year and Jane has kindly offered our patrons a discount on three of her blanket kits. See the details below.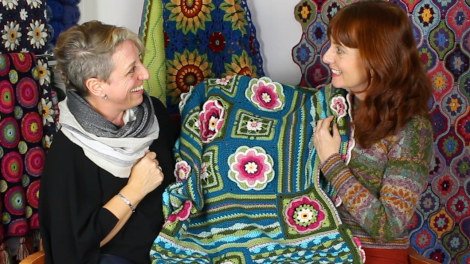 Patron Discount – Janie Crow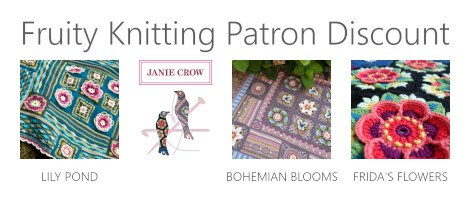 Janie Crow is offering Fruity Knitting Patrons a discount on three of her crochet along blanket kits – Lily Pond, Bohemian Blooms and Frida's Flowers. You can find full details of this offer here.
Finding Janie Crow
Constance Caddell – Knitters of the World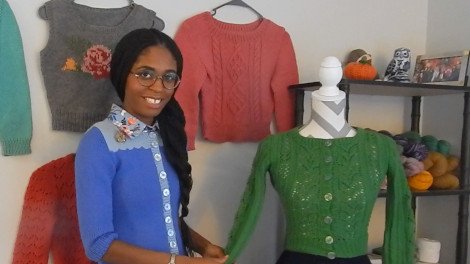 Constance is very accomplished in knitting, sewing and crochet. She has a particular enthusiasm for combining her skills to create complete outfits which reflect her personality. You are going to love meeting her!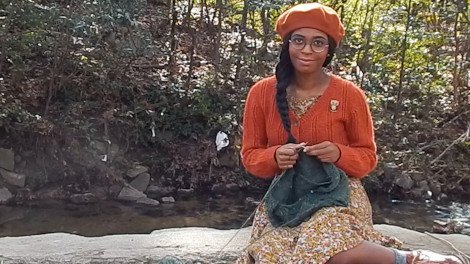 Finding Constance
Beyla by Catherine Clark – New Releases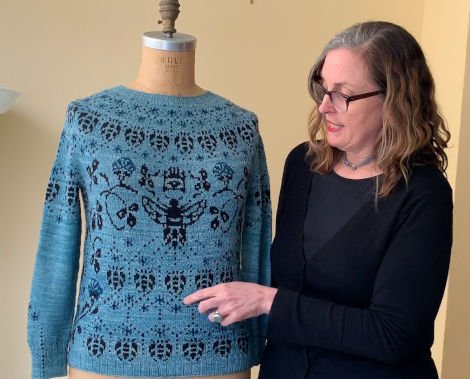 What an inspiring design with that beautiful, big Queen Bee at the center chest, the vines of flowers creeping around the sides and all the little worker bees making honey comb. If you need some extra power in your day, this is the sweater for you. The design is probably not for the fainthearted knitter but once you have finished, what a treasure you will have.
Patron Discount – Catherine Clark & Brooklyn General Store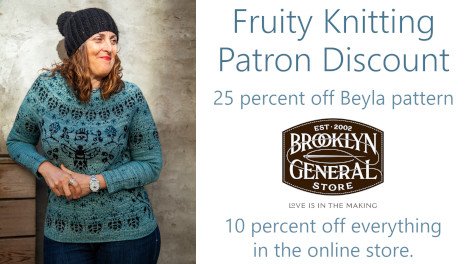 Catherine is offering Fruity Knitting Patrons a 25 percent discount on her new Beyla pattern, and she is also offering a 10 percent discount on everything in the Brooklyn General Store online shop. You can find all details of this offer here.
Finding Catherine Clark
Nightingale by Norah Gaughan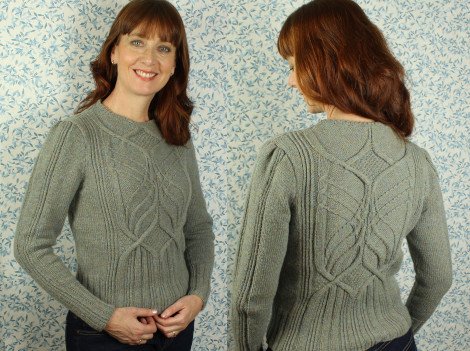 Look, it's finished and it's gorgeous! This is Norah Gaughan's Nightingale design from the Pom Pom magazine issue no. 27. It's such a unique and interesting design with the cable pattern on both the front and back, looking like a coat of arms on a shield. For me there were two sections of this design that I enjoyed doing the most. Firstly, I loved seeing how the puffed sleeves were shaped and then fitted into the armhole and second, I learnt a new way of finishing off the picot neck edging. I thought you would also love to see those sections in more detail, so I made a very short film to show you.
What are we wearing?
Andrew is wearing his modified Traigh by Jade Starmore and Andrea is wearing her newly completed Nightingale by Norah Gaughan. In the interview Andrea is wearing Samphrey by Marie Wallin.
Music Credits
Image Credits