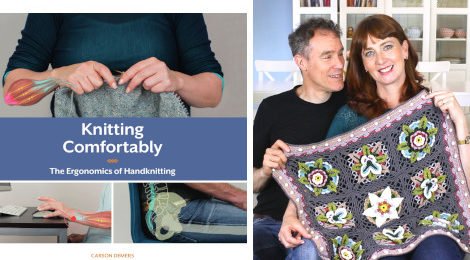 During this present lockdown period, many of us have increased our knitting and crafting time and unfortunately for some, this has also led to increased aches and pains. For our feature interview in Episode 102, Carson Demers author of Knitting Comfortably: The Ergonomics of Handknitting, talks about how we can prevent the risk of injury through our crafting during these unusual lockdown times.  As long-term viewers will know, back in 2017 I took a total break from knitting for three months because I had developed a knitting related injury in both my elbows. I have fully recovered and later in the program I share my experience and talk about the exercises that helped me.
We also go to Prince Edward Island in Canada to visit an alpaca farm in Meet the Shepherdess and take a trip to the river Rhein to see a series of medieval castles for #extremeknitting. And of course there is the usual updates on our own projects.
Ergonomics of Handknitting – Carson Demers
Three years ago Carson Demers published his book Knitting Comfortably: The Ergonomics of Hand Knitting and we did an interview with him back in Episode 31. Carson is a passionate knitter and spinner himself and a trained physiotherapist and has worked with many knitters who have been injured through their craft.
Increasing your knitting and crafting time during this present lockdown time can lead to extra aches and pains particularly because you are probably also not doing as much exercise as you normally do. Carson explains the typically bad knitting postures we need to look out for and also gives us some very good exercises that knitters can do at home to strengthen the appropriate muscle groups. This all helps prevent the risk of injury through our crafting.
Carson really understands the challenges knitters go through both physically and emotionally when undertaking rehab therapy and his book has received rave reviews since its publication in 2017. It's so great to have a book on this subject that's particularly aimed at our niche market.
Finding Carson Demers
Book Credits
Knitting Comfortably: The Ergonomics of Handknitting, by Carson Demers
Editor: Ann Budd
Photographer: Zoe Lonergan
Prop Stylist: Zoe Lonergan
Cover and Interior Design: Zoe Lonergan
Illustration: Susan Klincsek Szecsi
Photography © 2016 Zoe Lonergan
Illustrations © 2016 Carson Demers
Patron Discount – Knitting Comfortably: The Ergonomics of Handknitting
Carson Demer's book, Knitting Comfortably: The Ergonomics of Handknitting – is the definitive guide for the dedicated knitter, showing how to prevent injuries before they occur, and how to handle them if they do. It's an invaluable guide if you want to maximize your knitting time and comfort!Carson is offering Fruity Knitting Patrons a 10 percent discount off the book from his website. This offer is valid until 30 June 2020, full details here.
Green Gable Alpacas
Meet Janet from Green Gable Alpacas on Prince Edward Island, Canada in this episode's Meet the Shepherdess. Janet has an 11-ace alpaca breeding and fibre production farm and produces the most beautiful 100% alpaca yarns.
Janet's herd produces about 200 lbs of high-quality fibre annually and most of the clip is processed into yarn right here on the Island by Kim and Jennifer at Fleece and Harmony.
Janet is committed to producing high quality yarn so each year at shearing she takes a sample of fibre from each animal and sends it to a special lab for analysis. She collects this data from every animal yearly so she can compare animals of similar age groups or pedigrees and look at animals over time to determine superior animals and superior fleeces.  She then uses this information to make breeding decisions as well as to use it in the design of her yarns.
Each year after shearing, Janet skirts and sorts her clip and batch fibres by grade and staple length.  She doesn't worry too much about fibre colour at this point, but focuses on making the best quality yarn from the clip.
Over dyeing the coloured alpaca fleeces produces some of the most stunning, tonal colours that aren't possible to recreate when using a white or ecru coloured yarn base.
Finding Green Gable Alpacas
Patron Discount – Green Gable Alpacas
Janet is offering Fruity Knitting Patrons a 15% discount off all her yarns. Janet's yarns come in a 2-ply fingering weight, a DK weight, a 4 ply worsted weight and a 4 ply bulky weight and all of them are 100% alpaca. They come in really stunning colours. Offer valid until 30 June 2020, full details here. Thank you so much to Janet!
Rheinfels Castle
For our #extremeknitting segment we visit the Rheinfels Castle. The name Rheinfels means Rhine cliffs, and the castle is indeed located in the cliffs beside the Rhine River.
Bohemian Blooms Crochet Blanket – Janie Crow
Andrea has been pushing through on her crochet blanket and feels like she is on the home stretch now. She's even decided not to start a new knitting project until the majority of the 50″ squared blanket is finished. Will she stick to that?
The Bohemian Blooms Crochet Blanket is by the UK designer Janie Crow. It comes in a kit with a beautiful book and an assortment of Rowan DK weight yarns. Andrea's favourite design is called Vanessa, named after Vanessa Bell who was part of the Bloomsbury group, who were also an inspiration for the whole blanket design. 'Vanessa' is a butterfly resting on some leaves, it has a very interesting construction with lots of layers and a great 3D effect. Andrea filmed herself making Vanessa to show you how it's constructed. It took her over 3 hours to make it, don't worry you only see a few minutes.
Celestial – Martin Storey
Andrew is also on the home stretch with his project Celestial by Martin Storey. The front, back and one sleeve is completed and the second sleeve has been started. Some sewing up has even been attempted.
#SupportAlasdairDoubleKnittingKAL
We would like to announce a new KAL. It is very spontaneous but some of you may already know that Alasdair Post Quinn, the double Knitting expert who we interviewed in Episode 99 has just had a terrible thing happen to him. He lost his home and studio through a massive fire and all of his samples and yarn were destroyed in the fire. As you can see above, all these beautiful stunning designs were all destroyed and that is what he uses to teach with.
As you can imagine Alasdair is devastated. If you would like to help him and learn double knitting at the same time, you can go to his Ravelry store buy a pattern and enter our KAL. The KAL will be in our ravelry Group and in our Patron Community Forum. If you are an advanced knitter perhaps you might consider knitting up one of his designs and sending it to him so that he could use it as a sample in his classes. Just a thought.
We were wearing
In the interview with Carson Demers, Andrea was wearing a vest design from a discontinued German pattern book that unfortunately we can't even remember, sorry!
In the Episode, Andrea was wearing Manzanita Tee by Romi Hill.
Andrew was wearing an Icebreaker Merino t-shirt!
Music Credits
J. S. Bach, The Well Tempered Klavier, performed by Kimiko Ishizaka, Creative Commons Attribution 3.0

Prelude No. 3 in C-sharp major, BWV 848
Prelude No. 5 in D major
Prelude No. 7 in E-flat major

Friedrich Bedrich Smetana, The Moldau, Licensed to YouTube by AdShare MG for a Third Party (on behalf of Naxos); Warner Chappell, Public Domain Compositions, Sony ATV Publishing, LatinAutor, PEDL, LatinAutor – SonyATV, UNIAO BRASILEIRA DE EDITORAS DE MUSICA – UBEM, UMPI, and 11 Music Rights Societies
Claude Debussy, Sonata for Violin and Piano in G minor, L. 140, performed by Oliver Colbentson and Erich Appel, Copyright Kontor New Media Music on behalf of Media Arte, licensed for use on YouTube.
Image Credits