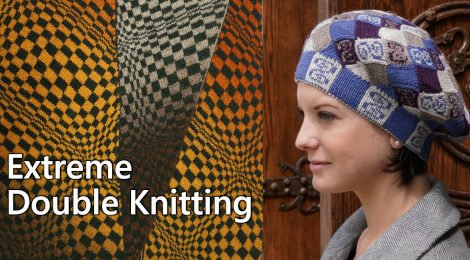 Another full and varied program awaits you in Episode 99. Our feature interview is with the double knitting expert Alasdair Post-Quinn who has been described as having developed double knitting way beyond anyone previously. In New Releases we see a beautiful shawl inspired by the flint work on the local Norfolk cottages and since it's nearly the merry month of May with all its springtime associations, we have a segment on lambing. Kim Goodling from Grand View Farm in Vermont gives us a description of the things she needs to do and look out for to be a good sheep midwife to her flock of Gotlands. There is plenty of extremely cute lamb footage in this segment. Then of course Andrew and I give you an update on our own knitting projects, we talk about substituting yarns and our daughter Madeleine pops in to say hello.
Double Knitting with Alasdair Post-Quinn
Since the 1980s more knitters have been exploring double knitting and pushing the boundaries of the technique to include more complex colour and structural variations. In recent years Alasdair has become known as one of the most innovative double-knitters because of how he's combining double knitting with other knitting techniques.
Double Knitting books by Alasair Post-Quinn
Alasdair has written two books, Extreme Double Knitting and Double or Nothing and he's also very active as a teacher. Alasdair teaches nine different Double Knitting courses combining lots of traditional knitting techniques with double knitting. He has greatly developed techniques like double knitting lace, double knitting cables, double knitting entrelac and the list goes on. After briefly meeting Alasdair at Vogue Knitting Live in New York earlier this year, I was thrilled to be able to interview him about his work.
Alasdair starts the interview off by showing us some of his designs with the highest wow factor. It doesn't matter if you can't yet do these difficult knitting techniques, it's just wonderful and inspirational to know that the techniques are out there waiting for us as possibilities.
Finding Alasdair Post-Quinn
Field Flint by Knorfolknots
In New Releases Gianna (Knorfolknots) shows us her latest design Field Flint. Field Flint is inspired by the flint work on the local Norfolk cottages and churches.
Gianna shows us three different versions of the shawl, two of them using natural dyed yarn from a local Norfolk dyer Aviva Leigh.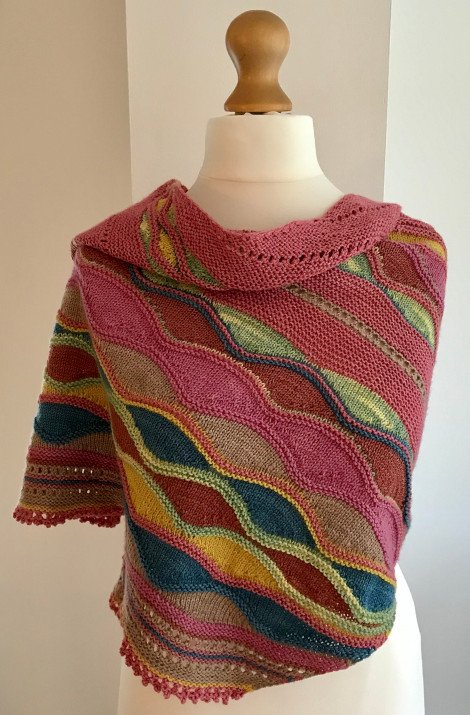 Patron Discount – Knorfolknots
Gianna of Knorfolknots is offering Fruity Knitting Patrons a 25 percent discount off the Field Flint shawl. This offer is valid until 12 May 2020, full details here.
Vermont Grand View Farm
Lambing is where our beloved woolen jumpers, hats and gloves all start and we think it's a good idea to be reminded about this.  Last year we asked one of our Meet the Shepherdess guests, Fleece and Harmony, to come on the show again and talk about their life during lambing season. Many of you found it very interesting so we have decided to do it again this year.
Kim Goodling breeds Gotland sheep and lambing season is perhaps her favourite time of year because of all the new life and joy it brings. Kim gives us a very good description of what she needs to do during lambing to ensure the health of her flock. There is often one or two little lambs that either don't get accepted by their mothers or have difficulty feeding and Kim needs to step in and help there as well.
Patron Discount – Vermont Grand View Farm
Kim and Chuck of Vermont Grand View Farm are offering Fruity Knitting Patrons a 15 percent discount off everything in their online store (except maple syrup and ebooks). Offer valid until 12 May 2020, full details here.
Under Construction
Celestial – Martin Storey
Andrew has finished the easy back piece of his Celestial by Martin Storey, and has swatched the lace and cable pattern. He's now ready to attempt the challenging front piece.
Skye – Marie Wallin
The body and sleeves of Andrea's Skye by Marie Wallin have been joined together, we're on the home run now.
Bring and Brag
Madeleine has completed the Glacier Hat by Toft to learn the stranded knitting technique.
We were wearing
Music Credits
Image Credits