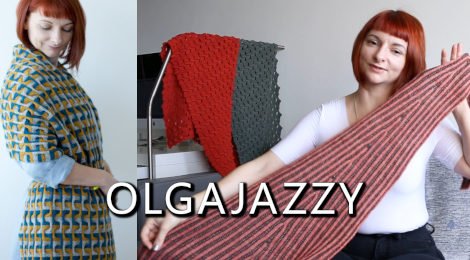 Innovative designer Olgajazzy, or Olga Buraya-Kefelian, is our feature interview guest in Episode 86. This is a two part interview where we cover lots of interesting knitting concepts and Olga shows us some of her extremely stylish designs.
Then we have Constance Caddell, who is featuring again in our Knitters of the World segment. Constance is a very talented and prolific maker and she shares her latest knitting project which really is a masterpiece. The other segment is one both Andrew and I are particularly excited about. We visit an Australian sheep farm for Meet the Shepherdess.
So we've got some great guests so we hope by the end of the episode, you will feel very inspired with your knitting.
Olgajazzy – Olga Buraya-Kefelian
Olga is a knitwear technician with a high sense of fashion. Her mother was a highly trained professional tailor and as a girl, Olga was helping her draft sewing patterns. Through this experience she inadvertently learnt a lot about garment construction and fashion. You could say she had an amazing head start but knitwear design wasn't something her family encouraged her to do. It was, however, something that she deeply wanted to do and she came back to it as Olgajazzy after studying languages.
During the interview we cover lots of interesting concepts like modular knitting, 3D knitting, advanced brioche. We also look at machine knitting techniques that can be used in hand knitting.
You may recall that Andrew knitted the Miura Cowl by Olgajazzy. You can hear about that in Episode 80.
Finding Olgajazzy
Millpost Merino
Murray and Harry Watson work the 6th generation family sheep farm which is near Canberra, Australia. Their parents introduced permaculture farming techniques back in the 80s to help them combat drought, erosion and the harsh Australian climate. The sheep are Saxon Merinos and are bred purely for the extremely high quality of their fleece (between 14 -17 micron count), they aren't bred for meat.
In recent years they decided that instead of sending all their yarn off to be made into underwear, sportswear and fine suits, they would make their own yarn. Their story is very interesting, and the footage is fantastic.
The footage in this segment succeeded in making Andrew and I very homesick!
Patron Discount – Millpost Merino
Millpost Merino are kindly offering Fruity Knitting Patrons a 20 percent discount off everything in their online store, including their superfine merino yarns, cones and combed wool tops for spinning. There is also a book on how they incorporated permaculture into their farming practices, which looks like a good read. They are offering free international shipping for orders over AUD 100 (USD 68), and for orders over AUD 100 (USD 35) the shipping rate is USD 8. This offer is valid until 22 October, full details available here.
Finding Millpost Merino
Patron Only Knit A Long – #millpostmerinokal
To kick off the new Fruity Knitting Patron Community space we thought we'd also start a Patron only KAL. You can enter any project you like, as long as it's knitted in the Millpost merino yarn. You can also use Millpost merino yarn that has been hand dyed. We will run the KAL from September 1st until January 31st 2020. All the details can be found in the Community forum here.
Under Construction
Morning Star Bridal Jacket – Christel Seyfarth
The design is knitted bottom up starting with the peplem. This is knitted flat in moss stitch together with little golden bubbles. Next up are the three pin tucks then I need to join the bodice with steek stitches to knit the Fair Isle in the round.
Christel Seyfarth Lambswool Yarn
Celyn – Michele Wang
Andrew didn't quite manage the promised two sleeves but it still looks gorgeous.
Knitters of the World – Constance Caddell
Whatever Constance makes, turns out stunningly, whether it be knitting, crochet or sewing. This time Constance shares her latest knitting project with you which really is a masterpiece, you will love it!
Finding Constance Caddell
We were wearing
Video Credits
Image Credits
Music Credits