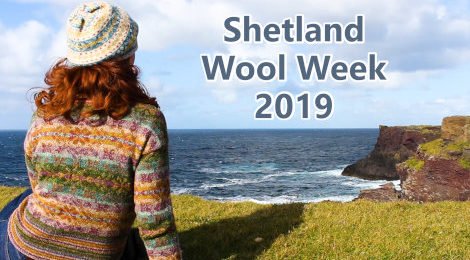 Shetland Wool Week 2019
In Episode 87 we're just back from Shetland where we were covering Shetland Wool Week 2019, the 10th annual Shetland wool festival, as well as interviewing various local and visiting talents from the knitting and crafting world. As a result, we have lots of great content which we are very eager to share with you over the next few episodes. In this episode we are featuring an all Shetland cast which is very easy to do because the islands are filled with fantastic knitting and crafting talent!
We hope all of you who couldn't make it to the wonderful festival will get to share in the magical experience a little bit through the footage we show you. For those of you who were there, we hope it brings back some lovely memories that you can share with your family and friends.
This timeless scene of the sheep coming down the road was so magical and such an incredibly lucky moment for me to catch it on camera.
Hazel Tindall
Hazel Tindall joins us again to share some more of her wonderful Shetland knitting knowledge in a very chatty and friendly interview. Her fans love to see how she works with colour and Hazel takes us through her most recent creations. She also shows us in great detail exactly how she knits so fast on her Shetland knitting belt which is very inspiring and a lot of fun.
Hazel has produced two great video series, where she shares the expertise that she has gathered as a long time Shetland Knitter. One of them, 50 tips from Shetland Knitters is produced in collaboration with the expert spinner and lace knitter Elizabeth Johnston who was last year's Patron of the Wool Week. We interviewed Elizabeth back in Episode 40. This video series is a response to all the questions that they both have received over the many years that they have been giving classes and workshops. There is a tremendous amount of information in it. The other video series is The Art of Fair Isle Knitting and here Hazel takes you step by step through knitting a seamless Fair Isle cardigan including instructions on steeking and finishing techniques.
Patron Discount
Hazel has kindly offered Fruity Knitting Patrons a 20% discount on both these video series for a limited time. We think it's a really valuable offer. Full details here.
Finding Hazel Tindall
Burra Bears
Our Makers segment features again with Wendy from Burra Bears. Wendy makes gorgeous Teddy Bears from knitted Fair Isle and lace fabrics. Her bears are quite famous and travel all over the world. You will enjoy learning more about them and seeing how they are made.
This traditional Fair Isle pattern is based on a vintage jumper on display in the Shetland Museum and Archives. The fabric is machine knitted at the local Shetland collage.
Wendy hand sews all the bears in her studio on Burra, Shetland. Knitters can also knit their own fabric to Wendy's specifications and she will make them their very own custom Teddy Bear.
Finding Wendy
Lauren Anderson
We feature an incredibly talented Shetland lace knitter in our Knitters of the World segment. Lauren Anderson is only 21 but is already clearing most of the prizes at the local Shetland craft shows. This isn't so surprising because she comes from a long line of expert lace knitters. Like most Shetland knitters, Lauren's favourite way to knit is using a knitting belt.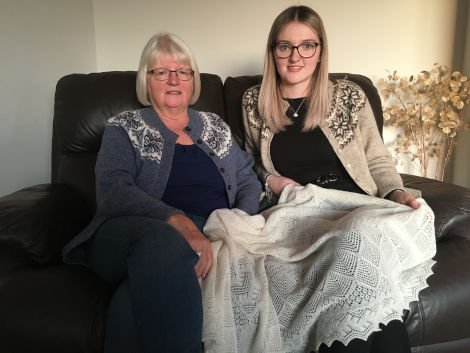 Last year we interviewed the expert lace knitting Shetland sisters Kathleen Anderson and Anne Eunson in Episode 64. They have two other excellent lace knitting sisters in their family and one of them is Lauren's Granny pictured above. Lauren has been guided through the construction of some wonderful traditional Shetland lace shawls that have won multiple prizes.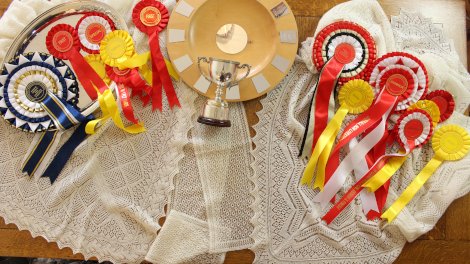 Finding Lauren Anderson
Morning Star Bridal Jacket – Christel Seyfarth
The jacket is based on a traditional Danish bridal jacket that is worn on the island of Fanø. I'm using Christel's own lambswool yarn and the design comes from her book FANØSTRIK – BEYOND THE HORIZON .
It's always a challenge to put in waist shaping on an all-over stranded knitting design without breaking up the pattern too much. I have put in a column of pivot stitches at each side seam and talk about how that is done in the episode.
What are we wearing?
Andrea is wearing Dove by Louisa Harding, knitted in her Cashmere Lace yarn. Andrew is wearing Guido by Carlo Volpi knitted in Rowan Purelife Revive  (now discontinued). In the Burra Bears interview, Andrew was wearing the Ashie by Lisa Richardson. Andrea covered some of the technical challenges of this sweater in Episode 2.
Video Credits
Many thanks to the Shetland Amenity Trust for the footage of the Opening Night.
Music Credits