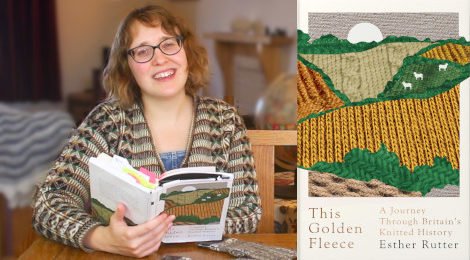 We have another full program for you in Episode 88. While we were in Shetland I interviewed Esther Rutter about her recently published book 'This Golden Fleece'. Esther spent a year travelling around the U.K. to write a book that shows how wool and knitting have deeply influenced the British landscape, the British culture and even to some degree the English language. Carol Feller is also joining us again to show you all the lovely designs in her new book Cosy Knits. We announce the New Technique KAL winners, I have done a quick tutorial for you on how I work my buttonholes and sew on buttons and we also have some stunning footage from the spectacular Shetland landscape in #Extremeknitting.
Esther Rutter – This Golden Fleece
You will have seen Esther Rutter's name popping up on various media platforms over the last couple of months and that's because she has just published a very exciting book on knitting. There is a lot of history in the book, which I personally love, but in parallel it's also Esther's personal knitting diary. Esther knitted a series of traditional garment like socks, a gansey and a hap to personally experience the history that she was researching and writing about. Her trials and tribulations with those traditional projects are also documented in the book.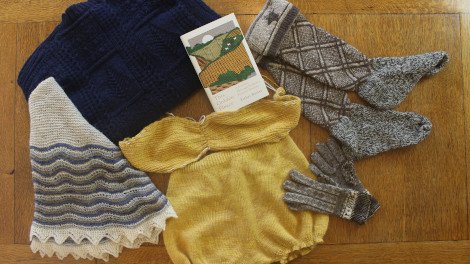 Above are some of the historical projects she knitted including a 1940's woolen bikini. During the interview Esther talks about some of the themes in the book and the knitting projects she chose to go with them. The knitted bikini was connected to the historical development of well-known brands like Pringle, Dior and Chanel who started their businesses with knitted undergarments.
Esther herself is very charming and enthusiastic and I think, apart from learning lots of new things about the history of knitting, you'll also really enjoy meeting Esther during the interview and hearing about her process of writing the book.
Finding Esther Rutter
Cosy Knits – Carol Feller
Carol's latest collaboration is a lovely book of 9 designs all inspired by the idea of snuggling up in something cosy, comforting and very warm for winter. There is a great selection of garments and accessories including two sweaters, a cardigan, a vest, different sized cowls, a hat, shawls and a small blanket all using a variety of interesting knitting techniques. As well as Carol's own cardigan design, there are 8 other well known designers and it's interesting to see how they have used Carol's Nua Worsted yarn as inspiration.
One of my favourite designs from the book is Jimiknits shawl Terrain which uses a series of large tucks to represent the rolling hills in the English countryside.
Patron Discount – Cosy Knits – Carol Feller
Carol is offering a great discount for Fruity Knitting Patrons. Patrons receive a 15% discount off the book and the Nua Worsted yarn. Nua Worsted is the recommend yarn for all the projects in the Cosy Knits book and it comes in 14 really stunning heathery colours.
Celyn by Michele Wang
Andrew has finished this beautiful traditional unisex cardigan design by Michele Wang. It's knitted in John Arbon's fantastic Devonia DK which is a blend of long wool sheep breeds and is worsted spun. Since I was teaching Andrew anyway, I thought I'd show you how I normally work my buttonholes and sew on my buttons. For those viewers who have said that they are less than satisfied with their results, I hope this gives you more confidence. I usually use Barbara Walker's One Row Button Hole technique.
St Ninians Isle – Extreme Knitting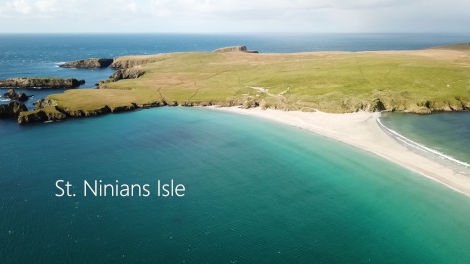 St Ninians Isle is located just past Bigton, around 25 minutes' drive from Lerwick, the main town in mainland Shetland.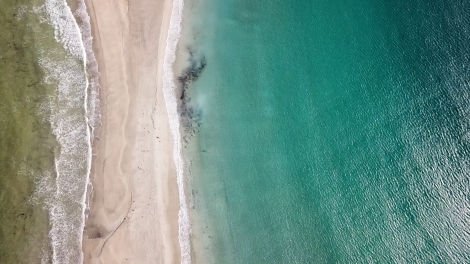 Because it only joined to the mainland by a thin strip of land, called a tombolo, St Ninians Isle is known as a tied island. This is the largest tombolo in the UK. We loved the way the sea is different on either side of the narrow spit of sand.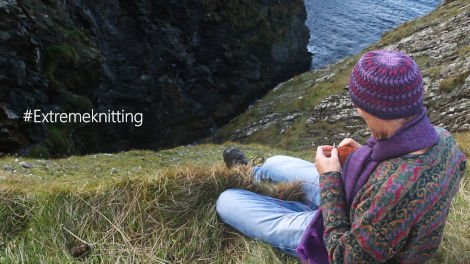 We were wearing
Music Credits