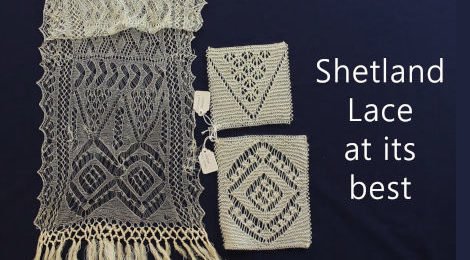 In Episode 89 our feature interview focuses on fine Shetland lace, as we speak with the Curator of the Shetland Museum and Archives, Dr Carol Christiansen. Carol is leading the Museum's Lace Assessment Project, which aims to document a collection of around 400 pieces of hand-knitted traditional Shetland lace. It's a fascinating project and the team have already made some interesting discoveries.
Staying in Shetland but now with more contemporary works, we are also speaking to Shetland artist, Helen Robertson. Helen learnt traditional knitting as a child, but later on experimented with materials to create jewellery
Shetland Lace with Dr Carol Christiansen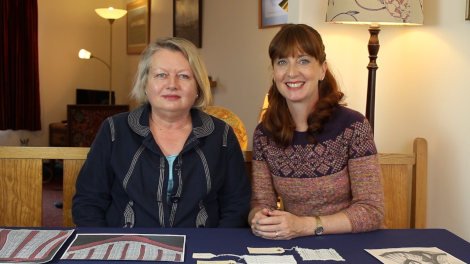 Dr. Carol Christiansen gives us a brief summary of how lace knitting developed in Shetland and then gives us an update on the Lace assessment Project. As Carol and her team have been fully assessing, recording and cataloging the Museum's large collection of traditional Shetland Lace, they have discovered some unusual and rarely seen lace motifs and techniques.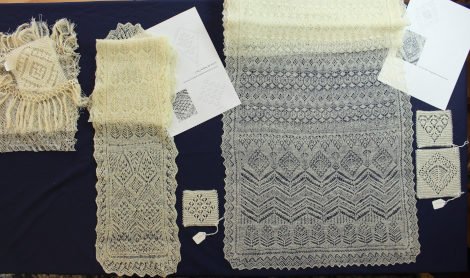 Part of their research has been to chart and rework these patterns with all their variations so that eventually they can be published in a book and made available for future hand knitters to use.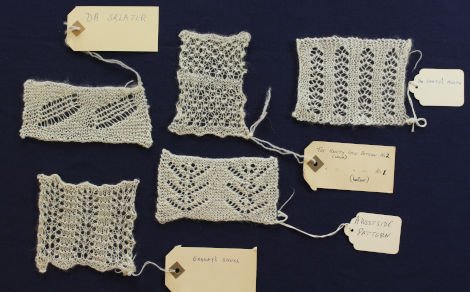 Many Shetland Lace shawls are very complex with multiple, intricate patterns included in a single shawl. Crepe Shawls are extremely simple in comparison and really show off the exception skills of the spinner. Carol also tells us about these remarkably elegant shawls.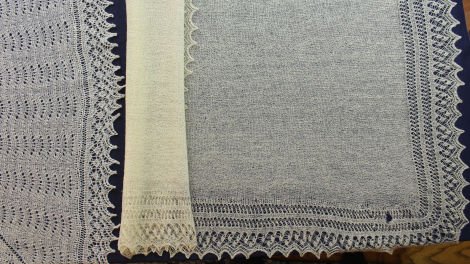 Finding Dr. Carol Christiansen
If you would like to keep up to date with the Lace Assessment Project you can follow Dr. Carol Christiansen's blog
Helen Robertson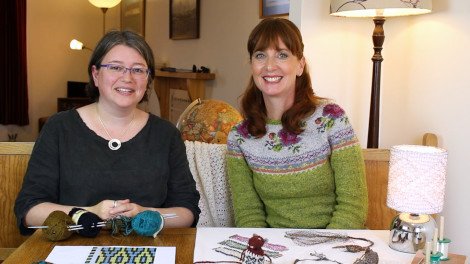 Helen Robertson is a Shetland artist who grew up surrounded by traditional lace knitting. Helen now incorporates her lace knitting heritage into her work as a textile and jewelry artist.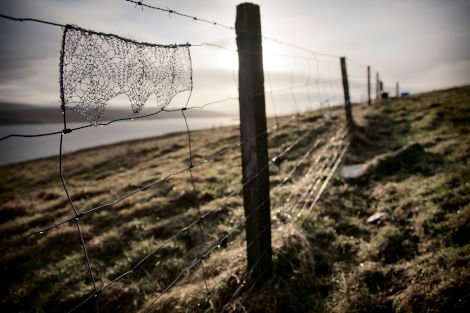 Helen feels very deeply about remembering and celebrating the personal lives of the highly skilled Shetland knitters who were often knitting the most opulent and luxurious shawls and garments while living in extreme poverty themselves. Her lace knitting installations are a tribute to their lives and stories.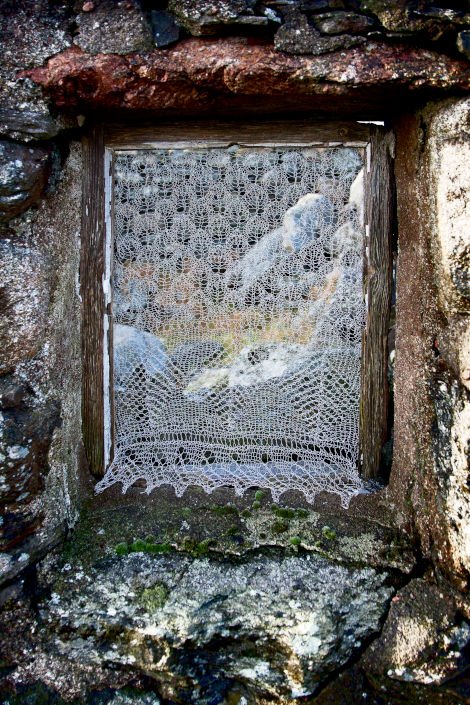 Helen was commissioned to knit wire lace lampshades for the Shetland Museum. Locally in Shetland, Fair Isle and Lace knitting was often undervalued because everyone could do it. Helen was inspired to hold Shetland lace up high and shine new light on it and bring it to a highly valued status. People literally have to look up to see her shining lace lampshades in the Museum cafe.
Helen makes very beautiful jewelry by hand knitting traditional Shetland lace patterns with silver wire.
Patron Discount – Helen Robertson
Helen is offering Fruity Knitting Patrons a 25% discount on her FISS cowl pattern. Helen developed the FISS (Fair Isle, Slip Stitch) technique to allow the knitter to have three colours in a row. What is so special? The knitter only ever knits with either one or two colours and slips up the third colour. Helen is developing around 50 patterns for a future book on this technique. If Patrons are interested in purchasing any of Helen's handmade jewelry, Helen is offering free shipping.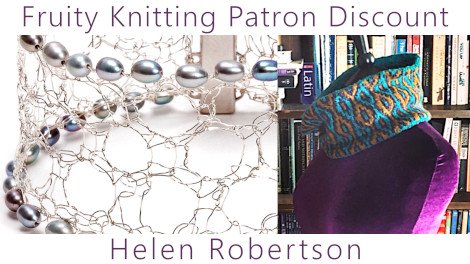 Finding Helen Robertson
Under Construction
Bird's Eye Swatch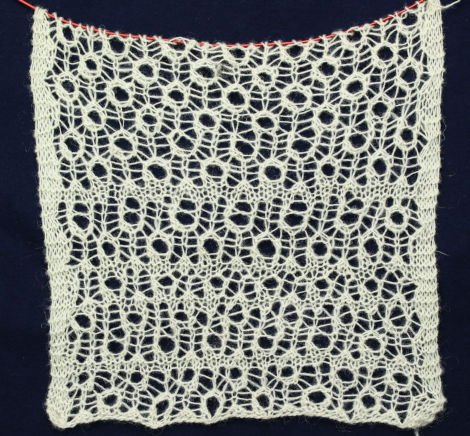 Andrew has never knitted any type of lace before but after seeing Lauren's Anderson's beautiful Bird's Eye scarf in the previous episode he had a mad desire to try it. This is his swatch. His routine is to knit as far as he can and when he makes too many mistakes to fix, he knits a couple of rows of garter stitch and then starts again.  He got 24 rows done in his last attempt. Lifelines annoy him and this is just a practice swatch.
Morning Star Bridal Jacket – Christel Seyfarth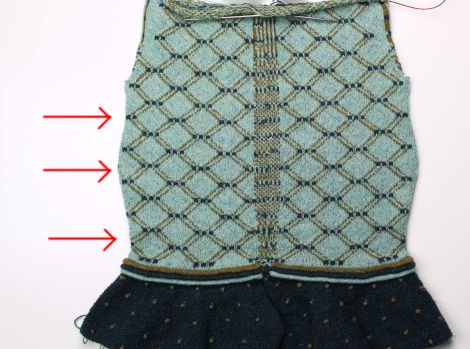 This picture shows fairly clearly the shaping that I have ended up doing. It's all too difficult to describe here, you'll have to watch the show!
What we are wearing
Sitting on the couch, Andrew is wearing the Whelk vest by Martin Storey and Andrea is wearing Sculpted Frost by Linda Marveng. During the interview with Dr. Carol Christiansen Andrea is wearing Saint Lunaire Griquet by Jennifer Beale. During the interview with Helen Robertson Andrea is wearing Blossom by Marie Wallin.
Music Credits
Image Credits