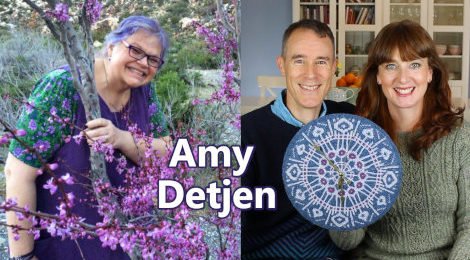 Our feature interview in Episode 90 is with the master knitting technician and teacher Amy Detjen. Many long term knitters, particularly in America, will know Amy Detjen very well. Through this interview I hope to encourage new knitters to look out for Amy and if the opportunity arises, to take a class with her. Amy has spent many years teaching advanced knitting techniques and she loves to solve annoying knitting problems. I think you would be hard pressed to come up with a knitting problem that Amy hasn't already encountered and solved. In our interview she shows us lots of handy knitting tricks and tips with a couple of funny stories thrown in for good measure.
We also go to Vermont to visit a Gotland sheep farm in our Meet the Shepherdess segment and we feature Canadian designer Stephanie Earp in New Releases. Stephanie shows us a really unusual and fun project which Andrea has also quickly knitted up a version to show you.
Amy Detjen
Amy has a deep love for Shetland and it's knitting traditions and has been going there with groups of knitters for many years. We were lucky to get together with her during the Shetland Wool Week. Amy first came to my attention when one of our viewers sent me a copy of the book, she coauthored with Meg Swansen called Knitting with two Colors. It is a formidable book and should be in the library of every knitter who is serious about learning stranded knitting to a high level.
Amy has spend many years teaching advanced knitting techniques. Every year she teaches together with Meg Swansen at the Knitting Camp in Wisconsin. During our interview she talks about some of the more advanced knitting concepts like pivot stitches, knitting backwards, row gauge and double knitting.
During the interview Amy also explains why knowing how to knit backwards is a handy skill to have and she gives us a mini tutorial on how to do it.
Finding Amy Detjen
Yoke O'Clock by Stephanie Earp
In New Releases Stephanie presents her latest design Yoke O'Clock which was inspired by top down colourwork sweaters. We think this is a super cool and fun project. It doesn't take long to knit and would make a great Christmas gift.
This is Andrea's version which took her about 5-6 hours to complete. It's fun to choose the colours that go perfectly with the decor. Andrea found all the right shades to go with our living room from leftover yarn.
Stephanie Earp was our guest on Knitters of the World in Episode 81.
Patron Discount – Yoke O'Clock
Fruity Knitting Patrons, if you would like to make a custom Yoke O'Clock, Stephanie is offering a 15% discount on the kit which includes the pattern with all the different chart options, the battery powered clock mechanism, 12″ vinyl record and a very cute little Yoke O'Clock pin. There is also the option to buy the pattern and clock mechanism separately as well, if you prefer. This offer is valid until 17 December 2019, full details here. Thank you very much Stephanie.
Finding Stephanie
Vermont Grand View Farm
Kim Goodling features in our Meet the Shepherdess segment. Kim is a knitter, weaver and felter as well as a passionate shepherdess to her flock of Gotland sheep. Gotland sheep are stunning to look at, with long shiny silver curls and black faces and legs. They originate in Sweden on the island of Gotland and Kim and her husband took a special trip to Gotland especially to research the breed.
Kim has been developing her flock of Gotland sheep to produce really high quality fiber suitable for many different types of crafting. What is particularly interesting about Kim's Story, is that she didn't start off knowing much about sheep or crafting at all, so it's great to hear how she has developed her expertise.
Patron Discount – Vermont Grand View Farm
Kim is offering Fruity Knitting Patrons a 15% discount off her yarn and roving in her online shop. If you have been wanting to try out some gorgeous Gotland and silk yarn to knit with or fiber to spin and felt with, this is a great opportunity. The yarn comes in different shades of natural silvery grey as well as some hand dyed colours including indigo. This offer is valid until 17 December 2019, full details here.
Finding Kim and Vermont Grand View Farm
Andrew's socks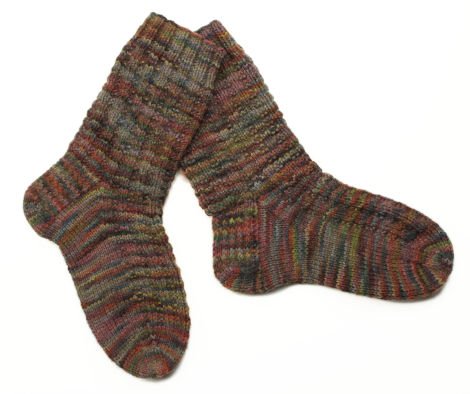 Andrew has just finished a pair of hiking socks for Andrea. They are the Blueberry Waffle pattern by Sandy Turner and he knitted them in Dorset Hike from Solitude Yarn. It's an excellent yarn for a pair of hiking socks, the fleece is strong and very resistant to felting and the socks can be machine washed.
Since he had a nice breed-specific yarn he though he would do a bit of research on the breed in the informative Fleece & Fiber Sourcebook by Deb Robson. Her book is one of the topics we cover in our interview with Deb in Episode 23.
There are actually three different 'Dorset' breeds: the Dorset Horn, the Polled Dorset and the Dorset Down.
What we are wearing?
During this Episode Andrew was wearing Traigh by Jade Starmore and Andrea was wearing Daffodil by Marie Wallin. During the interview with Amy Detjen, Andrea was wearing Saint Lunaire Griquet by Jennifer Beale.
Music Credits
Image Credits