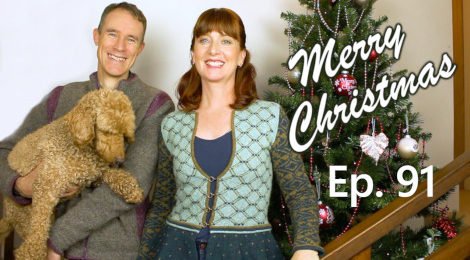 We are broadcasting from Betws y Coed in Wales for Episode 91 not our usual Offenbach, Germany.
Our program goes back to Shetland again which we know many of you particularly enjoy. Our feature interview is with the Shetland designer Joanna Hunter who has a very successful knitwear design company in Lerwick. We stay in Shetland for some #extremeknitting scenery at Eshaness then travel around 9000 km south east to Taiwan to meet the designer Irene Lin, our guest on Knitters of the World. Andrea has a short tutorial on how she cut and finished the steeks on her Morning Star Bridal Jacket and we announce the 3 winners for the Wood House Knits Knitalong.
Joanna Hunter – Ninian Shetland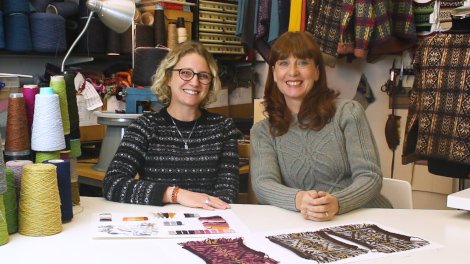 Joanna Hunter's family goes back many generations in Shetland. She grew up there and completed her studies in Textiles at the local University. Joanna's knitwear brand is now celebrating its 20th anniversary, everything is made on Shetland, and the business is supported both by the local Shetlanders as well as by the many tourists. Although her work is inspired by traditional Fair Isle knitting, it's important to Joanna that her designs are contemporary, fun and very wearable for younger women.
During Shetland Wool Week Joanna opens her studio to the public and she also teaches workshops on developing mood boards and playing with color. Joanna shares some of these ideas with us during the interview and shows us her process of refining her designs via the computer and her knitting machines.
It is fascinating to see behind the scenes of how a small knitwear company actually works. We think you'll enjoy meeting Joanna and learn a lot as well!
Finding Ninian Shetland
Patreon Discount – Ninian Shetland
Joanna Hunter is offering Fruity Knitting Patrons a 10 percent discount on everything in her online store. This offer is available until 10 January 2020, full details here.
Irene Lin – Knitters of the World
Irene Lin from Taipei, Taiwan is our guest on Knitters of the World. After studying law and working as an airline hostess, Irene became a stay at home mum and finally had time to knit. Irene then started designing knitwear and soon started publishing patterns on Ravelry as well as a book of patterns in Taiwanese.
Irene's designs are fresh and stylish and she has a great selection of garments suitable for warmer climates.
If you are living in a warm climate or are even allergic to wool, I think it's a good idea to follow some of the Asian designers like Irene who are designing wonderfully stylish knitwear for warmer climates and are often using either cotton, silk or bamboo blends in lightweight yarns.
Finding Irene Lin
Patron Discount – Irene Lin
Irene Lin is offering Fruity Knitting Patrons a 25 percent discount off all of her self-published patterns. This offer is valid until 10 January 2020, full details here.
Tutorial – Cutting and Finishing the Steeks
What we are wearing
Music Credits
Image Credits