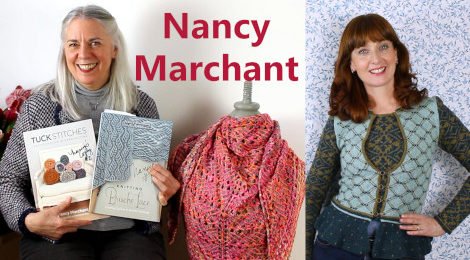 Nancy Marchant – Tuck Stitches, Brioche Lace
We are now back in Offenbach, Germany after having quite a long trip in the U.K. We did a series of interviews and spent a lovely Christmas break with our daughter Madeleine in Snowdonia, Wales. Since we so enjoy hiking in Snowdonia, we have also included in this episode an #extremeknitting segment to share some of the great outdoor scenery with you.
The main feature of Episode 92 is an interview with Nancy Marchant who is the world authority on Brioche in Hand Knitting. During the interview we delve deeply into the knitting techniques of her latest two published books Tuck Stitches and Knitting Brioche Lace. We are starting a knitalong on these two exciting techniques to encourage knitters to try them out. Knitters of the World is also in the program and our special guest is from Salt Lake City, Utah in the States, Kristin Drysdale whose design name is Scandiwork.
Nancy Marchant
Nancy has written several books on the subject of Brioche in hand knitting and very importantly, Nancy has standardized brioche-knitting abbreviations and terminology. This alone has meant that designers world-wide can easily share their patterns and brioche knitting has now become very accessible to the average knitter.
We interviewed Nancy two years ago in Episode 35 where we covered Nancy's work in general. Since then Nancy has published two new books – Tuck Stitches and Knitting Brioche Lace and she has another two books in the pipeline, so that is the topic of our latest interview.
Finding Nancy Marchant
Patron Discount – Nancy Marchant
Nancy has two main distributors for her self published books. In the U.S. it's the Schoolhouse Press run by Meg Swansen and her family and in Europe it is Stephen and Penelope in Amsterdam. Both these online stores have very kindly offered Fruity Knitting Patrons a 20% discount on Nancy's two books Tuck Stitches and Knitting Brioche Lace. The details of the discount can be found here. This is a great offer and we hope that many of you will explore these new techniques and take advantage of the knitalong in our Ravelry group as a forum to do so.
Knitalong – #TuckStitchesAndBriocheLace
Sometimes as Knitters we just need a bit of a push to start something that is new and perhaps at first glance a bit scary. Therefore we have decided to start a knitalong on both the techniques. It is permittable to enter any project using either of these techniques (or a combination of both if you are keen). You could even just do a series of swatches and enter them. This is really just about providing a forum for people to explore these techniques and share their progress, ask questions and for the more experienced knitters amongst you, to share your advice. Have fun and good luck!!
Andrew's Tuck Stitch Swatch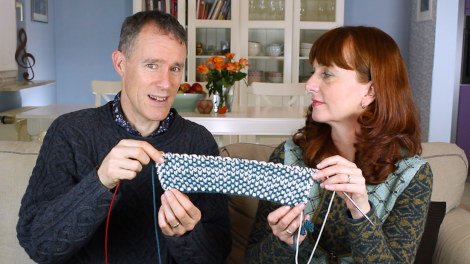 Andrew proudly presenting his first Tuck Stitch swatch! It's number 52 in the book and it's a Triple Tuck Stitch based on a broken ribbed fabric. Very pretty, isn't it?
Scandiwork – Kristin Drysdale
In Knitters of the World we feature Kristin Drysdale (design name Scandiwork) from Salt Lake City, Utah in the States. Kristin's heritage is Scandinavian and as a young adult she spent time studying in Salzburg, Austria where she joined a Strickkreis (knitting circle) and learnt a lot of traditional techniques. This experience seemed to have really influenced Kristin deeply and her Scandinavian heritage really comes through now in all her designs.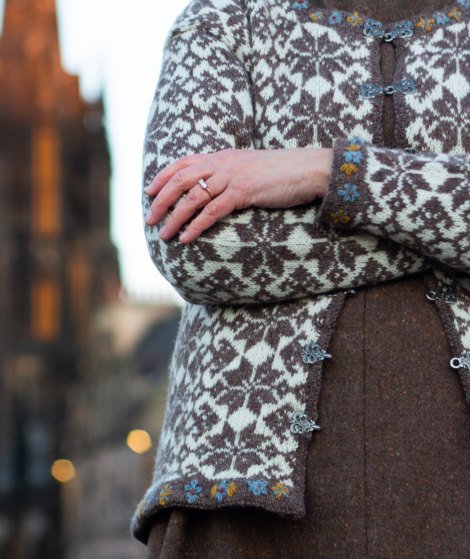 Kristin pays a lot of attention to the details of finishing garments and her stranded slippers combine a lot of techniques in one small, manageable project.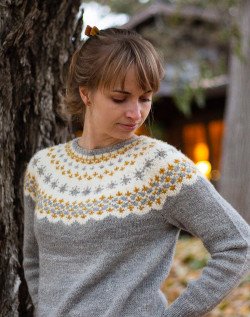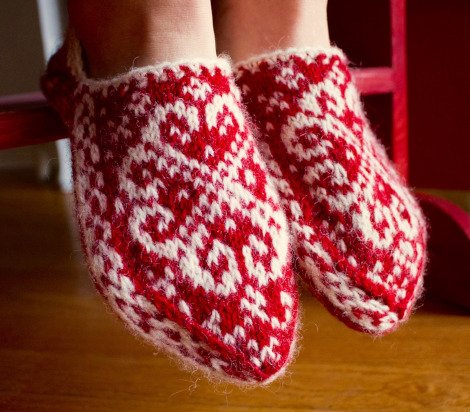 Finding Kristin
Patron Discount – Kristin Drysdale – Scandiwork
Kristin Drysdale is offering Fruity Knitting Patrons a generous 30 percent discount off all of her self-published patterns. This offer is valid until 31 January 2020, full details here.
Bring and Brag
The Morning Star Bridal Jacket by Christel Seyfarth is finally finished and it has been proclaimed as a great success!
Andrew couldn't resist knitting himself these stunning hiking socks from Solitude Wool's Dorset Hike yarn. Dorset sheep fleece makes a springy, spongy pair of tough hiking socks.
Irish Moss – Alice Starmore
This is the start of a new project that I'm knitting for Andrew as payment for the lovely hiking socks he has just given me. It has an elegant all over twisted stitch and cable pattern and I'm using the Millpost Merino DK weight yarn which is a perfect match. The design is Irish Moss by Alice Starmore
We were wearing
During the episode Andrea is wearing her newly completed Morning Star Bridal Jacket by Christal Seyfarth and Andrew is wearing St. Brigid by Alice Starmore.
During the interview with Nancy Marchant, Andrea is wearing Åsemors Kofte By Sidsel Hoivik.
Music Credits
J. S. Bach, The Well Tempered Klavier, performed by Kimiko Ishizaka, Creative Commons Attribution 3.0

Prelude No. 3 in C-Sharp major, BWV 848
Fugue No. 3 in C-Sharp major, BWV 848
Prelude No. 4 in C-sharp minor, BWV 849

J.S. Bach, Sonata for Violin and Keyboard, No. 4 in C minor, BWV 1017, performed by Corey Cerovsek, John Gibbons, Music of the Isabella Stewart Gardner Museum, Creative Commons Attribution-NonCommercial-NoDerivatives 4.0 International
Edvard Grieg, Peer Gynt Suite No. 2, Op. 55 : IV. Solveig's Song, performed by the Malmö Symphony Orchestra, conducted by Bjarte Engeset, Licensed to YouTube by AdShare MG for a Third Party (on behalf of Naxos), and 4 Music Rights Societies
Pyotr Il'yich Tchaikovsky, Souvenir de Florence, Op. 70, 1 – Allegro Moderato, performed by the US Army Strings, Public Domain
Image Credits
Nancy Marchant photography by Alexandra Feo, Copyright 2020 Nancy Marchant