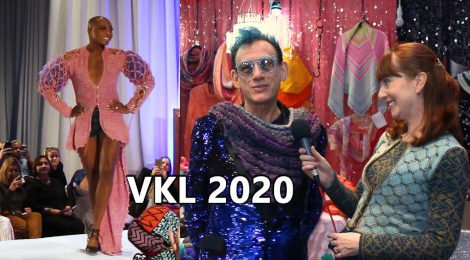 Vogue Knitting Live New York 2020
Episode 93 is all about the Vogue Knitting Live New York experience. It was a four day festival and we were there for almost 5 days so it really was a whirlwind trip for us. We have put together a little film collage our own impressions of New York and Vogue Knitting Live itself, which also includes a mini interview with the Editor in Chief of Vogue Knitting, Carla Scott and footage of the fashion shows and marketplace. We also have a series of fun vendor interviews, which you will really enjoy. The last two weeks has been a very hectic time for us with the travel, filming and later all the editing, so not much knitting has been done but I am including a little tutorial on how to adapt a pattern to give it set in sleeves and Andrew shows his progress on his tuck stitch swatch.
There were many fashion shows held during the Vogue Knitting Live festival and one of them was called Kaleidoscope. The garments in the Kaleidoscope show were the result of 6 finalists from a competition who were then given mentors from the fashion industry to work with them and further develop their designs.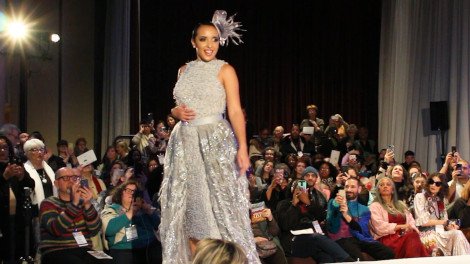 Carla Scott – Editor in Chief Vogue Knitting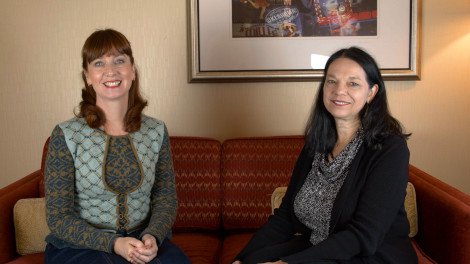 Vogue Knitting's editor in chief Carla Scott was able to give us her time at very short notice for a mini interview.  We talk about how the festival has developed over the last ten years, how Vogue Knitting is adapting to the recent changes in the knitting industry and what fashion trends we as knitters can look forward to.
Meet the Vendors – Vogue Knitting Live
We picked 5 vendors who we thought were unique and varied in what they are producing and the story behind their businesses. We think you will enjoy hearing about their work. (There are a few more coming up in the next episode too!!)
Freia Fibers
Tina Whitmore, founder of Freia Fibers, was the very first dyer to create hand dyed gradient yarns and sell them on a global scale. Despite many other dyers now also doing gradient yarns, Freia yarns still stand out as being very innovative with intensely beautiful colours. Tine has a background in Fine arts and photography and during the interview she tells us what is important to her when she works with colour and develops new yarns.
KnitCollage
Amy Small, the founder of KnitCollage had a very pretty and happy booth full of vibrant handspun creations. Amy works with a small group of Indian woman who she taught to spin and they produce very exciting novelty yarns which are handspun with added flowers, recycled sari silk and other pretty things.
Katrinkles
Katrinkles is where you go to get high quality wooden buttons and tools for all your knitting and crocheting projects. Katy, the founder of Katrinkles, has a background in jewelry making and laser cutting and that's how it all started for her.
MaggiKnits
It was a real pleasure for me to meet Maggie Jackson from Northern Ireland, who has been in the knitwear design business for over 40 years with her company MaggieKnits. During this time she has won a string of major awards for her designs and her business model. Maggie now specializes in Designer Knitting Kits and has some very hard-core fans who really love her special techniques of garment construction and how they suit all body shapes.
StevenBe
If you want to add lots of fun and excitement to your knitting life, Steven should be your knitting guru. He's the self-proclaimed master of mixology which essentially just means he is a genius at putting anything together with anything. Steven is also a passionate teacher and  held some fabulous design workshops during the festival. I've heard it said, that after a class with Steven, his student's most hated colours become their new favourites.
Patron Discounts
Three of the vendors have kindly offered Fruity Knitting Patrons a discount from their online stores. The full details of the discounts are on the Patreon site.
Katy from Katrinkles is offering a 20% discount on her wonderful high quality wooden buttons and tools for knitting and crocheting. Katy uses locally sourced sustainable wood and the buttons are machine washable which is brilliant. Valid until 19 February 2020, full details here.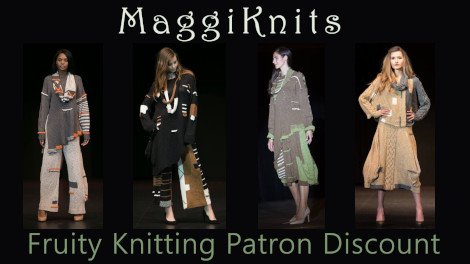 Maggie from MaggieKnits in Northern Ireland is offering a 25% discount on all her yarns and kits. Maggie has been in the industry for a long time and she has some very hard-core fans who really love her special construction techniques and how they suit all body shapes. Valid until 17 February 2020, full details here.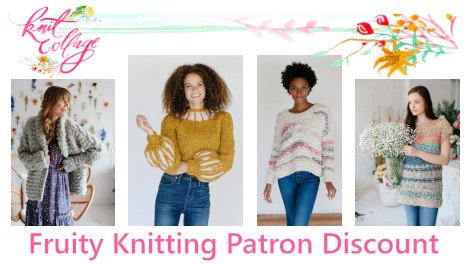 Amy from KnitCollage is offering a 20% discount for our patrons to use on any of her patterns and yarns. KnitCollage yarn is very innovative and creative. It's hand spun by a team of 13 Indian woman who Amy works closely with and there is all sorts of interesting bits of sari silk, hand made flowers and other extras spun into the yarns, making them highly exciting to knit with. This discount is valid until 20 February 2020, full details here.
Irish Moss – Alice Starmore
This garment is designed with a combination of a drop shoulder and a saddle shoulder and I'm am modifying the pattern to be a set-in sleeve with a saddle shoulder. I show you the steps that I take to do this starting off with calculating the armhole shaping on the body pieces. I'm using Millpost Merino DK weight yarn in the colourway Sea Blue.
Andrew is enjoying trying out the different tuck stitch patterns in Nancy Marchant's book Tuck Stitches. This is no. 49 with the RS showing in the above picture and the wrong side showing below.
We were wearing
Andrew was wearing Whelk by Martin Storey.
Andrea is wearing Daffodil, by Marie Wallin. You can hear more about that design in Episode 38, and you can catch a full interview with Marie Wallin in Episode 17, and another chat about Marie Wallin's Shetland collection in Episode 42.
During the vendor interviews, Andrea was wearing the Morning Star Bridal Jacket by Christel Seyfarth.
Music Credits