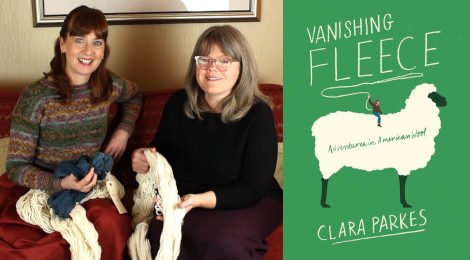 Clara Parkes is our guest in our feature interview today. We have recently come back from covering the 10th anniversary of Vogue Knitting Live in New York which we showed you in the last episode. While we were there, we also had the opportunity to interview Clara Parkes. So we are back again with a program full of great guests for you in Episode 94.
We also have two more vendor interviews which we filmed during Vogue Knitting Live. We wanted to include them in this episode because they really complement our interview with Clara Parkes. We meet Erin from Morehouse Farm in the Hudson River Valley and Sven and Laura from North Light Fibers on Block Island. We are staying in the very north eastern part of America with our guest Elizabeth Smith from Main who features in Knitters of the World and there are also the usual updates from Andrew and myself on our own knitting projects. Enjoy!
Clara Parkes – Vanishing Fleece
Clara Parkes is an American wool expert, yarn critic and the author of seven books. Clara has been educating knitters on yarn for over 20 years. Years before Ravelry started, Clara's site Knitter's Review was an independent forum for knitters to research and discuss yarn. Clara was also one of the first public personalities to talk about the unique qualities of breed specific yarns. Her latest book, Vanishing Fleece, came out in October last year and it covers her journey of transforming a 676 pound bale of fleece into yarn and also the story of the vanishing wool industry in America. Our interview with Clara is all about this latest book and we think you'll love it.
Finding Clara Parkes
Elizabeth Smith
Elizabeth's designs really fit a niche, they are great skill transition pieces. Her designs are very well suited for less experienced knitters who may not have knitted any garments, so they are easy to knit but at the same time really fun and stylish. That's a great combination. I first came across Elizabeth's work through her Ramona cardigan below. It's a classic, cute, cropped cardigan, perfect as a first garment knit.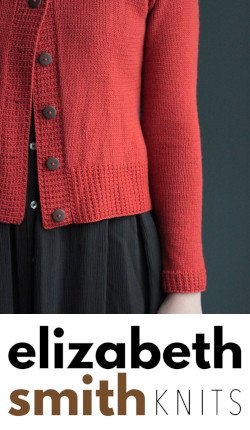 Finding Elizabeth Smith
Patron Discount – Elizabeth Smith
Elizabeth is offering Fruity Knitting Patrons a 25% discount off all her self-published patterns from either her online web-shop or from her Raverly store. Elizabeth has a great selection of garments and accessories and even some kids garments. So enjoy looking through her collection and thank you very much to Elizabeth. This offer is valid until 3 March 2020, full details here.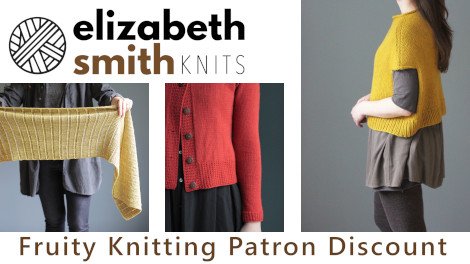 North Light Fibers
Sven and Laura have a micro mill on Block Island that produces luxury blends with very minimum processing.
Laura is the spinner and has developed some stunning looking yarns. A particularly beautiful blend is the Water Street range which is a blend of cashmere and superfine merino. The fleece is dyed, and then at least three complimentary colours are carded together before the spinning process begins. This gives the yarn a lovely heathery look.
Finding North Light Fibers
Patron Discount – North Light Fibers
North Light Fibers are offering our patrons a 15% discount on items in their online store. They have very beautiful yarns including blends from baby alpaca, bamboo, cashmere and super fine merino. They have a lot of patterns and kits available as well. Thank you to North Light Fibers. This offer is valid until 3 March 2020, full details here.
Morehouse Farm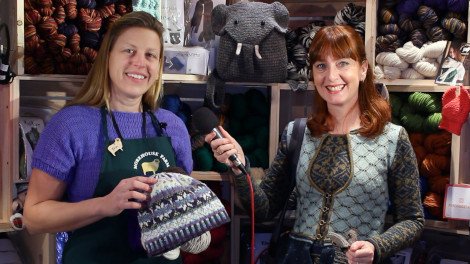 We meet Erin from Morehouse Farm which is a Saxon merino sheep farm in the Hudson River Valley.
Morehouse Farm have dark chocolate Saxon merinos in their flock which is very unusual.
Hutchin Hat – Brooklyn Tweed
Andrea's latest project is the Hutchin Hat by Jared Flood and it's knitted in Morehouse Farm's lovely soft and cosy undyed 2ply.
Finding Morehouse Farm
Patron Discount – Morehouse Farm
Morehouse Farm are kindly offering Fruity Knitting Patrons a 20% discount on everything in their online store. Their yarn comes in many different colours including variegated and 4 natural undyed shades. They have a large selection of yarn weights from lace to bulky and there is also lots of kits available. Thank you to Morehouse Farm. Offer valid until 3 March 2020, full details here.
Millpost Merino KAL
The Millpost Merino knitalong, which was a patron-only knitalong held in the Patron Community Forum, has come to a close. We have two winners who each receive a copy of Clara Parkes latest book Vanish Fleece: Adventures in american Wool, kindly donated by Abrams Press.
Congratulations to JocelynS and JennyV!
We were wearing
Music Credits
Affiliate Links
This page includes affiliate links to Clara Parkes' book on Amazon. If you buy via this link, we will earn a small commission on the sale at no extra cost to you. We put any money from affiliate sales towards future KAL prizes.