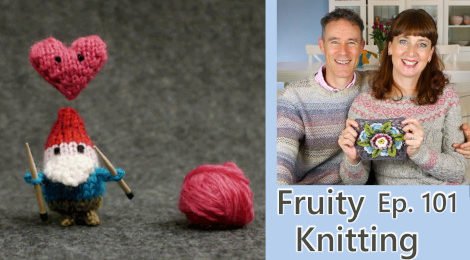 In Episode 101 we are presenting knitting to you in a way that we haven't previously explored on the show and that's through knitting installations and stop motion knitting animations. We include a feature interview with the creator of Mochimochi Land Anna Hrachovec, who is probably the most successful stop motion knitting animator currently around. You may have seen Anna's GIF of the gnome knitting hearts and if you attend Vogue Knitting Live NY, you will be familiar with Anna's knitted installations which have been featured during the festival for the last nine years. I've also knitted up one of her little animated characters to show you and Andrew gives you a short fun presentation of the origins of stop motion animation which dates back to the 1830s.
We also feature a very talented Russian knitter whose knitted wedding dress you first saw back in Episode 88 and of course we give you updates on our own projects.
Mochimochi Land – Knitting Animation
Anna Hrachovec knits cute and strange creatures. She then creates landscapes for them to play in and brings them to life with stop-motion animation. Her imaginary world is Mochimochi Land. So that others can join in the fun of Mochimochi Land, Anna designs knitting patterns for all her creatures. Her work has been featured on the Martha Stewart Show and on BuzzFeed and has been exhibited in the US, Germany, The Netherlands, Korea and Japan.
Anna gave herself the task of designing and knitting a mini version of a familiar object every day for a year. These objects were things like little sewing machines, computers, hot days and bowling pins which she "anthropomorphized" by putting faces on them. By the end of the year, Anna had a whole cast of creatures and objects that started to interact with each other and that's how her stop motion knitting animation was born. It's great fun to see knitting used in so many different creative ways.
Anna has also done some animations as commissions. During the interview she shares how she taught herself a simple but effective way of doing stop motion animation within her limited home work space.
I thought I would give one of Anna's patterns a try. It took me a while to decide which mini object I wanted to knit and in the end I chose the cat that sits in the box.
The cat and the box are based on the same shaped pattern, the tail is an icord and the eyes, nose and whiskers are embroidery. I knitted it on 2.25 mm needles and the yarn is fingering weight. I've made my cat a silvery blue so it's a Russian Blue breed. I had planned to give it as a gift to a cat lover but I'm falling in love with it myself.
Finding Mochimochi Land and Anna Hrachovec
Patron Discount – Mochimochi Land
Anna Hrachovec, creator of Mochimochi Land, has an enormous range of tiny, knitted figures that would make excellent company for your home or office, or fantastic little gifts. There's something for every person and every occasion, from Boo the Bat, Homely the House, or "Error Pattern" the Computer, to cats, dogs, alpacas and sheep. A quick and easy way to share a little crafty joy. Anna is offering Fruity Knitting Patrons a 20 percent discount of all of her patterns, books and kits available on her website. This offer is valid until 16 June 2020, full details here.
Olga Barshai – Knitters of the World
Meet Olga from Russia in this Episode's Knitters of the World. You first saw Olga's incredible knitting skills back in Episode 88, when she won one of the prizes for the New Technique KAL with her beautiful long lace wedding dress. Ever since I saw it, I've had it in my mind to ask Olga to feature in Knitters of the World. Now coincidentally she also helps another Russian designer by tech editing and translating her patterns into English.
Olga shows you and talks about her own stunning wedding dress and she also presents some of the Russian designer Lyudmila Aksenik's designs to you. Lyudmila designs sweaters and cardigans, hats and gloves, shawls and cowls and she also has a good selection of summer tops.
Patron Discount – Lyudmila Aksenik
Lyudmila Aksenik is a designer based in Moscow. She has a large portfolio of designs, focused on garments and shawls, but often with matching accessories. In addition to cosy knits to keep you warm, Lyudmila has a good range of summer tops – ideal projects as we come into the warmer months! Lyudmila is offering Fruity Knitting Patrons a 25 percent discount off all of her self-published patterns available via Ravelry. Offer valid until 30 June 2020, full details here.
Bohemian Blooms by Janie Crow
After a break of many months I've gone back to work exclusively on my Bohemian Blooms crochet blanket by Janie Crow. You can see above Janie and me holding up the Bohemian Blooms blanket during our interview which is featured back in Episode 71.
The design comes in a kit and is made from an assortment of Rowan DK weight yarns. It is made up of 41 crochet pieces with 9 different patterns. I have been working through them steadily and I'm now up to doing the fancy flowers which feature in the middle of the blanket.
Celestial by Martin Storey
It's important to celebrate major events in life and Andrew is celebrating the completion of the cable and lace section of his project, the Celestial top by Martin Storey. Martin Storey is a very impressive designer, the elegance of the broad zig zag lace mesh with the cable diamonds makes it a stunning, classic design and I'm very excited to soon  be wearing it. Andrew's knitting is incredibly neat as well!
We were wearing
Music Credits