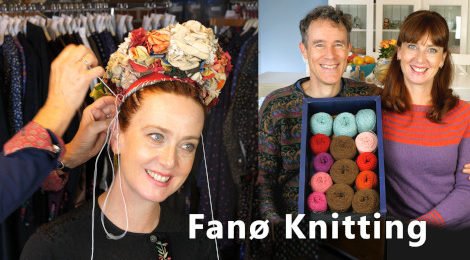 Fanø Knitting Festival
Episode 108 was meant to be all about the Fanø Knitting Festival, a major festival in Europe and this year was going to be it's 15th anniversary. As we all know, it's been a crazy year due to the corona virus with most festivals being cancelled. The Fanø festival was also cancelled but only very late. Since we had already booked accommodation and prepared a series of interviews, we decided to still drive up to Denmark and do the interviews that we could, because a lot of them were going to be with the locals. There were also other knitters who like us who had booked accommodation and decided to go anyway. So it ended up like a mini festival with plenty of knitters walking around the streets and knitting in the alfresco cafes. Our goal was to bring back really good footage that would give you, as viewers, a strong sense of what it would be like to actually visit the Fanø Knitting Festival.
The festival reminds us very much of the Shetland Wool Week because it's much more than just going to a big marketplace with classes and lectures attached to it.
It's a total cultural experience where visitors get a real connection to the local community and the stunning landscape.
For this episode, we have put together a 20 minute collage of our impressions and experiences on Fanø and we also have a really fun interview with Christal Seyfarth who together with her husband organizes the festival. Christal gives us a tour of her beautiful shop and we go through many of her stunning designs together.
Finding the Fanø Knitting Festival
Christel Seyfarth
We first interviewed Christel Seyfarth back in episode 85 and our viewers loved meeting Christel and seeing her unique and beautiful designs. Although Christel did show and talk about several of her designs during that interview, we did get requests from many viewers to see and hear more about the other garments in her shop which we only got a glimpse of in the background.
I was very excited to be able to visit Christel's shop in person and have Christel take us through many more of her designs. Christel also talked about the inspiration behind her latest Urban Flower Garden Collection.
Finding Christel
Christel Seyfarth Knitalong
Christel has so many different designs as you will see during our interview. She has lots of challenging jackets and coats but she also has some very beautiful shawls and smaller cowls. The shawls and cowls are great projects for knitters who are less confident because you don't have to worry about getting the fit exactly right. With a shawl you need to have the correct gauge so you don't run out of wool and you get a nice fabric but you can feel secure knowing that after all the work it will fit you and you can wear it. This is very comforting when a project takes a lot of work.
We have decided that since Andrew and I both have Christel Seyfarth designs to work on, we should start a Christel Seyfarth knitalong. This knitalong will start on the 1st of October and will go for around 6 months so there will be plenty of time to complete a big project if you want too, but any of Christel's designs can be entered so you can also enter a small cowl or hat.
Patron Discount – Christel Seyfarth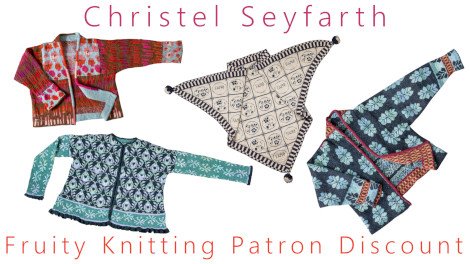 Christel is offering Fruity Knitting Patrons a 10% discount off all her kits and yarn which you can buy from her webshop. Her webshop is in English and Danish just make sure you click on the English flag at the top of the page, if you are an English speaker. Full details on the discount here.
Our impression & experiences on Fanø
The first thing you really notice when you are on the island is how extremely beautiful the houses on the island are. We spent a few hours one afternoon taking footage of the houses and other buildings and Andrea took 112 pieces of footage.
The traditional houses are beautiful, and a huge proportion of them have been preserved in the traditional style. Inside the houses, the walls are partially covered with beautiful old tiles, some of them dating back to the 1700s.
The churches were also beautiful because inside they have models of ships hanging from the ceilings. We didn't know about this tradition at all before we went to Fanø. They're called votive ships and they were given as gifts to the church by sailors, many of whom were rescued from shipwrecks. So as a gesture of thanks these model ships are given to the church and are hung from the ceilings. Some of them date back to around 1700s.
The beach on the west coast of the island is also very special, it's the widest beach in northern Europe. The sand is very firm and it's actually quite normal to drive on the beach, there's even a bus stop on the beach.
On a few mornings there was a group of Danish knitters who got together to sing on the beach. Singing folk songs is still very popular in Denmark – somebody told us that everyone in Denmark sings – and we thought this was a great thing for knitters to do, out in the fresh beach air.
A fantastic highlight for me was getting dressed up in the traditional Fanø costume. The costumes are so interesting and beautiful that we filmed a little segment just on them.
You'll see me all dressed up and one of the locals who is an expert on the costumes puts the head scarf on me and describes exactly what's she doing. The scarf has to be folded in a very particular way which has a certain meaning. I was in heaven, when you are being dressed in these costumes you really do feel transported to a previous century.
Jæ' Sweevers – Traditional Fanø Music
Jæ' Sweevers play traditional Fanø music, with Peter Uhrbrand on violin, Ole Mouritzen on accordion, Jens Mouritzen on drums and Kirstine Uhrbrand on piano.
We were wearing
Music Credits